CANADA Summer 2000 (1)
MONTREAL
Oh Canada! What fun to travel thee, a country so rich from your English, French and First Nations heritage to the multi-cultural diversity that you are today.
Our seven-day trip would start in La Belle Province, Quebec, with a visit to Montreal, the largest city and the commercial center of the province, then on to Quebec City, the provincial capital. The last couple of days we would be in Ottawa, Canada's capital city, located in the province of Ontario at the Quebec border.
Canada is a bilingual country and Quebec is the heart of its French heritage, language and culture. Although the government of Quebec has mandated French as its first language, language is no barrier to English speaking visitors to Quebec's major cities. Quebec's rich French culture translates to a love of life - Joie de Vivre - and there is no place like Montreal and Quebec City during summer festival season to experience it better.
We planned this trip with Linda's sister, Paula, and our brother-in-law, Warren, who live in Florida. We drove directly from Toronto to Montreal's Dorval airport and were waiting when Paula and Warren arrived.
We had decided to stay at the Canadian Pacific Hotels in each of the cities. These grand, historical establishments are now managed by Fairmont Hotels and Resorts.
The Queen Elizabeth, 900 Rene-Levesque Boulevard West, Montreal, confirmed the wisdom of our decision with its superb professional service from reception to the housekeeping. Our rooms were quite large with fine quality king beds, desks, tables, chairs, large TV's and attractive bathrooms. There were amenities aplenty including turn-down service with chocolates on our pillows and bottled water on the bedside table. This is a large hotel with high, wide public areas but yet the interior design and attitude of the staff give it an intimate atmosphere. Self-parking and finding your way to the reception area is convenient and easy but valet parking and luggage service is available, if required.
The very lovely LeMontrealais two-level dining room and bar is home to a sumptuous breakfast buffet. Here, too, the service is impeccable. And why not? With a maitre'd like Daniel Fornara who, when he overheard us discussing the best route out of the city toward Quebec City, insisted on getting a map and carefully going over the route with us.
The Queen Elizabeth is beautifully located for seeing all the sights on foot or by Metro. As soon as we were settled in our rooms, we headed to Vieux Montreal (Old Montreal) and Vieux Port (Old Port), about a fifteen minute stroll. Montreal is one of the few North American cities that has preserved its historic city center. It was a shambles until the 1960's, when it was decided to restore and protect it for future generations. It's neat to leave the towering skyscrapers behind as you enter a space with 350 years of history. Unfortunately all that is left of the stone walls that surrounded the city is some foundations in Champ-de-Mars, adjacent to the gorgeous city hall. From the lovely and tranquil Place d'Youville you can see Pointe A Calliere, the site of the birthplace of Montreal.
The oldest street is rue Saint-Paul, a narrow, winding and enchanting way that today houses galleries, restaurants, cafes and boutiques. As with the rest of the old town, we admired the restored buildings from the 1700's and the splendid 19th century Victorian commercial buildings. Grand, old warehouse buildings on rue Saint-Helene and rue de Recollets have been updated and restored for today's commercial uses. Recently installed gas street lighting adds old-world charm.
Montrealers love their outdoor cafes and restuarants and the large Place Jacques-Cartier, which was originally a marketplace, is alive with this activity. Artists and street performers appear regularly and bring added excitement to this already lively spot.
Place d'Armes in the heart of the historic center reveals it all: the city's oldest building, headquarters of Canada's first bank, the country's first skyscraper and Montreal's huge church of its first parish.
The classical, revival syle Bonsecours Market with its large silver dome has been restored and is home to many designer boutiques.
A few steps away is the Old Port and all the wonderful happenings on the banks of the St. Lawrence River. As we walked along rue de la Commone, appreciating the winding line of 19th century buildings that were built atop the city's demolished fortifications, we were captivated by all the action around us. Street cafes were filled to capacity. Cyclists, rollerbladers, street performers and joggers all enjoying the beautiful day. There was a book fair in full swing. The new Science and Technology Center was obviously quite busy.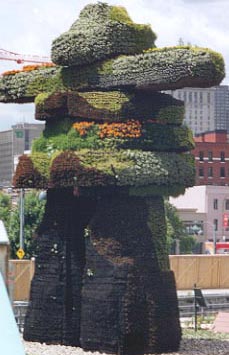 Best of all, we were in time for the planet's first International Competition of Floral Sculpture performed by horticultural masters from around the world. One word - incredible! It began in mid-June and will end on the last day of September, 2000. This truly magnificent display of a unique art form should not be missed if you are in the vicinity.
The Old Port has lovely picnic grounds and easy access to the sightseeing cruises on the St. Lawrence River.
Just north of Old Montreal is the city's Chinatown, the cultural and economic center of the Chinese community. There's no shortage of restaurants or shops with a packed pedestrian street in the heart of the district.
As we continued north to Boul. Saint-Laurent, we heard the sound of music. The International Jazz Festival of Montreal was in full swing. From 29/June until 9/July, 2000, 400 concerts (300 of them free of charge) would be performed by 2000 musicians from 20 participating countries. Four city blocks, with nine outdoor stages, are closed to traffic and appropriately decorated for the performances, from noon until the wee hours, of jazz of all types. Street performers, make-up artists and a musical playground make it a joyous time for all the family. Consider scheduling your Summer 2001 visit to coincide with this extravaganza. Check the events calendar on the Montreal Tourism web site. You'll need to plan well in advance as hotels are packed for the event.
We would leave the jazz until later because like most Montrealers we love to eat and this is a city where restaurants are the soul of the city, reflecting its cultural diversity. From fine, creative cuisine to French bistros to famous smoked meat and let's not forget the Polish, Portuguese, Greek, Moroccan, Jamaican, Middle Eastern, etc. menus that are prevalent around town.
Tonight we would go to an old favorite that we would never miss. Milos, 5357 Avenue du Parc, is an authentic Greek fish taverna. You get the message as you enter the large dining room designed in stucco, wood and tile with a distinct Mediterranean flavor. Immediately to your left is a huge tank filled with lobsters (suitable tonight for guests on business expense accounts at an average size of 3-3Ż pounds!). Directly ahead is an iced display of fresh whole fish and shellfish and a showcase of assorted fish steaks and filets. At the far side of the room is a beautiful display of of gorgeous fresh fruits and vegetables where the salads and fruit platters are prepared.
No skimping here - everything is of the finest quality and better yet, prepared and presented with professional care. All this comes at a price and regrettably this restaurant is not for the budget-conscious, unless strict discipline is your strong suit.
Our super waitress guided us through several options and was particularly helpful to the sisters, who were sharing main courses. We shared appetizers: a bountiful horiatiki salad, delicately fried tender calamari and thinly sliced fried zucchini with saganaki (fried cheese) with tzatziki (yogurt with cucumbers, dill and garlic). We were off to a fabulous start. The girls shared soft shell crabs (Linda had thought the ones she had in Washington were the best ever but she has now declared a winner and new champion) and incredible grilled shrimps and scallops. Warren and I both had thick cuts of fabulous yellow fin tuna, grilled rare with a thin outside coating of sesame. Now, the time for the supreme test. Would the yogurt with honey and nuts and the galactoboureko be up to snuff? Oh, yes! Thick goat milk yogurt with just the right amount of quality honey and sliced almonds and room-temperature fresh galactoboureko, with flaky filo and smooth custard filling. If you get to Montreal, Milos is a treat.
Our second day started with a bit of shopping in Montreal's underground city, an incredible 18 mile network of walkways, shopping and eating places with easy access from the streets and transportation that provides cool comfort in hot weather and warm, dry shelter during the winter months.
A visit to Montreal must include a walk on Boulevard Saint-Laurent and rue St. Denis. Better known to the locals as The Main, Saint-Laurent is a map of the ethnic diversity of Montreal. Originally a predominantly Jewish street, today it starts with Chinese at the south and above Sherbrooke it's totally multi-ethnic. It's also a mix of old, new and futuristic - from used clothing stores to a high-tech movie complex. A colorful, eclectic mix of shops, boutiques, food stores, restaurants and cafes is a joy to the senses. A trip to Boul. Saint-Laurent is not complete without a stop at Schwartz's Montreal Hebrew Delicatessen at #3864, for their famous smoked meat sandwich and French fries and this day was no exception.
Rue St. Denis, known as the Latin Quarter, is east of and parallel to Boul. St. Laurent. Once the homes of the French elite, the lovely stone Victorian houses now are the most active bars and jazz clubs, restaurants, cafes, antique shops, galleries and craft shops. rue Prince Arthur, which runs between Saint-Laurent and St. Denis, is a great place for people-watching and enjoying a variety of ethnic food.
Along rue Notre-Dame West, between Guy and Atwater, urban renewal has resulted in a fine collection of antique stores taking residence. And just to the south, a major renewal is taking place along the banks of Lachine Canal, with the old, ugly industrial buildings being torn down and replaced by new apartments and town houses within sight of the St. Lawrence River. This makeover will also include a revival of boating on the canal with adjacent walking and biking paths being created for a beautiful environment and lifestyle within the city.
There are so many wonderful restaurant choices in this city, it is difficult to make a decision. We chose La Chronique at 99 rue Laurier Ouest, a modest size (about 50 seats), crisp, clean bistro with extremely helpful, charming staff. I started with a marvelous appetizer of sashimi saumon with cous cous. One side of the salmon had an amazing light coating of ecstasy, which side was lightly cooked and the rest left raw. The cous cous was a perfect accompaniment along with small pieces of hot pepper. My partners all opted for the spinach and feta salad with grilled shrimps, which they loved.
Linda and Warren agreed that their beautifully grilled veal chops, served with pepperini (tiny, orzo style pasta) were excellent. Paula ordered the chef's surprise, which unfortunately contained two items that were raw, scallops and arctic char, and not her cup of tea. (A cautionary note from the waiter might have avoided this unfortunate surprise.) The duck served with the scallops and the grilled shrimp and cous cous were cooked, and were good. I had blackened duck breast and three grilled shrimps on a bed of mashed eggplant, quite wonderful with fragrant spices and a touch of cumin.
We chose the surprise dessert for the four of us, which was superb with a rich, velvety chocolate mousse, chocolate creme brulee, chocolate cake with a pineapple sauce and bread pudding with avocado ice cream. Lucky none of us was watching our diet - Montreal is a great city for eating well.
The city is booming with renewal, renovation and new construction everywhere. Technology is in high gear. Festivals, special events and exhibitions are scheduled throughout the year as the city works hard to attract visitors. We're looking forward to our next visit.

to Quebec City and Ottawa

Search TheTravelzine | TheTravelzine Group | Don's Gallery
Packing Hints | Planning Tips | Cities Links

---
All pages on TheTravelzine.comęCopyright 1996-2020 Don & Linda Freedman