LYON, FRANCE Spring 1999
What do you do when you have your trip planned months ahead and you receive an email from dear friends inviting you to their wedding? No contest! Change the plans!
Two weeks in France became four days and we were off to Portugal to share the moment with Isabel and Paulo whom we had met on our first trip to Portugal. We were locked into our Air Canada flights into Paris and out of Zurich, but because we had planned well ahead we had time to develop a tour of Portugal that we had promised ourselves we'd do one day. That day had come!
Air Canada continues to offer excellent quality service and we landed right on time at 08:15 at Charles de Gaulle. Armed with our Europass and our TGV reservations, we followed the signs to the TGV and easily made the 9:46 to Lyon. It was a two-hour trip and a good chance to relax after a long flight.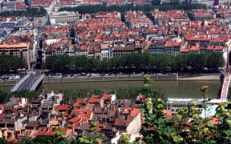 Our Internet friend Roger, from Lyon, had recommended the Hotel Plaza, which is centrally located at 5 Rue Stella, just off Place de la Republique. (Note that the name has since been changed to Mercure Lyon Plaza République.)
The walk from Gare de Perrache to Place de la Republique is a nice introduction to the city. The station complex is a hub of activity with access to buses, metro, taxis and car park. Passing through the adjacent green Place Carnot, we were immediately involved in the life of the city. It was lunchtime on a perfect warm and sunny day. People were moving in all directions, nibbling on food as they strolled while some sat enjoying their snack while taking sun.
The square leads to the busy shopping pedestrian way, Rue Victor Hugo. Here the mostly young shoppers were making the most of their lunch breaks. There is a multitude of sidewalk eating-places, which makes it nearly impossible not to stop and partake - a slice of goat cheese pizza for Linda and a smoked salmon slice for me.
Rue Victor Hugo ends at Place Bellecour, the center of the city and one of the largest squares in Europe. Crossing the square diagonally to the right we came to the Rue de la Republique, a wide street lined with shops, cafes, and restaurants and today jam-packed with activity. Large impressive buildings surround Place De La Republique and in the center is a huge water fountain area, where the water shoots up at varying heights. At night, when the area is lit, it is even more spectacular. The viewer is beckoned to sit down, relax and enjoy the spellbinding beauty. Rue Stella, the location of the Hotel Plaza, runs off the square.
The smiling faces and fast acknowledgement of the reservation made us feel welcome. The reception area is small with an open bar/lounge area adjacent. On the other side of the bar is the breakfast/dining area. All of this is at street level with a windowed front so it is light and airy.
Our room and bathroom were a nice size and fully equipped. Despite the queen size bed, there was ample room to move around and be comfortable. Double floor to ceiling windows insured plenty of daylight and peaceful quiet at night. The included good quality breakfast buffet offered a nice variety. The housekeeping was top notch throughout. We would rate this an excellent three star value.
After settling in, we decided as usual not to give in to weariness. It was after all, a breathtakingly beautiful day in a city that is a walker's dream. Across Place de la Republique from Rue Stella is the Passage de L'Argue, a neat, narrow shopping arcade that was built between 1825 and 1856. The passage ends at Rue Brest and a left turn takes one into Place de Jacobins, with the brilliant Gaspard Andre's Fountain dominating the center. This square is the hub of shopping. Rue Emile Zola, Rue Gasparin and Rue de President Edouard Herriot are filled with designer and quality specialty shops of every description.
But our favorite street is the pedestrian way, Rue Merciere, wall-to-wall restaurants and cafes. This is a favorite place for locals and visitors to meet, stroll, have a drink, snack or meal and people-watch. It's fun and the locals will tell you that most of the restaurants are good. The golden rule - follow your nose and the action.
Last time we were in Lyon, the beautiful Theatre Des Celestins was being refurbished. The finished product is really quite striking. The large terrace in front was part of the restoration and provides an impressive complement to the theatre. It's a cozy square lined with buildings, restaurants and shops.
We don't eat meat very often so when we do it has to be very special. This area is famous for its Charolais beef and on our last visit we had the most wonderful cote de boeuf du Charolais at Le Vivarais, 1 Place Gailleton. Grilled perfectly medium rare, crisp on the outside with the pure, natural flavor of the meat, juicy and tender inside. We set aside our other possibilities and succumbed to our memories. We were seated and rearing to go at 20:00 hrs.
This restaurant has been around for a long time with the same owner, Robert Duffaud, and has a fine reputation for quality dining at reasonable prices. The environment is comfortably elegant, suitable for smart casual attire. The service is first rate and the owner manages to recognize and acknowledge arriving and departing guests.
Campari and soda were welcome after a day of traveling and walking. Linda started with gazpacho with grilled shrimps, which was very good. My young rabbit salad with aspic and hazelnut oil dressing was just fair. The pieces of rabbit were tough and the greens limp. The cote du boeuf du Charolais for two was a shadow of our fond memories. Gone was the tenderness and flavor. What has happened to Charolais, we asked? But they did not have an answer. The stuffed pasta tubes au gratin served with the beef were rich and delicious, but a rather odd accompaniment in our opinion. The rice pudding with orange sauce was also not what it used to be. Time to sleep.
One of the reasons why Lyon is so exceptional is its diversity. The historic city is comprised of four areas; the Peninsula is located between two rivers, La Saone and Le Rhone. This is the area described to this point. Crossing one of several pedestrian and vehicular bridges, one arrives at Old Lyon, comprised of three districts: St. Jean, St. Paul and St. Georges. Towering above Old Lyon is Fourviere, where it all began. Pentes de la Croix-Rousse, the high slopes across La Saone north of Old Lyon, were developed originally for the famous silk weaving industry, which required extraordinarily high buildings with high ceilings and lots of windows to capture the daylight and accommodate the looms.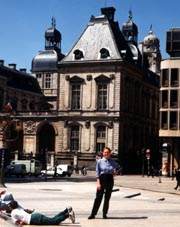 Another bright, sunny day as we headed north up Rue La Bourse which led into lively Rue du Garet and Rue Giuseppi Verdi, filled with tiny bouchons, restaurants, gourmet food shops and cafes - a new paradise for our next visit. Right nearby is the glass domed opera house and across the way, the stunning Hotel de Ville. The Place Des Terreaux is highlighted by the Palais St.-Pierre, which houses France's largest museum of fine arts after the Louvre, and the Char de la Liberte (Chariot of Liberty), a gorgeous carved stone fountain. Again, the center of the square around the fountain has water shooting up from the pavement. It sure keeps the camera's clicking!
It seemed like the entire city was out enjoying the day. All of the sidewalk cafes and eateries were filled with patrons and the aroma of wonderful foods was everywhere. At 16 Rue d'Algerie, the window of Tunis La Marsa stopped us cold. Mouthwatering Tunisian pastries piled high and most dominating was a selection of soft-textured, sensual Halvah. I do have a thing for this ground sesame concoction particularly when it's fresh and contains pistachios. The slice I walked away with quickly disappeared. This small restaurant features couscous dishes, which looked excellent and inexpensive. So if you want a break from French food, this could be the place.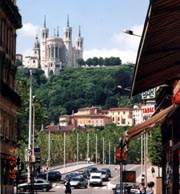 Crossing La Saone to Vieux-Lyon, we caught the funicular to Fourviere. The Fourviere Basilica is an eclectic mix of Gothic and Byzantine. The interior, quite opulent compared to the exterior, is replete with magnificent sculptures and large mosaics. The esplanade around the basilica was the original Roman Square and from here are stupendous panoramic views of the entire city with its various quarters. On the far side of La Rhone (called the Left Bank) is the newer city, with the Part-Dieu business center and railway station (from which we would get the return TGV to Charles d'Gaulle) and a large shopping center complex as its nucleus. The contrast from modern to old to very old to ancient - it's all here.


That contrast becomes so evident as we proceed downhill through the Roman archeological site. We didn't have the time to visit the museum of Gallo-Roman Civilization, but understand it is quite worthwhile. We should note here that we were told there is a lot of excavation going on in the area and that history is being rewritten. Where we stood was Roman, but there might yet be more discoveries and the understanding of the history of this place is still evolving. The amphitheater, originally built to hold 10,000 people, is in good condition and is still used for outdoor concerts. A second theatre adjacent to the main one, discovered only in 1933, was built to seat 3,000 and is well preserved.
Our stroll continued through the lush Park Des Hauteurs, enveloped by the sweet smell of flowers, fruit trees, plants and the fragrant, beautiful roses of the Jardins du Rosaire (Rose Garden). This garden led us down to the St. Jean quarter, with its traboules or covered passageways connecting parallel streets. Within the passageways are courtyards with access to the surrounding dwellings.
The St. Jean Cathedral is impressive in size and appearance. It houses a 16th century astronomic clock, the oldest working one in the world, which chimes four times a day. It is challenging trying to figure it out, but rather amazing when you discover that it does, in fact, get it all right.
Navigating these ancient streets was a delight for the senses as we peered into the inner courtyards, read the menus of the numerous restaurants and walked into the food stores. Later, sitting at a sidewalk table enjoying coffee and a sweet, already looking forward to our next visit to this lovely city.
Crossing back across La Saone to Quai Tilsitt, we went to #13 to visit the synagogue. Built in 1864, it is in an inner courtyard and undergoing renovation. Both the exterior and interior are of basic, traditional design. The elderly caretaker who answered the bell invited us in and unfortunately for us spoke no English so it was impossible for us to communicate. It appeared there is a fairly good size congregation.
By the way, we discovered that the prices of Mephisto footwear are about 40% lower in Lyon than in the U.S. or in Canada and that's not taking into account the possibility of getting the VAT returned.
Our thanks to Roger for recommending Au Pave de Viande, 15 Rue Claudia, where we had a delightful dinner. The greeting, advice and attention we received from the enthusiastic and professional manager insured a memorable experience for us and for the other diners whom were looked after with equal care. We sat in the glass enclosed sidewalk patio. The interior dining room was comfortably designed around an attractive bar and would have been our choice were it not still daylight. Linda's salade Nordique was an immense portion of delicious, house-marinated salmon served with crisp greens. My starter, the salade gourmande, consisting of foie gras, marinated salmon and magret confit with greens, was a gem. Linda loved her calf's liver in berry vinaigrette and my filet of beef made up for my disappointment the previous night. When you're itching for that certain satisfaction, nothing but the best beef will do; the itch subsided. The mains were served with fresh, slender green beans, Lyonnaise potatoes (where else if not here?) and a small, warmed tomato. We shared a smooth, rich, chocolate mousse. As Roger had said, it was a quality dinner at a reasonable cost.
We spent our last morning at the daily market on the Quai Celestins and the Quai Antoine on the Peninsula banks of La Saone, wishing we could take the wonderful foods home with us.


The TGV ran on time to Charles de Gaulle and a short walk brought us to Air France, which provided excellent service and food on our flight to Oporto, Portugal.


Search TheTravelzine | TheTravelzine Group | Don's Gallery
Packing Hints | Planning Tips | Cities Links

---
All pages on TheTravelzine.com©Copyright 1996-2020 Don & Linda Freedman