B E R L I N
Fall 2009
Part 1 | Part 2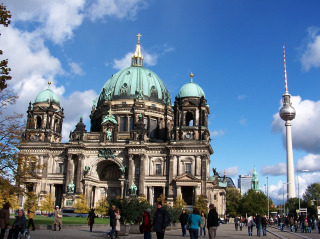 We last visited Berlin in 2002 as part of our 40th wedding anniversary 40-day trip. We were intrigued and knew we would return. Now was the time.
KLM offered the best flights and fare from Toronto. The ground and in-flight staff on all segments were exceptionally welcoming, caring and helpful. The planes were very well appointed and clean. The economy seating was comfortable and the food and beverage service was as good as, if not better, than we have had in this class of airline travel. We changed planes in Amsterdam both ways and arrived in Berlin and back home in Toronto right on schedule.
Since we cleared EU passport control in Amsterdam between flights and we only had carry-on baggage we were on our way into the city in the blink of an eye. We took bus #109 just outside the terminal.
The standard fare (2.10 euro) for inner city zones A&B is good for two hours throughout the system, i.e., on buses, U-Bahn (underground), S-Bahn (surface) and trams. Ticket machines are available 24/7 at all stops and are easy to use in 5 languages. Tickets can also be purchased from bus drivers or if taking a tram they can be bought at an on-board machine. Tickets must be validated at a machine on the platform or on the bus or tram with the exception of tickets purchased from a bus driver, which are pre-validated.
It was a 20 minute ride to our stop at Olivear Platz which is on KurfurstendammStr at the corner of KonstanzeStr. We crossed "Ku' Damm" to LeibnizStr and proceeded north a few blocks to number 59, a lovely historic apartment building and home to the Hotel-Pension Art Nouveau. Located in beautiful, historic Charlottenburg, the hotel is perfectly situated for great shopping and dining with easy access to everywhere in the city by public transportation.
We were buzzed in and took the splendid ancient birdcage elevator (with benches for the weary) to the fourth floor reception where Gerd and Christine warmly welcomed us to their Art Nouveau gem.
The high stucco ceilings, tall windows and shiny wooden floors have graciously stood the test of time. Each soft color themed guest room is decorated with an eclectic mix of furnishings, restored antiques, and art.
The guest rooms are on the fourth and second floors. Ours was on the second, in the rear, overlooking the garden. Under the bedspread were comfy duvets, pillows and firm mattresses. Our bathroom, though compact, had a window. There was direct dial telephone, wi-fi connection, which was more dependable on the fourth floor, and flat screen cable TV. The hotel is non-smoking, which we always appreciate.
The bright yellow breakfast room is on the fourth floor. The ample buffet features those wonderful German breads, rolls, cheeses and meats. Smoked salmon is offered some days. Plates of tomato, cucumber and mozzarella are a nice addition. Hot coffee and teas are always on hand and espresso is available on request. A fine selection of fresh fruit, cereals, juices and jams rounds out the choices.
Christine and Gerd are always on hand along with friendly, efficient Marion to make sure everyone is happy. Their guests' comfort is their primary concern, which is why the Art Nouveau has such devoted clients. They are happy to offer suggestions and answer inquiries on museums, art galleries, itineraries, transportation, dining options, etc.
Afternoons, the room transforms to a social center with an honor bar, complimentary snacks, coffee, tea, etc. Wi-fi is available, and there is an Internet point for guests to use free of charge.
[Back to Top]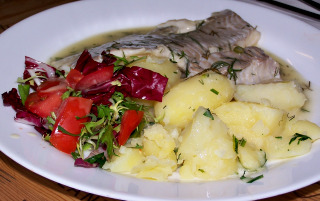 After settling in we headed out for a walk around the immediate neighborhood. We walked east on the lovely MommenStr and at the corner of SchluterStr saw folks standing at high tables outside the restaurant Klemke seemingly enjoying the delicious smelling, appetizing plates of food before them. Who are we to miss an opportunity? It was packed inside, many standing and eating, and a long line waiting to place an order. Like good soldiers we joined the throngs.
There was a blackboard behind the counter with a list of the daily offerings. The prices were extremely reasonable (between 5.50 and 6.50 euros). We are pretty good at menu language and Linda ordered (in German of course) grilled liver with mashed potatoes and salad and I, seelachs (a local fresh water fish) with boiled potatoes and salad. The portions were ample and everything was fresh and delicious. We found the only two high stools in the place and enjoyed our feast in comfort sitting down.
Our long time friends Pierrette and Louis have a home in Berlin which gave us added incentive to return. They live within walking distance of our hotel and were on hand Saturday late morning to begin a long week-end of reuniting and touring.
They led us west on MommsenStr to the wide shopping boulevard WilmersdorferStr where we proceeded north to PestalozziStr. Turning east we came to Karl-August Platz home of a Saturday and Wednesday market where they do their shopping. Being Fall the farmers' stands were loaded with root vegetables, squash, pumpkin (pumpkin soup was every menu), carrots, turnip etc. The aroma of fresh herbs and freshly baked breads filled the air. Fish, seafood, meats and cheese were in abundance. Our friends have their favorite stands and soon, with their knapsacks overflowing, they were ready to move on.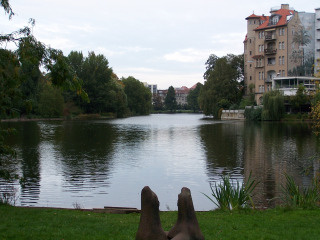 Berlin is an exciting and vibrant city, but at the same time is relaxing and peaceful. It's possible to find tranquility at its many parks and gardens, along the banks of the River Spree or at the lovely lake Lientzensee in the middle of Charlottenburg where we found ourselves after walking west of PestalozziStr.
Our friends had made reservations at Gusto, a small trattoria at DusseldorferStr which is deservingly one of their favorite restaurants. Linda and I started with a hearty pumpkin soup followed by perfectly grilled and seasoned branzino, crisp outside, moist inside. The sides of fresh steamed vegetables and roasted potatoes were excellent. A good value fun spot.
[Back to Top]
There are 12 city districts, each with its distinct personality. Today our friends guided us to Prenzlauer Berg just north of Mitte. A combination of U- and S-Bahn took us to the Schonhauser Allee station to begin our visit. An attractive old iron bridge led us on our way and we were immediately immersed in a parade of baby carriages and strollers.
This district was not bombed during the war and the original buildings have been well maintained with ongoing renovations preserving their beauty along narrow tree lined streets. Young couples and families patronized the restaurants, cafes and shops. As we strolled the streets we sensed a contented buzz - life is good here.
At the corner of Schonhauser Allee and DanzigerStr we found comfort at Manolo, a charming cafe that makes sensual hot chocolate, from real chocolate, topped with rich whipped cream.
The green Kollwitz Platz seemed to be the hub of social activity. The large patios of the numerous cafes facing the park are people-watching central. Adjacent to the Kollwitz Platz is the Judischer Friedhof, a Jewish cemetery. The main entrance is on Schonhauser Allee.
Kruezberg, just south of Mitte, is the most densely populated district in the city. Historically it has been home to 1st and 2nd generation immigrants, many of whom are Turkish. As the Mitte district developed, young artists, writers, musicians, and designers migrated south where rents were much cheaper and they were able to establish galleries, studios, cafes and restaurants. Today there is a strong multicultural and creative mix living in harmony.
Pierrette led us on what turned out to be a brief tour because of the rain. We took the U-Bahn to the Mehringdamn station and patrolled the streets in the southwest corner of the district. BergmannStr was a picturesque mix of Turkish and Asian shops and restaurants. At the corner of ZossenerStr adjacent to Matheineke Platz is a Market Halle, which is a large food court. I finally had my first matjes herring sandwich while the girls nibbled on sesame bread sticks. At the east end there is a café-restaurant where the hot chocolate and cappuccinos were excellent.
[Back to Top]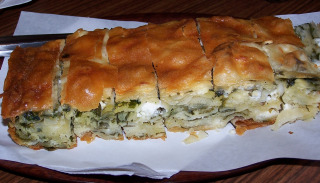 Smart buildings, shops and restaurants along the pretty tree lined GrimmStr from which we continued north on GraefeStr to Kottbusser-Damm and the Landwehkanal, the waterway that runs east-west through Kruezberg. This is the spot where there is a lively Turkish Market every Tuesday and Friday. At KottbusserStr 25 Linda spotted fresh baked Turkish pies (filo pastry) in the window of Leylak. We tried two versions, both filled with cheese and spinach, the difference being in the crust; one was flakier than the other. Good stuff cheap.
Tonight we had a Zine GTG (a get-together of members of TheTravelzine discussion group). Pierrette and Louis were able to make it along with Myra and Neil from Toronto who were in town. We met at the Turkish restaurant Mey, BleibtreuStr 47. Great conversation about our current, past and future travel plans over platters of hot and cold appetizers, grilled lamb and fish, beer and wine.
Since we had been absent from the city for 7 years and it was a drizzly day we decided to take the City Circle Bus Tour. There was a slight break in the weather so we hopped off along Unter Der Linden for a walk and coffee break. This wide powerful boulevard is the ceremonial axis of the city. Over the centuries victorious armies have paraded its length. At the west end of Unter den Linden is the grand Pariser Platz, home to the Brandenburg Gate, embassies of the United States and France, and the Adlon Hotel.
Brandenburg Gate, the most famous landmark in Berlin, was constructed in 1791. It was not damaged during the Second World War and the main architectural design has not changed. During the communist regime it was incorporated into the Berlin wall. Now it is a symbol of the successful reunification of the city.
SILENCE in the Brandenburg Gate, is the result of a vision to create a non-denominational Room of Silence in the middle of the city. It was opened on October 24, 1994. It provides an opportunity for everyone to enter and remain in silence, to relax, gain strength, meditate and feel gratitude. It is significant that the room is in the Brandenburg Gate because the gate was conceived as the Gate of Peace.
[Back to Top]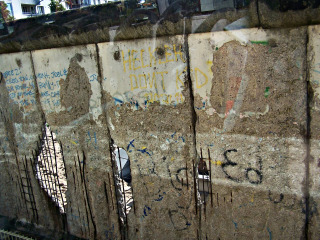 The rain and winds were peaking as we exited so we hopped back on the next City Circle bus to continue the tour. The bus was filled with tourists from around the world, for a very good reason. This is the year of historic celebrations in Berlin: the 60th birthday of The Federal Republic of Germany, the move of the parliament and government to Berlin and the 20th anniversary of the peaceful revolution of the citizens of the GDR that led to the reunification of divided Germany with the fall of the Berlin Wall. Information about the celebrations and events can be found at the Berlin Tourism web site.
Berlin is too large a city to rely on foot power alone. A combination of walking and public transportation is an excellent choice. For the balance of our stay we opted for the 5 day Welcome Card, which was very efficient for us.
We had found many interesting restaurants in our neighborhood and were having trouble making a decision. We took our problem to Gerd and Christine and after determining where our taste buds were at recommended the Austrian restaurant Nussbaumerin at LeibnizStr 55, just 5 minutes away.
The dining rooms are clubby Austrian elegance yet casual and relaxing. We perused the menu while enjoying the house pate and breads. It would be two classic choices, wiener schnitzel with warm potato and cucumber salad for Linda and tafelspitz for me. The boiled beef is preceded by a bowl of its broth with strips of savory pancakes and root vegetables. The meat was served with fried potatoes and onion with white horseradish of course. Konigspilsner was a perfect partner. A classic finish - Apple strudel, ice cream and whipped cream. Our meal was almost perfect. Linda found the breading on the schnitzel too oily. Our waiter was excellent and the prices reasonable.
[Back to Top]

Search TheTravelzine | TheTravelzine Group | Don's Gallery
Packing Hints | Planning Tips | Cities Links

---
All pages on TheTravelzine.com©Copyright 1996-2020 Don & Linda Freedman