PORTUGAL
WINTER 2019
São Miguel, Azores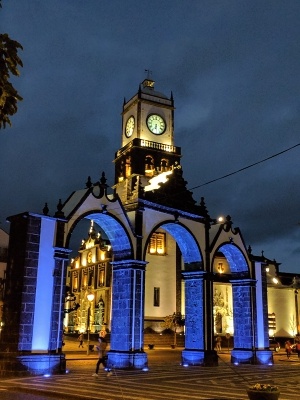 Tourists have discovered Portugal. We were lucky to get acquainted before the hordes arrived, not only to the mainland but here in the Azores. We toured the mainland from 1997 to 2011. Our first visit to the Azores was in 2003 to São Miguel, Terceira, Faial, and Pico. In 2006 we came back to São Miguel and since 2012 we have wintered in Ponta Delgada (read all about it in our past travelogues). Ponta Delgada is in the midst of a renaissance. The old residential and commercial buildings that were badly in need of repair and renovation are being converted into smart accommodations, restaurants and shops. The façades retain the historic look and the interior construction is mandated to withstand the elements. Visitors now have more and better choices to sleep and eat well.
This was THE winter to be out of Toronto. This is our 9th winter doing just that, bedding down in Ponta Delgada, São Miguel, Azores, Portugal.
We are fortunate that there are non-stop flights from Toronto to Ponta Delgada via Azores Airlines, a division of Sata. The rebranding to Azores Airlines is part of a commitment to the constant effort to improve the flying experience. The flight schedule is convenient year round. The service on the ground and in flight, in all classes, gets better every time. Whichever class you choose will be very good value. This was particularly true this flight which was our first on the new A321 with 3x3 seating in economy and 2x2 in executive.
From Toronto, the flying time to PDL is only 5.5 hours. The time difference is only 4 hours. It's a breeze.
Azores Airlines is located at the far end of Terminal 3 at Pearson Airport. The check-in desk opens 4 hours before flight time. With the comfortable gate-side waiting area or Executive Class lounge, it's comfortable if you choose to arrive early, as we always do.
There are onward flights to mainland Portugal, Cape Verde, the Canaries, Madeira and the other islands of the Archipelago.
We know that many people have no knowledge of the Azores, so here are a few facts to get you started on your journey. The Azores is an autonomous region of Portugal. Nine islands comprise the archipelago. São Miguel is the largest and along with Santa Maria (the first discovered in 1427 by Portuguese explorers) form the eastern group. Terceira, Graciosa, São Jorge, Faial and Pico are the central group and the western group is made up of Flores and Corvo. The archipelago is located in the Atlantic Ocean, 1408 km from Lisbon and 3910 km from New York. It's no wonder the fish is fresh out of the water onto your plate. The mild maritime climate is influenced by the Gulf Stream. Daytime temperatures average 23 C in the summer and 15 C in the winter. The weather is ideal to visit comfortably any time of year. The population of the archipelago is about 246,000, 138,000 of which live on São Miguel. 138,000 cows (one for each person) graze freely making the dairy and meat as wholesome as possible. Wholesome, the perfect way to describe life on the islands.
[Back to Top]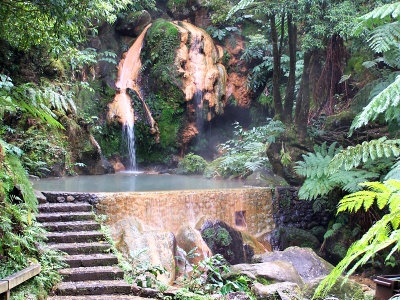 Nature is revered in São Miguel (and the other 8 islands that comprise the Azorean archipelago). In this paradise, spectacular lush greenery and exquisite plantings are pampered. Volcanic mountains topped by luscious lakes, thermal waters and waterfalls, lovely beaches, natural coastal pools and surging white-capped surf is visually exquisite and spectacular venues for outdoor activities (hiking, walking, biking, diving, surfing, canyoning, kayaking, fishing, golfing, thermal bathing and bird watching).
Our previous travelogues contain in-depth, detailed and informative reporting of all the exquisite beauty of São Miguel. Join us as we travel along the coastline exploring the towns, villages and eye popping viewpoints. Take a journey to glistening lakes on high and bathe in thermal pools. Breath in the aroma of the fresh air filled with the fragrances of the lush flowering greenery. Make a friend with one of the 138,000 cows roaming the luscious land. It's all there to tempt you to visit soon.
We have been very pleased with our lovely apartment in Ponta Delgada at Rua Machado dos Santos, 90. The location right in the city center is very convenient with all our basic needs in walking distance.
The building has three floors with an elevator. There are not many buildings of this size with this convenience. All the necessities are in place: heating/ac unit, washer/dryer combo, electric stove, internet and cable T.V., strong wifi, and a fully-equipped kitchen. The generous size queen bedroom has adequate closet space and the living room easily handles our lounging and computer needs. There is a good size bathroom complete with storage cabinets, tub/shower combo and bidet. Cleaning is done once a week.
Eleutério and his wife, Maria, take pride in satisfying their guests. No request goes unanswered. They reflect the good and kind spirit of the Azorean people.
Eleutério also does custom-designed tours. Besides being an avid diver and hiker, he loves and knows every inch of the island. He has shown us those off-the-beaten-track delights that we all crave as well as the best of the best sights and sounds.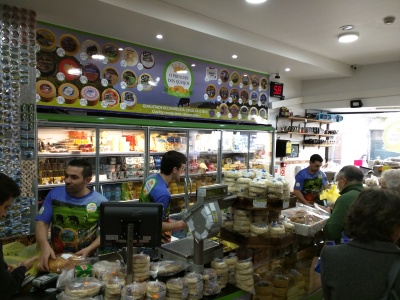 Eleutério picks his guests up when they arrive and returns them when leaving. It did not take us long to unpack, freshen up and be on our way to begin to do food shopping. All of our basic needs are within walking distance. The Manteiga supermarket just up the street, The Solmar Market next to the Solmar Avenida Center, across from the marina, and the large Continente Super Center in the Parque Atlantico Shopping Center, a 15-minute walk from our apartment. Mercado da Graça on Rua do Mercado is the place for fresh produce, fish and meat. The adjacent O Rei Dos Queijos (King of Cheese) is a must for a hand-cut wedge of luscious São Miguel or São Jorge cheeses, our favorites. They also feature many island products at reasonable prices. We normally do our cheese, jam, tuna, biscuits, bananas, etc., shopping at O Príncipe dos Queijos, Rua dos Mercadores, 50, owned by the same family. Local tuna is known to be the healthiest variety there is. Take some cans home along with delicious jams made from local fruits.
[Back to Top]
While we were in the area we stopped into the Solmar Avenida Center to say hello to our friends at Wash Now, a clean, modern, well-equipped laundry. These accommodating folks will wash, dry, fold and neatly package your laundry in two to three hours. There are a host of cafes and restaurants in the center along with free wifi (we discovered that free wifi is now available throughout most of the city center) to help pass the time.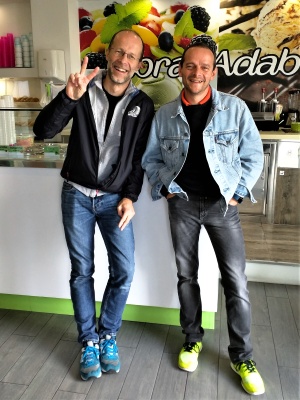 We arrived at the beginning of January and had to suffer the seemingly endless wait until February 9 for our first authentic gelato fix. Gelateria Abracadabra, gelato at its best, located at the corner of Rua Diario Dos Acores and Rua Marques Praia E Monforte, just past the Hotel Talisman. The opening was eagerly anticipated by all. Winter hours are 12:30 to 21:30, 7 days a week. Check the web page for current opening hours during your visit.
The cheerful staff stand ready to fill your cup or cone with your flavor choices. Flavors are rotated regularly while new ones are constantly introduced. You must come everyday to try them all, as do we, and if you prefer a waffle topped or a pancake filled, with your flavor of choice, these treats also await you. Will it be hazelnut, pistachio, chocolate, dark chocolate, vanilla, biscotti, stracciatella, coconut, choco peanut or fruits of the island like pineapple, mango, passion fruit..? Always a different assortment from which to choose.
The shop is bright and cheerful with seating inside and out. The staff are constantly cleaning to maintain a sparkling, inviting and healthy environment. There is lots to explore in the neighborhood, a cup or cone is a pleasureable companion.
Daily life for an Azorean always involves at least one stop for coffee and a sweet. There are a multitude of cafes and pastelarias to cater to this need. After much trial and error we have found that Paraíso das Delícias on Rua Diario Dos Acores, just down the street from Abracadabra, is our go-to spot for a daily pastry. Owner Claudia, who produces wonderful versions of traditional goodies, is always experimenting with new delights. It's difficult to select from the displays of heavenly almond cake, broa, chock full of nuts and raisins, the classic pao de deus, cream and fruit filled delights, muffins, and the beat goes on. All to be enjoyed with Illy brand coffee.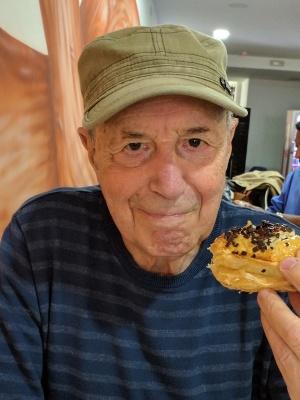 [Back to Top]
Abracadabra and Paraíso das Delícias, two winners on Rua Diario Dos Acores. We hope to see you around the neighborhood when you come for these island delights.
When need be, mini-bus connections are minutes away. It's fun to watch the skilled bus drivers manuever through the narrow streets. They are friendly and kind to their passengers helping make the ride as comfortable as possible for all. It's heart warming to see the younger passengers treating the ederly with care, offering their seats without hesitation.
We love the cleanliness of São Miguel. Here in Ponta Delgada the streets are always immaculate. Those cleaning guys are constantly sweeping and vacuuming. There are waste bins attached to buildings all around the city center. Restaurants, cafes, bars and visitor accommodations maintain the highest standards.The attractive stone streets and sidewalks are constantly being repaired by skilled stone craftsmen.
Invariably our daily jaunts take us past the Igreja Matriz de São Sebastião and the city gates. it is rare that Linda doesn't stop to capture the image from yet another angle. Our walking route covers the stretch from the fort (Forte de São Bras) in the west to the Clube Naval (Nautical Club) in the east. The fishing port is next to the fort. Steps down from Avenida Marginal, facing the port is a promontory that has been transformed into a cozy eating and drinking area, Cais Da Sardinha. Shipping containers have been transformed into a cafe and restaurant. Comfortable tables, chairs, lounges and a picturesque view make it a compelling destination.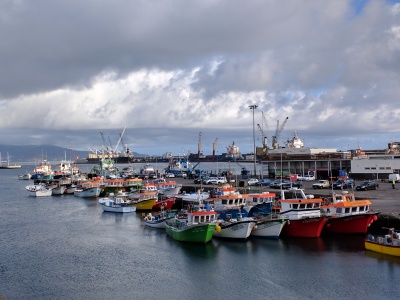 Glass enclosed cafe kiosks with outside seating run along the seaside offering beverages, snacks, marina views and fresh, sweet air. Next along is the cruise ship and ferry terminal, which when occupied keeps the waterfront bustling. Portas do Mar with its shops and restaurants fronts the terminal. The adjacent sea and swimming pool area leads to the Club Naval Marina. Try to make it for sunrise or sunset for the real deal. Capture those views from the footbridge that links the seaside to the Hotel Marina Atlantico.
Ponta Delgada has a long history to absorb and appreciate as you wander the streets. Here are some monuments that should not be missed:
Museu Carlos Machado, the main one, was created by Dr. Carlos Machado in 1876 and opened June 10, 1888. With the acquisition of the Saint Andrew convent in 1930 came the opportunity to gather in the same building all the collections of the Carlos Machado Museum. Over the years donations and acquisitions contributed to the depth and diversity of its collections; natural history, art, African and regional ethnography.There is a natural history collection of preserved samples of every fish, animal, bird, insect, butterfly, etc. that has ever inhabited the Azores, as well as pictures, graphs, charts and detailed explanations. It's a scientific reflection of nature's impact and influence on the Azores during the 19th century.
The Sacred Art collection was moved to the nearby Jesuit College Church. The church now operates under the umbrella of the Museo Carlos Machado where it is now a permanent exhibit. Jesuits College Church came to Ponta Delgada in 1591. It's a glorious baroque creation, with ornamental volcanic stone elements on its facade. The high altar is a dazzling work of intricate wood carving and 18th century blue/white glazed tiles (azulejos). There are several paintings and sculptures from the 17th and 18th centuries in the nave and sacristy.
In 2010, the Museum opened a third center, Santa Bárbara, just south of the main building, Saint Andrew convent. This marvelous property houses a permanent exhibition of the extraordinary sculpture of Azorean Canto Da Maya. You will know you are there when you see the solitary figures of Adam and Eve in the courtyard. There are always temporary exhibits which fulfill the Museum's Mission: "To study and preserve heritage and through it unveil and promote Azorean culture and Azorean identities, focusing on educational activities aimed at several publics. It is a place of inclusion, where identities are expressed and diversity is promoted, where ideas are put forward and generations meet, where citizenship is developed and past and present are united
."
[Back to Top]
The Sahar Hassamain (Gates of Heaven) Synagogue was founded in 1836, (the oldest in Portugal), on Rua do Brum, with a facade like any other building in the historic center. A marvelous restoration was completed and opened to the public April 23, 2015. The exterior was preserved as it was. The Sancturary reclaimed its breathtaking aura. A bright and airy Museum and Cultural Center were created to document the Jewish Heritage of the Azores. (Better yet, make your visit here part of a larger Jewish heritage tour of Portugal. We have written about most of these synagogues: in Porto, the Kadoorie synagogue; in Lisbon, the kehilat Beit Israel and Shaare Tikvah synagogues; in Belmonte, the Bet Eliahu synagogue, and the synagogue of Tomar.)
Torre Sineira was built in 1724 behind the city hall to replace the main church tower that was in bad repair. It's 29.6m high with 108 stairs. The panoramic views from the top are worth the 108 stair climb.
There is much more to explore. Relax, take your time, the Azorean way.
We often stop to help folks looking befuddled with map in hand. Invariably the conversation turns to where to eat. We tell them that frankly you can't go wrong. All food establishments at all price levels offer excellent value. The menus feature local regional fare. Some of the new establishments are updating their offerings. Most of the ingredients are local and of excellent quality. The livestock are fed local grains and grass, which is reflected in the natural flavor and texture of the meat, pork, fowl and dairy. Fish is caught daily (as weather permits) - ocean to plate.
There are many places to enjoy a traditional meal in the city center at reasonable prices. We do have a few favorites that we go to regularly:
Floresta Lisbonense is located on Rua Dos Combatentes da Gandeguerra, an alley behind the Maritime Police Building on Avenida Marginal. The menu of the day with 6-7 offerings is posted to the left of the open window. Family owned and operated, the portions are large, the prices small. It isn't fancy. It's a fun, thrifty, absolutely local experience.
[Back to Top]
Casa do Pasto Tavares, at the corner of Rua Melo and Rua Bettencourt, is a family institution. This is a typical neighborhood tasca complete with blue tile walls (azulejos). The daily menu includes the freshest fish of the day, and traditional meat, pork and chicken dishes. Your plate will be full, while the prices are moderate. Join the regulars at lunchtime and enjoy the hustle and bustle.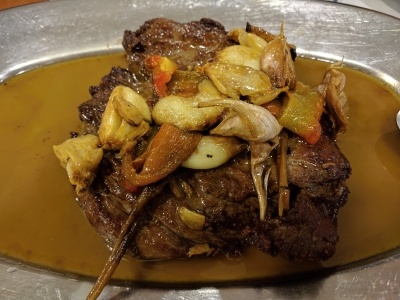 Aliança, Rua Acoreano Oriental, 19/23, has a homey ambiance and service that makes it a totally relaxing experience. The regular menu has well-chosen offerings. The daily list is primarily made up of the fresh fish selections and traditional regional specialties. We come here regularly for the fresh fish and the excellent quality regional steak. Both are expertly grilled and seasoned. Have either the orange or coconut pudding cake for dessert, unless you can handle the ten-minute walk to Abracadabra for gelato. Just sayin'!
A Comercial Cervejaria da Cidade at Rua Machado Dos Santos 75 is centrally located with a welcoming ambiance. Come early morning for breakfast, return for lunch and come back for dinner. It's also the kind of place that you will want to stop in for a coffee, beer, glass of wine or cocktail and be able to catch a football game. A neat spot for good food and friendship. All pure regional specialties extremely well done.
Restaurante Ramires, which features chicken made famous in the town of Guia in the Algarve, is now in Ponta Delgada at Portas do Mar. They use organically-grown, small chickens which are cut in rib-like slices, grilled with a secret piri-piri sauce and served with a large portion of superb fries. The tomato salad and creamed spinach are excellent sides (extras).
[Back to Top]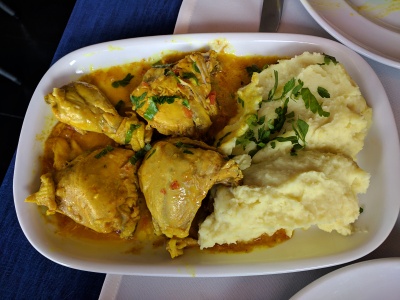 Cozinha d'Arlete, is located in a residential section, northeast of the center, at Rua Professor Machado Macedo, 12. It's only a 30 to 40 minute walk or 15 minutes on the "C" minibus from downtown. If you want to eat in, don't wait in the long take-out line, just pass into the bright and cheerful dining area. The owner presides over the display of the daily offerings insuring every plate is properly filled and presented. Everything is market/garden-fresh quality and cooked with loving care. Find your way to Cozinha d'Arlete for a memorable Azorean meal.
For those of us who enjoy a glass of wine with our meal it should be noted that Portuguese wines are excellent (particularly the reds) and extremely reasonably priced at any chosen level of quality - terrific value.
We were introduced to a fabulous fish restaurant, Borda D' Agua, by our friends Luca and Stefano. It's located in Lagoa, at Largo do Porto, 52, right at the fishing docks, no wonder the display case featured much variety. The brightly lit dining room feels like a homey kitchen. Tables were beautifully set with a tantalizing array of starters including: fresh cheese from São Miguel and the famous cheese of São Jorge, a basket of corn breads, several pates, pickled red onions and peppers, and more. The aroma of grilled fish led us to the fish display where we selected four different varities to share. Back to the table to leisurely enjoy the appetizers with delicious wine. The fishes arrived perfectly grilled surrounded by white and sweet potatoes and fresh vegetables. We finished with a honey liqueur and agreed Borda D' Agua was a fabulous find, a delightful experience at a very reasonable cost.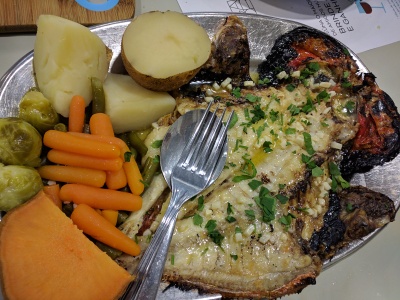 Another day, they introduced us to Cantinho do Cais, located on the north coast, east of Ribiera Grande, in the town of São Bras. The specialty here is homemade fish soup. We ordered 3 portions for the four of us which was the perfect amount. We enjoyed fresh cheese, bread and a very nice white wine while awaiting the made to order soup. Our lovely waitress appeared with a large pot filled with fish, which she fillets, potatoes, onions, herbs with a rich, fresh aroma of goodness. She filled our bowls and at the perfect time reappeared to divvy up what remained in the pot. Luca and Stefano scored high marks again.
A wonderful new addition to Portas do Mar is Momentos. In the bright open kitchen João creates wonderful renditions of traditional specialties while twin brother Hernani deftly handles the airy, comfortable dining room and patio. We started with a rich, well textured, shrimp soup and shared an order of arroz cherne (our favorite fish) and camarão. The brothers assured us that the desserts where all house made so we opted for a sampling platter, which included a variety of ice creams, coconut pudding, red velvet cake, chocolate mousse and berry mousse - awesome all. Momentos is a welcome addition to Portas do Mar. Superb quality, preparation, presentation and service at reasonable prices make a visit a must!
[Back to Top]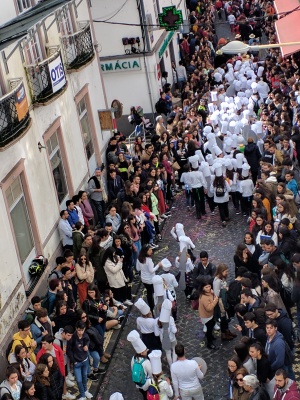 Machado dos Santos is strategically located to host many cultural events. About 10:00am Friday, Mar. 1 we heard the happy beat of drums and knew it was Carnaval Corso time here in the city center. For two decades São Miguel has celebrated the youth of the island as part of the Carnaval festivities. We looked down at the packed sidewalks of the narrow street as the parade passed through. Each group of children represents a school, institution or sponsor. The colorful costumes reflect the creativity and hard work of the community. The scene below, deep in tradition and filled with joyful music, gave us a sense of well-being that is not easy to come by in our troubled world. That's why we come here.
The Romeiros' Pilgrimage of São Miguel takes place during Lent for six weeks. Groups of men of all ages take to the streets and roads of the island to honor their commitment to their faith. They walk with a scarf around their necks, a cape, a backpack, a rosary and staff in hand. Their chants can be heard from dawn until dusk over hills, in valleys, along village roads and on city streets.
We like to have our hair cut just before leaving for home and are fortunate to have Salão Vip next door, at Rua Machado dos Santos, 96. The owner, Sandra Rodrigues, is as bright and cheerful as her 1st floor shop. She's talented, meticulous and friendly, the Azorean way.
It's also a great idea to leave with a sweet taste of the island. So, just before Eleutério was due to take us to the airport, we scooted over to Abracadabra to fullfill that need. One cup of pistachio and hazelnut and one of dark chocolate and passion fruit, way to go! Hopefully we'll see you at Abracadabra next year.
Search TheTravelzine | TheTravelzine Group | Don's Gallery
Packing Hints | Planning Tips | Cities Links

---
All pages on TheTravelzine.com©Copyright 1996-2020 Don & Linda Freedman