PORTUGAL
WINTER 2013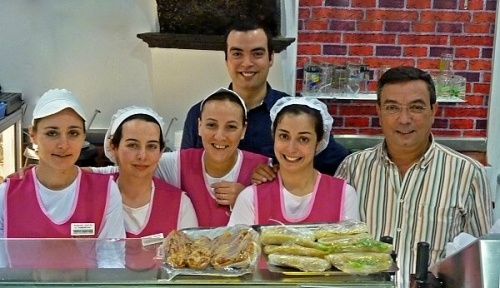 The friendly smiles at A Comercial in Ponta Delgada
When we were young and working hard to build a good life for ourselves and our children we dreamed of the day we would be able to spend months lying in the sun on a tropical island. But by the time we retired, we were at a stage of life that the sun and heat of the tropics was not our best friend, nor was the cold and snow of winter in Toronto.
During one of our tours of Portugal we discovered the nine island Azores archipelago. The year round temperate climate is ideal. The median temperatures range from 16C in the winter to 24C in the summer. Situated in the middle of the Atlantic Ocean, 3910 km from New York and 1400 km from Lisbon, it is only 5½ hours flying time from Toronto to São Miguel, the largest island of the archipelago, our island dream come true. The capital is Ponta Delgada, where we can be found from early January to late March.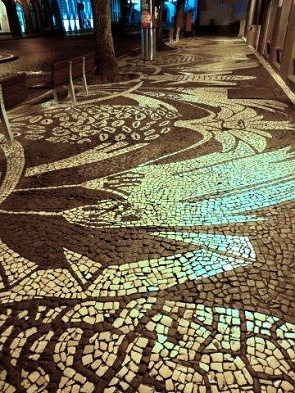 An added bonus is that there is only four hours time difference from North America, which changes to three hours when the clock springs ahead in North America in March. It reverts to four hours when Europe springs ahead to summer time not long after.
Sata International operates direct flights from Toronto and Boston to Ponta Delgada and the Portuguese mainland. The airline also has flights between the Azorean islands, Madeira and key European destinations. We have always found the service on the ground and in the air to be exemplary and on time. Seating is comfortable with ample width and leg room. Food and beverage service is complimentary.
We made arrangements even before leaving in 2012 to spend winter 2013 at Hotel do Colegio, which we had enjoyed years ago. Located in the center of the city, it is perfect for us without a car. It is minutes walking for all of our basic needs and places of interest.
The building was originally a school, which Fernando Neves, the hotel owner, attended as a boy. A showcase in the lounge contains mementos of his days as a student. It next served as the musical academy of the Regional Conservatory. The masonry and basalt work of the structure showcase the local artisans' skills.
Inside the entrance is a horse mount platform and a place on the wall to wipe off boots. Across the way in the middle of an archway leading to reception is a tribute to the musical heritage in the form of a graceful sculpture of a cello.
To the right, a series of archways form the lounge and breakfast rooms. To the side of the dining area, a glass-walled seating area faces the attractive pool and lounging area in the open atrium. The guest rooms of the hotel are built around the atrium providing pool or street views. Our junior suite, consisting of a sitting room, bedroom and bathroom, was spacious and well equipped for our long stay.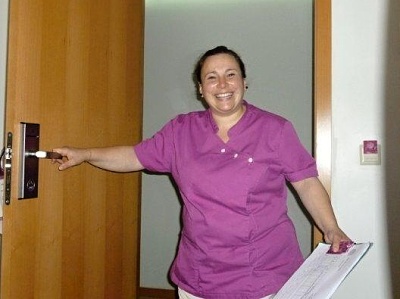 Mr. Neves and his wonderful staff are dedicated to the comfort of the guests with ready, warm smiles while efficiently going about their tasks. We got spoiled by the 5-star daily turn down service. A bright eyed, happy lady shows up between 16:30 and 17:30 and in the blink of an eye neatly turns down the blankets, fluffs the pillows, turns on the bedside lamps and checks the bathroom so that a clean, cozy setting awaits you.
The breakfast buffet is nicely presented and maintained. There is always a homemade quiche and banana bread. Local foods are plentiful: rolls, breads, cheeses, cold cuts, honey and jams, scrambled eggs, bacon, and sauteed mushrooms. For the health-conscious, there is wonderful fresh fruit salad, a fresh fruit basket, cereals and yogurt. Beverages include orange and apple juice, coffee, tea, milk and water. The pleasant staff clears your table and assists you in any way they can.
[Back to To]
Once settled in, we took to the streets for a few housekeeping chores. First stop was the beauty salon, "Visos", Largo des João 6a, for haircuts and coloring. The always happy and smiling Manuela and Patricia welcomed us back and performed their magic.
We were looking for a place for pedicures, manicures, facials, etc. Manuela recommended "Our World" on Rua Misericordia, just around the corner. The shop is sparkling clean. Helena, the owner, and her staff are extremely accommodating, professional and sweet. I had the best foot massage ever and eagerly await returning next year.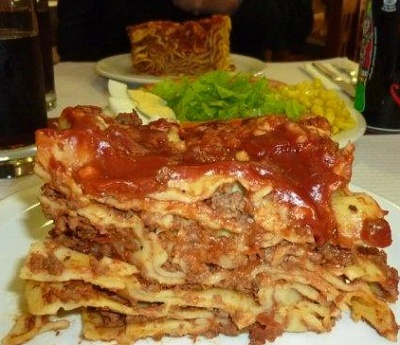 For our weekly laundry needs, we chose "Wash Now" a clean, modern facility in the Solmar Avenida Center. Take your worn washables in and two hours later pick-up your duds neatly folded and packaged. There is a very good choice of cafes and restaurants right in the center along with free wifi so it's easy to pass the time. We noted that business was brisk when cruise ships were in port.
For our first lunch we headed to A Comercial, Rua Machado dos Santos, 75. Rui, his father, João, and their team Claudia, Sonja, Carla and Elisa (Rui's sister) were on hand to greet us. As usual the line was long as folks picked up their trays and made their selections from the hot table of homemade island recipes. The lovely ladies behind the counter cheerfully fill the plates. The daily offerings vary, but you will always find a bacalhao preparation and roast chicken. Some of our favorites are pasteis de bacalhao (fried cod fish cakes), arroz de marisco, calamari stew, lasagna (to die for - made by Rui's Mom), spaghetti bolognese and every kind of fish dish. All plates are served with a choice of potatoes, rice, veggies, salad, etc. The soups are awesome. A Comercial is open for breakfast, lunch and early dinner. Since we have our main meal at lunch, A Comercial is perfect for a light dinner, such as an awesome omelet or a tasty, economical sandwich. The pastries and cakes are the best in town. In fact, one afternoon a TV crew was in the kitchen filming a piece on 'malassadas', the famous São Miguel fried-dough specialty at Easter time. The A Comercial rendition is the acknowledged favorite of visitors and locals alike.
[Back to To]
Beside many meals enjoyed at A Comercial, we often stopped in for an excellent 'garoto' (expresso topped with hot milk), a sweet goodie and a chat. It's that kind of place - good food, comraderie and friendly prices. Drop-by and say hello to Rui, who enjoys practicing his English.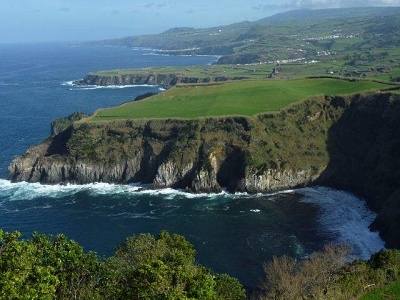 We were thrilled to meet tourists who were visiting São Miguel for the first time as a winter escape destination and loving it. They came from Canada, the U.S. and Europe. Besides the weather and logistical advantages they found that off season accommodation rates were very attractive and that the overall cost of living is considerably lower than in other European destinations.

It's also a haven for retirees like us. Last year we met Ana and Frank from Ottawa and this year Donna and João from Toronto. Like us they have fallen in love with all the charms and advantages of São Miguel and plan on returning regularly. Everyone is enthralled with the beauty of the island which we have spelled out in considerable detail in our previous travelogues.
Mealtimes are a casual, relaxing experience on the island. Not only is the food fresh, well prepared and reasonably priced but the environment lends itself to friendly conversation between visitors, eager to learn about the secrets of the island, and locals who delight in obliging them.
A special treat was meeting Dominic, Pedro, Rui, and Antoine, a chess team from the island of Faial, in Alianca restaurant, Rua Acoreano Oriental 19/23. The team was in town for an Azorean chess tournament. We chatted long after our meals ended and parted company eager to meet again. Alianca is one of our city center regular restaurants. They have the best steak in town and alway a fine selection of fresh fish.
[Back to To]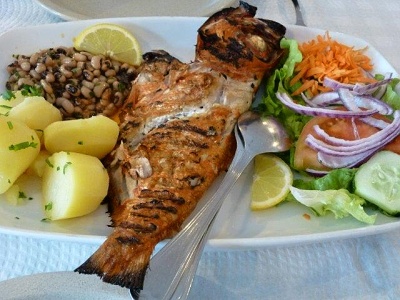 Fresh fish is our mainstay and always on the menu. Some of our favorites alfonsim. boca negra, pargo or peixao (all white, with moist texture and mild flavor) or a slice of larger fish such as cherne, grouper and swordfish are usually available. They are invariably served with boiled potatoes and salad. Of course, with more than 100 recipes for Portuguese dried cod fish, there is always at least one bacalhao dish on the menu. We find one portion of any fish shareable. A starter of soup or cheese (either fresh white cheese or São Jorge cheese) with fresh baked breads or rolls rounds out a delightful meal. House wines and local Melo Abreu beer are modestly priced. We invariably end up at the soft ice cream kiosk, Quiosque Tomé, on Avenida Infante Henrique in front of the west end of the Portugal Telecom building. This version is made with real milk with intense flavors and best of all there is a .50€ cup that keeps the calories at bay.
When you travel around the island and see the cows grazing freely in the sloping meadows, you can understand why the quality of the beef and dairy products is outstanding.
Home grown products such as; pineapples, bananas, and tea are delicious. During the growing season fresh fruits are plentiful and Quintal dos Acores turns them into luscious jams. We always pick up a selection of small jars at the supermarket to take home for the family.
Portugal makes quality leather shoes at very comfortable prices. Foreva Shoes at Rua Acoreano Oriental 46-50 has a wonderful selection.
A trip to the Mercado on Rua do Mercado will bring the food story to life. We suggest you arrive in the morning when the stalls and counters are loaded and shoppers fill the aisles. Next year we will be staying in an apartment and are looking forward to buying, not just looking. A tip - at the south end of the market is the bar/cafe Travassos. The lunch specials are terrific value. On Fridays you must get there before noon or risk missing out on the best options.
If you crave a sweet treat after 10:00PM on a Saturday night, join the lineup at Padaria Gomes & Santos, Rua Do Cantador. They open at this hour to satisfy the appetites of late night party goers with their famous pastries "Picos" and "Canela". The Picos make it for us with soft dough and egg cream or chocolate filling. The Canela have a soft inside and a crunchy cinammon exterior.
If you'd rather not rent a car, you can hire Victor Cordeiro of Dream Tours to be your guide and driver: Victor was born in Canada and speaks English well.
[Back to To]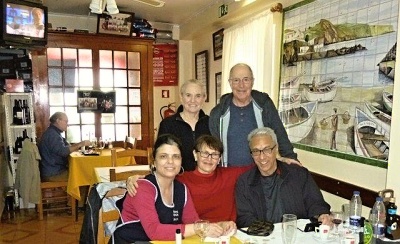 Last year we went with our friend Ana to O Rabaca, Rua do Porto 1 in Lagoa for lunch. This year we had two special treats for a return visit. One, it included Ana's husband Frank who had not been with us last year, two, it was Saturday and the lunch special was roasted goat. We started with "busos", snail like critters, São Jorge cheese and fab crusty, dense bread. We ate heartily and lingered over our house wine, beer and coffee. There is a parking lot across the street by the ocean, where the fishermen bait their lines.
We had many meals at our old favorites, Adega Regional, Rua do Melo 70/72 and its neighbor Casa de Pasto Tavares (better known as Tasca Felipe), Rua do Melo 78. Both serve up homey atmosphere and excellent renditions of island favorites at reasonable prices.
We always make a reservation at the Hotel Marina Atlantico when we are in the mood for a leisurely romantic lunch overlooking the Marina. We enjoyed an aperitif, a Port like dry white wine from the island of Pico in the comfy lounge adjacent to the dining room. Our first course was a gorgeous presentation of filo balls filled with blood sausage and fresh pineapple; filo twists filled with ham; and São Jorge cheese sprinkled with sesame seeds. Second, limpits and rice served in cute little pots, a delight for the eyes and the taste buds. Third, A "Pico Volcano", a warm pastry in the shape of a mountain sitting on a bed of melted cheese, onions and mushrooms and topped with a bouquet of fresh vegetables. Too pretty to eat, yes, but no, outrageous! It did not stop here, but remember the portions are modest. Roasted pork cheeks resting on mashed zucchini with potato wedges was the final act. Well almost, when you've gone this far, why stop. A platter of chocolate mousse, baklava, raspberries and pineapple in a Madeira wine sauce and vanilla ice cream pulled down the final curtain.
Two wines, a white from the northern mainland, "Camarati" and a red from the region just north of Lisbon, "Casa de Santar", were perfect partners for this culinary adventure. Service was excellent, with ample time between courses for total relaxation. No dinner tonight!
[Back to To]
Another comforting experience at the Marina Atlantico is afternoon tea in the lounge. We arrived at 4:00pm, nestled into our chairs and the pampering began. A wagon arrived displaying a wide variety of teas. Linda selected jasmine and I, the local green. Tea was served in smart looking tea pots accompanied by a selection of sandwiches, pastries and freshly baked scones. Delicious wild blackberry and pineapple jams were a perfect mate for the scrumptious scones. Thank you Marina Atlantico for providing a new experience in Ponta Delgada.
We tried some new restaurants that were quite good. O Gato Mia, located right in Largo da Matriz, 16, on the second floor across from The Mother Church São Sebastião, offers creative twists on traditional dishes. The best surprise was a wonderful rendition of shrimp açorda. This traditional dish was designed to make use of left over thick crusty stale bread. Soaked bread is seasoned with garlic and cilantro and shrimp are added. Açorda is served hot in a large bowl into which a raw egg is dropped and stirred through. This is comfort food at its best.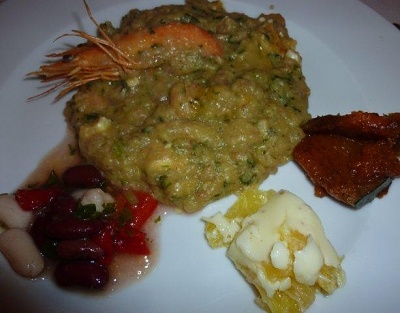 An updated touch here is the addition of three side dishes; house made pineapple gelatin, baked squash with cinnamon, and mixed beans. With a Melo Abreu beer, we found heaven. The contemporary room offers splendid views of the square and church. The owner and staff work hard to please. Overall, a delightful experience.
Restaurante 44, Rua João Melo Abreu 44, also was new since last year. The menu features a nice selection of pasta and meat dishes. The lunch specials are terrific (posted on their Facebook page each day). We loved the veal steak and the spaghetti bolognese. They cook real good Italian in a chummy environment.
[Back to To]
Restaurante O Museu, Rua Guilherme Pocas Falcao 67 has been around for a while but it was new to us. The menu consists of traditional fish, seafood and meat dishes. We tried the swordfish and the fish cataplana, both were quite good and the prices reasonable. They seem to have a clientele of loyal locals. Next year perhaps we'll qualify.
If you are in the mood for pizza and are not hung up on the fact that it be a purely Italian version then try Gold Pizza, Rua Aristides Moreira da Mota, 50. The crust is Portuguese style, light and tasty. The cheese and pepperoni are excellent quality and flavor. Jose takes care of the front and wife Suzette mans the ovens. Stop by for a pie.
Our friends João and Helena always find a few new beauty spots to captivate us. Off we went with Helena and her effervescent grandmother, Lourdes, to Porto Formoso located on the northern coast just east of Ribeira Grande, São Miguel's second largest city. Our first stop was the popular Praia do Moinhos, a gorgeous beach surrounded by colorful summer homes. Watermills were built along a ravine whose waters feed into the ocean, but not before feeding an outdoor laundry. It was a glorious day and the air was fresh with the scent of the ocean and surrounding green. The city center is hilly with cute well maintained homes and a splendid church overlooking a pretty beach and harbor with small boats camped on the sides inside the breakers.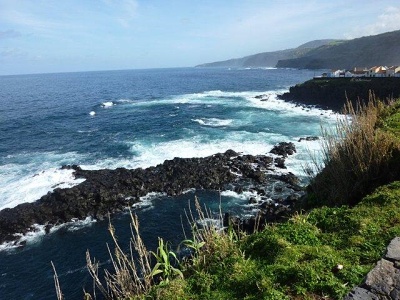 We headed to the lovely village of Maia hoping to repeat the fabulous fish lunch we had there last year but alas it was Sunday and the restaurant was closed. Helena knew of good seafood spots in nearby São Bras, but first a stop at Miradouro do Frade overlooking natural pools. The tide was roaring in and the sight and sound of the huge, white breakers filling the pools was breathtaking.
São Bras is surrounded by rich green mountains and sits on a small bay home to local fishing boats. The restaurant O Emigrante, Ramal de S. Bras 10d, is a seafood lover's delight. The sopa de peixe was outstanding with a rich natural broth loaded with succulent pieces of fish. The traditional preparation of polvo (octopus) and potatoes al forno (in the oven) had Lourdes and me raving. The house red wine was a perfect match. The owner's wife offered us a special sweetbread dish she had just made - wonderful. Fresh fruit and coffees finished the meal. A superb lunch at extremely reasonable prices - not unusual in the small villages and towns all around the island.
[Back to To]
We comfortably digested lunch at the nearby Miradouro Santa Iria gazing east and west at the pretty inlets along the high rocky coast topped by lush grazing land. On to the Caldeiras of Ribeira Grande. Folks come to see and smell the flowing thermal waters. The restaurant here is well-known for marvelous Pao Caseiro (homemade bread). Lourdes bought several loaves for herself and her neighbor.
Another day João and Lourdes picked us up for a ride to Povoação where João was picking up fresh-off-the-tree lemons from friends for friends. We have made this run a zillion times and every time we are totally captivated by the wonder nature has created on this island. The Lombas of Povoação are rolling hills, each defined by a long street running down the middle with a ravine on either side. We visited Lomba do Botão, one of the fresh lemon stops. Since it was Carnaval time we were treated to the local traditional activity. The men were dressed in costume (some as women) dancing and singing up and down the street. The musicians played as they acted out a tale for which no definitive translation was available. Scenes like this were taking place every day of Carnaval (this year Feb.8-12) all over the island. We stopped in the city for more lemons and a treat of fofas (eclairs) made famous here in Povoação.
During this period there are special days for men, women and children . Previous years we saw the restaurants filled with the guys and gals on their respective days eating, drinking and making merry. This was the first time we learned of compadre days - godparents and parents. Males and females celebrate separately. We became aware of it while we were in a restaurant and saw guys lovingly embracing. Our waiter filled us in - family is the mainstay of the Azores.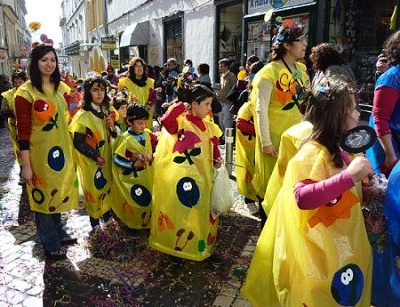 We were here last year for children's day, but missed the big parade. This year it took place from 10:00 until noon on February 8 in the historic city center. There were 3,500 participants from various parishes of Ponta Delgada. As in previous years, most participants in the parade were children of various schools, kindergardens and Actividades de Tempos Livres municipal and private institutions of social solidarity.
Each group creates its own costumes. A flock of erasers was followed by pencil sharpeners, sunflowers, and the beat went on. The teachers paraded alongside keeping order and discipline. Throngs lined the way and a joyous time was had by all. People here care. Those with "special needs" each had a devoted companion and it was common to see folks walk over to hug and kiss these participants as they paraded by. Love was in the air, tears were flowing.
[Back to To]
The tradition of the Romeiros of São Miguel goes back hundreds of years. What struck us this year was that we saw many more younger men taking part than in the past. The pilgrims come from all around the world. They walk clockwise from dawn to dusk along the island roads for 8 days in groups of dozens during the months of February and March. They carry a staff and a rosary, a scarf around their neck, a bag and shawl on their backs. As night falls they are given shelter by families that offer dinner and some hours of sleep. It's through prayer that they free themselves from the burdens of the world. Some have been pilgrims for 2 or 3 decades. Some are pilgrims once, as if they had done it forever. Faith does not change, it's a lifetime commitment.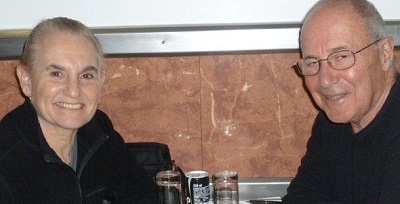 Over the years we have written about the deplorable condition of the Sahar Hassamain Synagogue here in Ponte Delgada. We are happy to report that it seems the initial funding is now in place and official organizations have been established to move ahead with the project. Hopefully when we return next year we will see the work in progress.
Come visit us next winter. You'll find us walking the streets, in the Mercado, at A Comercial or another of the restaurants or places we have written about. You'll recognize us by our happy smiles.
Search TheTravelzine | TheTravelzine Group | Don's Gallery
Packing Hints | Planning Tips | Cities Links

---
All pages on TheTravelzine.com©Copyright 1996-2020 Don & Linda Freedman