ITALY
WINTER 2005
Riverotta di Pasiano
Was it the plump gnocchi in Parma or the stinco in Bevagna? Maybe it was Palladio in Vicenza and Giotto in Padova. For sure it could have been the glorious stone architecture of Spello spilling down the southern slope of Mount Subasio. Or perhaps it was waking up high on a hill overlooking the old city of Spoleto surrounded by mountains, forests and gardens, all of which were dressed in a blanket of fresh fallen snow.
These are just a few memories that will confirm that our decision to swap frigid, snowy Toronto for the more mild weather of Italy for the third year in a row was wise indeed. The daytime temperatures ranged from approximately 4C to 13C as we moved from near Venezia to Roma. We had a bit of rain and a touch of snow about 7 of the 28 days, none of which prevented us from moving about easily.
Although there were a few more tourists around than in the past two years it was relatively tourist free, a substantial benefit along with lower seasonal rates at hotels and, for shoppers, the "saldi" (sale) signs in the store windows.
Our motto when traveling is "relax and enjoy". To this end we planned our 28 day itinerary to be train-friendly. The interactive maps on the Rail Europe site were very helpful. Once done, we ordered rail passes from Rail Europe which ensured total comfort and flexibility.
We were using Air Canada Aeroplan points and consequently had to fly Toronto/Frankfurt/Venezia. It was Air Canada to Germany and Lufthansa to Italy. The cheese Danish served by Lufthansa was a better meal than the dinner and breakfast on Air Canada, which managed to serve several items in a frozen state.
[Back to Top]
Our first stop. The Villa Luppis is located in Rivarotta di Pasiano on the border between the provinces of Pordenone and Treviso, a 40-45 minute drive north from Venezia. If you are not driving there is a private (optional) daily shuttle to and from Piazzale Roma in Venezia and, upon request, to and from Marco Polo airport.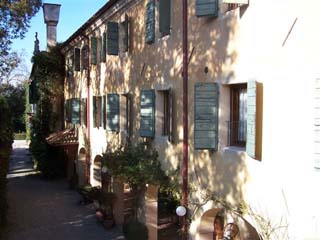 The history of the 12-acre property dates back to the 11th century when the San Martino Ripae Ruptae Monastery was built here by the Camaldolite monks. After several interventions and reconstruction it became the elegant country estate of the Chiozza Luppis family. Luckily for us the last family ancestors transformed it into a hotel in 1991.
We entered the estate through two handsome stone pillars and were immediately enthralled by the gardens, shrubs, trees and fountains. The welcoming ancient portico leading to the entrance hall exudes the splendor, charm and graciousness of times past and sets the tone.
The transformation from private mansion to a 39 room hotel was accomplished while maintaining the integrity of the old design and environment. We were warmly welcomed at the splendid 17th century reception desk and offered beverages to be enjoyed in the comfort of the lounge/bar, tastefully-decorated and furnished with quality period pieces. The wood-beamed ceiling, area rugs and carefully-placed seating arrangements create a comfortable and friendly atmosphere for conversing over a drink or snack or just relaxing in solitude, if that's your preference. There is piano corner where guests are encouraged to display their talent.
We were joined by our host Stefania Luppis who made it perfectly clear that she, her husband Giorgio and the staff were committed to our well-being. They are rightly very proud of their creation and encouraged us to take a tour at our leisure, which we did after settling-in and having lunch.
Our third floor suite overlooked much of the garden and the afternoon sun poured in through the large windows. The original, high, slanted wood-beamed ceiling and tile floors combined with the tasteful period furnishings created a feeling of romantic tranquility. Our sitting room furnishings included a couch, two comfy chairs, coffee table and a desk and chair. The headboard of the king bed was upholstered in a lovely fabric that matched the bedspread, drapes and upholstered pieces. Best of all was a firm mattress and plump pillows for our first two nights' sleep. The good size bathroom had a pretty pedestal sink, large tub/shower and a heated towel rack with towels of all sizes of thick terry cloth, as were the bathrobes and slippers. There was a nice variety of quality soaps and amenities.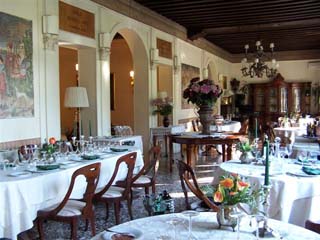 We found our way to the dining room and were enraptured the moment we entered. The high wood ceiling, decorated walls, and ancient terrazzo floors are beautifully complemented by the period furnishings, art objects and table settings. Large windows opened to the garden and a grand old fireplace graced the far wall. This was a room for enjoying old world hospitality and, as we were to discover, cuisine inspired by tradition and executed with creativity. Welcome to Italy!
[Back to Top]
We had a simple lunch of local hams, salamis, cheeses with assorted greens and tomato. The olive oil and balsamic we drizzled to taste were delicious enhancements. Dinner tonight and tomorrow were not to be quite so "basic" - stay tuned.
The Villa Luppis staff is as committed to enriching their guests stay as are the owners and, Glenda, the afternoon receptionist, proved this point. After lunch she made herself available to take us on the Grand Tour.
All the accommodations are on the 2nd and 3rd floors. Each suite or room has a distinctive personality while maintaining the old world flavor and charm. There are 6 suites, 5 junior suites, 26 doubles and 2 singles. Whether it is the Pink Suite, the Blue Junior, one of the Loft suites or a spacious double you will be very comfortable.
There is a large, attractive room off the reception area which is ideal for conferences and parties, equipped with the required technology, and let us not forget the indispensable shoe shine machine on the 2nd floor.
Adjacent to the dining room is a cute, cozy bar that is open before, during and after meals where you can enjoy an appetizer with your favorite cocktail or even a dance in the adjoining piano bar.
Just behind the bar is a splendid breakfast room surrounded by glass and views of a lovely fountain, garden and park. The excellent buffet breakfast of fresh fruit, crusty rolls, fine meats and cheeses, yummy pastry, cappuccino, etc. is a perfect way to start the day.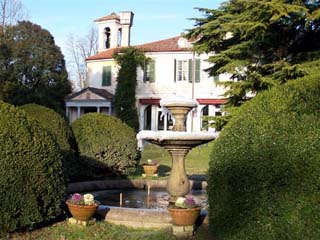 At the far end of the building is the old chapel of the villa, the ceiling of which is decorated with portraits of the family ancestors and legendary scenes. The chapel is available for weddings and religious ceremonies.
The 12-acre park surrounding the villa is a haven for relaxation and/or an opportunity for physical activity. There are walking paths amongst the greenery which lead past the large attractive swimming pool and tennis court. There is a gymnasium and refreshment area near the pool, in a clearing amidst the trees, which is a delightful spot for eating and drinking in the warmer seasons.
[Back to Top]
The restaurant is well known for its extensive wine list from not only the region but all of Italy and the world. On the property is the original thirteenth century ice cellar in which this extensive collection is stored. The cellar is round and deep with shelves, stairwells and platforms built to easily store and access the bottles. The whites are kept below the reds where the temperature is lower.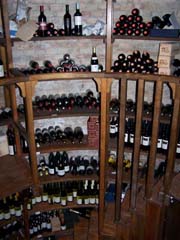 We had bright sunny days so it was invigorating to stroll through the park and the surrounding countryside.
It was late afternoon when we finished the tour and settled in the lounge for a welcome Prosecco. The villa offers a laptop computer which Linda used to catch up on emails while I took advantage of the marvelous selection of magazines that were scattered around the tables.
Note that Villa Luppis, at the border between Friuli and Veneto, will gladly organize excursions to both regions and cooking classes, special dinner/dance and dinner/wine-tasting evenings plus wine-tasting at a local winery can be arranged.
We were now going to experience the first of two exquisite dinners. The dining room staff was thoroughly professional and knowledgeable and the service was unrushed. We were delighted with their guidance and caring attention. The preparations of fresh local products were uncomplicated with masterful use of herbs and spices. Each plate was attractively presented to appropriately stimulate the appetite (as if we needed help!).
The house offered Prosecco as an aperitivo and a generous and delicious portion of smoked salmon. We chose risottino with saffron stigmas in a gurnard ragout and black noodles with small squids, tomato confit and zucchini as our first course. Both were first class.
Since we wanted to try the local white wine the Sommelier suggested Bastianica Vespa 2002, medium bodied with full, fresh flavor which we quite liked.
Relax and savor the flavor, the mains were something to enjoy! Sea bass fillets were cooked in three styles. One was marinated and served on basmati rice, another was boiled and presented on a bed of vegetables and the third was baked and placed upon escalloped potatoes and olives. This was one of my most memorable mains of the trip. Linda raved about her rosemary red deer served with vegetable gnocchetti. The tender deer medallions reposed upon a delicate mushroom and wine sauce and the small gnocchi were delectable.
After a comfortable interlude, we were offered passion fruit sorbet with wild blueberries to clear the pallet.
This was our first meal of the trip so it was necessary to indulge in dolce. We shared two wondrous presentations of pyramids, spun sugar baskets and webs, and small, graceful glasses offering tortino di cioccolato al cuore morbido con creme caramel and semifreddo al caffe con vellutata alla vaniglia e mascarapone con sorbetto alla pesca bianca. Awesome, Awesome!
[Back to Top]
After a comforting, deep sleep we had a late breakfast and, believe it or not, skipped lunch. Today we chose to do lots of guilt-walking. We arrived at the dining room at 20:00, properly famished.
Tonight we would not have dessert but would instead have an appetizer course. Chef Franco had prepared a house-offering of radicchio tempura that was amazing, but did not deter us from our plan. Linda had rabbit tempura, plump succulent pieces in a crispy light batter with fried onion rings and large stemmed capers on a bed of leafy lettuce. My tuna tartare was served with rye wafers and black olive pate with capers and lettuce. Superb.
As a special treat this evening, an entertainer was at the piano softly singing classic jazz tunes while we dined.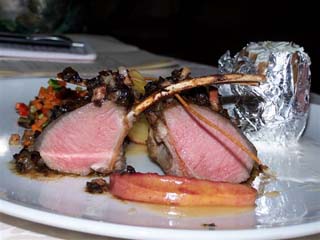 We chose two excellent pasta renditions as our first course: Tagliatelle with artichoke and gamberi sauced in olive oil, butter and tomato and Bigoli with a pork ragu. Home made noodles cooked perfectly with fresh quality products. What more could we want?
The music was nice, the wine delicious and we were in a heavenly holiday mood as we awaited our mains. Linda had scampi devil style and I saddle of lamb with baked potato and finely chopped veggies.
Tonight's wine selection was a Friuli Pinot Grigio 2003 from Volpi Pasini, light and dry.
Villa Luppis was exactly what we had hoped for to begin our 28 days in Italy. We were well rested, very well fed and cared for and ready to roll!

Rivarotta di Pasiano
Vicenza | Padova
Parma | Lucca | Firenze
Lucignano | Spello
Bevagna | Spoleto | Roma
Search TheTravelzine | TheTravelzine Group | Don's Gallery
Packing Hints | Planning Tips | Cities Links

---
All pages on TheTravelzine.comęCopyright 1996-2020 Don & Linda Freedman