Search TheTravelzine

TheTravelzine Group

Access Your Mail

Don's Gallery

Packing Hints

Planning Tips

Cities Links

Links
LINKS TO OUR TRAVELOGUES
Argentina, Buenos Aires - Jan-Mar 2010
Argentina, Buenos Aires - Jan-Mar 2009
Argentina, Buenos Aires - Jan-Mar 2008
Austria - Fall 2005
Belgium, Brussels - Fall 2000
Canada - Summer 2002
Canada - Summer 2001
Canada - Summer 2000
Czech Republic - Spring 2000
France - Fall 2002
France, Paris - Fall 2000
France, Paris - Spring 1999
France, Lyon - Spring 1999
Germany, Berlin - Fall 2009
Germany - Fall 2002
Germany - Spring 2000
Germany - Fall 1999
Greece - Fall 2012
Greece - Fall 1999
Greece - Fall 1997
Hungary - Spring 2000
Israel - Fall 1999
Italy - Winter 2007
Italy - Winter 2006
Italy - Winter 2005
Italy - Winter 2004
Italy - Winter 2003
Italy - Winter 2001
Italy - Fall 1998
Italy - Fall 1996
Netherlands - Spring 2000
Portugal, Azores - 2019
Portugal, Azores - 2018
Portugal, Sao Miguel & Lisbon - 2017
Portugal, Azores - 2017
Portugal, Azores - 2016
Portugal, Azores - 2015
Portugal, Azores - 2014
Portugal, Azores - 2013
Portugal, Azores - 2012
Portugal, Azores - 2011
Portugal, Lisbon - 2011
Portugal - Fall 2006
Portugal - Fall 2004
Portugal - Fall 2003
Portugal - Fall 2001
Portugal - Spring 1999
Portugal - Spring 1997
Slovakia - Spring 2000
Slovenia - Spring 1999
Slovenia - Fall 1996
Spain, Barcelona - Winter 2006
Switzerland - Fall 2002
Switzerland - Spring 2000
Switzerland - Spring 1999
Switzerland - Fall 1998
Switzerland - Fall 1997
Switzerland - Spring 1996
U.S. Florida, Key West - Fall 2006
U.S. Florida - Spring 2001
U.S. Maine - Summer 2002
U.S. Massachusetts - Summer 2003
U.S. Massachusetts - Summer 2002
U.S. Massachusetts - Summer 2001
U.S. New York State - Fall 2005
U.S. New York State - Summer 2004
U.S. New York State - Summer 2003
U.S. New York State - Summer 2001
U.S. Washington,DC - Spring 2000

BRUSSELS, BELGIUM Fall 2000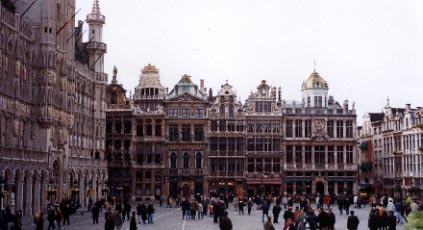 Saturday, November 11th, Veterans Day, and we were off to Brussels to meet Jack and his wife, Annie, with whom we had been "Internetting" for years. We had made our Thalys reservations, which are required, through Rail Europe , which has consistently provided us with excellent and prompt service.

We took the Metro from Hotel de Ville and changed at Chatelet for Gare du Nord, from which Thalys departs for Brussels. Leaving at 9:55, we arrived in Brussels at precisely 11:20 - perfect timing for a leisurely day trip as the 18:40 return got us back to Gare du Nord at 20:05.

Jack and Annie were on the platform to meet and greet us and we recognized each other immediately. From the moment Jack parked his car near Place du Grand Sablon, we enjoyed a delightful and informative walking tour of this intriguing city. We will not elaborate on the rich history and culture, the multi-period architecture, the influences of all of Europe or the ethnic diversity; you can find all of that.

We will simply relate some of the highlights, starting with the antique market in Place du Grand Sablon, which regularly operates 09:00-18:00 Saturdays and 09:00-14:00 Sundays. This place is an antique-lovers dream with wonderful collections within the open market and in the shops surrounding the square.

The square is both elegant and charming, a place where the young well-to-do congregate at the attractive restaurants and bars. It took enormous will power not to go crazy in Wittamer and in Pierre Marcolini, two world-class chocolate shops that were understandably doing a brisk business. The luxurious Wittamer is even more famous for its pastries, catering to the rich and famous.

Jack suggested lunch at Le Pain Quotidien, 11 rue des Sablons, which concept started in Brussels and now operates throughout Europe and in New York City. Breads and pastries are sold at the front with communal seating in the rear. It can be difficult to find seating together but after a short wait and Jack's knowledgeable maneuvering, it was arranged.

The menu offers a nice choice of salads, tartines and desserts. We tried one of each, a hearty tomato and mozzarella salad and a tartine, an open sandwich on superb grain bread, with fresh and dried tomato, white cheese and olive spread. Belgium is synonymous with beer and Jack suggested a white, fruity Hoegaarden, which was a perfect choice for this type of lunch. Hoegaarden has a much sweeter taste than traditional beers. It's prepared from a unique recipe. A wild blueberry tart and rice pudding with a prune puree plus excellent coffee were a memorable finish to a delicious meal.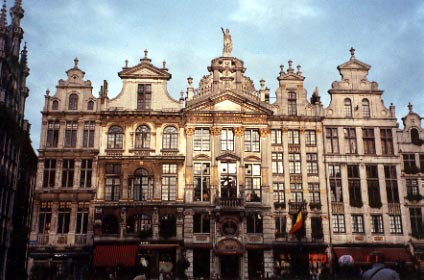 Grand Place has been billed as the world's greatest city square. Last time we were here we were dubious but now that the marvelous, historic buildings have been cleaned and renovated, it is certainly true. The astounding Gothic, medieval Hotel de Ville was built in the early fifteenth century so 600 years of dirt and pollution had to be scrubbed away. The magnificent Guild Houses were rebuilt from 1695-1699 so only about 300 years of accumulated grime had to be eliminated.

Rue de Bouchers is the restaurant street; the narrow concourse is lined with inviting choices. Jack and Annie advise that the best place for famous Brussels mussels is Aux Armes de Bruxelles at number 13.

[Back to Top]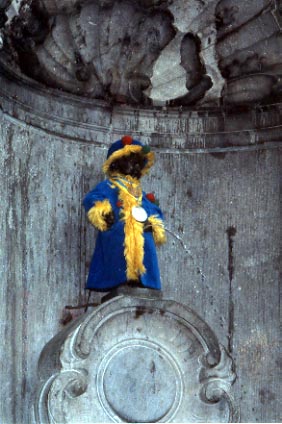 Of course no trip to Brussels can be complete without paying respect to the famous Manneken Pis at the corner of rue du Chene and rue de L'Etuve. Today he was dressed in holiday attire and as usual drawing throngs of viewers.

Walking through the winding streets of the old town with Jack's informative narrative was a real treat. Basically, the guy is a walking encyclopedia of Belgium. How did he ever have time to become such an expert on Paris? At one point we were suddenly confronted by the Cathedral of St. Michael on Place Ste. Gudule, a real Gothic cathedral of the Middle Ages built of gorgeous pure white stone. Two high, stunning towers dominate the front and the graceful entrance opens to a splendid interior with a soaring, vaulted ceiling. The original stained glass windows are enormous and impressive. The massive pillars are graced by statuary. It is no wonder that this is the cathedral of choice for royal weddings.

At the other end of the spectrum is the Musical Instruments Museum, an extravagant art nouveau creation originally designed for the Old England Department Store, whose name is still emblazoned at the top.

[Back to Top]
We finished our visit at Au Vieux Saint Martin, Grand Sablon 38, which Jack and Annie advised us was considered to be the place to "be seen". It seems President Clinton frequented this cafe in his student days and during his Presidency returned for a visit and chatted with the patrons.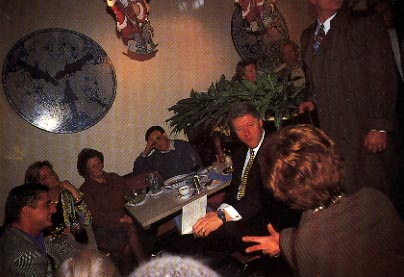 There is a plaque commemorating the event on the booth where he sat. I sipped a fabulous dark beer, Chimay Bleue, while Linda devoured a hot chocolate sundae.

Our friends dropped us at the train station and hopefully we will get to Antwerp, where they live, in the not too distant future.

On arrival in Paris, we had dinner at Au Tibourg. We share the experience in our Paris travelogue. Our Paris travelogue is just a click away.




Paris

beginning of Paris travelogue

Search TheTravelzine | TheTravelzine Group | Don's Gallery
Packing Hints | Planning Tips | Cities Links

---
All pages on TheTravelzine.comęCopyright 1996-2020 Don & Linda Freedman