Search TheTravelzine

TheTravelzine Group

Access Your Mail

Don's Gallery

Packing Hints

Planning Tips

Cities Links

Links
LINKS TO OUR TRAVELOGUES
Argentina, Buenos Aires - Jan-Mar 2010
Argentina, Buenos Aires - Jan-Mar 2009
Argentina, Buenos Aires - Jan-Mar 2008
Austria - Fall 2005
Belgium, Brussels - Fall 2000
Canada - Summer 2002
Canada - Summer 2001
Canada - Summer 2000
Czech Republic - Spring 2000
France - Fall 2002
France, Paris - Fall 2000
France, Paris - Spring 1999
France, Lyon - Spring 1999
Germany, Berlin - Fall 2009
Germany - Fall 2002
Germany - Spring 2000
Germany - Fall 1999
Greece - Fall 2012
Greece - Fall 1999
Greece - Fall 1997
Hungary - Spring 2000
Israel - Fall 1999
Italy - Winter 2007
Italy - Winter 2006
Italy - Winter 2005
Italy - Winter 2004
Italy - Winter 2003
Italy - Winter 2001
Italy - Fall 1998
Italy - Fall 1996
Netherlands - Spring 2000
Portugal, Azores - 2019
Portugal, Azores - 2018
Portugal, Sao Miguel & Lisbon - 2017
Portugal, Azores - 2017
Portugal, Azores - 2016
Portugal, Azores - 2015
Portugal, Azores - 2014
Portugal, Azores - 2013
Portugal, Azores - 2012
Portugal, Azores - 2011
Portugal, Lisbon - 2011
Portugal - Fall 2006
Portugal - Fall 2004
Portugal - Fall 2003
Portugal - Fall 2001
Portugal - Spring 1999
Portugal - Spring 1997
Slovakia - Spring 2000
Slovenia - Spring 1999
Slovenia - Fall 1996
Spain, Barcelona - Winter 2006
Switzerland - Fall 2002
Switzerland - Spring 2000
Switzerland - Spring 1999
Switzerland - Fall 1998
Switzerland - Fall 1997
Switzerland - Spring 1996
U.S. Florida, Key West - Fall 2006
U.S. Florida - Spring 2001
U.S. Maine - Summer 2002
U.S. Massachusetts - Summer 2003
U.S. Massachusetts - Summer 2002
U.S. Massachusetts - Summer 2001
U.S. New York State - Fall 2005
U.S. New York State - Summer 2004
U.S. New York State - Summer 2003
U.S. New York State - Summer 2001
U.S. Washington,DC - Spring 2000

Marblehead
Although we love living in Toronto, which is on beautiful Lake Ontario, we often get the urge to visit our roots by the sea. This time our trip would start on the North Shore of Boston, where I grew-up and where we were married. Early summer, before the tourist season heats up, is a perfect time to go, especially when the weather cooperates. With the added bonus of being there to celebrate my Mom's ninety-first birthday, we happily packed the car and were on our way.
We drove via the New York Thruway to the Massachusetts Turnpike into the greater Boston area and then north on Route 128 to the North Shore. This would be a counter-clockwise itinerary; after Boston, we would follow the Maine coast into New Brunswick, Canada, and then north to Quebec before heading west into Ontario on the way home.
Since my Mom lives in Salem at the Swampscott line, we decided to stay the week in nearby Marblehead where we had lived for the first four months of our marriage. What fond memories!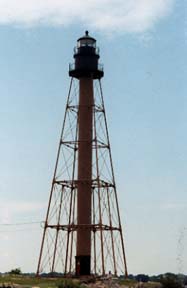 We chose the Harbor Light Inn, located at 58 Washington Street, in the center of the historic district. Marblehead boasts a rich architectural legacy with one of the largest concentrations of colonial buildings in the country. There are more than 200 homes that were built before the Revolutionary War and 800 built before 1830 that border the narrow streets of the historic district.
The eighteenth century architecture of the Harbor Light Inn, combined with the interior design and furnishings, captures the essence and history of seafaring New England. Wide board pine floors covered by deep, rich, oriental carpets, chandeliers, brass work, hand-carvings, finely-tooled furniture, paintings and etchings reflect the treasures brought home from the ports of the world and lifetimes at sea. There is even a private rooftop walk for a clear view of the world famous harbor light.
Two comfy sitting rooms and a bright, airy breakfast room grace the ground floor. The pool and lounging area is ideal for enjoying breakfast outdoors when the weather is fine.
Our home for the next seven days was a large, attractive room on the top floor with good natural light courtesy of a windowed wall. The four-poster bed, beamed ceiling and brick wall met the traditional New England expectations while air conditioning, TV, VCR (cassettes available at no charge), stereo radio and a good size bathroom ensured a comfortable stay.
The buffet breakfast featured assorted homemade breakfast loafs and a delicious quiche of the day plus juices, a bowl of cut-up fresh fruit, bagels, English muffins, coffees and teas, replenished by the efficient staff, as necessary.
This was to be a wonderful week of getting caught-up with family and old friends. It started with a visit to the Jewish Community Center on Sunday morning to witness the installation of my mother to her seat on the Board of Directors, a position she has held in the past. She's a treasured member of the community, well-known and appreciated by all for her volunteerism and happy and positive countenance.
Sunday evening, we attended George and Ali's son's wedding. (We've mentioned them in earlier travelogues; they are the greatest!) Michael and Laura were married beneath Marblehead Light overlooking Marblehead Harbor on a glorious, sunny afternoon; the reception followed at the nearby Corinthian Yacht Club.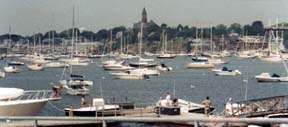 Marblehead's sheltered coves, rocky shores and ocean views create a unique seacoast town along historic Massachusetts Bay's North Shore. The real gem is the harbor offering a haven to all those who enter, whether by land or sea. It is a testament to those who founded the town in 1629 as a fishing port. Today it enjoys the status of "Yachting Capital of America". From May to November, 1600 boats are moored in the harbor. Majestic homes, yacht clubs and condominium apartments surround the harbor and offer the lucky dwellers incredible serenity and beauty. It was here that my bride and I began our marriage nearly forty years ago.
We never tire of wandering the winding streets, admiring the quaintness and beauty of the 17th, 18th and 19th century homes and buildings, always finding our way to the harbor front and wondering how we ever managed to leave this place.
One day we walked up to Burial Hill and wandered amongst the ancient tombstones that mark the resting places of the founders of Marblehead and many victims of the Revolutionary War. Appropriately Burial Hill sits high above the magnificent harbor with views across the bay to Marblehead Neck. Nearby is Fountain Park and Gingerbread Lane with lovely gardens, landscaping and flowers surrounding the peaceful ponds.
Thanks to friends and family, we were introduced to a wonderful variety of eating places in the ever-changing culinary landscape of the area. We do not like chain eateries, but there is now a notable exception to the rule. Panera Bakery-Cafe is a perfect lunch choice. "Their ovens are fired all day long in the tradition of the European neighborhood bakery, where the creation of freshly-baked breads is measured by the hour, not by the day." The menu offers a large selection of sandwiches, soup, salads, pastries and beverages. Everything is absolutely fresh, portions are generous and prices reasonable. Best of all, one can eat a healthy meal here.
Gloucester
On the advice of Didi Stewart, a Ziner (member of TheTravelzine discussion group), we discovered the Annisquam Market and Restaurant at 33 River Road in Gloucester, MA (Annisquam), Tel: 978-283-3070, and it turned-out to be not only a terrific New England seafood lunch but a special surprise. Located in a sweet, small harbor in a typical storefront wooden shanty, you might just drive-by without realizing that the entrance is around back. Inside is a long counter and tables line the windowed wall adjacent to the harbor side deck, used for additional seating weather permitting. The weather was a bit nasty so we sat inside enjoying the lovely views as we indulged our cravings for clam chowder, fish cakes and beans, fried haddock, shrimp, scallops, clams and calamari, all so fresh and well-prepared, we ate ourselves silly. And the best surprise of all was when Didi, who recognized us from the TheTravelzine get-together in Boston last year, appeared at our table and said "Hi Don and Linda, I'm glad you took my advice. You see, I eat here too!" We chatted awhile, glad that we would be seeing each other again at the Cambridge get-together for lunch next Saturday.
Marblehead
Our old friends suggested Le Bistro, a Middle Eastern restaurant in Marblehead at 1 Atlantic Avenue, 781-631-7457. A bunch of us gathered in this small, cheerful spot for a delightful meal and an evening reminiscing about old times. Choosing from an array of appetizers like humus, babghanouj, grape leaves, salads like fattoush and tabouleh, sandwiches and dinners, featuring kabobs of all types was not easy. Linda thoroughly enjoyed her bistro platter of assorted appetizers and I, my lamb kabob dinner. The food, service and reasonable cost represented very good value. There was a time when eating in this area meant not having choices other than seafood, steaks or chops. Thank goodness times have changed.
Ipswich
Ipswich has always been famous for fried clams. Imagine our surprise when a cousin suggested we meet in Ipswich for a Greek lunch at Ithaki, 25 Hammatt Street, 978-356-0099, a real find, particularly the value-priced lunch menu! The Grecian decor is tasteful and relaxing, the service superb and the food, outstanding. We lingered over a sumptuous assortment of appetizers, including grilled octopus, artichokes, cheese, wonderful olives, salami, green beans, smoked salmon, shrimp, anchovies, tzatziki and an authentic Greek salad, without lettuce. A Cambas Retsina was properly chilled and delicious. The lamb kabob was ever so tender and seasoned perfectly and the accompanying vegetables beautifully prepared. The other favorites were shrimp saganaki and mousaka. Dessert was a special treat. Thick yogurt with honey and walnuts and galactobouriko, my Mom was in ecstasy (Hey, I didn't come by my love of delicious food by accident!). There's more to Ipswich than fried clams.
Peabody
If you've read our Portugal travelogues, you know that we are very fond of Portuguese cuisine. When it was suggested that we try O Fado, 74 Walnut Street in Peabody, 978-531-9687, we were on the way. The environment is simple and clean, a family eating place. The menu of typical, home-cooked favorites at reasonable prices and a friendly, helpful waitress was just what the doctor ordered, especially the untypical vegetable soup, which was chunky as opposed to the pureed version usually served. My roasted salt cod was as good as it gets. Others enjoyed seafood casserole, oven baked fish filet, grilled chicken and roasted lamb. Boiled potatoes or rice and vegetables were plentiful. The house vinho verde was a perfect match for the food - another winner!
Cambridge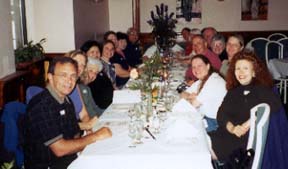 Reluctantly, we left family, friends and the beautiful North Shore and were off to a long-awaited gathering of members of TheTravelzine group in Cambridge, across the Charles River from Boston. Fortunately the shortest route enabled us to avoid the heart of "The Big Dig" area, that logistical engineering and traffic nightmare that Boston has been enduring for years. Cambridge is often referred to as Boston's Left Bank, offering a diverse multicultural setting around two of the world's most prestigious learning institutions, Harvard University and the Massachusetts Institute of Technology.
This is a city of squares, in the European style, each with its own character. The restaurant chosen for the get-together was near Inman Square, home to a Portuguese community and its restaurants. Our group of seventeen came from as far away as California, Oregon, Virginia, New York, Connecticut and, of course, Massachusetts and Toronto. The Sunset Grill & Café, 851 Cambridge Street, 617-547-2938, proved to be a great venue where the unhurried, yet efficient service and great food combined to allow friends old and new to interact and converse in a relaxed, casual environment. Tom Raftery, a Ziner from Massachusetts, offered the wine and travel talk, sharing experiences, tips and ideas, dominated the scene. The afternoon flew by. Everyone seemed pleased with their menu choices. Linda and I shared roasted goat and rabbit cacciatore, served with rice, roast potatoes and vegetables, sensational! As usual, the portions were generous and the prices reasonable.


Search TheTravelzine | TheTravelzine Group | Don's Gallery
Packing Hints | Planning Tips | Cities Links

---
All pages on TheTravelzine.com©Copyright 1996-2020 Don & Linda Freedman