PORTUGAL
WINTER 2017
São Miguel, Azores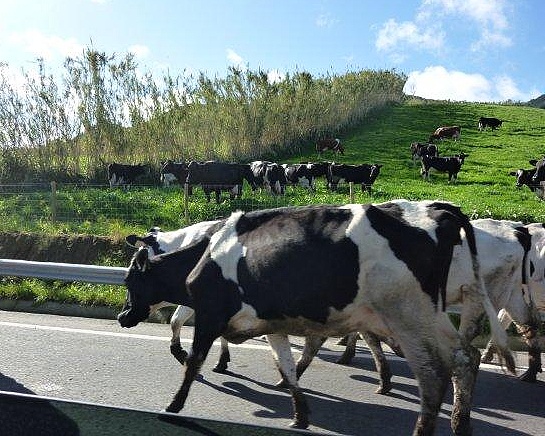 An island with as many COWS as people! A first time dentist gives a big hug! A landlord who greets you at the airport with a big smile and sees you off the same way! This is the island of São Miguel, Azores, Portugal (the largest of the 9-island archipelago) and its capital city, Ponta Delgada, our winter home.
We always fly roundtrip, Toronto/Ponta Delgada, on Azores Airlines (formerly SATA Airlines) the one with the huge whale on the fuselage. The flight schedule is convenient, the service on the ground and in flight, in all classes, gets better every time. The launch of the new name was more than the whale, but a commitment to constantly improving the flying experience. We opted for business class, which we consider very good value on the newly acquired A330. The perks include lounge entry, extra seating room, fully adjustable seats, configurable to your preferred sleeping position. The extra caring service is the icing on the cake.
There are easy connections from Ponta Delgada to mainland Portugal, Cape Verde, the Canaries, Madeira and the other islands of the archipelago. The flying time is an easy 5.5 (eastbound), 6.5 hours (westbound). The time difference is only 4 hours.
Located in the middle of the Atlantic Ocean, 1400km from Lisbon and 3910km from New York, with a temperate climate year round (15C to 27C), and soil rich from its volcanic creation, it is no wonder the beauty of its landscape is legendary.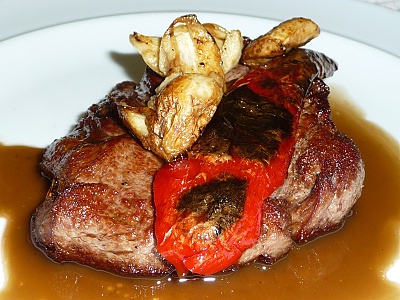 Which brings us back to those COWS (high quality Holstein and Frisian)! Because they feed on the grass on the rolling hills and mountains, they produce lean, tasty beef and mouth-watering dairy products that sing with freshness and flavor. It is a joy to have this quality available wherever you eat and shop.
That soil has no limits. It works its magic to produce a harvest of fruits and vegetables. Sure, all the basic stuff you would expect and more. Sweet delicious pineapples, passion fruit and bananas are favorites. Two tea plantations (the only ones in Europe) produce wonderful varieties. That fresh fruit is made into awesome jams and liquors. Pineapple and blackberry are our favorites.
BREAKING NEWS! All the fresh fruits can be found in the marvelous gelato at ABRACADABRA. ABRACADABRA - its magical powers still reign supreme. We introduced this authentic Italian Gelateria to our readers last year and we are thrilled to report that their extraordinary standards remain in place. We indulged every day from the day they opened. Our philosophy is that anything that good is good for you! Fresh milk from contented cows, fresh fruit from rich soil, and a technique that turns it into a smooth, heavenly delight rich in natural flavor (pineapple is to die for).
[Back to Top]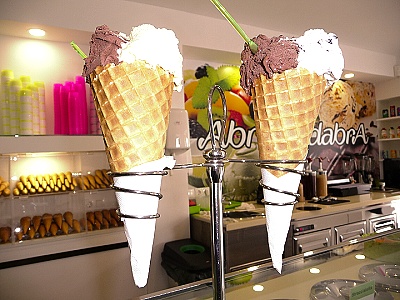 Standard flavors such as chocolate, hazelnut, pistachio, stracciatella are wonderful too. Paolo and Carla regularly introduce and rotate new flavors. We've given up deciding on favorites, every day is a delightful challenge - fortunately, tastings are encouraged. It is important to note that even the cones are special (not overly sweet) a perfect complement for full flavor appreciation. The staff greets you with enthusiasm and when not serving customers they're busy washing and wiping every surface in the shop and the tables outside. Abracadabra is at the corner of Rua Marques Praia E Monforte and Rua Diario Dos Acores (across from the Talisman Hotel).
Now let's talk about real food.
If you are an egg lover, the brown beauties with yellow-orange yolks are heaven. The chickens that are responsible are well fed, lean and delicious grilled, roasted and boiled.
Pork is a mainstay, every body part finds its way onto the plate. Thus, the pig is worshipped, and nurtured from birth to the end of the line.
Fishing in the Azores is considered to be biologically sustainable and environmentally friendly. Azorean tuna is famous for its healthy quality and flavor. There is nothing better than a thick cut Azorean tuna steak, coated in olive oil and sesame seeds and grilled to your desired doneness. This wonderful tuna is cut into small fillets and canned. We love them packed in olive oil. Our favorite brands are Santa Catarina from the island of São Jorge and Sociedade Corretora from São Miguel. Pack up a batch to take home.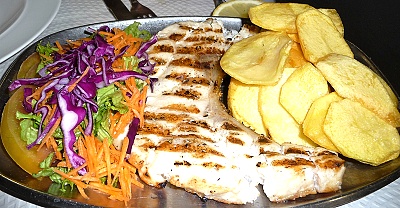 The fishermen are out in the middle of the night, delivering the daily catch of unique Azorean varieties of fish in the early morning. The guys with the big eyes are Alfonsim and Boca Negra both delicate and sweet, as are the Pargo, Peixao and Garoupa. There is nothing more delightful than one of these grilled to perfection and served with boiled potatoes and salad. Our favorite is Cherne, a large fish that is cut and served in thick grilled slices. Your visit will not be complete without a plate of Chicharros, small horse mackerel fried crisp. Finger food!
There are many more sea critters offered fresh and deliciously prepared. Check the menus for Limpets (clam like), Octopus, Shrimps, Cracas, Lobster and be delighted. Just get yourself up early one morning and hustle over to the Mercado Municipal on Rua do Mercado to see all of the above laid out before you.
[Back to Top]
At the western corner of the market is O Rei do Queijo (The King of Cheese) with a huge assortment of cheeses and Azorean island products. A second shop, O Principe dos Queijos (The Prince of Cheeses), was recently opened on Rua dos Mercadores, 50.
Somewhere over the Atlantic, enjoying a glass of fruity Alentejo red, Linda and I mused about how lucky we were to have discovered the Azores in 2003. During our 2013 visit we decided Ponta Delgada was going to be our winter home. We began our search for a rental apartment and luckily found our landlords to be, Eleuterio and Maria.
When we cleared customs Eleuterio was right there with that BIG SMILE. The drive to the apartment on Machado Dos Santos 90 is only 10-15 minutes. Our street runs west to east in the heart of town. All basic needs are right nearby. Ponta Delgada is a compact town and everything is a short walk away. Minibuses service a wider area.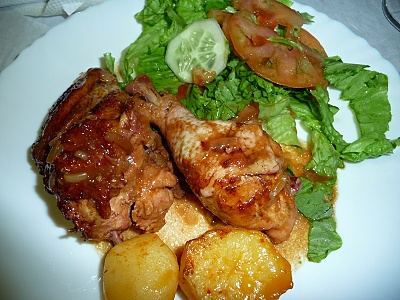 Whenever there is a celebration with a parade, it always moves along our street so we have ringside seats from our windows. During Carnaval period in February there is the Children's Carnaval Parade. Groups from schools all over the island come dressed in themed costumes and parade through the city center to the constant beat of the music. Sidewalks and streets are packed with onlookers. Tons of colorful streamers are thrown. Within minutes after the area clears, an army of cleaners swoops in and in no time, pristine cleanliness is restored.
This residential building is one of only a few downtown with an elevator. Eleuterio has three apartments in the building, two on the second floor and one on the third. Our second floor choice easily meets our needs. All rooms (living room, bedroom, bathroom and kitchen) are comfortably sized and furnished. Storage space in all rooms is excellent.
There is a T.V. in the livingroom as well as an AC/heating unit. The kitchen is fully stocked with cookwear, utensils, dishware, and glasses. There is a stove, washer/dryer, refrigerator, microwave, toaster, coffee maker. Basically we have everything we need in our winter home. Most important, the cleanliness is flawless, including the hallways and stairs.
Eleuterio and Maria are always available if you have any special needs. When I (Don) had a dental emergency they were quick to respond to my request for a recommendation. Which brings us back to that first time DENTIST HUG! Dr. Pedro Almeida is their dentist. He and his staff were kind, considerate and caring. While I was in his chair he could not have done more to ensure my comfort and well being. When I was leaving I got (and gave) a farewell HUG!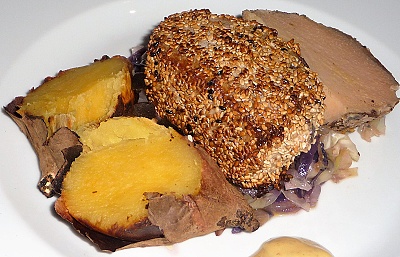 Eleuterio also does custom-designed tours. Besides being an avid diver and hiker, he loves and knows every inch of the island. He has shown us those off the beaten track delights that we all crave as well as the best of the best sights and sounds.
[Back to Top]
After unpacking and getting settled we headed downstairs to Diálogos com Canela to see the ever-present Joao and his happy staff and have our first garoto (espresso with a bit of hot milk on top). This cute cafe/restaurant features a sumptuous salad bar, 3-4 daily hot specials, many sandwich choices, made-to-order plates, a nice variety of sweets and excellent coffee.
Continente is a Hipermercado located in the Parque Atlantico shopping center north of our apartment. Since we are in the city for a long stay, we signed up for the Continente card, which entitles you to special discounts (pretty good savings). On arrival day, we filled up a few bags of basics to get started and walked home. In bad weather, we opt for the minibus.
There are two magnificent gardens near the shopping center, Jardim Antonio Borges and Jardim Jose do Canto.
This was our fifth winter in Ponta Delgada and each year we have seen a growth in activity. This was by far the busiest and this is the slow season! Many more cruise ships came in as well as more frequent flights from Europe and North America. New hotels in all categories are being built along with rental apartments and condominiums. Existing, well-established hotels have undergone serious renovations and upgrades while abandoned properties are being reconstructed.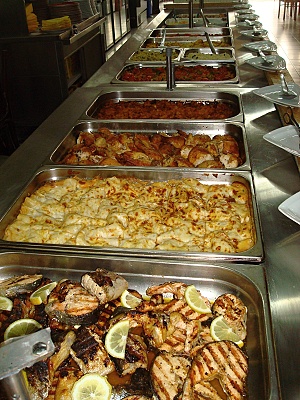 It was a joy to find new restaurants and cafes with offerings that add diversity to the scene. Rotas do Vinho, Rua Diario dos Acores, 20, offers a splendid buffet at lunch and a diverse wine, cheese and meat selection by night. The environment is comfortable warehouse with walls of wine. The outside patio joins many others along the street for a fun, friendly environment. The best part is that you can finish off the meal with a gelato at ABRACADABRA a few steps away.
Across the way at #31 is Paraiso das Delicias where we enjoyed their wonderful pastries and Broa Batata Doce, a sweet potato and dried fruit bun.
O Churrasco Restaurante, Largo Vasco Bensaude, 36, features excellent quality grilled meats and chicken. The veal chop was our first choice. We often stopped by for a take-out chicken, chips and salad. Just look for the grill guys in the window.
Just east on Rua Misericordia are two excellent cafes; Imperador offers a wonderful selection of traditional pastries and just steps away is Alves Devine O Chocolatinho, featuring heavenly filled chocolates and truffles along with specialty chocolate goodies. Of course, a delicious Portuguese coffee is a must.
Restaurante Ramires, from the town of Guia in the Algarve, is now in Ponta Delgada at Portas do Mar. It's famous for piri-piri chicken, which is very unique and delicious. They use organically grown small chickens which are cut in rib like slices, grilled with a secret sauce and served with a large portion of superb fries. The tomato salad and creamed spinach are excellent sides.
O Quarteiro is a project that brings together cafes, hotels, restaurants, shops, galleries and workshops to attract more people to the neighborhood north of Rua Machado dos Santos. A wooden jungle gym has been built at either end of an alleyway between Rua Pedro Homem and Rua Agua as the epicenter of the project. When we arrived young men were on the gym chatting away. The benches in the center were occupied by others enjoying their lunch break. We were told that folks gather in the evening to have a beer and socialize.
[Back to Top]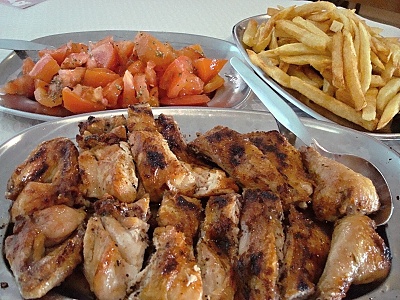 Finally, an excellent hamburger in the city! Suplexio, a small cafe and restaurant is at the corner of the alley at Homem 68. While there are pages of light offerings, hamburgers are king. We both had the Embaixodor with cheddar cheese, mushrooms, carmelized onions, lettuce and honey mustard. It was 150grams of 100% beef, grilled as we like it, medium rare, and served with fries. A wonderful local craft brown ale/stout from Karisca completed our happy burger experience.
The staff in all of these new places is friendly, cheerful and helpful - you know, the Azorean way!
Heading back toward Machado dos Santos on Homem we were attracted by the handcrafted sandals and shoes at Pele e Osso. In addition there is a wonderful handmade selection of all things leather (bags, belts, wallets etc.) as well as individually crafted jewelry and ornamental pieces. Fabio and Andrea work the leather and are happy to craft custom shoes for their clients.
Back at Largo Vasco Bensaude 31, two more entrepreneurs, Sonia & Katarina have opened a shoe store, Elegant Astral, offering a neat selection of the best of Portuguese style and quality.
Our in town favorite restaurants continue their winning ways:
Floresta Lisbonense is located on Rua Dos Combatentes da Gandeguerra, a narrow alleyway, behind the Maritime Police Building on Avenida Marginal. The menu of the day is posted to the left of the window with 6-7 offerings. Mom is in the kitchen cooking her version of typical local recipes. The portions are large, the prices small. Her sons deftly handle the constant stream of regulars, including us, anticipating every need. It's a fun, thrifty, absolutely local experience.
Casa do Pasto Tavares, at the corner of Rua Melo and Rua Bettencourt, is a family institution. This is a typical neighborhood tasca complete with blue tile walls (azulejos). The daily menu includes the freshest fish of the day, and traditional meat, pork and chicken dishes. Your plate will be full, while the prices are moderate. Join the regulars lunchtime and enjoy the hustle and bustle.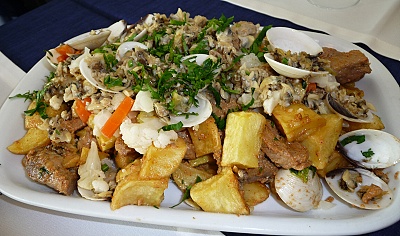 Cozinha d'Arlette, is located in a residential section, northeast of the center, at Rua Professor Machado Macedo, 12. It's only a 30 to 40 minute walk or 15 minutes on either the B or C mini bus from downtown. If you want to eat in, don't wait in the long take-out line; just pass into the bright and cheerful dining area. The offerings change daily. You can view them at the take-out counter. Everything is market fresh quality, beautifully prepared and presented - you can't go wrong.
[Back to Top]
A Tasca, situated in a renovated old jail on Rua do Aljube,16, boasts a charming updated warehouse environment. Tables are close which encourages interaction and conversation with your neighbors. The staff is sociable and extremely helpful. All these elements contribute to an immediate feeling of fun and relaxation. Once comfortably seated you can select from the well-executed, creative menu presented in the form of a newspaper. There are also daily blackboard specials. The first time is challenging, so much good stuff. Have a glass of wine or beer, consult with your neighbors and staff. You can't help but make a good choice and, perhaps, a new friend.
Aliança, Rua Acoreano Oriental, 19/23 is our go-to in-town restaurant, as it is for many of the locals. The homey ambiance and service make it a totally relaxing experience. The regular menu has well-chosen offerings. The daily list is primarily made up of the fresh fish selections and traditional regional specialties. We come here regularly for the fresh fish and the excellent quality regional steak. Both are expertly grilled and seasoned. For total ecstasy be sure to have either the orange or coconut pudding for dessert.
We always do a lunch at Hotel Marina Atlantico, on a bright sunny day to enjoy its waterfront views. We had been watching the progress of the refurbishing of the outside of the building which was now complete - sparkling in the bright sunlight. We understand that the rooms now boast upgraded mattresses and bedding along with new televisions and free wifi. A traditional black sausage and pineapple appetizer got us started along with a Frei Gigante white wine from the island of Pico. A delicate fish fillet on a bed of sauteed potatoes and zucchini was divine. Chocolate mousse and lemon meringue pie along with garotos finished us off.
We were thrilled to finally meet our long time internet friend and member of our travel discussion group. Diana Ball. She made our winter perfect by stopping off on her way home to Texas. You can read her take on the visit on her wonderful blog. We have shared so much over 25 years that when we hugged it couldn't be better described than what Diana wrote, "Today cementing that friendship in a physical, visceral way was very special."
It was a 'ball' doing the guide thing with Diana who is a fearless, fun-loving and enthusiastic traveler determined to make the most of every moment. We managed to eat well at our regular haunts and even made Diana a gelato lover.
[Back to Top]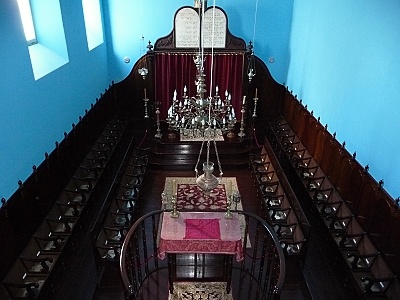 We met our friend Jose De Almeida Mello at the Sahar Hassamain Synagogue on Rua do Brum. His dedication in bringing stakeholders together made it possible for a massive restoration of the synagogue (our previous travelogues catalogue the process). Jose never stops thinking of how to innovate and improve. Under each seat in the synagogue is a space to store the elements of prayer (prayer shawl, prayer book. kippah). Now, this space has been filled with such artefacts found scattered around the decrepit building, with a glass covering for preservation of the contents. Each seat is inscribed with the name of an original member of the congregation. The museum created as part of the restoration continues to grow in content reflecting the history of the Jewish people in the Azores.
Also during her stay, Diana witnessed the Romeiros as they approached us chanting. These religious pilgrims, of all ages, gather in São Miguel to honor their commitment of their faith during Lent. Characteristically decked out in neckerchiefs, scarfs and backpacks, with rosaries and staffs in hand, they walk one full turn around the island, starting in the middle of the night until 7:00pm each day. Along the way, up and down hills and mountains, through villages, they pay homage in chapels and churches.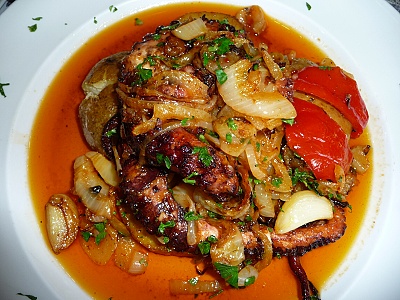 On her last day, we were Diana's guests at lunch at Restaurante São Pedro, Largo Almirante Dunn, 23A, a long-standing favorite of both locals and visitors. We have always enjoyed the island ambiance (photos and videos adorn the walls), caring service and the wide array of menu choices, all fresh, well prepared and presented. We lingered over island cheeses, fried calamari, grilled fish (alfonsim), oven roasted octopus, regional steak, and a lovely white wine.
Shopping in Euros, when considering the conversion to Canadian Dollars is usually not a good option. There are a few shops we do go to whose regular prices when converted represent excellent value. Quatro Estacoes, Rua Marques da Praia e Monforte, 13 (western extension of Machado do Santos) is steps away from our apartment building. Their fashion selection for women and men consists of well chosen European brands. Foreva Shoes is next door to our building. The well styled footwear is made in Portugal. Season end sale prices can be a big bonus!
[Back to Top]
On a practical note, we suggest the following folks to take care of your everyday needs:
We take our laundry once a week to the accommodating team at Wash Now Lavandaria in the Solmar Avenida Center, Av. Infante D. Henrique,71. We drop it off before lunch and a couple of hours later, washed, dried, folded it's ready to go. All that and lots of smiles. There are very good dining options in the center, with patios facing the marina, to enjoy a meal, snack, or beverage while waiting. WIFI is free.
If you would like a bit of pampering such as a facial, massage, electrolysis, eye brow shaping, etc., just head to Our World, Rua Misericordia, 47, (look for the open door) and let Helena do her magic.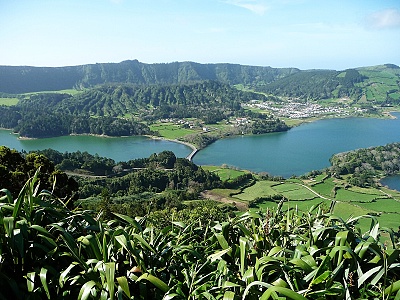 Three months is a long time to go without a haircut or hair coloring at least one time. Manuela and her staff at Visos, Largo de S. Joao, 6A have been taking care of us for 5 years and have been consistently caring and professional. You will be in good hands.
When we manage to find bargains that need to be altered we head to our neighbors Atelier Glamour, Rua Machado dos Santos, 96, 1st floor, where the charming and personable Antonieta and Natercia will be happy to take your measure.
For pharmaceuticals or if you need advice for an ailment, the highly professional staff at Farmacia Popular, Rua Machado Dos Santos, 34, will take good care of you.
We have written extensively about São Miguel and urge you to read our previous travelogues (links in the left margin) and discover the secrets of this special island. A reminder to take a look at Diana's blog and join her day-long hike for a close up view of what awaits you on the trail.
Happy and safe travels!
Search TheTravelzine | TheTravelzine Group | Don's Gallery
Packing Hints | Planning Tips | Cities Links

---
All pages on TheTravelzine.com©Copyright 1996-2020 Don & Linda Freedman