KEY WEST, FLORIDA
FALL 2006
Our Swiss friends, Fabio and Cornelia, were vacationing in Florida at the same time we were visiting my mom, Mary, to get a dose of her 95 year old energy and enthusiasm. Since Fabio loves to drive and I don't, it was the perfect time to zip down to Key West for our first visit.
It was about a 4 1/2 hour drive from Aventura, FL. We stayed at the well located Almond Tree Inn, 512 Truman Ave., half a block from Duval Street, the main street of town and within walking distance to all attractions. The attractive property is nicely secluded behind a privacy wall. Enter to lush tropical plantings, water falling into a pool of colorful fish, and a heated swimming pool. The pleasant patio is a perfect venue for complimentary late afternoon beverages and snacks and continental breakfast.
There are 22 rooms; ours was a good size king bedded room with a large television in a wooden cabinet and a mirror and sink at the rear, near the bathroom (toilet and good-size stall shower), well-stocked with lots of quality towels, soaps, shampoo, conditioner and body lotion. A small refrigerator and coffee maker were a practical convenience. The Almond Tree Inn is a relaxing peaceful oasis to return to after a day of activity. Best of all, the staff is super friendly and helpful.
Duval Street, the hub of activity day and night, runs the length of the town from Key West Bight Marina and Simonton beach to the north to the southernmost point of the continental U.S and the magnificent South and Dog beaches. There's shopping, eating, drinking, and services for everyone and every pocketbook.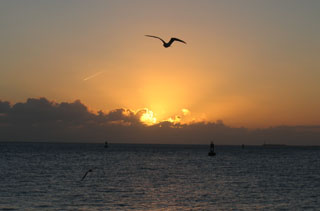 Watching the sunset is a major activity on Key West. We camped out on the long deck of a bar at the Ocean Key Pier House at the north end of Duval sipping ice cold Margaritas and beer and indeed, the sunset was a glorious sight. Many folks opt to take a sunset cruise as did Fabio and Cornelia, the second evening.
We moved on to 915 Duval Street to the restaurant Nine One Five, for a delightful dinner on their first floor front porch. This restaurant is housed in a building in the typical architectural style of Key West, a white wooden low rise clapboard structure with a front porch.
We were tipped off that the portions were substantial enough for sharing and so we did. A salad of mixed greens, roasted beets, herbed goat cheese and walnuts was an excellent starting point and from there it got even better. A sizzling Thai fish turned out to be a crispy skinned whole yellow tail snapper with succulent, moist flesh flavored with chili garlic and sauce, served with steamed basmati rice and Chinese cabbage. A quince and raisin cobbler in a pecan crust topped with creamy vanilla ice cream finished us off. The service was perfect and the Merlot was fine. It was a most enjoyable evening.
A point of interest is the Key West Cemetery. This was a first for us. Because of high water levels and flooding, burials cannot be underground, consequently the caskets are encased in concrete and stacked above ground. It's quite a sight to behold.
While patrolling the streets we spotted a little yellow house with a counter and tiny patio with a few tables out front. Inside Mam's, 405 Petronia at Whitehead, a woman and her daughter turn out delicious homemade, Middle Eastern foods, at very reasonable prices. We feasted on falafel and fresh made kabob both in pita with hummus, salad and eggplant with chili sauce. The menu includes gorgeous omelets, sandwiches of all kinds, salads and full meals. Portions are generous. Prices range from $5.00 to $10.00. Run, don't walk, sitting is limited. Come as you are – you'll be overdressed!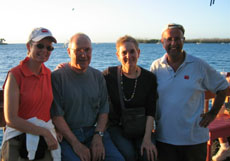 We had another superb dinner at Antonia's, 615 Duval Street, where regional Italian cuisine is featured. The environment is sophisticated casual with lots of wood and low lighting. A cozy bar at the front seemed popular for social gathering and lingering before dinner. Our waitress, s real charmer, was helpful and knowledgeable. We were in the mood for clam chowder and she told us that the lobster and clam chowder was not to be missed. It was thick, creamy, rich and chock full of lobster and clams. Our waitress was so right to suggest that we share; the half portion was just perfect.
We both ordered the yellow tail snapper, but with different preparations. Mine was pan seared and braised with watercress, Belgium endive, radicchio, arugula, fennel and baby artichokes with a touch of white wine, sided with potato puree. Linda's version was sautéed with fresh vegetables, potato puree and caper and anchovy cream sauce. Both were excellent. Feeling guilty about the rich chowder we skipped dessert.
We did lots of walking, enjoyed the marinas and beaches, and especially enjoyed spending time with Cornelia and Fabio. Where next, guys?
[Back to Top]
Search TheTravelzine | TheTravelzine Group | Don's Gallery
Packing Hints | Planning Tips | Cities Links

---
All pages on TheTravelzine.com©Copyright 1996-2020 Don & Linda Freedman