SWITZERLAND Spring 1996 (1)
Our mission on our May 13 - June 5, 1996 trip was to take some of Switzerland's famous scenic train trips, stay at a thermal bath resort and comfortably visit as many places as possible.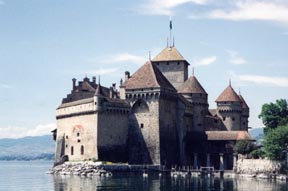 Luckily for us there was a "Swiss Pass" special offer available - the second traveler was half price. This is a 30 day pass that is good on all trains, lake steamers and most cities' buses and trams. There are other discounts available also. We, as usual, opted for 2nd class - 1st class is available.
From Zurich we took the 11:10 train to Chur (pronounced koor) and traveled through lake areas, rural farm country, slopes, hills, mountains - all glorious "spring" green. Arrived 12:44 - the area around the train station is quite pretty and it was a short 10-15 minute walk to the Hotel Drei Konige, Reichgasse 18. We always like to walk to the hotel (that's why we have wheels on our luggage) as it gives us a taste of the city. Also we ask for and receive city maps from the hotels which gives us a head start. This hotel is old - family run. The woman at the front desk could not find our reservation. Although we had a confirmation to show her, it took quite a while to get ourselves registered. We had to visit several rooms before we found one we liked - a good-size bedroom with assorted typical Swiss furnishings and a nice new bathroom (window, shower w/door and bidet). The room was very clean, bright and looked out on a quiet side street. Very good value - would have been better without the hassle.
Chur is a cute little city, nestled in the mountains. We followed the green and red footprints and spent a delightful day wandering about. Chur is certainly worth a one day visit. We had dinner at the Hotel Stern, across the street from our hotel - typical Swiss decor with a tiny non-smoking area too. Very professional service with a nice personal touch. Linda started with fresh asparagus soup followed by breaded calves liver with polenta and candied fruit. I had a mixed salad before the grilled medallions of beef, veal and pork with potato dumplings, candied fruit, tangy berries, zucchini and carrots. A quality restaurant with fair prices - close enough to get to bed early. If you're wondering about lunch, we had just a coffee in the early afternoon. In Europe we avoid eating lunch - we have breakfast, dinner and an afternoon "coffee (and most times pastry) break". It's fun searching out the best tea room in town. Mid-day coffee and snacks average 8-20 SF.
The 'Glacier Express' and Locarno
The next day, we were off to Locarno for a four night stay. This was the first of the famous scenic train rides. On board the Glacier Express for a 10:55 departure (there's a 9 SF supplement even with the Swiss Pass, which includes the mandatory reservation). Our routing was Chur, Andermatt, Goeschenen, Bellinzona, Locarno for a 15:21 arrival. The route begins with typical lush grazing land climbing up manicured mountains - great old homes, churches and buildings - and plenty of gorgeous cows. There were lots of cyclists along the roadways. Lovely towns were nestled between the mountains. We climbed up the mountains to Disentis and the "Oberalp Pass" - magnificent views of forests, with rushing rivers and streams cascading from the snow-covered peaks. At Andermatt, with snow all around us, we stood atop the glacier at its highest peak - gorgeous!
Then, miracle of miracles, a first for us - a Swiss train was late - by 25 minutes! We missed the connection to Goeschenen which resulted in our arriving in Locarno one hour late. Andermatt to Goeshenen is a short, 15 minute run where one must change in order to travel south to Bellinzona and then on to Locarno. The trip to Bellinzona took us through many tunnels until finally we emerged, surrounded by high, tree-covered mountains. We hit grape country 40 minutes outside of Bellinzona and arrived in Locarno at 16:33.
From the bahnhof to our hotel, Garni Du Lac, is an 8 minute walk. In a fabulous location at the center of the city, we were greeted by a smiling and friendly young woman at the reception desk. Ours was a nice-size, well-furnished room with a balcony and wonderful views of mountains, lake and city. The bathroom was a bit small, but very nice. This very clean and cozy garni is an excellent value.
We strolled a portion of the lake front and then through the old city, which dominates the life of the city. It's truly an Italian city in terms of appearance, language, food and culture but with Swiss standards of cleanliness, neatness and order - not a bad combination. The old town has the usual narrow streets, pleasant squares and shopping arcades and the buildings are painted beautiful shades of dusty rose, beige, cream and light green that are so typical of the Ticino area.
Our internet friends who live in Locarno (we will meet them tomorrow) had recommended "Trattoria Luigi" nearby our hotel. It was that time and we were both in the mood for pasta. We started with salads - one green, one mixed - of tasty, crisp leaves with superb quality olive oil and balsamic vinegar.
Linda had crespella, filled with cheese and porcini mushrooms in a tomato-cream sauce and I had tagliolini with smoked salmon in a light cream sauce. A half litre of the house local Merlot was quite nice. The ambiance was comfortable and contemporary and the service was very competent. Good value. Yes, we did have gelato immediately after checking into the hotel - just downstairs and around the corner, ground level of the hotel, OH, SO GOOD.
We slept until 9 and enjoyed an excellent breakfast buffet in the very pretty dining room. We walked through a lovely residential area which starts at the lake front - smart looking apartment buildings with beautiful plantings and flowers draped over every balcony.


We took a boat ride to Ascona which is right next door to Locarno. As you approach the boat landing, it's like a postcard picture - a long promenade backed by sidewalk cafes and boats anchored out front, along the tree-lined waterfront. Behind the promenade is a labyrinth of tiny streets filled with shops and galleries. This is an artists retreat so there is plenty of art to view. It's a fun place to stroll, window-shop, sit down for coffee, people-watch and appreciate the clean air and charming scenery. On the trip back the boat stopped in three gorgeous villages. This is one beautiful piece of the world.
We met our internet pals for the first time - this internet thing is something else - it was as though we knew each other for a lifetime. They took us high on the mountains above Locarno for breathtaking, panoramic views. We went to the Ristorante Patrizietta in Losone, halfway between Locarno and Ascona, for a pizza dinner. We had mixed salads, wonderful individual pizzas (Lin's with only spinach and mine with spinach, onion and egg) - with very good Chianti.
Next day, sans luggage, we trained back to Bellinzona, famous for its three castles. Since it was Saturday, it was market day and the main street was filled with goodies. We love markets; everything looks so good and people are excited, friendly and warm. We visited Castle Grande and took pictures of the other two castles from afar.
Back to Locarno for a mid-afternoon coffee and pastry at Pasticceria Marnin in the old town - superb! (Be sure, however, to count your change carefully). Enjoyed the antique market that was going strong late into the afternoon.
Our friends had us to their home for dinner and it was the best meal of the trip. A fabulous risotto con funghi, chicory/tomato salad, filets mignon grilled over a wood-burning fire in the fireplace on a special skillet, fresh spinach sauteed with garlic and onions and strawberries and vanilla a ice cream to complete the meal. A delicious Ticino Merlot accompanied the feast - A fantastic meal! Thank you good friends.
Today (Sunday) we took the train to Lugano, a city much like Locarno. Nothing changed since our last visit several years ago. It's a beautiful lakefront city with wonderful shopping streets, a waterfront promenade and parks. Sunday is not the best day to visit - everything is closed - but we enjoyed it all the same. Back to Locarno mid-afternoon in time to relax before dinner.
Dinner at Citadella in the old town. We started with salads. Linda had tagliolini with nice, big shrimps in a light tomato and cream sauce. For me, spaghetti frutti di mare in a mild tomato sauce. All very good in a charming old dining room with very good service. Good deal.
On to Zermatt via Domodossola (in Italy) and Brig. We left Locarno at 10:22 and arrived in Zermatt at 14:45. This is *the* train trip - Locarno to Domodossola - all you've ever imagined - forested mountains, deep gorges, villages and beautiful homes tucked-into the mountains. Be sure to sit on the south of the train for the best vantage point. The trip from Domodossola has many tunnels but is beautiful in between. Brig is a cute town nestled in the valley that is the gateway to many regions and the way to Zermatt. It was a cool and rainy day and since we were going up high we put sweaters on under our jackets.
Lovely climb up - arrived in drizzle and clouds and the Matterhorn was invisible. A friend had recommended the "Garni Testa Grigia" on the Bahnhofstrasse - about 100 yards from the station - a superb value. Nice, big room and bathroom, with a deck (shared with 2 other rooms) and a partial view of the Big "M". The room was nicely furnished in old Swiss-cozy, comfortable and again very clean. The staff is extremely friendly and helpful. We really began to appreciate the beauty of Zermatt as the drizzle eased, the clouds moved and the sun came shining through. The air is so clean and fresh way up there (only electric vehicles are permitted) surrounded by magnificent mountains - it's breathtaking, serene - a place to walk, hike, ski, breathe deeply and enjoy a sense of well-being.
The summer season was just beginning so many shops and restaurants were not yet open. But you don't come here to shop - eat, yes - after walking around in this air one does develop a ravenous appetite! The hotel had recommended the "Zermatter Stubli" up the street. A typical stubli, wine and beer with a limited menu - but what a treat. Linda had a fabulous fresh tomato soup, with a dollop of whipped cream on top, and I had the best minestrone I've ever had. For mains, Lin opted for ravioli stuffed with veal in a cream sauce and I, a veal sausage with onion sauce and rosti (typically Swiss with outstanding quality and preparation). The beer was great. There must be a Grandma in the kitchen.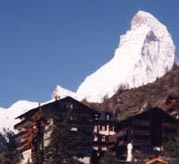 I woke up at 2 a.m. and happened to look outside. It was amazing - the sky was *filled* with stars. I woke Linda so she could share the breathtaking sight with me. She went out on the deck in her nitey and shivered as she snapped a picture of the moonlit Matterhorn against the night sky.
The morning dawned crystal clear and after a wonderful continental breakfast, served in our room, we went through a roll of film shooting the Matterhorn. The pictures don't do it justice. It is a sight too glorious to adequately capture on celluloid.

Reluctantly got on the train at 10:00 and headed for Thun (pronounced toon). Will arrive 13:17 via Brig. What more can be said? Postcards all the way. Checked into the Hotel Freienhof, a modern-style Best Western with a sensational location where the gushing River Aare splits at a well-preserved wooden bridge and the two branches flow through the city. It's typical first class North American accommodations - good value for Switzerland.
The Medieval and the modern are blended together. There are gardens and promenades along the branches of the river. There are historical and modern shopping streets and alleys. The river branches divide the city in three sections with bridges connecting them at frequent intervals. It's a real charmer. Enjoyed delicious pastry and coffee at Steinmann, a famous old tea room. Had dinner at Metzgern, an unpretentious, neighborhood place with local clientele. Staff at our hotel suggested this place. Wide selection of Swiss, local and Italian dishes on the menu. Everything being served around us looked and smelled great. After our salads, Linda selected a superb vegetarian plate and for me, trenette Genovese (pesto) - to die for. Loved the beer. Took a last, leisurely walk back to the hotel and promised ourselves we would return.
The buffet breakfast included a sensational selection of breads. Switzerland is the king of breads in our bread book. We boarded the 9:45 boat to Interlaken, with our suitcases, for a glorious two hour ride. Lake Thun is supposed to be the cleanest lake in the world and it sure looks and feels it. Sitting in the sunshine on the rear deck, breathing in the crisp, fresh air, and seeing the most sensuous sights was the highlight of the trip. As you leave Thun there are marvelous chateaux and villas along the shrub and flower-lined waterfront and climbing high onto the hills. The first three stops, Hunibach, Hilterfingen and Oberhofen are elegant and enchanting. We decided we are going to return to explore the area beyond the docks. If you love lakes and mountains, this is the place to see them.


Interlaken
As we have read and heard, Interlaken is not much of a place to fall in love with - just a gateway to the mountain region to the south. We checked into the Hotel Harder Minerva and immediately got on a 1:34 boat to tour Lake Brienz. (Interlaken is situated between the two lakes - thus its name). While quite gorgeous it is not as captivating as Lake Thun.
Brienz is famous for woodcarving. We had coffee and pastry at the tea room Waltz where we sat on the patio overlooking the lake - delightful. We took the 16:05 boat back and arrived at 17:25 in Interlaken. We were not too happy with our hotel choice, so we decided to shop around for another place to stay the next evening. We found two excellent, small hotels: Hotel Lotschberg, General Guisanstrasse 31, 3800 Interlaken, Hosts: Fritz and Susi Hutmacher and Hotel De La Paix, Bernastrasse 24, Hosts: Gillian and Georges Etterli. Both are charming, well-kept, clean lodgings - with well-furnished, comfortable rooms. Hosts were friendly, warm and anxious to please. Our dinner that evening is not worth talking about (can't win them all!). We walked over to the old town, Unterseen, after dinner and found it to be the highlight of the Interlaken experience for us. As it turned out, the next day dawned cloudy and rainy, not conducive to exploring the mountain villages above Interlaken as we had planned, so we decided to depart a day early.
We chose to go to Gstaad to spend our new-found day - maybe the sun would be shining there - and it was on the way to our next planned stop, Montreux. On the 9:35 to Zweissimen, where we would get the 10:50 to Gstaad to arrive at 11:18. Very pretty scenery of rolling, grassy hills with cows and sheep grazing, and tree-filled mountains. Lots of lumber yards and piles of firewood along the way. Off season, Gstaad is an unpretentious, classy village in a valley surrounded by mountains. There is one long, twisting main street full of designer shops that cater to the ultra rich who come to winter at the The Palace Hotel which sits high above and looks like something out of Disneyland.
Gstaad has world class tennis facilities, great hiking and skiing and, just like Zermatt, clean, fragrant air. To keep it that way, they are banning all petroleum vehicles in the near future - electric only.
We headed for the Post Hotel Rossli, CH-3780. We were lucky in that it had just opened for the new season - lucky because it is a wonderful, warm and friendly place. We were greeted with a smile, shown several rooms to choose from with patience and caring. The room was huge. The decor and furnishings in keeping with the design of the hotel - a typical Swiss ski chalet. A large balcony the full length of the room gave a bright open feeling. The WC was separate from the bathroom and both were good size. This was probably the best value of the trip. The only sad part was that their restaurant was not yet open which we heard was very good. We met our host, Ruedi Widmer, and understood why the hotel was so outstanding. He is a fine gentleman who truly cares about his clientele.
It was refreshing strolling around town and enjoying the mountain air. We found the tea room Apfel-pie and enjoyed their deservedly famous apple pie with freshly whipped cream and coffee. Only a few restaurants were open at dinner time. We decided upon the Hotel Berenenhof which houses a traditional Swiss and a Chinese restaurant. We selected the Swiss dining room. The evening special we chose was a salad buffet (quite good) and three kinds of pasta - papardella con funghi, ravioli with parsley and tortellini stuffed with veal. More beer. A very good meal - reasonably priced. The dining room is large and boring - the service was only fair. Pleasant evening to walk it off.
Next morning after an excellent breakfast, we returned to our room to get ready to go when we heard an uproar outside and ran to the balcony to determine the cause of the racket. A herd of cattle was being driven up the main street to their summer pasture up in the mountains with bells clanging, hoofs clopping, cow hands yelling and dogs barking - a riotous cacophony! Lin ran for the camera in time to catch rears with tails wagging. A truly memorable experience!
We left at 11:20 for Montreux knowing we would one day return to Gstaad to enjoy the beauty and hospitality and perhaps a hike with Mr. Widmer. This is another deservedly-famous scenic ride - rolling green hills with cows and goats grazing, colorful, wild flowers everywhere and long twisting valleys. Highlights were Chateau-d'Oex with its gorgeous weathered wood chalets spread over forested hillsides and Les Avants, a resort high above Montreux. Oh, for more time to explore! A short walk from the elevator down to Grand Rue led to our hotel , which unfortunately turned out be bad choice. Even though the location was excellent, right on Lake Geneva in the center city, the bathrooms of both rooms we tried were already occupied by tiny ants!
We walked east along the magnificently landscaped promenade, passing large hotels and apartments. We stopped at Le Pavillon on the lake for excellent coffee and a relaxing panorama of the shrubs, trees and flowers lining the auto-free lakefront. We continued on our way to the Chillon Castle - it's all you've read about - surging out of the water - Wow!
We took the boat from Chillon Castle deciding to go as far as Ouchy-Lausanne and then back by train. (Let's hear it for the Swiss Pass!) From Lake Geneva you get a wonderful perspective of Montreux and the exquisite west promenade to Vevey. The Palace Hotel in Montreux stands out - a huge place with its yellow awnings dominating the hillside. Vevey appears to be a refined resort community. As we move west toward Ouchy, the vineyards appear on the sides of the hills right down to the lakeshore. Each stop is memorable - fine old homes with parks, play areas, swimming pools and sheltered boat docks at lake-side. Newer homes and apartment buildings are sprouting-up all around.
Arrived in Ouchy at the dock at about 5:00 and ran to get the funicular to Lausanne gare to make the 5:32 train back to Montreux. Got to see the roofs of all the exquisite homes and buildings we saw from the boat. Back in Montreux, we went for a close-up look at the Palace Hotel - elegant inside and out. Our waiter at coffee-break time recommended Il Brigantine, Avenue des Alpes 102, behind the Palace Hotel. At dinner there, we shared an arugula/mushroom/parmesan salad, pizza with roasted peppers and tagliatelli with asparagus in a cream sauce. The pizza was nothing special but the pasta and salad were quite good. Nice red-checkered cloth environment and friendly service. Good value. Walked around town a bit. Came to the conclusion that if you want a pampered vacation at a four star hotel on a magnificent promenade on the lake, this is a place to consider. Tomorrow we will go to Neuchatel and Biel/Bienne.


to Neuchatel, Biel, Bern, Luzern, Baden

Search TheTravelzine | TheTravelzine Group | Don's Gallery
Packing Hints | Planning Tips | Cities Links

---
All pages on TheTravelzine.comęCopyright 1996-2020 Don & Linda Freedman