BUENOS AIRES
ARGENTINA
WINTER 2008
INTRO and PRACTICAL INFO | NEIGHBORHOODS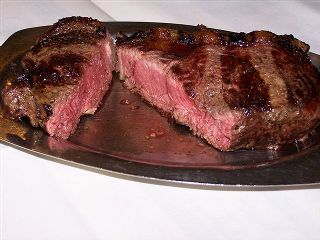 Toronto, Winter 2008, record snow and cold. The snow began falling in earnest on our fair city January 17 as we were landing in Buenos Aires, Argentina to clear blue skies, bright sunshine and a temperature of 28 C. Canada's winter is Argentina's summer, which makes it a perfect winter escape for northerners.
Air Canada's flight #92 left at 23:55. The late departure is conducive to sleeping after enjoying a meal with wine or even a movie if you're so inclined. The on ground and in flight service was commendable which on a fourteen and one half flight is a blessing. There is a stop in Santiago, Chile where passengers must deplane with their carry-ons, pass through a security station, then through the attractive duty free area to another gate for boarding the same plane with a new crew for the 2½ hour flight to Buenos Aires. The new crew was a terrific team, who served lunch and looked after everyone's needs with good humor.
On arrival in Buenos Aires with carry-ons only, we made our way quickly through immigration and customs and were on our way in record time. Entering the arrival hall we turned right to Banco de la Nación Argentina to change US$, the preferred currency, to Argentinean pesos. The exchange rate averaged 3.14 pesos to the Canadian dollar and slightly less to the US$ while we were there.
There are various transportation choices in the arrivals hall and taxi stands and buses outside the terminal. We chose the blue and white taxi stand in the middle of the hall, prepaid 78 pesos and were escorted to a comfortable, clean, air-conditioned vehicle. We had been advised that this method is perhaps safer than randomly taking any taxi outside the terminal. Another possibility is to take a remise which is an upgraded air conditioned vehicle that takes the most efficient route (because you reserve for a set fee). Their fee was 108 pesos, roughly $10 more than we paid.
The drive into the city can take from 30 to 60 minutes, depending on the time of day. We arrived at our destination in the Recoleta neighborhood in about 40 minutes. Since we were staying for two months we had rented a studio apartment at Belle Suites, Juncal 1230. Our cozy apartment was on the 10th floor with gorgeous, tall trees outside our window. The sunken living room had two small sofas, a table with a fabric top, and cable television (no English news channels, but plenty of old TV shows and movies with Spanish sub-titles). We set-up our wireless computer on the glass table in the dining area, which was separated from the king-bedded sleeping area by an upholstered privacy screen. There was ample closet space (hanging, shelves, draws) and an adequate size bathroom. The galley kitchen had all the necessities for cooking at home including a gas stove, toaster, microwave oven, refrigerator, coffee maker, pots, dishes, glassware and cutlery.
Belle Suites is an apartment hotel. The rate includes full daily maid service and 24-hour front desk service, whose delightful staff is eager to help you find your way around the city.
[Back to Top]
We stayed in Buenos Aires the entire two months with not even one daytrip! We fell in love the moment we hit the streets. How can you not love a city where: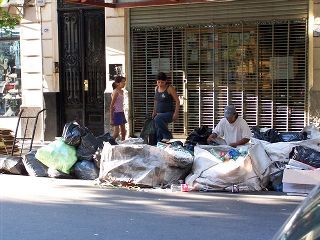 - at dusk the "cartoneros" arrive with their huge canvas sacks and go through the trash bags at the curb to retrieve recyclable materials, which they sell to recycling facilities (a social program created to enable the poor living in the outskirts to earn some income and at the same time help the environment). They are transported into the city on trains (without a/c or heat), which have been stripped of seats to maximize the available space.
- dog walkers (4-8 on leash) dominate the sidewalks and leave "piles of presents" which keep pedestrians on high alert.
- DISCO supermarkets conveniently located everywhere and their deliverymen are constantly about pushing wheeled carts piled high with plastic containers on route to customers' apartments.
- police are polite, friendly and helpful.
- citizens (called "Porteños", since Buenos Aires is a port city), are warm, welcoming and eager to please.
- even the trees do the tango.
- university is free, not only for "Porteños" but for everyone.
- medical care is free for everyone, at public hospitals.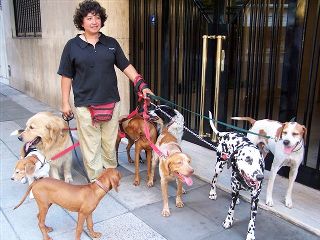 - people come from all over the world to get their body parts enhanced, reduced or reshaped because it's a lot cheaper than at home.
- eat, drink and shop at a fraction of the cost in North America or Europe.
Public services are easily accessible:
Banks are open 10:00 to 15:00 Monday to Friday. ATM machines are available 24/7 at all bank locations. Bank Ciudad has a tourist subsidiary at Cordoba 675 that is open to change money after normal working hours, Tuesday to Friday-10:00 to 17:00, Saturday and Sunday-11:00 to 18:00 and Monday-10:00 to 18:00. The Argentine currency is the peso. There are $100, $50, $20, $10, $5, $2 notes, a 1 peso coin and also 50, 25, 10, and 5 cent coins. You must present your passport when exchanging money in a bank. Credit cards are widely accepted, but cash is king for the best price.
[Back to Top]
Transportation around the city is a breeze and cheap, with an excellent network of collectivos (buses) and subway lines. If you must, the streets are crawling with black and yellow taxis that are inexpensive (for security reasons it was recommended to us that we call for a "radio taxi" rather than jump into one on the street). We like public transportation in general because it gives us the opportunity to meet and interact with locals. We prefer bus because being above ground enables us to see more of a city. We limited our transportation to walking and collectivos. Buses can be challenging but fun. There are 144 lines each one having a different number and color. Learning the routes and the appropriate bus numbers is the tough part but we found a combination of help from the Internet, our apartment-hotel staff, city tourist offices, folks on the street, bus drivers and passengers plus the signs at stops and on the bus got us on our way. It was easy after a bit of trial and error. When waiting at the appropriate stop you must wave to the driver to stop, get on quickly or be left behind, tell the driver your destination and he will enter the amount to be paid on the coin machine behind him, which makes change. You must pay by coin only. Our fares were always .90 or 1.00 pesos so we did our best to have a pocket full of 1.00 peso coins. The machine will give you a receipt which you must keep until you leave the bus. When you are approaching your stop (we found the drivers and passengers most helpful in letting us know when we were approaching our destination), go to the rear door and press the nearby button and wait for the bus to stop, get off as quickly as you boarded. The ride itself is a blast. The streets and avenues are jam packed with vehicles, most being buses and taxis. To begin with, all drive fast (all drivers of all vehicles drive well and obey the rules) in all lanes. As the collectivos approach their stop, they swerve toward the curb. There can be 1-5 buses making the move at the same time, which is further complicated by the buses vacating the spaces. It is an incredible feat of driving, like a ballet, as they swerve in and out inches apart. All this for equivalent of thirty cents US! Most lines operate 24/7.
In general shopping hours are: Monday to Friday-9:00 to 13:00, 15:00 to 19:30, Saturday-8:30 to 13:00. Shopping centers and some shops are open Sunday at various hours. There are always streets markets to be found around the city, particularly on weekends.
There are numerous public phone booths throughout the city that support local, national and international calls. All denominations of coins can be used. Phone cards can be purchased at any "kiosko" (newspaper/magazine stand).
[Back to Top]

INTRO and PRACTICAL INFO | NEIGHBORHOODS
Search TheTravelzine | TheTravelzine Group | Don's Gallery
Packing Hints | Planning Tips | Cities Links

---
All pages on TheTravelzine.com©Copyright 1996-2020 Don & Linda Freedman