ITALY Winter 2001 - Rome and Naples
Rome and Naples | Umbria (1) | Umbria (2) | Tuscany (1) | Tuscany (2)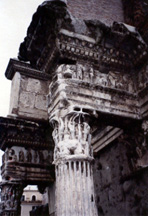 The magic words "SEAT SALE" popped up on the Air Canada web site with a "drop everything and go" price from Toronto to Rome good for departures until February 28, 2001. An Internet check showed the average Rome daytime temperature was 15 degrees Celsius and 11-15 Celsius in Tuscany and Umbria, both much warmer than Toronto so the decision was easy. Sure there would be some rain (and there was, at the beginning) but that's what umbrellas are for.
Immediately after making our reservations we contacted Flavio, our Zine moderator in Rome, about organizing get-togethers with members of our travel discussion group during our visit. Two other Ziners recommended agriturismos in Tuscany and Umbria and finally we made reservations at the Hotel Delle Muse in Rome, looking forward to visiting with our friend Giorgio, a Ziner who owns the hotel. (Ziners are members of TheTravelzine discussion group.)
It's an eight and a half hour flight. Fortunately the leg room was adequate, the food decent, the movies entertaining and combined with a few hours sleep, we were ready to go when we touched down. We rolled through immigration with our carry-ons and quickly located the limo service that the hotel had ordered at our request.
Rome
The Hotel Delle Muse is located in the lovely residential area of Parioli, one of the most elegant districts of Rome. There is a beautiful park and garden for walking and jogging to the rear of the hotel and the lovely Piazza Delle Muse, a short walk from the hotel, offers great views plus a restaurant and a cafe.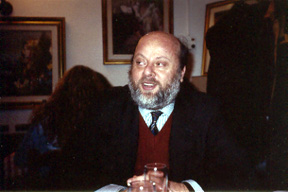 Once you stay at the Hotel Delle Muse, you will look forward to the next time. In fact, just about everyone we met there was a return visitor. The beauty of this 3-star establishment is simply that it is homey. Walking in the front door is like entering the foyer of a private villa. The greeting from the staff is warm and welcoming, whether it's your first visit or your tenth. Usually Giorgio is bustling about offering his suggestions and assistance.
To the rear of the lobby is a lovely garden where in good weather one can enjoy a meal, snack or a bit of relaxation. The dining rooms, off the lobby, are unpretentious and comfortable. Between meals, you can enjoy a coffee or drink or write a few post cards, as I did, while Linda used the Internet access conveniently located in an alcove in the lobby.
Our newly refurbished room, with balcony overlooking the garden, was quite lovely. Giorgio told us that they are feverishly working at redecorating all the rooms and the corridors. Our room had tile floors throughout and was furnished with twin beds and night tables, a desk, two chairs, a wardrobe and a TV with satellite programming. With a fully-tiled bathroom with bright new fixtures including a stall shower and bidet, we had ample, comfortable living space for our stay.
After unpacking, we headed to the dining room for the wonderful meal we remembered from our previous visit. The hotel restaurant prepares excellent pastas, salads and vegetables and serves good wines at reasonable prices, making it a convenient choice for lunch or a light dinner. We started with delicious mixed salads followed by spaghetti aglio olio e peperoncino (hot peppers) and a side of fresh steamed spinach with olive oil and garlic.
We would be in Rome for five days before leaving for Umbria and Tuscany, where we'd be eating mainly at the agriturismos where we'd be staying. So we promised ourselves we'd eat as lightly as possible during our time in Rome.
Having never made it to Naples, we decided on a day trip from Rome - and we were so glad we did. We just scratched the surface but are sure we'll go back there to dig deeper, staying long enough next time to appreciate the real Italy.
Naples
After a healthy breakfast of baked apples, orange juice, bread, cheese and cappuccino, we boarded bus #360 at Piazza delle Muse with tickets purchased from the nearby kiosk. The bus left at 07:50 and arrived at Termini station at 08:05. We got the 08:35 express train to Naples and arrived about 10:30. It was nice to start the day with blue skies and a temperature of 12 degrees Celsius. The ride was quite scenic with farmland, vineyards, olive trees and fruit orchards dotting the landscape, with a brief tour along the sea to make it perfect. As we approached Naples, Mt. Vesuvius loomed in the distance.
We stopped at the tourist office in Stazione Centrale just as they were about to close for a break. One of the men who was leaving gave us directions to the E.P.T. office in Piazza dei Martiri. He was a sweet guy who insisted upon taking us to the right bus at the end of Piazza Garibaldi and we were lucky he did. The piazza was a zoo with hoards of people, striking workers, ongoing construction, a sea of buses and no directory of any kind to help you find your way.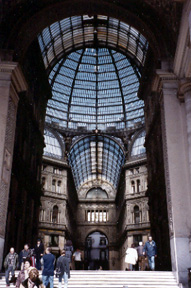 We met another kind man who, with his limited English but great pride in his city, managed to communicate quite a bit during the bus ride. As we got off the bus at Piazza Trieste e Trento, he pointed out the famous places surrounding us: Castel Nuovo, Teatro S. Carlo, Palazzo Reale and the glorious Galleria Umberto, all hovering over the sea.
The tourist office was very helpful in providing maps and suggestions for our short stay. They recommended that we visit the area around Piazza Trieste e Trento, where we got off the bus before walking to the tourist office, the old city center and the National Archeological Museum.
One does not visit Napoli without eating pizza and luckily for us it was lunch time! We were heading for Pizzeria Brandi and stopped a man for directions. He managed to communicate to us that the pizza was good at Brandi but that we should try something different and better at Rossini Trattoria/Pizzeria, via S. Carlo 27/29, 39-081-252-0072. The "different" is the house specialty, rotoloni. The superb pizza dough is rolled (like a jelly roll) and stuffed with mozzarella and prosciutto, garnished with fresh basilico and served in slices. In addition, we ordered two basic pizzas, a Margarita and one with bocconcini and tomato. Yup, we had three kinds and it just doesn't get any better. It is worth the trip to Naples! Theories abound as to why the pizza is best in this place: the wheat, the water, the wood in the ovens, the freshness of the cheese; it tastes like all of the above. The place was packed with local business people. A high, beautifully-painted ceiling and pastel walls creates a nice, bright environment. Next trip we can eat around and make comparisons but if this is any indication of what we will find, we're already salivating at the thought.
No sooner had we finished eating when it began raining and hailing; that inclement weather stayed with us most of the afternoon.
After leaving the trattoria we dashed into the Galleria Umberto and were awestruck by the beauty of the tall stone buildings, arcaded in steel and glass and topped by a vast dome - just stunning.
Via Chiala is a very nice, upscale shopping street to the west of Piazza Trieste e Trento. We walked north on via Toledo (also known as via Roma) toward the old city center and were enraptured by the long, narrow streets lined with tall apartment buildings running west off of via Toledo. Despite the rain, we were drawn into these streets, with the laundry hanging (now covered by plastic) from every balcony. Via Toledo links the northern part of the city to the center and is lined with traditional old shops and bakeries as well as banks.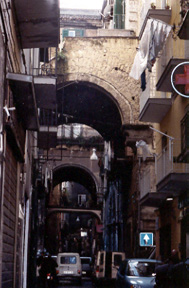 Piazza Gesu, bordered by the Church of Gesu Nuovo and the Convent of Santa Chiara, is a good starting point for the journey through the old city. We walked along via B. Croce to Piazza S. Domenico Maggiore and via S. Biagio dei Librai, the route called the Spaccanapoli, which in ancient Neapolis split the city in half. The skinny cobblestone streets are filled with wonderful palazzos and churches. The old stone homes are in nice repair and even after the pizza, the smells and the sight of people at their kitchen tables enjoying the home cooking would have led us to accept an invitation to join them, if one was offered. It was incredible to witness the cars and scooters speeding through the narrow, crowded streets at fast speeds with horns blaring. Several times we had to plaster ourselves to walls to survive - hey, this is Napoli! With more time and less rain, a more in-depth visit to the old city is in order.
From via Tribunali, we headed north on via S.M. di Costantinopoli to Piazza Museo and the National Archeological Museum. If you have been to Pompeii and were dazzled by what you saw then you must visit this museum to complete the experience. The collections of artifacts from Pompeii is breathtaking: mosaics, paintings, sculpture, jewelry, ivory, glass and more - a treasure trove beyond compare. Do not miss the Secret Room, which displays an explicit collection of Roman erotica.
It's a fun city in which to walk with changing environments from one piazza to the next. There is a great deal of reconstruction in progress as well as a major program of building new metro stations in several piazzas. There's no shortage of cafes and pastry shops to delight you along the way. Don't be concerned about getting lost because when our map failed us, the wonderfully, friendly people of Naples took us by the hand and led us to the right spot.
We caught the 18:30 Eurostar which brought us to Stazione Roma Termini at 20:20, where we got the bus #360, arriving at the Hotel delle Muse at 21:00. (It should be noted that the bus to Piazza delle Muse picks you up on the street in front of the main bus area, not where it leaves you off from the inbound journey.)
Rome
Back at the hotel we enjoyed a relaxing Campari and excellent spaghetti ragu with a glass of delicious red wine. Great day! Good night.
We had asked Giorgio to suggest some sights we had not seen on our previous visits to Rome and he came through with some marvelous recommendations.
Trastevere is an old favorite but we had never visited Aventino Hill, just across the river. Aventino Hill is one of the seven hills of Rome. With its gorgeous homes, apartment buildings, embassies, churches and abundant trees, shrubs and flowers, this lovely green hill is a quiet oasis rising above the traffic below. Giorgio told us to find the "keyhole" for a special surprise. High on the hill in Piazza Cavalieri di Malta (the Square of the Knights of Malta) is the knights' private garden and the way into the garden is through a huge entranceway with a locked wooden door. There is a tiny keyhole in the center of the door through which one is able to view an arbor way of trees, which frames the Dome of St. Peter's in the distance. Next to the private garden is the public Park of Oranges, dotted with orange trees, from which there are nice views across the city.
We had been to Testaccio years before but since we found it such a neat neighborhood, we decided on a return visit. Testaccio, famous for good value, traditional restaurants, is a very popular place to live fairly reasonably, as is its neighbor Trastevere. The geographical highlight is the one hundred fifty foot high Monte Testaccio, a green hill made from pottery fragments.
The Palazzo Massimo in Piazza dei Cinquecento, near Termini train station, is part of the National Museum of Rome. The main stairway leads to the ground floor, divided into a series of rooms arranged along the wings of the portico inside the central courtyard with exhibits of sculpture, funeral reliefs and mosaics. The first floor offers iconographic works and portraits and the second floor houses in-depth documentation of mosaic and pictorial decorations. The basement houses an awesome collection of coins and exhibits documenting the development of the metric system.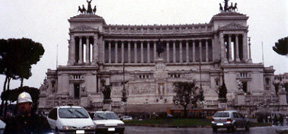 The Vittorio Emanuele II, dazzling after its cleaning and refurbishing for the Jubileum, is an imposing monument, best viewed in its entirety from a distance. We had planned to visit the Tomb of the Unknown Soldier, which unfortunately was closed to the public that afternoon. Instead, through a doorway on the far right, we followed the history of the monument's architectural evolution via a series of models, which we were permitted to photograph. Linda went through a roll of film snapping away from near and then from far.
We wandered over to one of our favorite spots, the Trevi Fountain. Always spectacular, it is breathtaking after its Jubilee-cleaning. Throngs of onlookers soaked in its beauty as their coins were flying. Who would risk not returning to Rome for the price of a few coins?
This was the night of the first of two get-togethers Flavio had arranged during our visit. We met at Vecchia Roma, a trattoria at Leonina 10, and shared a meal with old (Flavio, his friend Livia, and Giorgio) and new (Erina and Shane, from Amsterdam) Internet friends. As always, it was wonderful swapping stories about our travel experiences while enjoying a dinner of antipasto, penne arrabiata and assorted cakes accompanied by good house wine in a nice, casual environment. It was a lovely evening and we went to bed looking-forward to the treats that awaited the following day.
After breakfast, Paolo, our dear friend and TheTravelzine moderator from Trieste arrived to spend the day with us. Giorgio had kindly arranged reservations for the three of us at the Borghese Museum and Gallery in Borghese Gardens. Reservations are a must and visits are limited to two hours. Miraculously Paolo's plane was right on time and the weather was gorgeous!
The thirty-minute walk flew by as we caught up on each other's news and in short order we arrived at Scipio Borghese's Villa (summer home), which was built between 1613 and 1615. The Italian state bought the property and the small palace with its collection and turned it into a museum. Major restoration has been done over the years. We were in awe from the moment we entered until we left. Much of the sculpture is so captivating we'd have liked to linger longer but didn't dare to miss seeing all of it in the allotted time. We were mesmerized by G.L. Bernini's "Apollo and Daphne", "David Releasing His Sling Shot" and Canova's "Venus Triumphant" (or Paolina Bonaparte) and "The Rape of Prosperina", with Pluto's fingers sunk into her so realistically that the marble looks like flesh. Each room is a masterpiece of brilliantly displayed art - sculpture, paintings and ceiling frescoes intensely beautiful and a joy to behold.
We were on a cultural high and enjoyed a brisk walk to the area of the Spanish steps, looking forward to a late lunch at our favorite Roman seafood ristorante, Settimo All'Arancio, via Dell'Arancio 50/52. Tel: 06/6876119. We started with house specialties of fried artichoke plus zucchini flowers stuffed with cheese and a touch of anchovy. The daily special of a whole, very fresh rombo (turbot) baked in the oven was a natural for us to share. Presented intact after baking, the fish was returned to the kitchen and reemerged filleted and divided onto our three plates with crispy, roasted potatoes as the perfect accompaniment to the delicate, white fish. Over the years, the food, service and value at this unpretentious, popular eatery has been consistently excellent.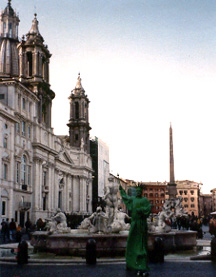 Paolo was determined to introduce us to the best tartufo in the world and we were grateful for the calorie-burning walk to Piazza Navona where the moment of truth would take place. In the middle of the west side of the piazza is Tre Scalini, the place for chocolate tartufo with panna. How have we missed discovering this place until now? Wow!
Later in the evening we met Flavio in Trastevere at Cafe Della Scala, via Della Scala, for a drink before we headed over to Osteria Der Belli, Piazza S. Apollonia, Tel: 06/5803782, where we were joined by Giorgio plus our friends Andrea and Antonella, who are members of TheTravelzine from Poggibonsi. The charming Sardinian-style trattoria provided just the right ambiance for a fun-filled evening of lively conversation along with a reasonable, well-chosen menu of bruschetta, funghi and panna crepes, ricotta and spinach ravioli, profiteroles and plentiful wine. Flavio headed off for an evening of partying, after the warm-up, and Andrea and Antonella walked with us until we had to go our separate ways.
When we returned to Rome for our last day before flying home, we took the opportunity to drive up Monte Mario, just northwest of the Vatican, with superb views all over the city. Driving due south toward our destination of Villa Pamphili, we passed by an ancient stone bridge running from the Vatican to the catacombs over which the Pope would have gone in a special electric train.
Villa Pamphili is a huge, gorgeous park, just west of Trastevere. We took some time to stroll the paths and admire the lovely plantings, trees, ponds, waterfalls, bridges and playgrounds. How marvelous to have this peaceful retreat so close to the city.
We avoid typical tourist places as much as possible but at Giorgio's suggestion, since he thinks we should try it all, we decided to try a supper club called Fantasie di Trastevere. The theatrical design is striking and glamorous. The main dining floor is surrounded by two levels of curved balconies with a good-sized stage at the front. For a Monday night, it was quite busy with several small tourist groups, business men and couples like us. The show was lively with talented singers and dancers performing typical songs of Rome and Napoli. But this place was more than just a robust and entertaining evening; the food was well-prepared, professionally-served and of excellent quality. The last song of the show couldn't have been more appropriate - Arrivederci Roma.

Umbria (1) | Umbria (2) | Tuscany (1) | Tuscany (2)

Search TheTravelzine | TheTravelzine Group | Don's Gallery
Packing Hints | Planning Tips | Cities Links

---
All pages on TheTravelzine.comęCopyright 1996-2020 Don & Linda Freedman