PORTUGAL
WINTER 2011
Part One | Part Two | Part Three
LISBON
continued
One of the treasures of Rua Augusta is Macario at number 272-274. Founded in 1913 it's one of the oldest Portuguese wine-cellars. Macario has one of the greatest collections of Port Wine with over 3000 types to choose from. Our friend Joao introduced us to Macario when he invited us to join him for a wine tasting (open to the public on the last Friday evening of every month). The shop is a stunner. You are greeted with a purposely dusty display of rare old Ports. The walls are packed floor to ceiling with a large and colorful display of Port wines, alcoholic beverages, coffee, tea, candy and more. The owner, Luis, stands behind the counter patiently describing each of the Ports he is offering. There are chunks of bread, cheese and chocolate covered almonds to stimulate the taste buds. The Ports were divine. Luis knows his Ports. Stop by and get a lesson. Luis is always there to share his knowledge.
Luis also volunteers his time at the wonderful private Hospital da Ordem Terceira de S. Francisco da Cidade, Rua Serpa Pinto 7, just south of Teatro Sao Carlos. We had the opportunity to visit him there for a brief tour. The major specialty is ophthalmology, the facilities for which are quite extensive. They also have a small number of assisted living units for the elderly. Getting this perspective of part of the health care in Portugal was interesting.
A lovely day for a trip to Cascais! It's a 10 minute walk from Rua Garrett south to Cais do Sodre and the train along the coast to Cascais. First, lunch at Hotel Albatroz, a 5 minute walk from the train station. It's one of our favorite hotels with spectacular ocean views. The dining room overlooks a sandy beach and the coastline to Estoril. There were actually a few brave souls frolicking in the sea! It was a splendid way to enjoy lunch before strolling along the Oceano Atlantico.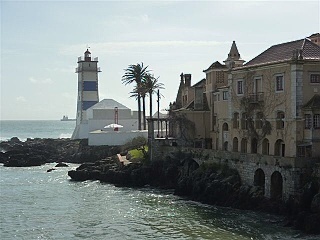 The path and roadway from the Fort past the marina and along Estrada do Guincho has been beautifully refurbished with lanes for pedestrians and bikes. The Santa Marta Lighthouse has been restored and a Lighthouse Museum has been incorporated. A cafeteria will soon be opened. This is a wonderful spot to view the nearby coastline. It was an invigorating walk along the shore. We were not alone; dozens of folks were out walking, running, biking and inhaling the fresh ocean air.
The restaurant scene in Lisbon runs from budget to 5 star. The menus offer mainly traditional preparations featuring grilled meats, fish, shellfish, and numerous bacalhau recipes. There are other options such as; international, Japanese, Italian and Chinese. We prefer to stay with the cuisine of the country. There are many excellent budget style options throughout the city that are particularly popular at lunch time and since lunch was our main meal, these were our restaurants of choice. We tried many but in the end there were just a few that we frequented regularly.
[Back to Top]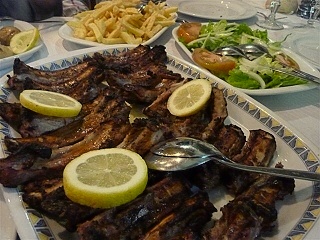 Our favorite is O Forninho Saloio at Rua Parreira which runs off of Rua de Sta. Marta. This narrow street runs uphill, just look for the "chef" at the corner offering the specials of the day. Enter to showcases of fresh meat and fish. The aromas from the grill and kitchen to the left will get your appetite perking. The three partners; Jose, Arlindo and Celene are a happy team who work hard to please their customers. Jose will seat you in one of two rooms, Arlindo will do magic on the grill and Celene's cucina turns out outstanding versions of traditional dishes. Arlindo does spareribs like none we have ever had and just the way we like them. No glossy sauces, simply seasoned and grilled to crisp perfection. The pork ribs are meaty, moist and tender. We went every Saturday to share a rack, fabulous fries and salad. However, our visits were not limited to Saturday. The daily specials are so compelling we were there many times during the week savoring the good home cooking. We always started with soup, all are wonderful, particularly the chicken, loaded with goodies. If you like stews, the lamb and rabbit are spectacular or if you prefer your lamb and rabbit grilled or roasted in the oven you've come to the right place. The bacalhau preparations are sublime as is a grilled cut of fresh cherne. And always, always finish with one or two servings of the house made tortes. Great people, including friendly local customers, great food, all at very reasonable prices.
In second place is an old favorite that we have gone to for years. Tendinha do Salitre, Rua Salitre 141. We had not been there for 5 years, but when we entered Antero, the owner (no English spoken), recognized us immediately.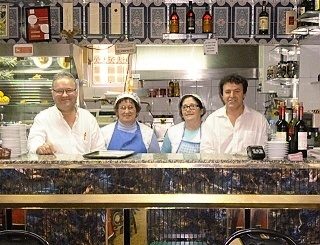 After seating us he served soup (we always had started with soup) and house-offered olives and lupini beans. Seating is limited and there is usually a line-up, but Antero is so efficient that it flows easily without anyone feeling rushed. There is only a daily menu of about 12-15 offerings such as grilled cherne or dourada, veal meatballs, veal stew, roast chicken, codfish croquettes and of course Portuguese cozido (boiled meats, sausage and vegetables). Most of the clientele are regulars from the nearby businesses, many of whom we recognized from previous years. Folks, it doesn't get better.
Walking along Rua Garrett to Largo Camoes, through the shoppers and gawkers dashing in and out of the boutiques and cafes, was always a battle. Surrounded by attractive apartment buildings, this popular square is the gateway to the narrow streets of Barrio Alto. It is also the mid-way point of the route of the infamous trolley #28 where youngsters get their kicks jumping on and off the rear of the trolley. In contrast to the upscale shops and clientele of Chiado, Barrio alto is the historic home of the working class, writers and artists. The streets are lined with small fashion shops, restaurants and clubs, many of which feature fado music. Young people, tourists and locals alike, flock here nightly, especially on week-ends when it's party time.
[Back to Top]
Rua Misericordia heads north uphill passing the colorful Gloria funicular, which links Baixa with Barrio Alto. Next to it is the attractive Miradouro De S"o Pedro De Alcantara, with picture perfect views of the city below and the hills of Alfama and its stately Castle across the way.
Winding uphill, the street becomes Rua D.Pedro V. and then Rua da Escola Politecnica. This is the District of Principe Real famous for its antique and design shops. It is the Gay Quarter. Many of the older buildings have been and are being renovated and it has become a popular residential area. The Principe Real Garden in the center of the district is quite lovely with some wonderful old trees. The southbound streets like Rua de Sao Marcal are lined with attractive 19th century townhouses. To complete this walk we would wander east through Barrio Alto to try to find a restaurant that did not give off "made for tourists" vibes.
We did find one that was quite good, O Cantinho da Rosa, Rua Rosa 226. We had an excellent sopa alentenjana (bread, egg, garlic, cilantro) and arroz de marisco. The service was friendly and the value quite good.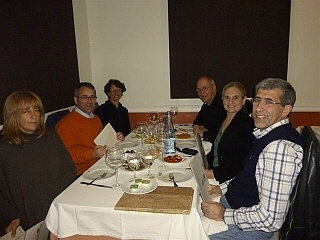 We were delighted that our friends Joao and Luisa, along with Joao's brother, Rui, and his wife, Maria, were available for a GTG (get together). Salsa & Coentros Restaurante, Coronel Marques Leitao,#12, was a perfect venue. It doesn't get better than lively conversation, a glass of full bodied red, and a marvelous variety of delicious appetizers. Slow and easy, the Portuguese way, time to share and compare. The starters did the job of preparing us for the tender, grilled bife de lomo and thin sliced chips. The evening rolled on over baked apples, chocolate cake and coffee. Joao, Luisa and Rui are avid runners and our bodies were aching listening to how they train up and down the hills of Lisbon. It was wonderful being with our friends and meeting new ones.
Rua Fortas de S. Antao runs north, parallel to Av. da Liberdade from Praca Rossio and Praca da Figueira. This pleasant pedestrian way is "restaurant row" with playful "greeters" beckoning the tourists into their establishments. They encourage a bit of banter, so have fun.
We came this way because we were headed to the "Lavra" funicular which leaves from the spot where Antao becomes Rua de S. Jose. This is the oldest street funicular in the world, dating back to 1884. It climbs up the hill to the Torel district where there is a lovely viewpoint from the Jardin de Torel. In the center of the district is Campo Dos Martires da Patria, a gorgeous garden complete with two ponds, a peacock, ducks and geese. Nearby is the Faculty of Medical Science of Lisboa. There is a memorial statue of the beloved Dr. Sousa Martin, always surrounded by fresh flowers, photos and other offerings of gratitude.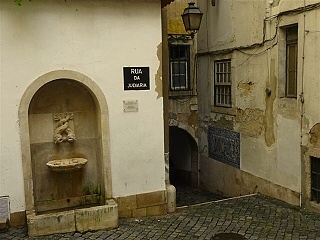 The Alfama district climbs high to the east overlooking Baixa. Because its bedrock foundation survived the 1755 earthquake the ancient homes, churches, tiny squares and twisting narrow streets still provide a glimpse of life as it was. This is changing as the wealthy are investing, renovating and moving in. They say the best fado is to be found here and there is an abundance of restaurants.
We boarded trolley 28 in nearby Largo Camoes which ambled down to Baixa and across to the twisting turning streets of Alfama. Getting off near the Castle we began our decent through the maze. For us it was still a walk through another time of tight knit neighborhoods where everyone knew and depended on one another. We were happy to see that the Jewish Ghetto has been well maintained and designated.
On our way back on Rua Dos Bacalhoeiros we discovered "Conserveira de Lisboa Armazenista" at #34. This small shop has been in business since 1930 selling canned fish; sardines, mackerel, octopus, etc. The shelved walls are stacked high with the colorful tins. There are neat displays on the counter of various gift packages. I love these canned creatures and was dumbstruck that here was a store that sold nothing but, except for tiny music boxes that were part of gift packs or could be bought separately.
[Back to Top]
On the west side of Praca Comercio we spotted "Vinas de Portugal" offering free wine tastings. This organization is a Trade Association which promotes Portuguese wines, brandies and vinegar. We were the first to arrive as the doors opened. Isabel greeted us warmly, showed us to the selection station and explained the various wines being offered for tasting. We made our choices and proceeded to a comfortable seating area with a sheet on which to record our impressions of each wine. There were reds and whites from various regions. From those on offer this day, we felt the clear winners were the reds from the Douro.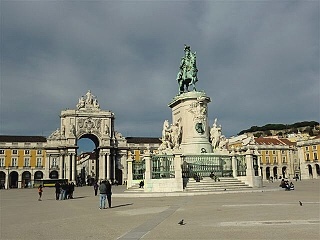 Entering Rua Augusta from Praca Comercio we spotted the MUDE, the new design and fashion museum. The exhibition space features raw concrete walls with white patches and pillars. The displays are on simple platforms and all the mannequins are headless. The museum is for the 20th and 21st century design forms, fashion, home, graphics and equipment. It is a work in progress, with lots of space yet to be filled.
It was dinner time so we opted for another very good value option, A Licorista a O Bacalhoeiro, Rua dos Sapateiros 222-224. If you're interested, it is across from the oldest theatre in Lisbon which is now a venue for peep shows. Meanwhile, this typical neighborhood kind of place in the middle of Baixa is an excellent choice for fresh fish and meats. The grilled bacalhau and veal chop were our favorites. The staff is friendly and helpful.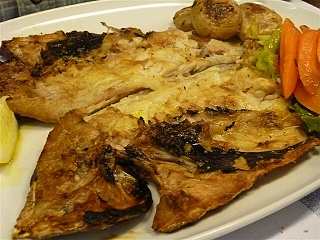 We had an excellent variety of restaurants minutes from our apartment. Going west from Largo Camoes is Rua do Loreto and at #21 is Sea Me, a self-described restaurant, bar, sushibar and peixaria. The contemporary setting features a long attractive bar, smart dark wood furnishings, great lighting, fresh shellfish and fish displays at the front and rear along with a sushi-sashimi counter. The menu is dominated by Japanese offerings which encourages ordering many small dishes. The enticing fresh fish display at the rear was piled high with a wonderful selection that sealed the deal for us. Starters of grilled carapau and vegetable tempura were quite good as was the large grilled robalo served with smashed potato and steamed cabbage and carrots, which we shared. The prices were slightly higher than our budget favorites but good value. The service got off to a bad start but improved once the food arrived. They had been open only 3 months so it's a work in progress, but on the whole doing quite well.
Further down Loreto is Casa do India, a totally opposite experience from Sea Me and not an Indian restaurant as the name implies. This is a very popular low budget option with a varied traditional menu. The best choices are grilled frango, boiled shrimp platter and soup. It's what we call cheap and cheerful.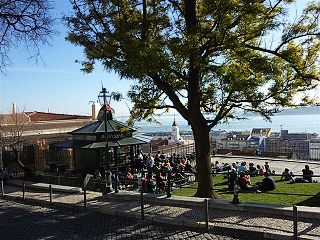 Continuing down the road is the pretty Rua Marechal Saldanha. Adega Dantas is at #15 where we had a good grilled fish dinner. The restaurant is comfortable and attractive with a fairly-priced menu. We wish the staff had a bit more personality. At the end of the street is a parkette overlooking the river with a cafe and restaurant. It's is a popular spot for families, particularly on the week-ends.
Lisbon was a perfect winter getaway destination: a lot to do and see, comfortable weather, kind and friendly people, and reasonable cost of living.
Off to Ponta Delgada, Sao Miguel, Azores for more of the same in a totally different environment. Read all about it.
[Back to Top]

Part One | Part Two | Part Three
Search TheTravelzine | TheTravelzine Group | Don's Gallery
Packing Hints | Planning Tips | Cities Links

---
All pages on TheTravelzine.com©Copyright 1996-2020 Don & Linda Freedman