PORTUGAL
WINTER 2012
Part One | Part Two | Part Three
SAO MIGUEL, AZORES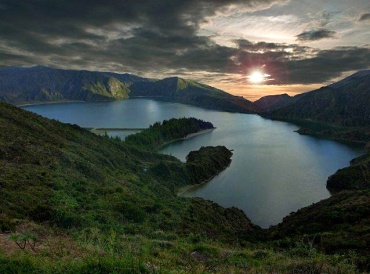 We were delighted when Iva's Joao told us about and joined us to attend an "International Conference of the Heritage of Judiasm in the Azores" which was held in the auditorium of the main library of Ponta Delgada. It was music to our ears to hear of this initiative to communicate and inform Azoreans of the important role the history of the Jewish people has played in the Azores.
Miguel do Espirito Santo from Riso Grande do Sul, Brazil and Professor Joseph Levi, George Washington University, USA discussed the Azorean Jews in the Diaspora. Professor Fatima Sequeira Dias, University of the Azores, presented a guide to the heritage of the Azorean Jews, which she had written. Carolino Tapadejo and Antonio Pita from Castelo de Vide discussed a course for Jewish tourism in Continental Portugal. Castelo de Vide, on the border with Spain, has a long and strong history of Jewish heritage and culture. Antonio is the vice President of the city and President of the "Network of Jewish Portugal". This network of sites with a Jewish history will be promoted to attract Jewish tourists.
We have previously written about the deplorable condition of the Synagogue and the efforts to renovate and restore the building. It is not only the right thing to do but from a practical point of view it is essential in order for Ponta Delgada to substantially benefit from the "Network" tourist promotion. The vibes were very positive.
We are raving fans of traditional Portuguese cooking. Each region has its own specialties. Here in the middle of the Atlantic ocean fresh fish, seafood, dried cod and healthy home grown chicken, beef and pork are the basis for most recipes. For the most part, preparations are simple; grill, bake, fry. Slow cooked stews and soups are very popular.
You can eat very well here in Ponta Delgada and around the island at very reasonable cost regardless of the price points. We chose to frequent the low key neighborhood style establishments that we felt offered the best value.
[Back to To]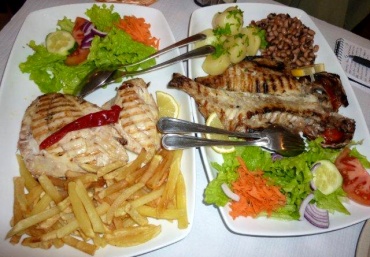 Adega Regional, Rua do Melo, 70/72, serves regional dishes in a typical environment - it is our favorite. Vanda and Amadeo treat everyone as family. Pedro makes sure the kitchen consistantly delivers perfectly prepared food. There is always a fine choice of daily specials to satisfy your cravings. We invariably had a grilled whole fish. The variety of fish and their names take time to learn, not to worry, Vanda is more than happy to bring the bright eyed beauties to your table and explain the differences.The spareribs are sensational but have to be ordered in advance. If you're lucky enough to find fish soup on the daily menu, have it. The house steak is excellent. Whatever you choose will make you very happy.
A Comercial at Rua Machado dos Santos, 75, is right in the middle of town. It is a very popular lunch spot and rightly so. Father and son, Joao and Rui, are always on duty making sure all are happy and well fed. It's cafeteria style and the ladies behind the counter dish out large portions of daily specials like roast chicken, codfish stew, rice and seafood. The soups are wonderful. The environment is bright and cheerful. Best of all, they have "Fofas do Povoacao" on Wednesdays and Fridays! These eclair-like beauties originated in the town of Povoacao on the south east coast of the island. There are several bakers of these treats and they deliver them to various outlets around the island on these two days. We particularly like the version that A Comercial sources. Needless to say, you will find us lunching there on those days.
Cervejaria Sardinha, Rua Eng. Jose Cordeira, 1-3, is a local secret. The guys drop by for a Melo Abreu all day long. Lunch is the only meal served. Mane, the owner, keeps it simple with a few fish and meat choices daily. We opt for a grilled fish or chicharros (called carapau on the mainland, in english, small mackeral) either fried or grilled (we prefer the fried version). These sweet little fellas are available everywhere and not to be missed. There are four tables each seating six. Every trip we met new folks to chat with and learn a little more about local life.
Another good value lunch option is Tasca Felipe, two doorways away from Adega Regional at the corner of Melo and Luis Bettencourt. You will know you're in the right place when you see blue and white checkered table cloths and tiles on the walls. Just to be sure, the waiters all wear blue shirts. The same business and working men and women are there everyday and familiarity runs deep. One waiter adopted us and we were at his mercy every visit. It might sound boring but we do love grilled fish, the tuna was quite good. We noticed the grilled and stewed octopus dishes were quite popular and definetly on our list for next year. The tinto vinho da casa (house red) is light and lovely and the glass has no bottom.
Alianca, Rua Acoreano Oriental, 19-23 serves lunch and dinner and is a tradition with the locals. On Carnival Sunday they were the only restaurant we found open in town and to our delight had a superb grilled chern. In the past we have come here for their excellent steak, now we know we have the fish option.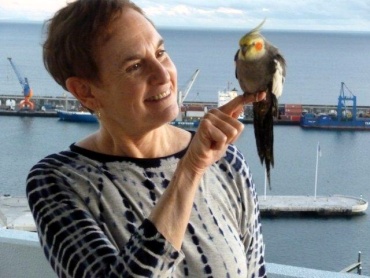 Those fond thoughts I spoke about at the top are creeping into by senses. Sunrise, sunset - from our balcony a symphony of color. Rising from the east out of the Atlantic fading to the south giving way to bright sunshine and at days end blazing above the horizon and slowly sinking into the ocean. This balcony never stopped giving. We awoke one morning to find a tiny cockatiel resting on the railing. This is a domestic bird and we assumed must have escaped its cage, but to find us eighteen floors high was a mystery. Linda stepped out and it was love at first sight. He immediately flew onto Linda's outstreched hand and her heart told her to call him "Chico". He would not eat. He only wanted to sit on Linda's hand or shoulder. We tryed in vain to find his owners. After two days on the balcony he disappeared. If Chico shows up on your doorstep tell him that Linda still loves him.
[Back to To]
We were in the mood for grilled chicken and were told the only Churrasqueira in the city was "XurreX" (take out only) on Rua do Brasil. It was about a 45 minute walk from home. When we arrived we discovered they close mid-afternoon. At the same time a car arrived with two men. We shared our disappointment and pondered plan B. It was meant to be! One of the men was Helena's Joao (the other was his friend Paulo visiting from Terceira). Joao insisted on driving us back to the apartment and the next day called to invite us to his home to meet Helena and share a meal. The beginning of a beautiful friendship. By the way, XurreX grills a mean frango. Tel. 296653449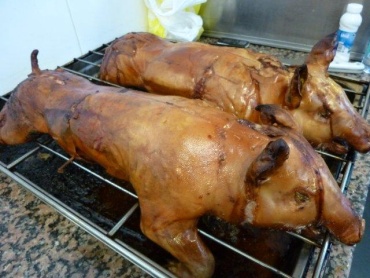 A bit off the city center at Rua Professor Machado Macedo, 12 is the sparkling Cozinha d' Arlete. This restaurant and take away offers up refined versions of regional cuisine. Their leitao (roast suckling pig) served with yummy homemade potato chips is heaven, as are the succulent fish and rice and octopus stew.
Fortunately we will not have to wait until next year for this delight as our favorite churrasqueira in Toronto, O Bairradino, 602-A Lansdowne Avenue, makes fantastic leitao, as well as a daily variety of traditional preparations.
The very best roast chicken is to be found at Cervejaria Docas, Portas do Mar. We had a yummy meal by the sea, a whole bird, with crisp fries, and ice cold beer.
When we felt like a change, we found the Italian restaurant Ponzi at Rua Padre Joao Baptista Valles 2, had very good pizza and pasta. The ambiance is warm and attractive with caring service.
[Back to To]
We often opted for a light meal of soup only. Please don't feel sorry for us, the portions are always quite hearty. The cafe-restaurants in the Solmar Center all had daily offerings which was convenient for us. The lovely young ladies at the A Paparoca Casa da Sandes counter usually won our business with their cheerful and friendly demeanor. Fortunately for us the Portuguese Paris Bakery with two locations in Toronto, 654 Lansdowne Ave. and 191 Geary Ave., cooks up a different soup every weekday, Oh yes, their breads, pastries and coffee are worth a visit.
Restaurant Delicias do Mar, Rua Medeiros de Albuquerque, 6, is located a bit out of the center in a less than perfect neighborhood. It is considered to be a top notch fish and seafood restaurant. It is up one flight of stairs. The decor isn't noteworthy, but the large display of fresh fishes grabs your attention as well as the open grill where your choice is grilled to perfection.
Thanks to Iva's Joao we had the special treat of lunching with him at Clube Micaelense which is tucked away across the square from the Sao Sebastiao Church. This exclusive membersclub was started by the farmers in the surrounding area many years ago as a social get-a-way. It's a beautifully preserved old building with a game room, library, lounges, dining room and ballroom. Dancing is a tradition for all the family starting with lessons in preparation for elaborate balls. Lunch was superb.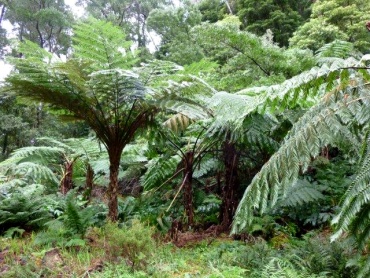 The beauty and serenity of Sao Miguel is a treasure to behold. We have traveled the length and breadth of the island many times. The wonders of nature have not changed and our previous travelogues mentioned above are still relevant. We will travel the same roads again and again loving every minute. Thanks to Joao, Helena and our friends at the tourist office we have found new treasures to share with you.
Relva is a parish in the district of Ponta Delgada, just west of the city of Ponta Delgada. Relva means grass in Portuguese and there is lots of it to support the agriculture and cattle raising industries. The green pastures extend along the high cliffs from which there are spectacular coastal and ocean views particularly from "Miradouro do Caminho Novo". There is an old dirt road nearby that leads to "Miradouro da Vigna Relva" which goes down a steep cliff to a small winery, "Rocha da Relva" where they make a favorite local wine. It is 2.4km straight down and accessible only by donkey or on foot. It is party time when the grapes are harvested and the jugs are filled. It's tough enough getting there and back sober! Cute donkeys graze in the field across the way to keep fit for hauling.
[Back to To]
A well kept Relva secret is Restaurant Gilberto Relva. There is no sign, just look for blue and white house on a corner. Locals flock here for the never-changing menu which is mounted on the wall, yes always the same items. If they run out of one they simply paper it over. It's all family seating and all are family. Joao and Helena introduced us and settled in at the end of a long table. We were brought huge glasses that were quickly filled with the local young red wine. Fresh, crusty bread (a lady who worked there bakes the bread at home), fresh white cheese with hot sauce appeared and disappeared rapidly. The environment inspires the appetite. We feasted on stewed cows foot, fried abrotea (popular local fish) filets, roast meat and fried chicharros. Those huge wine glasses were not allowed to be emptied. Two items were soon papered over. They only cook once a day so it is best to come for lunch. We finished with Queisada de Leite which is like the famous natas. A soft shell is filled with a milk cream custard then sprinkled with cinammon.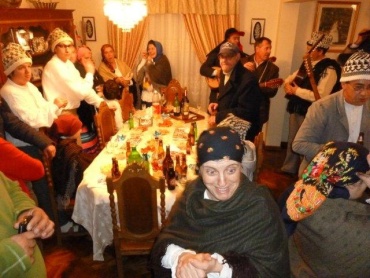 It is a tradition to celebrate the end of the Christmas season on February 2. Relva does it on February 4. Joao and Helena are friendly with many in the community and invited us to attented the celebration which started in the Relva Civic and Cultural Center. Tradition says to go to the second floor dining room to start the festivities with bowls of homemade soup (with chunks of dense bread of course) and large glasses of that local wine. It seems the soup maker was late getting going and the decision was made to have the soup after the festivities. It didn't take long for the room to fill up with an array of folks in period dress from gentleman farmer to farm worker (both men and women participate). The town's farming roots are deep. Music is a vital part of the proceedings so many of the "characters" carried instruments. After getting organized, the participants would march from the center to the parish president's home, be invited in to visit and gorge on food and drink. We scooted over to the president's (Jose Costa Melo) home ahead of the gang (who were a bit tardy getting going) and had the opportunity to visit with the welcoming family. Soon we heard the horns, violins, drums and singers drawing near. The president and his family graciously opened the door and welcomed their visitors who proceeded to file in playing and singing "this is the night of the stars". Tomorrow would be "Star Day". The players would proceed to other parish officials' homes for repeat performances.
[Back to To]
We went back to the cultural center to have the mandatory soup, bread, wine and surprise, a plate heaped with boiled pork, potatoes, blood sausage, and pork sausage arrived at our table. Delicious all. Music is an important part of the center's activities and there was a brass and percussion group practicing in a music room down the corridor. The participants from the evening's activities began drifting back still on a high, laughing and singing. It was amazing to be a part of this evening and to witness their joy and happiness keeping their traditions alive and well.
We had mentioned to Helena's Joao that we liked the jams we had bought from "Quintal dos Acores". He knew where the factory was and offered to take us there for a learning experience. Joao knows where all the best local restaurants are hidden and took us to "O Raiao" for lunch in the village of Ribeira do Ferreiro before we went to Candelaria where Quintal is located. The restaurant is on two floors. They feature a buffet of authentic, traditional cuisine at lunch time (12:00-14:30) on Wednesdays, Thursdays and Saturdays. Today was Thursday and what a feast it was. We gorged ourselves on roast cabrito (goat), roasted and fried pork, potted beef, fried chicharros, salad, potatoes and crusty, dense bread. There was lots more to choose from but we do have our limits. Wine, beer, juices and coffee are included in the price of 10 euros per person. Dessert and hard liquor are extra. No wonder the two floors were packed.
At Quintal dos Acores we were warmly greeted by the hairnetted, white-aproned ladies and the delicious aroma of pineapple. We were led to a boiling vat of that local fruit that was in the first stage of production. Locally grown products are used as much as possible. There is no mass production here. The 10 ladies handle the fruit with love and care. This was the quiet season for production. The fruits would begin arriving in late spring and the process would gear up. There was enough product in stock for us to select a tantalizing variety to see us through our stay.
While in Candelaria be sure to visit the attractive Chapel of Nossa Senhora do Socorro with its long flight of steps and views over the surrounding landscape.
Part One | Part Two | Part Three
Search TheTravelzine | TheTravelzine Group | Don's Gallery
Packing Hints | Planning Tips | Cities Links

---
All pages on TheTravelzine.comęCopyright 1996-2020 Don & Linda Freedman