Search TheTravelzine

TheTravelzine Group

Access Your Mail

Don's Gallery

Packing Hints

Planning Tips

Cities Links

Links
LINKS TO OUR TRAVELOGUES
Argentina, Buenos Aires - Jan-Mar 2010
Argentina, Buenos Aires - Jan-Mar 2009
Argentina, Buenos Aires - Jan-Mar 2008
Austria - Fall 2005
Belgium, Brussels - Fall 2000
Canada - Summer 2002
Canada - Summer 2001
Canada - Summer 2000
Czech Republic - Spring 2000
France - Fall 2002
France, Paris - Fall 2000
France, Paris - Spring 1999
France, Lyon - Spring 1999
Germany, Berlin - Fall 2009
Germany - Fall 2002
Germany - Spring 2000
Germany - Fall 1999
Greece - Fall 2012
Greece - Fall 1999
Greece - Fall 1997
Hungary - Spring 2000
Israel - Fall 1999
Italy - Winter 2007
Italy - Winter 2006
Italy - Winter 2005
Italy - Winter 2004
Italy - Winter 2003
Italy - Winter 2001
Italy - Fall 1998
Italy - Fall 1996
Netherlands - Spring 2000
Portugal, Azores - 2019
Portugal, Azores - 2018
Portugal, Sao Miguel & Lisbon - 2017
Portugal, Azores - 2017
Portugal, Azores - 2016
Portugal, Azores - 2015
Portugal, Azores - 2014
Portugal, Azores - 2013
Portugal, Azores - 2012
Portugal, Azores - 2011
Portugal, Lisbon - 2011
Portugal - Fall 2006
Portugal - Fall 2004
Portugal - Fall 2003
Portugal - Fall 2001
Portugal - Spring 1999
Portugal - Spring 1997
Slovakia - Spring 2000
Slovenia - Spring 1999
Slovenia - Fall 1996
Spain, Barcelona - Winter 2006
Switzerland - Fall 2002
Switzerland - Spring 2000
Switzerland - Spring 1999
Switzerland - Fall 1998
Switzerland - Fall 1997
Switzerland - Spring 1996
U.S. Florida, Key West - Fall 2006
U.S. Florida - Spring 2001
U.S. Maine - Summer 2002
U.S. Massachusetts - Summer 2003
U.S. Massachusetts - Summer 2002
U.S. Massachusetts - Summer 2001
U.S. New York State - Fall 2005
U.S. New York State - Summer 2004
U.S. New York State - Summer 2003
U.S. New York State - Summer 2001
U.S. Washington,DC - Spring 2000

SWITZERLAND Spring 2000 (2)
YVERDON-LES-BAINS
Yverdon-Les-Bains is a thermal spa town on the southern tip of Lake Neuchatel. As our readers are aware, we enjoy thermal bathing and try to work it into our itineraries where possible. So here we were checking into the Grand Hotel Des Bains, Avenue Des Bain 22. The hotel sits in the middle of a green park with direct access to Yverdon's Spa Center. One enters an attractive reception area with the public rooms nicely positioned adjacent to the lobby. There is an outdoor pool and lounging area with the Cote Jardin Terrace for enjoying a beverage or a snack. The facility is showing its age, particularly in the guest rooms where a total renovation is overdue. The breakfast buffet was less than average and poorly maintained by the almost-invisible staff. The Central Spa pool was a huge disappointment in that it didn't have the water jets that massage the body from every angle, which make the thermal bathing experience relaxing and fun.
After getting settled in the hotel, we were off on a tour of the region between Yverdon and Geneva, where we would pick-up Cornelia at the airport. This part of the Jura region, with its high green mountains and deep valleys, is dotted with horse farms where riding horses are bred. The village of Vallorbe on the border with France is so pretty with great mountain scenery. As we climbed the mountains, the views back down to Lac De Joux were glorious. Every village we drove through was neat and clean. We wound back down to Le Brassus then again up to Marchairuz at 1449 meters, where we were surrounded by thick woods and lush grazing land. The air was fresh and clear and we could see the fountain of Geneva spouting water high above the lake. The drive to Geneva was one storybook village after another.
Cornelia's plane was on time and we headed north, on the route to Lausanne, to Genthod just six kilometers from Geneva and the Restaurant Le Creux-de-Genthod. From the minute we arrived, it was easy to see why this is one of Cornelia and Fabio's favorites. The spot is gorgeous, a picturesque marina with exceptional vistas of Geneva. With the same lovely views available from each of the dining areas, Le Restaurant, Le Bistrot and La Terrace, the cool temperature helped us select the intimate Bistrot as the right spot for the evening.
Le Creux is famous for lake perch so deciding what to order was easy: Les Filets de Perches du Leman Meuniere, pommes frites et salade de saison for four please! The filets were dusted with seasoned flour then pan fried and served with luscious hand cut fries. We no sooner finished when our pleasantly gregarious waiter arrived with our second portions! Mind you, that didn't deter us from ordering a pear with ice cream in chocolate orange sauce for dessert, which we ate with smiles on our faces.
The next day we headed to France and traveled along the border north to La-Chaux-De-Fonds in Switzerland before returning to Yverdon. St. Croix, Switzerland, is a treasure of a mountain village in the middle of forests and valleys below. Auberson is the last Swiss village before the border crossing. This lazy village is surrounded by grazing land and has a museum of musical instruments. There was no one home at the border crossing and we soon arrived in LeFourgs, France. What we saw from the road, in contrast to what we had left behind in Switzerland, were neglected old buildings and untended properties. But the scenery quickly improved in La Cluse Etmijoux, with the sight of two castles sitting on opposite mountaintops. Pontarlier is a good size village, with newer suburban style housing outside the historical center.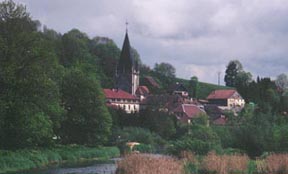 A pretty ride along the River Doubs, with a brief stop to take photos of a herd of cows crossing the river, brought us to Montbenoit and its Abbaye. This small stone church was constructed in sections from the 12th to 20th centuries. The mid-section was the original while the front and back were added during the Roman, Gothic and renaissance periods. The old stone cloister is a beauty.
The winding, twisting river with thick forests on both sides is a photographer's dream and we made several stops to capture views of old bridges, homes and churches. In Morteau we enjoyed very good quiches, crepes, breads and pastries for lunch at La Gourmandise Maison Gaume, 5 Rue Rene Payot.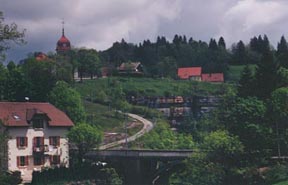 We stopped at Saut Du Doubs, a famous waterfall, to find out that you could see the falls only by taking a two-hour boat excursion or by walking 4 km. each way. Unfortunately we didn't have the time for either option.


Crossing back into Switzerland, we were in watchmaking country. Le Locle is home to a fabulous watch museum. Priceless clocks were on display on the first two floors, most of which kept accurate time. As the clocks struck 14:30, a chorus of music played all around us. Each room is preciously furnished and the array of exquisite clocks is a sight to behold. The third floor is a history of timekeeping from ancient times to the present. La Chaux-De-Fonds is home to many famous watchmakers.
After an hour or so in the thermal pool, we drove to La Lagune Restaurant Tropical in Cheyres for dinner. This is the original location of this concept, which has grown to a chain of five. Located on a lagoon, not far from Yverdon, the lake views blend nicely with the tropical Asian design of the restaurant. As we were to find out, this is a place for a leisurely, fun dining experience. The eclectic menu matches the lively pulse of the staff and patrons.
The tuna tartar, beautifully presented with a superb olive oil, balsamic, garlic, onion, basil dressing and garnished with red pepper and ripe tomato won are hearts as did the large grilled shrimps with mustard sauce. As we enjoyed the generous servings of these appetizers along with delicious local rose' and entertainment by a guitar player and singer, we were startled by the loud sounds of horns honking, drums beating and high pitched shouts of either joy or pain. The racket was created by a group of lovely ladies marching-in to celebrate the last night of freedom of one of their own who would be marching down the aisle the next day. This group was to provide entertainment for the rest of the evening. The bride-to-be circulated amongst the tables soliciting gifts and it appeared many of the patrons anticipated this event and had come prepared. The waiters spontaneously joined in the dancing and singing that ensued. It was a bit distracting, but when our main course arrived it was easy to focus on the task at hand.
It had not been easy to choose between lake fish, seafood, beef, game and Mongolian preparations. Cornelia and Fabio love their lake fish and opted for the perche meuniere. They were very pleased with this rendition with sauce Provencal. Linda experimented with antelope steak, as suggested by the waiter, and was rewarded with a tender and tasty prize. My grilled duck breast with sweet and sour fruit sauce was fantastic. The plates were garnished with potato baskets filled with a delicious combination of asparagus, noodles, red pepper and onion plus either sweet potato tarts or fries. We spent four delightful hours enjoying our time together with entertainment, a nice environment and wonderful food.

to Chateau-d'Oex, Thun and Zurich

to Biel-Bienne

Search TheTravelzine | TheTravelzine Group | Don's Gallery
Packing Hints | Planning Tips | Cities Links

---
All pages on TheTravelzine.comęCopyright 1996-2020 Don & Linda Freedman