BUENOS AIRES
ARGENTINA
WINTER 2009

Part One | Part Two | Part Three
Thanks to Google, we found a book store in San Telmo that swaps used English paperbacks two for one. Having gone through our stash, we set out to trade.
There are 3 colectivos that go from our area, Recoleta, to the Microcentre and San Telmo; 10, 17,& 59. We took 59 which goes along Suipacha in the Microcentre, which becomes Tacuari in Sal Telmo.
We were hungry and when we saw a line up at the corner of Tacuari and Venezuela, we got off the bus and joined the crowd at a take-out place, V&Q 901, which features tartas and empanadas, both of which were worth waiting for, particularly for the quality and price. We stood in the nearby shaded street corner devouring a calabaza, ricotta, spinach tarta and empanadas filled with carne and pollo.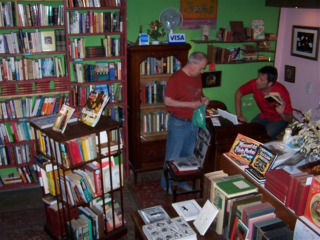 Onward to Walrus Books, Estados Unidos, 617 where we swapped our previously-read books two for one. It's a small shop that caters to the expat crowd that enjoys the laid back lifestyle of the old city.
San Telmo is Buenos Aires' oldest Barrio, reflected in its narrow cobblestone streets and colonial buildings. Tango and antiques rule, but great food ranging from traditional to contemporary can be found around every corner.
At Bolivar 707 we stumbled into a long narrow corridor that led to Abuela Pan, a bakery and restaurant that bakes organic grain breads and serves natural (vegetarian) foods. It's open 0800 to 1900 Monday to Saturday. While we were buying two breads and assorted rolls for the freezer we saw lovely dishes being served at the tables. The breads and rolls, heavy with grains and very light on the wallet, tasted pretty darn good.
A bit further on Bolivar 865 we spotted a contemporary restaurant, La Vineria de Gualterio Bolivar, whose owner, Alexandro Digilio, welcomed us in and explained that there is not a conventional menu but rather a multi-course tasting menu offered at lunch and dinner. Intrigued, we made a reservation for the next day.
When we arrived for lunch, Alexandro told us it was the fourteen month anniversary of the restaurant. He is quite proud of his success and credits much of it to his training at El Bulli in Spain, considered one of the world's best restaurants.
The burgundy walls and dark wood furnishings of the ground floor and balcony create a warm modern feeling that complements the concept. The kitchen staff was busily preparing courses in the sparkling open kitchen but managed to welcome us with a wave and thumbs up. Until now we have been dining in traditional Porteño restaurants - this was shaping up to be a delightful diversion.
Alexandro offers 3 options; the entire menu for 130 pesos, 7 courses for 110 pesos or 5 courses for 90 pesos. The wine tasting menu ranges from 50 to 100 pesos. All beverages are extra. The menu is divided in 3 parts; aperitivos, tapas, and dulces.
We started with a glass of Torrontes from Salta which had a golden color and fresh fruity aroma and flavor, and a lovely Malbec rose.
What followed was an artful presentation of delightful surprises, starting with the aperitivos; a croquette of bread and cheese, liver mousse with a dab of marmalade, octopus and salmon ceviche and toasted almonds crusted with curry and sugar. No rush here, adequate time to savor the brilliance and beauty of each course.
The toasted almonds were a neat bridge to the tapas, the first of which was the extraordinary ensalada de brotes, germinados, vegetales, crudos y cocidos (an incredible salad of 40 ingredients, raw and cooked, dressed with olive oil, herbs and spices). This amazing salad was followed by huevos pochado a baja con espuma de queso de oveja jugo de cordero y trufa blanca (eggs are "coaxed" for 50 minutes at 62C and served with white truffle bathed in lamb stock and decorated with a goat cheese foam). Mar y montaña was an incredible marriage of stewed lamb tongue and tender sweet scallops. Jellied red wine vinaigrette intensified the flavor of the octopus and white tomato foam topped it off.
Next, a small salmon filet was served in a broth of pineapple, ginger and celery and followed by a grilled carne accompanied by a fried potato cup filled with papas puree.
The dolci were mousses of chocolate and goat cheese served with orange and almond biscotti. An excellent cafe wrapped it up.
Alexandro learned his trade well, La Vineria de Gualterio Bolivar is more than a meal, it's a delicious experience - indulge! Reservations are a good idea.
[Back to Top]
Bus fares in the city have increased about 30 per cent. From what we can see there is no resistance - still a good buy by any standard. Bus lines are individually operated and are pretty well organized to deal with problems. We were on a colectivo when the fare machine broke down and the driver had to stop taking on passengers (leaving many angry folks at the stops as he bypassed them). In a matter of minutes, the bus slowed to pick-up a repair man who had been dispatched to solve the problem. Contrary to popular belief, we have found the colectivo system to be efficient and more enjoyable than subterranean public transport.
Walking still presents interesting challenges. Avoiding dog droppings while watching your footing on the cracked sidewalks and trying to avoid the water dropping from air conditioning units from above will test your coordination and sense of humor. But wandering this city by foot is the way to go, every block, every turn presents something of interest. All vehicles honor the traffic signals making it easy and safe to cross the streets. The only caveat is to be careful of vehicles making turns. They show pedestrians no mercy so it's safer to let them go and wait for a break before completing your crossing.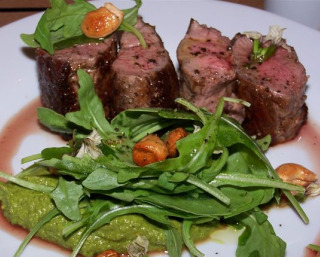 While strolling along Av Callao we passed a small truck with a magnificent golden dog lying in the rear. Gustavo Rubén Biondini proudly told us that ISIS (Julia), a "dogo de burdeos", was an international and Latin American champion. Gustavo happily allowed Linda to take photos.
Speaking of dogs, the army of professional dog walkers continues to patrol the streets. Usually we see packs of 5 to 8 dogs, all well behaved. Golden retrievers seem to be very popular.
Resto, located at Montevideo 938, in the rear of the Central Architects Society building, was on our "repeat" list. The restaurant is open daily for lunch, and dinner is served on Thursdays and Fridays by reservation. The room is small but the high ceiling and pretty bar create a relaxing environment. The wait staff is knowledgeable and personable. The contemporary menu is short, with about 4 starters, 5 main courses and 4 desserts from which to choose.
All offerings are beautifully presented and a delight to the palate. Salmon rosado was our tantalizing shared starter. A generous portion of sashimi style slices were accompanied by taboule, melon and fresh mint. I enjoyed my main course of gently pan fried fillets of sea bream served with mashed aubergine and zucchini and Linda claimed lamb doesn't get better than her Carre de cordero Patagonico served with arugula and sheep cheese pesto and caramelized chestnut salad.
All four dessert offerings were tempting but a rich chocolate cake cylinder filled with thick hot chocolate and topped with dulce de leche ice cream and caramel sauce won our hearts. And finally, divine cappuccino served with a shot glass of cold chocolate mousse. Give Resto a try - you won't be disappointed.
[Back to Top]
Linda has been looking for a new camera case for ages and finally found the perfect one at Super Foco, Rodriguez Peña 1516. The shop has a wonderful selection of photographic needs and helpful staff.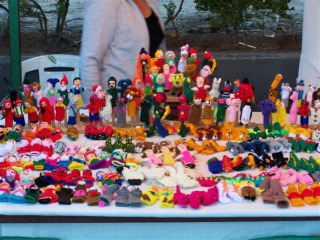 The green Plaza Francia and adjoining Plaza Alvear, is a popular spot where family and friends relax together. On weekends these plazas are taken over by a popular handicraft fair (there are many such weekend fairs throughout the city). The stalls are neatly arranged along the paths and the merchandise is well presented. In general the quality of the crafts is excellent and well priced.
We were attracted to a display of colorful beads at a stand directly opposite the main entrance to the Centro Cultural Recoleta. Augustina explained that these beads are all natural, actually "droppings" from trees. She treats and colors them and creates original designs for all her products. These are perfect gifts (easy to transport). We showed our appreciation for her work with a substantial purchase.
We were off to Palermo Viejo to check out some Middle Eastern restaurants we had heard about. We took colectivo 110 to Scalabrini Ortiz and Cabrera to begin our exploration. Alas, it was Monday, and all the ones we were looking for were closed.
Confeteria Damasco, Scalabrini Ortiz 1283, was open and had a wonderful selection of Middle Eastern pastries and food products. We asked the owner if he knew of a restaurant that was open. He heartily recommended Sarkis, Thames 1101 at the corner of Jufre. With the help of a personable waiter who made excellent suggestions, we enjoyed a perfect lunch of assorted appetizers - outrageous taboule and stuffed grape leaves, fabulous babaganoush, hummos, mashed red pepper, olive oil and almonds, all served with warm pita bread (unfortunately too dry and thick for our liking). The menu is filled with wonderful traditional offerings for repeat visits.
Walking north on Serrano a window of colorful knitwear caught our attention. The shop is Logarto's, Serrano 1424. Monica Marante is the owner and designer. All the garments are made by home worker pensioners here in Buenos Aires. Her creations are gorgeous and the quality of the work is outstanding. With Monica's help we chose a sweater as a birthday gift for our youngest grandchild.
Warning! Do not stop for coffee at La Salamandra, El Salvador 4761! We never look at the price of a cafe con leche (coffee with milk) when we go to a cafe, it is usually between 6 and 8.50 pesos. We were stunned when we were charged 14 pesos at La Salamandra, which is just an ordinary cafe. Palermo Viejo is the hot trendy barrio and tends to be higher priced, but this is taking it to the extreme.
Around the corner on Armenia 2106 is Amaicha, a cute little shop selling quality aboriginal crafts at reasonable prices. With the help of the pleasant staff, we selected a lovely belt made of chaguar, a vegetable fibre.
If you're staying in the Ayacucho and Las Heras area and need anything electrical, Carlos, the owner of Electricidad, Ayacucho 1626 is your man. We needed advice, which he gave freely, and lent us a flashlight so we could see what we were doing.
La Querencia, cocina regional, at the corner of Junin and Juncal specializes in stews and empanadas. The design is bright and cheerful as was our waitress. The Carbonada stew was a sweet and sour version comprised of fresh sweet corn, peaches, carne, white and sweet potatoes, carrots, tomatoes and raisins - delicious. The lunch menu special of baked chicken and rice was not very good. We would return for the stews and would try the empanadas (huge variety).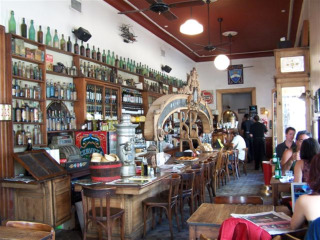 Bus 59 took us to San Telmo where we got off at Carlos Calvo and walked a few blocks to the corner of Peru and our destination the well known El Federal, doing business since 1864. This vintage restaurant with its wood framed doorway and windows, long eating counter backed by high wooden shelves of wine, worn furniture and floor, has been around for 145 years. The menus are as old as the surroundings and lengthy. You can choose from an array of sandwiches, salads, tortillas, milanesas, supremas, lomos, pastas and more. We shared a mini tortilla espanola (potato, egg, chorizo, onion) and a mixed salad. El Federal, with its old, rustic, fun decor, and very good, reasonably- priced food has lasted this long for good reason.
We have been buying the Quini 6 lottery (4 pesos twice a week) religiously since our arrival - finally a win! The grand prize at the time was 5,200,000 pesos, we had 4 of 6 numbers and our winning was ---- 15.50 pesos. To add insult to injury you have to collect your winnings where you bought your ticket which was a 1.20 peso colectivo ride away. Round trip for two is 4.80 pesos, so our net winning was 10.70 pesos. We are still shooting for 6 of 6, but now buy our tickets around the corner from our apartment.
Melo at Pacheco de Melo 1831 is a popular neighborhood eatery with red walls and wood beams, reminiscent of a North American steak house. In addition to the usual parrilla items, there are creative salads and pastas along with the usual traditional favorites, something for everyone. We shared an excellent quality bife de lomo, mixta puree (papas and calabaza) and ensalada completa. The service was perfect. The other tables were filled with locals, apparently regulars.
[Back to Top]
The wine opener that came with our apartment had a thick screw that destroyed corks. We were on our way to Restaurant y Bar Norte, for lunch and passed a wonderful housewares store called Alvear, at Talcahuano 963. They had a terrific selection of openers which had us dizzy. The owner made the choice for us, one of the least expensive and the one he claimed all the waiters use. Right he was - it works perfectly for us. Keep the Malbec flowing.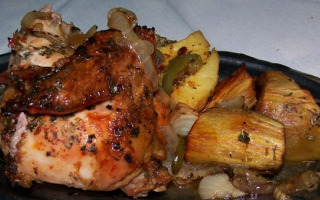 Last year we ate regularly at Norte, Talcahuano 953, and we will do so again this year. This is simple, home style Porteño cooking at very reasonable prices. Most servings are so large they can be shared but we were especially hungry on our first visit so we each ordered our own dish. Linda was very happy with her suprema de pollo (flattened, breaded, pan fried chicken breast) con puree de calabaza. My roasted chicken and potatoes (sweet and white) was almost as good as Linda makes at home. In addition to the regular menu there is a long list of daily specials, including steaks, milaneses, pasta, stews, roasted meats, salads, etc.
Paseo Alcorta at Salguero 3172 y Fiqueroa Alcorta is a multi-level modern shopping mall considered by some to be the best in Buenos Aires. There are no large department stores anchoring the malls here. Local specialty stores, Argentinean chains and some world wide brands make up the shopping mix, and the food court offers traditional fare at fair prices - and of course McDonalds. Adjoining the mall is a humungous Carrefour hypermarket that was really rocking.
We do not like trendy restaurants where design is the primary focus while the kitchen delivers mundane food. This can be the case in Palermo Viejo. There are many excellent choices, just follow your nose. We arrived planning to try a spot we had heard about but alas it was closed for summer vacation. Our noses led us to Social Paraiso, Hondurus 5182. No glamour here, just a sweet simple bistro offering a glimpse of the kitchen staff (under the direction of chef/owner Frederico) preparing market fresh ingredients to tantalize the senses. We opted for the two daily lunch specials.
A neat selection of house made breads was served with pimento cheese spread to keep us happily occupied until our starters arrived. Linda had a salad of rucula, endives and boconccino. The olive oil and balsamico were top quality and the plate was adorned with fresh basil and olive oil droplets. I had zucchini stuffed with corn, pepper and cheese resting on a swirl of fresh tomato salsa.
The mains were silky risotto topped with baby shrimp and dried tomato and grilled cuadril (rump steak) with baked squash. Cafe con leche was accompanied by a rich fudge brownie with black pepper. At Social Paraiso, the focus is on dining well - and the lunch menu is great value.
[Back to Top]
We read that there is a growing Chinese population in BA. The first wave came from Taiwan followed by those from Fujian Province. Many Chinese own supermercados (small markets), produce stores, restaurants, dry cleaners etc. Chinese restaurants are scattered throughout the city. There is a small Chinatown in the neighborhood known as Barrancas de Belgrano, mostly on a street called Arribeños, which is lined with restaurants and souvenir shops.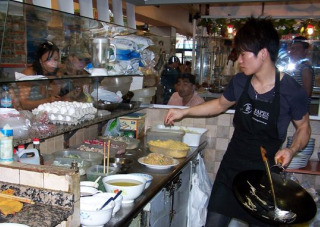 On a tip, we visited the lunch counter in the supermarket Asia Oriental, Mendoza 1673, just off Arribeños. It´s a large, clean market with the eating counter located on the left side of the store. There are 6 high stools in front of the cooking area and an additional 6 seats on the side. Place your order from the limited items pictured and they will prepare it as soon as they know you will have a seat. You might have to wait a bit but it´s worth it. We have had fried rice or noodles with either pork or assorted mariscos and seafood noodle soup. It´s fun to watch the chef work his wok magic and the efficiency of the team including Lourdes, the charming young lady who keeps the counters clean. The dishes are simple, fresh, delicious, and very reasonably priced. The experience is priceless.
[Back to Top]

Search TheTravelzine | TheTravelzine Group | Don's Gallery
Packing Hints | Planning Tips | Cities Links

---
All pages on TheTravelzine.com©Copyright 1996-2020 Don & Linda Freedman