EUROPEAN JEWISH HERITAGE TOUR Spring 2000 (7)
PRAGUE (2)
Back in Prague, Linda and I just wanted to walk off our emotions and Stare Mesto is a great venue for just that. Twist and turn, wander through narrow streets filled with wonderful shops and attractive buildings, it's easy to lose your way but eventually you will stumble into the Old Town Square, the heart of Stare Mesto. And when you do, you will be thrilled. Perhaps you'll be on time to join the throngs gathered in front of the Astronomical Clock, on the tower of the Old Town Hall, to watch the parade of the apostle figurines as the clock strikes the hour.
This amazing square is home to majestic soft-colored baroque buildings, outdoor cafes, restaurants, souvenir and food kiosks, horse-drawn carriages for hire and folks enjoying the spirit of this great city.
Just north of the square at Masna 9 is a very tiny neighborhood eatery called Zlatna Ulicka. Inside is a bar plus six or eight tables. As it was a warm evening, we sat at one of the five sidewalk tables. This is a place for good, home cooking Yugoslavian style. We nursed a Czech Pilsner Urquell while relaxing and waiting for our starter, a soup of tasty broth with pieces of tomato, carrot, chicken, eggplant and beaten egg spiced with paprika. We shared chicken and veal medallions both in mushroom sauce and served with yummy real mashed potatoes. Nice comfort foods to finish the day, even if the mains we chose were too similar.
Porcelain is a specialty in the Czech Republic. We stopped by a factory store (many locations throughout the city) of Cesky Porcelain at Perlova 1 and picked up a couple of small pieces for our daughters. Prices are quite reasonable for these attractive gifts.
One very neat street is Parizska, which runs north/south from the hotel to the Town Square. Trees line the sides and create a lovely setting for the excellent quality cafes and restaurants that spill onto the sidewalks. Between the food and drink emporiums are a nice assortment of designer and specialty shops. This strip is active day and night and great for lunch, dinner or a casual, relaxing stop for a beverage or a snack.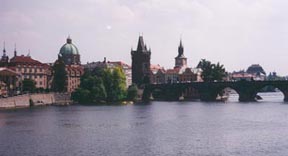 The Manesuv Most bridges the river between Hradcany and Stare Mesto, just north of the Charles Bridge. For an excellent panorama all the way to Nove Mesto (the new city) and a superb vantage point for viewing the Charles Bridge and all the bridges to the south, the Manesuv is the spot. Not far from the Stare Mesto side off Kaprova is Valentinska, where we stopped at number 9, Taverna No. 1, for a very good light Greek lunch of eggplant salad, mashed feta cheese with minced hot peppers and a horiatiki salad. Afterwards, we proceeded to Cafe Premiera on Pariska for excellent espresso and cappuccino and a bit of people watching.
We went to the old-new synagogue for Friday evening (Sabbath) services. Upon entering the building one descends a flight of stairs. The synagogue was built in early Gothic style around the middle of the 13th century. It was originally called the new or large synagogue as opposed to the older house of prayer, which did not survive. In the 16th century, when new synagogues were built in Prague, it became known as the Old-New Synagogue. The main hall is the only existing medieval-type hall of its kind. Six five-part vault compartments supported by two octagonal pillars vault the hall. The Old-New is one of three Prague synagogues in which divine services are held, the others being the High and Jerusalem Synagogues.
The women's prayer room was behind the rear wall with small windows opening into the main hall. The attendance this evening was very large comprised mainly of members of the congregation, our group and several other visitors. This synagogue is a significant tourist attraction. We had dinner in the nearby kosher restaurant Shalom. For those who must eat kosher, we would recommend that they consider instead the King Solomon restaurant where the Rabbi and other observant tour group members enjoyed both the ambiance and the food on several occasions.
It's a pleasant walk along the river south to Nove Mesto. We stopped at several restaurants and made notes for future consideration. We stopped in restaurant Pohoda, Masarykovo Nabreu2, which looked like a nice place for our lunch. The owner greeted us warmly and made us feel right at home. The mango walls are hung with interesting framed sketches and the views across the river from the windowed front wall are very pleasant. We both had excellent quality Nicoise salads with good bread followed by delicious espresso.

We crossed Palacketo Most (at the corner where President Havel resides) and headed north toward Mala Strana. It was a sunny, warm day for enjoying the sights of each neighborhood and to appreciate the beauty of the architecture up and down the river.
Later in the evening we had reservations at a highly recommended restaurant famous for game. Together with our friends Carrol and Larry we arrived at U Modre Kachnicky, Nebovidska 6, in Mala Strana looking forward to an evening of fine dining. The interior design is stunning. There are three rooms each on the first and second floors. We were seated on the second floor in the middle room. As in all the other rooms, the furnishings were elegant. Rich upholstery and drapes with complimentary art work, antiques and game artifacts were artfully put together to create a feeling of supreme comfort and to support the game theme.
The obnoxious headwaiter was the first clue that what you see is not what you get. He was irritated that we did not immediately respond to his urgent desire to sell us an aperitif. He stalked off and from that point on his crew of young waiters conducted themselves in an unfriendly manner. Mr. Slick finally did return to take our orders. Linda's asparagus in Hollandaise sauce was excellent but her duck with walnut stuffing was average at best. Carrol started with a nice mixed salad, her filet of salmon in mustard sauce was meager and contained bones and the accompanying gnocchi weren't very good. Larry's drake duck in orange jelly was okay but his roast rabbit main course was skimpy and average. My starter of venison ragout in a pastry shell was heavy on pastry and tasteless, the drake breast with cayenne pepper was cooked half rare and half well done, a feat that would be difficult if not impossible to duplicate. None of the dishes was served quite hot enough. In total, the quality of the food and preparation left a lot to be desired. This place is overrated to put it plainly.
From Prague's architectural riches to its easy way of life, its no wonder 100 million visitors find their way here each year. Although the prices have been increasing, the city is still easy on the budget and we'd recommend that you visit sooner rather than later.


on the tour
or JUMP to any city on the tour:
AMSTERDAM | COLOGNE | BONN | R▄DESHEIM | WORMS
ROTHENBURG-OB-DER-TAUBER | PRAGUE | BRATISLAVA | BUDAPEST

Search TheTravelzine | TheTravelzine Group | Don's Gallery
Packing Hints | Planning Tips | Cities Links

---
All pages on TheTravelzine.comęCopyright 1996-2020 Don & Linda Freedman