ISRAEL Fall 1999
Tel-Aviv (1)
The El Al flight from Athens to Ben Gurion Airport takes fifty minutes. The seating was very roomy and comfortable and the service was excellent. We welcomed the bagel with cream cheese and very good coffee we were served.
It's impossible to visit Israel without great emotional anticipation, which is followed by the exhilaration of seeing the historical, religious and archeological sites and retracing the steps of history. Then come the tears when visiting Yad Vashem and family members who struggled here to build their prosperous homeland. We went through this in 1982 on our first visit. But this trip was no different. Soon we would meet Linda's family members for the first time and revisit mine. We would see new sites and landscapes, meet new friends and see a changed nation.
Linda's family members, whose urging had brought us here, were on hand to welcome us at the airport. Dear, dear Reuben, Batia and Teila greeted us with such great warmth, instantly validating our decision to include Israel in our itinerary.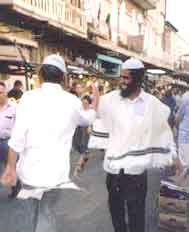 We drove into Tel-Aviv and dropped our bags at the hotel and proceeded to Reuben's favorite oriental and Middle-Eastern restaurant, Ha'Avazim, 3 Yordei Hasira Street. There is no shortage of this type of restaurant in Israel as it is the most traditional and popular cuisine. What better way to get acquainted than sitting around a table in a casual environment enjoying an assortment of salads and grilled kebobs! Outrageously good just begins to describe the liver kebobs and the French fries accompanied by an enormous variety of delicious salads and sensational, 15-inch diameter pita, perfect in texture and flavor. Non-stop lemonade was delicious and refreshing, as was the baklava Reuben insisted we try (bless him! :-). We had a lot of ground to cover so it was a wonderful, long lunch.
Jack in Belgium, our Internet friend who knows France inside out, proved to be a brilliant help once again when he suggested hotels for our trip to Israel. The Melody Hotel, 220 Hayarkon Street, is part of the Atlas Hotel Group. It is two and a half years old in a building, which was formerly the Canadian Embassy. Located at the corner of Jabotinsky Street, with famous Ben Yehuda St. and Dizengoff Street just behind it, it is in a very nice neighborhood with easy access to shopping, good restaurants, the beach front promenade and bus transportation. The lobby, adjacent lounge/breakfast area and outside patio are beautifully designed for comfort. Most of the 34 good-sized guestrooms overlook Spiegel Park and the sea. There is handy underground parking. Furnished in excellent taste with many extra amenities, this is a super value three-star hotel. Most impressive is a staff committed to service above and beyond reasonable expectations.
In search of an Internet cafe, we walked south on Dizengoff Street, once famous as 'the' shopping street and the place to be seen. With the dynamic growth of the city and suburbs, there are now many other options. There are still many shops of all types lining the street that culminates at the Dizengoff Center, the largest shopping center in Israel. At the center, a security guard at the entrance directed us to an Internet cafe a few blocks away down King George Street, around the corner.
Strolling back north along Ben Yehuda Street and not too far from our hotel at #147, we found Cafe Dan, a small family run (55 years) restaurant. The atmosphere is French bistro but the food is Eastern European all the way. Our waiter was 3rd generation family. Linda enjoyed kreplach soup and gefilte fish (despite the occasional bone) and my cholent (slow cooked beans, potatoes and barley with kishke - stuffed intestines) was authentic and home cooked. It was an old time meal at a fair price.
Tel-Aviv is billed as "the city that never sleeps" with entertainment options open until very late. Well, we are the couple that loves to sleep and so we did (in a very comfortable bed) but were sure to be up bright and early so as not to miss the famous Israeli breakfast. The Melody Hotel keeps the tradition alive, presenting a gorgeous breakfast of all the basics with special emphasis on fresh salads, fishes, cheese, breads, rolls and pastries.
When we were here in 1982, the population of Israel was three million. Now it is double, the difference most noticeable in Tel-Aviv, the commercial center of the country. Construction sites are everywhere; in fact we were told that the national bird of the country is now the crane. ;-) Today's Tel-Aviv is a vibrant, cosmopolitan city with chic shopping, sidewalk cafes, dining of all types, parks, beaches, concert halls, theaters, a fabulous beachfront promenade which stretches from the north of the city to Jaffa, a picturesque delight in its own right. From ultra-modern high rises to the Carmel Market in the Yemenite Quarter, from the art galleries to the museums; there is something for all tastes and for people of all ages. Tel Aviv is a marvelous cultural experience.
Our first stop today was the Beth Hatefutsoth (Diaspora Museum) located on the campus of Tel-Aviv University, Matatia Gate #2, Klausner Street, Ramat-Aviv. The museum traces 2500 years of the history of the Jewish people since their expulsion from the Land of Israel. There are reconstructions, audio-visual displays, interactive media presentations and documentary films that bring it all to life - quite stirring and amazing. Part of the permanent exhibition that was particularly striking features Jewish life in various localities and periods preserved in thematic sections; Family, Community, Faith, Among The Nations and Return.
There is a genealogy department that is building a data base of family trees and is eager to get input from interested parties around the world. Linda and I both struck out in finding any traces of our past. Fortunately, when we were with our respective families, we did learn quite a bit.


We were fortunate to catch the special exhibit of Russian photographer Yevgeny Khaldei. These utterly spectacular photos of World War II taken from a Russian perspective were not only incredibly instructive from a historical point of view but a truly brilliant display of the art of photography.
No trip to Israel would be complete without a long visit to this masterful, multi-media museum.
Heading south through the city, we visited the place on Ibn Gvirol where Itzhak Rabin was assassinated to pay our respects to a genuine hero and to ponder what might have been.
A walk along Sheinken reveals an old, poorer street that has been revitalized with trendy shops and cafes to create a destination for the young and for tourists. At the junction of Sheinken and Allenby is the beginning of the famous Carmel Market, which is one of the biggest open-air markets in the Middle East. As with other busy markets around the world, it is the best place to people-watch, learn about local food and exercise self-discipline.
A few blocks away is a neat pedestrian shopping area along Nachlat Ben Yamin, which features street vendors offering some wonderful arts and crafts on Tuesdays and Fridays from 10:30 until 17:30. This is a terrific area to visit around lunchtime to enjoy the sights and indulge in street food. We limited ourselves to pistachios and fresh squeezed pomegranate juice.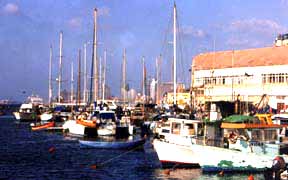 The ancient port city of Jaffa sits on a hill overlooking the sea at the south end of Tel-Aviv. Its history and legends date back nearly 6000 years. It was in 1909 that 60 Jewish families left here to build Tel-Aviv out of the sands of the earth. Just 2 km south of Tel-Aviv, the Jaffa Marina is the heart of the ancient port. With excellent docking facilities, restaurants offering local fish out of the water and entertainment, it's a beautiful spot to start a tour of old Jaffa.
Speaking of beautiful, the first thing that we saw was a bride dressed in her wedding gown posing with her future husband for their wedding pictures. It was Tuesday, which is a good-luck wedding day, and tradition has it that early in the morning the bride goes to a salon which specializes in renting gowns and hair and beauty services. By 15:30 she is ready and the groom picks her up to go to their photo session (this is where we came in). At 19:30 they will go to the wedding venue and the ceremony will take place at 20:30. We took a few pictures of them before finishing a delightful stroll around the marina and of course we studied the menus of the restaurants. The restaurants specializing in fish all do it the same way. You pick the fish you want; it is slit in half, seasoned and either grilled or fried whole if you wish. As soon as you are seated, you are served a vast array of appetizers to nibble on while you are waiting for the fish. These salads are replenished if you wish to continue eating them with the fish course. The average price for this type of meal is 64 NIS per person.
The old stone buildings, twisted passageways and alleys have been restored and with cobblestone streets, courtyards and parks combined with the archeological sites and museums is home to a flourishing artist colony. As you stand in this ancient city and look north to the modern city of Tel-Aviv, one is reminded of the contrasts and contradictions that abound in this land. Striking as this is, it is just a warm-up for Jerusalem.


to Jerusalem, Tel-Aviv(2), Haifa, Akko and the north

Search TheTravelzine | TheTravelzine Group | Don's Gallery
Packing Hints | Planning Tips | Cities Links

---
All pages on TheTravelzine.comęCopyright 1996-2020 Don & Linda Freedman