PORTUGAL
FALL 2006
Porto | Cascais | Portel | Lisboa
São Miguel, Azores
On each subsequent visit since our first trip to Lisbon in 1997, we have seen this remarkable city smoothly transform itself into a dynamic cosmopolitan urban metropolis without losing its historical, cultural and architectural identity. Colorful trams still patrol the streets and hills; neighborhoods have not lost their distinctive character while embracing reconstruction and renovation (the laundry still hangs majestically), and the riverfront has taken on new life with the development of leisure activities, restaurants, bars and cafes along its banks. Traditional shops, restaurants and hotels coexist with the new trendy offerings. The streets were busy, the restaurants were packed and the hotels were full, which in a way worked out better, since we got to stay in three totally different hotels within a few minutes of each other on the city's main boulevard, Avenida da Liberdade. It was no hardship to roll our carry-ons from one to another.
We stayed at two hotels of Hoteis Heritage Lisboa, the brand new Heritage Av Liberdade, Avenida da Liberdade 28, and the Hotel Lisboa Plaza, Tv. Salitre at Av.Liberdade. The third was Hotel Tivoli Lisboa, Avenida da Liberdade, 185.
Our stays in Lisboa have always included the properties of Hoteis Heritage. We were delighted that they were able to accommodate us in their newest, Heritage Avenida Liberdade, at the corner of Largo da Anunciada, a location of historic significance: Liberdade, the ancient pedestrian thoroughfare and Largo Anunciada which once housed a 17th century Dominican Friar Monastery and the Ericeiras Palace. A major portion of the public promenade was owned by the Ericeiras family as well as the site of the hotel, which building was erected around 1770.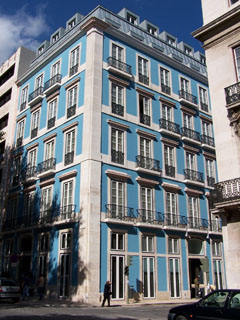 Portuguese architect Miguel Cancio Martins did a masterful renovation of this 18th century building to a modern boutique hotel while maintaining its ancient character. The exterior is unchanged. As we approached the stunning blue mosaic tiles were bathed in sunlight highlighting the French windows and narrow balconies. Enter not just a lobby and reception but a grand sitting room surrounded by tall windows overlooking the treed esplanade of Liberdade and the pretty largo leading to the old Elevador do Lavra and the hills above. The beautifully upholstered chairs and sofas offer an opportunity to sit and admire the attractive high ceiling, the restored original azulejo tiles that grace the walls, and the handsome pieces of traditional Portuguese furniture and art scattered throughout.
Overlooking the ground floor is a small mezzanine library lounge with a desk and computer, books, magazines, newspapers and comfy seating.
If you remember to bring your workout clothes and bathing suit, there's a stunning fitness center with treadmill, bikes, whirlpool and lounges on the lower level.
When the elevator doors opened, we were treated to a stunning, innovative design concept with old photographs of city scenes decorating its interior walls.
The French windows of our front corner king bedded room opened to a panoramic view of Liberdade and Anunciada. The walls and fabrics of the drapes, stylish lounge and bedding were in hues of gold, brown and beige which complemented the wooden floor and area rugs. The original tiles and marble floor of the bathroom contrasted agreeably with the contemporary fixtures. The mirror over the sink spanned the full height of the wall to the high ceiling - a basketball players dream. A unique feature was a socket in the electronic safe for charging cell phones, etc. A combination of spot, floor and bedside fixtures provided excellent lighting throughout.
A tantalizing top quality buffet breakfast is presented in the bar area of the main floor lounge, a great way to start the day.
The stylish Hotel Lisboa Plaza is an old friend. The hotel's unique character is defined by its dedication to good taste and detail. The wide handsome marble lobby and smiling faces at reception give the first clue. The bar/lounge and adjoining sitting room are designed and furnished comfortably for meeting friends for a drink or reading. A well equipped business center offers complimentary computer access.
Guest accommodations are elegant and comfortable. Our large sitting room with sofa, chairs, desk and tables and the king bedroom were done in classic style with a TV in each space. Two closets and two luggage racks were more than we required but ample even for those who have yet to adopt our packing light strategy. We appreciated the good lighting as well as the decanter of Port and bowl of raisins. The large marble bathroom had all the comforts and, as in the Heritage Avenida Liberdade, cozy bathrobes and slippers.
The breakfast buffet is served in the dining room. The presentation, selection and quality leaves nothing wanting - eggs, meats, vegetables, fruits, cheeses, breads, cereals, yogurt, pastries, juices, coffee, tea, plus, plus. If buffets are your thing, try dinner or champagne brunch on the week-end.
[Back to Top]
We had enjoyed our time at the Hotel Tivoli in Sintra in 2004 so we were looking forward to our stay at the Tivoli Lisboa and we were not disappointed. This traditional, elegant hotel, with 329 rooms, is geared for business travelers and tourists. At the rear of the huge main floor lounge, an Internet point with two computers is complimentary for guests.
At check-in we were told that the room we had booked was still occupied so we were being upgraded to an available suite! A large entryway led to the sitting room which was done in quality period furnishings in rich burgundy tones. There were two sofas, three chairs, a desk, TV cabinet, three tables and a bar. Lovely drapes separated the comfortable bedroom with twin beds, night tables, a table and four chairs plus a chest of drawers. The marble bathroom with tub and stall shower, double sinks and separate toilet/bidet room was stocked with every amenity including thick terrycloth bathrobes and slippers.
The breakfast buffet in the main floor restaurant was excellent, a great variety on offer, well-presented and maintained. We were impressed with the level of service considering the number of guests being serviced.
In 2004 we wrote enthusiastically about a recently opened restaurant, Luca, at Rua Sta. Marta, 35, Tel. 21 3150212, which has become one of, if not the most popular restaurant in Lisbon. From Porto to Cascais and Portel we met people who had been to and raved about Luca. Rua St. Marta is just east of the Hotel Tivoli so off we went to say hello to Luca and congratulate him on his success. Luca spotted us in the doorway and came dashing over with the ever-present charming smile, hugs and kisses. He remembered that we had been the first to discover and write about his restaurant. He was busy attending to the lunch crowd so we quickly made reservations for the evening and took our leave.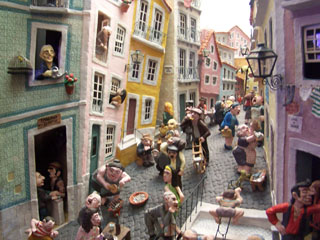 Its geographic position capturing the sun's rays from rising to setting, Lisbon is known as the "white city" with its buildings and stone streets and sidewalks sparking throughout the daylight hours. Combine this with its warm temperatures year round and you have the perfect walking city. If the seven hills wear you out the trams and elevators will bail you out.
[Back to Top]
Heading back to Liberdade, we scooted down Rua Rodrigues Sampaio and as we approached Hotel Britania, a Heritage Hotels' property where we've stayed several times, Marco the doorman spotted us and invited us in for a drink. After chatting a bit he asked if we would like to see the new rooms that had been added on the top floor. Wow, a floor that had been used for laundry and storage was now a show stopper! They had managed to find the marble that was used on the corridor floors below to maintain the continuity. The rooms are stunning in their simplicity. Soft grey tones, cork floors, minimal contemporary furnishings, marble clad bathrooms and balconies with wooden decks create a smart sophisticated environment. As usual, the Britania has done it with style.
Walking along the sidewalks and tree lined esplanade of the wide Avenida da Liberdade one sees the pace of change. Renovation and reconstruction is bringing renewed vitality to this historical thoroughfare. At the south end is Praca dos Restauradores and the Rossio train station, a historical monument. Now that the facade has been restored and cleaned, its architectural beauty shines in all its glory. Work is still going on inside so it is still not open for business. If your plans involve traveling to or from Rossio, be sure to check for alternatives.
Praca D. Pedro IV and neighboring Praca da Figueira were ablaze in sunlight and with their renovations completed are a compelling sight. This is the city center, the crossroads of history and culture, the place to people watch and understand the diversity of Lisboa.
Near the entrance to the Barrio/Chiado metro stop, I spotted "5 A Sec Laundry". I had a nasty spot on my sport jacket and stopped in to see how long they would need to clean it. Manuella asked me to take it off for her inspection and she immediately began to work her magic. Five minutes later she handed it back to me good as new. She refused to take any payment and wished us a pleasant stay in her city and country – what a country!
[Back to Top]
At 20:00, when we arrived at Luca Restaurante (Rua St. Marta, 35, Tel. 21 3150212), it was hopping. Luca's menu features creative recipes with an Italian bias utilizing the freshest market ingredients available. The stylish, airy contemporary design and enthusiastic young well-trained staff bring life to Luca's menu offerings.
We told Luca we would like a little bit of a lot of things, a tasting menu if you will. He was more than happy to accommodate us, as was our waiter who was wearing a Luca t-shirt with "Rookie" emblazoned on the back. He may have been new but he was efficient with a delightful personality.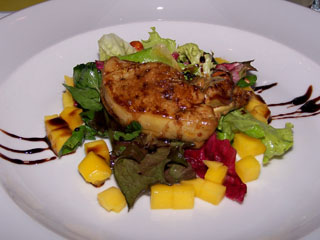 We were teased with a shot glass filled with a gazpacho with morsels of octopus and green beans. Luca suggested a light, fruity white of organic grapes from Casa de Monraz in the Dao region which was delicious and perfect with the entire menu.
I can still taste the incredible next course, fresh rare foie gras on a bed of greens with toasted hazelnuts, mango and candied ginger on a balsamic reduction.
Our next treat was a plate of two pastas. Fettuccine "Al Granchio" was prepared with fresh crab meat, tomato, sautéed garlic, chili, white wine and a bit of fresh cheese. Pennette was done with tomato, baby spinach, bacon, garlic and chili.
Now something from the sea, slightly seared scallops on a bed of mashed potatoes dotted with almond slivers in a puree of pumpkin, decorated with a drizzle of balsamic, filled the bill deliciously.
Who says you can't have another serving of pasta between the sea and the earth? This time an ethereal house made, pumpkin-filled, ravioli lightly dressed in truffled cream sauce with a touch of curry and bacon.
I must point out that there was ample time between courses for us to socialize with our neighbors and prepare for the next surprise which turned out to be a bed of artichoke, porcini mushrooms, walnuts, bacon bits, celery cream, resting on mustard sauce, topped with a serving of tender, juicy partridge.
We were at the point that we were begging for mercy but to no avail. We really thought the lemon gelato with a touch of champagne was the end, but soon after a plate of hazelnut cake filled with warm hazelnut sauce and passion fruit ice cream was placed before us.
For a memorable meal and delightful experience, Luca is a must. Call for reservations.
[Back to Top]
Today we would visit the Alfama District. We headed south through Rossio Square on Rua Augusta through the Baixa, the central shopping and business district grid. This wide majestic street is the busiest thoroughfare of the Baixa. The buildings lining the way are architectural gems. Shoppers can choose from age old traditional shops, international chains and everything in-between. Mimes, ice cream and flower stands, roasted chestnut vendors and outdoor cafes add color and fun. At the south end of the street is an enormous archway that leads into Praca do Comercio.
At the cross street, Rua Conceicao, we boarded tram #28 which would wind its way up the narrow streets of the Alfama to Castel St.Jorge where we would stop to admire the city and river views one more time.
Close to the castle in Graca is the imposing church and monastery of Sao Vicente de Fora, one of the most notable religious monuments in the city.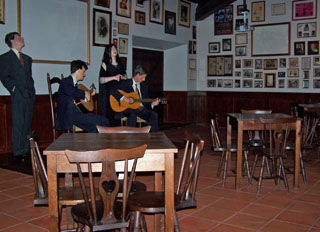 Down the hill through the narrow, twisting, colorful residential streets, we checked out the renovations to the ancient homes as we found our way to the Fado and Guitar Museum at Largo Chafariz de Dentro, 1. Opened in 1998, the museum traces the evolution of Fado music in Portugal. With enthusiastic guides, it's a fun learning experience with wax figures, audiovisual aids, photos and information panels. Fado music with emotional themes of longing, personal feelings, love and relationships, came to be in a Lisbon neighborhood. A bar scene with authentic costumed figures and instruments from that period starts your education and ends with a replica of a current typical fado restaurant. Fado music accompanied our journey through the museum where we saw smashing Fado posters and were introduced to legendary fado artists. The collection of guitars is fascinating and it should be noted that electric versions just don't cut it for fado. The museum operates a fado and classical guitar school. There's a cafe and shop with an excellent selection of recordings.
[Back to Top]
Cafe-Restaurante Martinho da Arcada, Praca do Comercio 3, is one of the oldest in the city. We have often had coffee and pastry in the cafe, but this would be our first visit to the restaurant.
This is an eatery steeped in tradition from the menu to the decor and waiters. We started with sopa de feijao verde (green bean soup) and ameijos a bolhao pato (baby clams steamed with oil, garlic and pepper). A thick cut of grouper was nicely grilled and served with boiled veggies as was a filet of sole with a lobster bisque sauce. Everything was top quality, fresh and well prepared. However, our waiters were terribly slow in serving (just disappeared at times) so that the food arrived late and not hot enough. We were there forever and will never return.
We wanted to take bus #28 west to Belem from Praca do Comercio but were delayed by a union demonstration march from the waterfront up Rua Augusta, which was blocking all traffic. Finally one bus driver was brave enough to work his way through the marchers and we were on our way.
Since we would be attending MODA Lisboa in the Museo da Electricidade in the early evening, we decided to stop at the famous Antiga Confeitaria Pasteis de Belem, Rua de Belem 84, for a sampling of pasteis de Belem. Head for the blue awnings and line-ups, folks, these pasties de natas are second to none. Their secret recipe delivers a delicious smooth creamy filling in a flaky crusty cup served warm, right out of the oven. I took a walk all around and discovered rooms I did not know existed. It's huge and every table was taken. Folks were three deep in front of the kitchen windows watching the preparation process. The take out counter at the front was a gazillion deep. It's good stuff. Luckily for us we have Portuguese bakeries in Toronto that do a pretty good job "copying" the natas.
When we arrived at the nearby Jeronimos Monastery we found hoards of visitors outside and inside and it's no wonder why. It's a stunning example of the Manueline art style. UNESCO recognized it a World Heritage Site in 1984 by declaring, "Standing at the entrance to Lisbon harbor the Monastery of the Hieronymites - construction of which began in 1502 - exemplifies Portuguese art at its best".
King Manuel I ordered its construction to honor Vasco da Gama's discoveries and to thank Virgin Mary for the success. The monks of the Order of Saint Jerome who lived in the monastery gave blessings to the ships, seamen, navigators, explorers and prayed for the King's soul. Vasco da Gama's and poet Luis de Camoes' tombs are placed inside the entrance. Other historically important Portuguese persons are also entombed; Kings Manuel and Sebastiao and poets Fernando Pessoa and Alexandre Herculano.
The sunlit cloister is a show stopper. The Manueline carvings on the high arches and graceful columns, each with a different design motif of the sea, are awe inspiring. The ground level and balcony rise in perfect symmetry and are topped with graceful spires. Just off the cloister is the ancient, huge refectory with its vaulted Manueline ceiling and blue, yellow and white tiles depicting the Biblical story of Joseph.
Off to the nearby Museo da Electricidade, Av. Brasilia. This huge building on the banks of the river was an electricity station from 1914-1975. It become a museum in 1990 and today also hosts exhibitions.
[Back to Top]
We were delightfully entertained here for the better part of four days having been invited to attend MODA Lisboa Fashion Week Spring/Summer 2007 Portugal. It was show time for all the best Portuguese fashion designers, the well-known and the new names.
We were treated to energetic performances reflecting the themes of each collection. Models, makeup, hairstyles, accessories and music in harmony, created a buzz that culminated in resounding applause and accolades from the enthusiastic industry professionals filling the stands.
View the slide show on my blog, for a taste of Portugal fashion Spring/Summer 2007 as presented by the likes of Anabela Baldaque, Alves & Goncalves, Nuno Gama, Ricardo Durado, Jose Antonio Tenente, Ana Salazar, Nuno Baltazar and Maria Gambina.
It's always a special treat when we can get-together with members of TheTravelzine discussion group. We have had the privilege of meeting with João and Rui here in Lisboa in the past and fortunately they were available to meet us for lunch. We met at Pinóquio, Praca dos Restauradores, 79, a Lisbon institution. It was a warm day so we passed on the outdoor patio and opted for the air conditioned comfort indoors. We arrived in time to get a table just before the lunchtime crowd.
Linda had a thick cut of grouper, beautifully grilled, served with boiled potatoes and fresh green beans. João and Rui recommended either the marrone (pasta) de grouper or the arroz (rice) de grouper. I chose the stewed grouper with pasta. A huge iron pot was placed in front of me chock full of grouper, clams, and elbow pasta in a luscious broth. Our dining mates had the arroz, one with grouper and one with monk fish. Everyone loved his choice. The Portuguese dine at a relaxed pace appreciating the food, chatting with friends or family, probably discussing the next meal. It works for us.
We took a walk after lunch to the nearby Largo de Domingos to sample Ginjinha, a famous cherry drink, at Ginjinha sem Rival (ginjinha without rival). This tiny stand sells only this drink, perfect after Sunday lunch.
João offered to drive us to Electricity Museum for the scheduled shows and Rui followed on his motorcycle for a final goodbye. These are sweet guys.
The Shaare Tikva (Gates of Hope) Synagogue is at Rua A. Herculano, 59.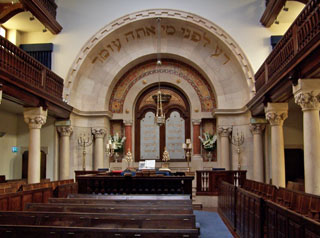 We rang the bell and were welcomed by the caretaker. In 1821, with the inquisition and abolition ending, the Sephardic Jews began to return to Lisbon. It took years of hard work and struggle to build a synagogue and finally on May, 19, 1904 Shaare Tikva was inaugurated. There is a complete and detailed history on the Shaare Tikva web site.
It is a shame that there are only 500 families that are spiritually nurtured at Shaare Tikva, a handsome synagogue, and that they have been without a Rabbi for a year. Members of the congregation conduct the services themselves.
[Back to Top]
There are many excellent small places to enjoy very good food at reasonable prices with the added benefit of an authentic cultural experience. We always return to such a place, Tendinha do Salitre, Rua do Salitre, 141. Tendinha is only open for lunch. Come early or late or you will wait (it's worth the wait). Antero mans the tables and a fellow behind the counter coordinates activities between the kitchen and the dining room. The two ladies in the kitchen produce simple traditional dishes made from the freshest ingredients.
We arrived in time to wait, but just 10 minutes or so. It was late enough that we had a table for four to ourselves rather than sharing. We always order the soup, fresh grilled fish and melon for dessert. The portions are generous. Today's sopa was puree de feifao (beans) and hortalica (cabbage). The fish was cherne, served with boiled potatoes and mixed salad. The waiter thought I should try a bit of a local favorite, beans and pork fat, and brought me a small dish. It's really very tasty, I nibbled on the beans but my conscience would not let me pack my arteries with pork fat. He understood and was not hurt. Somehow they always manage to have the sweetest melon in town and the coffee is the best.
Another one of these wonderful small places to eat is FORVM, Rua de Santa Marta 39A. This one is multi-dimensional, a restaurante, cafeteria, pastelaria, snack bar. It's very clean and the staff is particularly friendly and cheerful. We popped in for lunch one day when we were in the neighborhood. The caldo verde had a perfect pureed texture, thick with kale and rich in flavor. Linda, who is an expert on fried fish filets, declared her beauties were wonderful as were the boiled potatoes, broccoli and carrots. I had my own slice of heaven, rabbit stew with white beans, carrots, rice, garlic and herbs. More excellent coffee. The prices were extremely fair.
Today we were off to Parque das Nacoes (Nations Park) located on the former site of Expo 98. The excellent metro system had us there in about 15 minutes. (We took the blue line from the Avenida stop, changed to the green line at Baixa Chiado, took that to the Alameda station, where we changed to the red line to Oriente.)
The space age Oriente station was designed by Spanish architect Santiago Calatrave. It was designed as a complete transportation terminal linking subway, inter-city and suburban rail links and road transport. There is parking for 1500 vehicles. It also serves as an introduction to the new suburban/urban development here on the northeast coast of the city. The setting on the sea is gorgeous, the air is clean and fresh, commuting to the city center is a breeze and the road connections to all parts of the country are nearby.
Exiting the station we found ourselves facing the boldly designed Vasco da Gama shopping center, the second largest in Lisbon. The interior is flooded with sunlight from a large transparent roof. To our left and right were brand new tall condominiums, office towers and hotels.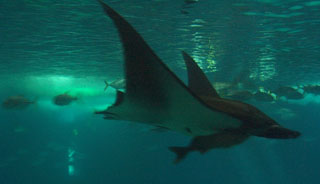 Our first destination was the Oceanario, the aquarium of Lisbon, opened in 1998 as part of Expo with the theme, "The Oceans, Heritage for the future". Its purpose is to impart knowledge of marine life and to promote conservation of the oceans. This is one of the largest aquariums in the world housing 8000 animals and over 500 plant species brilliantly presented by reconstituting the ecosystems of the world's five oceans.
[Back to Top]
The central tank, the Global Ocean, represents a single ocean with all major species and is visible throughout the journey. It is breathtaking in its size, capacity (5 million liters of water) and variety of specimens. There are around 25 other thematic tanks in which the geological and climatic characteristics of each habitat have been reproduced. The grace and beauty of the animals and the shapes and colors of the plant species were a joy to behold. We were enthralled.
The cable car that starts from in front of the Oceanario provides an excellent overview of the park, gardens, water, and a great vantage point for photographing the splendid Vasco da Gama bridge in the distance. The ride goes as far as the Torre Vasco da Gama before returning. The tower was built as an eastern counter-point to the Torre da Belem. It's currently the tallest building in Portugal, expected to be converted to a luxury hotel.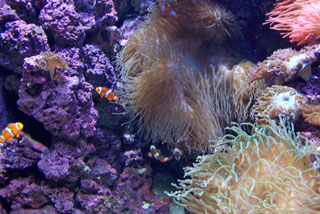 There are many restaurants to choose from. We selected Origens Bio, Alameda dos Oceanos Lote 1.02.1-2A Lofa 1. The modern space is done in green with lots of glass and mirrors, quite appropriate for a restaurant committed to offering a carefully selected product , 100% certified, without artificial additives, preserving the environment according to the standards of organic agriculture.
We started with a salad of arugula, endive, sautéed shrimp, mango and coriander leaves and codfish carpaccio with red pepper, coriander, olive oil and a touch of crispy sausage. Both were quite good. Linda had sirloin steak with fried potatoes and sautéed vegetables which was fine. My robalo forno was uniquely presented but was a frozen farmed fish that was tough and tasteless. We also tried a shrimp acorda that was presented in a hollowed out corn bread seasoned with coriander, tomato, onions and piri piri which was fair. We finished with assorted homemade ice creams. The premium charged for this organic fare does not represent good value, in our opinion.
There's something for everyone at Nations Park. The numerous pavilions designed for Expo offer distinctive venues for exhibitions, conferences, trade fairs, etc. The brand new Casino Lisboa offers an extensive gambling and entertainment venue. The runners, walkers and strollers can take advantage of the riverside promenade.
We headed over to the Camoes Theatre, headquarters of the Portuguese National Ballet, to get tickets for a future performance. Its comfortable modern style is designed for music, dance and theatre. We returned to a packed house of about 1000 to enjoy the ballet "O Passaro de Fogo" performed to the dynamic music of Igor Stravinski.
This was a delightful way to spend our last evening in Lisbon before departing for Sao Miguel in the Azores.
[Back to Top]

Porto | Cascais | Portel | Lisboa
São Miguel, Azores
Search TheTravelzine | TheTravelzine Group | Don's Gallery
Packing Hints | Planning Tips | Cities Links

---
All pages on TheTravelzine.com©Copyright 1996-2020 Don & Linda Freedman