Search TheTravelzine

TheTravelzine Group

Access Your Mail

Don's Gallery

Packing Hints

Planning Tips

Cities Links

Links
LINKS TO OUR TRAVELOGUES
Argentina, Buenos Aires - Jan-Mar 2010
Argentina, Buenos Aires - Jan-Mar 2009
Argentina, Buenos Aires - Jan-Mar 2008
Austria - Fall 2005
Belgium, Brussels - Fall 2000
Canada - Summer 2002
Canada - Summer 2001
Canada - Summer 2000
Czech Republic - Spring 2000
France - Fall 2002
France, Paris - Fall 2000
France, Paris - Spring 1999
France, Lyon - Spring 1999
Germany, Berlin - Fall 2009
Germany - Fall 2002
Germany - Spring 2000
Germany - Fall 1999
Greece - Fall 2012
Greece - Fall 1999
Greece - Fall 1997
Hungary - Spring 2000
Israel - Fall 1999
Italy - Winter 2007
Italy - Winter 2006
Italy - Winter 2005
Italy - Winter 2004
Italy - Winter 2003
Italy - Winter 2001
Italy - Fall 1998
Italy - Fall 1996
Netherlands - Spring 2000
Portugal, Azores - 2019
Portugal, Azores - 2018
Portugal, Sao Miguel & Lisbon - 2017
Portugal, Azores - 2017
Portugal, Azores - 2016
Portugal, Azores - 2015
Portugal, Azores - 2014
Portugal, Azores - 2013
Portugal, Azores - 2012
Portugal, Azores - 2011
Portugal, Lisbon - 2011
Portugal - Fall 2006
Portugal - Fall 2004
Portugal - Fall 2003
Portugal - Fall 2001
Portugal - Spring 1999
Portugal - Spring 1997
Slovakia - Spring 2000
Slovenia - Spring 1999
Slovenia - Fall 1996
Spain, Barcelona - Winter 2006
Switzerland - Fall 2002
Switzerland - Spring 2000
Switzerland - Spring 1999
Switzerland - Fall 1998
Switzerland - Fall 1997
Switzerland - Spring 1996
U.S. Florida, Key West - Fall 2006
U.S. Florida - Spring 2001
U.S. Maine - Summer 2002
U.S. Massachusetts - Summer 2003
U.S. Massachusetts - Summer 2002
U.S. Massachusetts - Summer 2001
U.S. New York State - Fall 2005
U.S. New York State - Summer 2004
U.S. New York State - Summer 2003
U.S. New York State - Summer 2001
U.S. Washington,DC - Spring 2000

SLOVENIA Spring 1999 (2)
Otocec
Rok had recommended that we visit the Otocec Castle and have dinner there. It is only about 7 km from Novo Mesto and was it ever a nice idea! The utterly unique setting of this castle is beautiful to behold. It sits gracefully on a small island in the middle of the Krka River surrounded by glorious trees, shrubs and flowers. We parked on the roadside bank of the river to get some marvelous setting sun photos. A quaint wooden bridge crosses over to the island and as soon as we began walking across, a peaceful serenity enveloped us.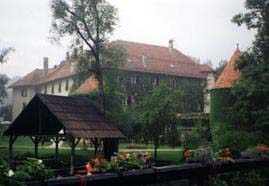 We introduced ourselves to Miro Skufca, manager of the Castle Hotel (fax: 386-68-75-460) and he was delighted to share the history of the castle with us while he gave us a tour. The castle first appears in records dating as far back as 1252. Its strategic location made it a stronghold against invaders from the East.
There have been various owners over the centuries with constant rebuilding taking place. Today it is a five-star luxury hotel with six apartments and ten double rooms, each accommodation is oversized and luxurious in every respect. The Krka Company, one of Slovenia's largest corporations, recently purchased the property and is beginning renovations to even further enhance the beauty and comfort of this most romantic hideaway. The Hunter's Room, with an arched white stucco ceiling and large fireplace is the kind of lounge where you just want to sit late into the night with the special person in your life.
In case you get bored with romance, across the road are the Otocec Sport Hotel and Sports and Recreation Center. Here you'll find indoor and outdoor tennis, basketball, handball and volleyball. In the Sports Hall, you'll find a fitness studio, saunas, Turkish bath and massage pool. Horseback riding is also available at the nearby Struga Riding Centre. Oh, yes, there is also a casino.
After all the romance and sport, we were quite ready to visit the comfortable restaurant constructed of stone, timbers and fine woods. A covered walkway along the outside faces a lovely patio area, a grand spot for a pre-dinner aperitif. The menu has an international flavor and the specialties are fresh game and mushrooms. Miro and Lidija were able to join us for dinner, which was wonderful. Besides being stimulating companions, Miro helped with the menu and Lidija with the wine.
We started with a beautifully presented filet of smoked trout with horseradish and a Zelen, dry white wine produced by Marc. Speaking of presentation, we were each served a hallowed-out, mushroom-shaped bread and under the lid we discovered rich, fresh mushroom soup. Homemade wide noodles with Gorgonzola reminded us that Italy was one of the countries sharing a border with Slovenia. We had the mushrooms and now the game, comprised of a mixed grill of goose liver and venison with a light mustard and wine sauce. A Merlot Barique, full-bodied and rich, was the perfect accompaniment for the game. Strawberry ice cream, fresh strawberries and blueberries were presented in a thin sugar waffle with ruffled edges and topped with whipped cream. We sipped a delicious Muscatel as we relaxed together afterwards while Lidija told us about a regional program called Heritage Trails, which details various touring routes, which can be designed for individual requirements. We will definitely take advantage of this program when we return. Anyone interested can email for details. It was an easy 70-km drive back to Ljubljana. We found the signage to be excellent everywhere we drove.
Postojna
After a healthy breakfast at the Hotel Slon,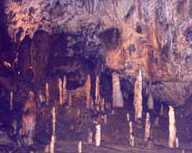 we headed Southwest about 40 km to the Postojna Caves, the most frequently visited caves in Europe. The ninety-minute tour through the 20-km of subterranean passages, galleries and halls, is done by cave train and on foot. Personable guides accompany you during the walks and are extremely informative. It is mind-blowing to see how tiny drips of water form these astoundingly beautiful stalagmites and stalactites. The cave is electrically lit and in many places the lighting dramatically enhances the experience. The temperature is a constant 8 degrees Celsius, so a jacket or sweater is a good idea. If you don't have either, you can rent a long wool cape.
Portoroz
Leaving Postojna, we drove about 60-km southwest to Slovenia's small but gorgeous shoreline along the Adriatic. In 1996, we stopped over in Piran, a picture-perfect old fishing village that was a delight. This trip we decided to spend a few days at the resort town of Portoroz and relax by the sea. The four star Slovenija Hotel was a perfect choice. Located across from the shore, with amazing sea views from the balconies was just the beginning. Recently renovated in a smart, crisp, clean, contemporary design, it has the feeling of casual elegance. Our room, with king size bed, and bathroom were a very nice size and had all the quality amenities including the large seafront balcony. But most impressive is the first floor heated saltwater pool complex, where we spent many enjoyable hours. The outdoor pool and lounging area gives onto the sea and movable glass partitions open to a series of indoor pools and whirlpools with waterfalls, underwater massage lots of room for swimming and just relaxing and having fun. The area is decorated with wall paintings, mosaics and tropical plants. Sauna and massage are available and they are planning a unique beauty center.


The Slovenija is part of the Hoteli Morje Group which also owns the adjacent three star Riviera Hotel and the three star Jadranka Hotel behind the other two.
Walking along the lovely promenade we passed the casino complex and proceeded to the Marina. It is billed as one of the largest marinas on the Adriatic Coast and it sure lived up to its billing - lots and lots of boats of every description from all over the world. There are several nice-looking restaurants overlooking the marina scene. We walked back along the beach and enjoyed (at least I did) the topless extravaganza (not that the pool complex was exempt).
We enjoyed two wonderful fish dinners at the Riva Restaurant next to and owned by the hotel. We sat in the front patio enjoying the sea and the sights. The first night's dinner was so delicious, we couldn't resist a repeat performance. The first night we enjoyed our starter of date mussels (brown and they look like the fruit) steamed in olive oil and garlic butter. A very ugly looking local fish called red fish was perfectly grilled. As ugly as it looked, that's how beautiful the firm, white flesh tasted. The salad bar had a nice selection of offerings and the balsamic vinegar and olive oil flavored with hot peppers was a superb dressing. On the second night, we started with delicious tagliatelle with funghi followed by another local fish, orata, again grilled just right. The flesh was very tender and sweet and the portion for two was enough for four so hard as it is to believe, dear friends, we weren't able to eat all of it. The spinach steamed with olive oil and garlic was divine.
Back up on our balcony, we enjoyed the jazz concert in progress across the way until the ice cream, urge struck. Next door is the Cafe Mignon with very good ice cream and pastries. We dashed down and in short order were enjoying bacio, hazelnut and chocolate.
Lipica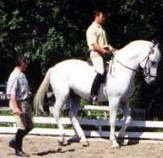 After another carefully selected (included) buffet breakfast we were off to Lipica, about 50 km Northeast of Portoroz. This world famous stud farm was founded in 1580 and has a long tradition of breeding and selecting pure Lippizan horses. I must admit that horses are not my thing, but this breed is remarkable. They are pure white and stately beauties and as we saw them training, we saw a display of pride, power and grace that was awesome to behold. They are actually born brown/black, turn gray at around three years of age and between the ages of four and ten, they turn white. The setting of the stud farm is very picturesque - everywhere green and covered with century old linden and oak trees. Lipica has a classical riding school and of course day riding with ponies for the children. There are two hotels and a casino on the property along with a golf course, mini golf, tennis courts, swimming pools, fitness center and sauna. The Lipizzan are the heroes and to watch them dance to the music in the show of the classical riding art and dressage is a real treat.
Nova Gorica
During our 1996 trip to Slovenia, we met a man on the platform while waiting for a train from Ptuj to Ljubljana. We sat together and chatted non-stop. When he finally got online six months ago, he emailed us and we have been in constant touch. Goran is an architect who specializes in sports facilities from stadiums to running tracks. He is also an author and a poet. But most of all he is a close friend. Which brings us to our next stop, Goran's home town of Nova Gorica, about 50 km northwest of Lipica, right on the Italian border. We were looking forward to the reunion and the fact that he was going to travel with us. Nova Gorica's history and culture bear a heavy Italian influence. The city is most famous for its casino, to which the Italians flock.
We had lunch at the Ristorante Metulj, Cankarjeva 60. It's a very popular, new, local place with good home cooking, like the minestrone loaded with vegetables and natural flavor and the delectable, juicy, baked chicken served with steamed cauliflower and sliced beets. Of course it was cherry season and the fresh cherry pie could not be ignored and for Linda, the chocolate-filled palachinka was too tantalizing to miss.
Kobarid
We were now heading into a glorious land - the land of the Soca Valley, Julian Alps and Triglav National Park. From Nova Gorica, we drove 50 km north along the Soca River to Kobarid. This was our first glimpse of these rushing, crystal clear green waters running between forested hills and it was just a beginning, because when we would leave Kobarid and head north through the Alps and the park still following the river, it would get even more spellbinding.
Kobarid is a picturesque small town in the upper Soca region, surrounded by the summits of Mts. Krn, Matajur, Stol and the Soca River with its tributaries and numerous waterfalls. It is an excellent base from which to enjoy all the activities that the Triglav National Park, Julian Alps and Soca River and its valley make available. If you're into really active sports you can glide, paraglide, climb, hike, cycle, raft, kayak, hydrospeed, canyon and if you're a fly fisherman, you have found paradise. The marble trout indigenous to the northern Mediterranean is plentiful in the green/blue kingdom of the Soca.


When we arrived in Kobarid, we went immediately to the famous Kobarid Museum. It was getting near closing time but fortunately the director of the museum, Zeljko Cimpric, is an old friend of Goran's and was delighted to wait and take us on a tour. This is a man who is passionate about his undertaking. He led us through the rooms with their comprehensive displays and as he articulated an in-depth analysis and understanding we three felt a sense of anger, despair, regret and in the end a reinforcement of our own beliefs that what we had seen and heard should never happen again. You see, the Kobarid Museum is dedicated to events and horrors of World War I. It was opened October 20, 1990 in the Masera's House, which was built at the beginning of the 18th century. Kobarid sat on the threshold Isonzo front, the greatest mountain battle in the history of mankind. The battle lasted for 29 months with seventeen nations struggling and hundreds of thousands of young men losing their lives. Ernest Hemmingway covered this part of the war as a journalist and from it came "A Farewell to Arms". The final operations took place from October 14 to November 9, 1917. About 615,000 Italian and Austro-Hungarian soldiers crowded on the small territory of the upper Soca Valley. More than 5900 guns were discharging murderous fire; the slaughter was horrifying. When we got home from the trip, we found email from Goran with his thoughts and feelings about our visit to the museum that we have his permission to share.
The World War I ( 1914 – 1918) Museum in Kobarid
Territorial and economic rivalries led to war between the Central Powers (Austria-Hungary, Germany, Bulgaria, Turkey) and the Allies (U.S., Britain, France, Russia, Belgium, Serbia, Greece, Romania, Montenegro, Portugal, Italy, Japan). In »Great War« about 10 million combatants were killed, 20 million were wounded.
On Italian Front, also known as The River Soca (Ital. Isonzo) Front (May 1915 – October 1917), 650.000 soldiers were involved in »positional« warfare in trenches. The battlefield was Karst terrain, mountains, described by many as the »stone desert«. In the Battle of Kobarid (ital. Caporetto), Italians retreated losing 300.000 prisoners and deserters. Hence, for Italians »Caporetto« is a synonym for catastrophe and military defeat.
The message we receive from Kobarid World War I museum is a simple one: We should better learn to share the same spaces instead of pushing each other off this beautiful land. Not only human lives are being wasted in war; nature is also damaged and destroyed. People shooting at each other usually miss the point. This could be the true reason for so many victims on both sides...
Our shooting into the darkness won't kill our fear. It will only grow bigger and bigger. Until enemies finally decide to talk again. Kobarid Museum is offering a new concept of understanding the war: There are no winners or losers, only wasted lives. This concept was awarded with European Council Museum Prize in 1993. It could be the turning point in relationships between neighboring countries. Once fierce enemies now can find peaceful solutions to their real problems.
Zeljko works tirelessly to investigate and find new documentary evidence and artifacts to enhance and update the collection and documentation. He also integrates cultural displays from other countries at various times to expand the basic premise of the museum. Particularly impressive is the room with a large size relief of the Krn Mountains, where one can follow the fighting of soldiers as well as their suffering in those difficult conditions. The "black room" shocked us with the presentation of horrors, which is meant to be a warning as well as a memorial to the soldiers.
We were deeply affected but Zeljko wasn't done with us. He directed us to the prehistoric and Roman settlement on Gradic Hill, built on a rocky promontory above the valley, about a 15 minute walk up from the town center (driving is possible). The Italian Charnel House was built on the hill with the Church of St. Anthony at its center. Buried in the Charnel House are the mortal remains of 7014 known and unknown Italian soldiers who had been killed in World War I. Along the main staircase are niches with mortal remains of 1748 unknown soldiers. The views from the top are spectacular and we sat and reflected on what we had just experienced.
It was time for serious relaxation and we found the perfect spot, The Hotel Hvala and its restaurant Topli Val. The Hvala family owns and operates this immaculate haven of rest and culinary delight with loving care, consideration and contagious enthusiasm. The property is a homey three-star with nice size rooms and all the expected comforts. There is no elevator but the eager-to-please staff at the front desk will assist with your luggage if you desire. There is ample parking at the hotel or steps away in the center of town. A cozy bar leads to the lovely restaurant and summer garden for meals. The senior members of the family, Cvetka and Vladimir, were away but their affable son, Alex, was on hand to greet guests and he cheerfully seated us in the lovely tree-lined garden. It was a perfect night for alfresco dining, particularly in this environment.
We encouraged Alex to select our food and wine, which he was pleased to do. Goran had given us a couple bottles of wine and we asked Alex if he would mind if we enjoyed the Cabernet while we were together with Goran. No problem, but since seafood is the specialty of the house, he suggest a white Dolfo Sauvignon with the meal. We enjoyed the delicious red Bourbon Cabernet with the wonderful breads that were served while we waited for our first course.
You must understand that Linda cannot tolerate raw fish or should I say could not. We started with a branzini carpaccio that had been marinated in olive oil, salt, pepper, lemon and orange juices and served on a bed of arugula with Parmesan shavings. I don't think she is a convert, but she did thoroughly enjoy these thin slices of heaven. The white wine was delicate and a bit tangy and a great choice to have with seafood. We had been introduced to the date mussels in Portoroz and were happy to have them again, particularly as this version was steamed in olive oil, fresh tomato and parsley. The rivers of Slovenia provide the best trout we have had anywhere and the beautiful, grilled fish we were served by Alex were as good as it gets. Roasted potatoes, steamed spinach and mixed salad accompanied the main course to take care of our veggie requirements and a traditional dessert of struklji (dumplings) filled with raisins and walnuts gave us a nice dose of a few more food groups. <g>
At this point Alex's charming and cheerful wife, Tanja, arrived bearing Lustrek, a digestive liqueur like grappa, and a blueberry grappa with real blueberries. Lustrek is an acquired taste, but the blueberry grappa was special. Alex and Tanja manage to be everywhere, from the hotel to the restaurant, making sure every guest is taken care of and happy. We sure were.


Tanja suggested we go to the museum in Trenta in the morning, which is on the way to Kranjska Gora our next stop. She was concerned that they might not be open early enough for our arrival so in the morning she phoned the Director, whom she knows (it seems in this little country, everyone knows everyone), to confirm that someone would be there when we arrived at 9:30. (That's the way is; you'll love Slovenia).

Ljubljana, Kocevje, Novo Mesto

Search TheTravelzine | TheTravelzine Group | Don's Gallery
Packing Hints | Planning Tips | Cities Links

---
All pages on TheTravelzine.com©Copyright 1996-2020 Don & Linda Freedman