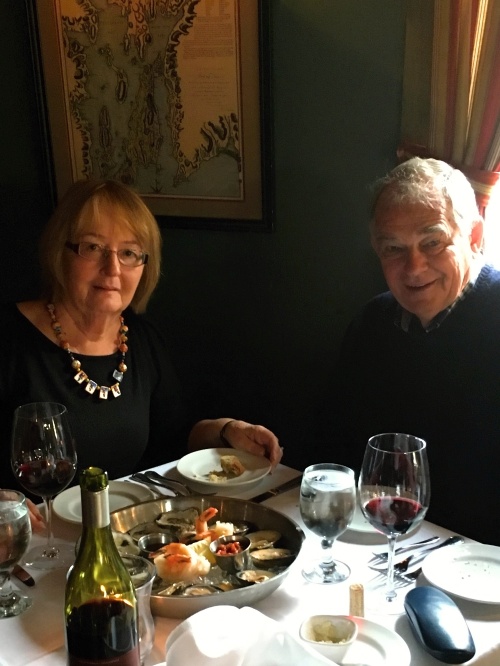 First to introduce ourselves. Ian and I live in Wollongong, Australia, a city of about 200,000 in the Illawarra District about 90 minutes south of Sydney. It is a beautiful coastal area and I recommend a visit by anyone staying in Sydney for a few days.
Our travels began in 1979 when we holidayed with our then very young children in Fiji. It is a wonderful destination for families. The next year we ventured further afield with an eight weeks' road trip in the USA. We flew from place to place (in everything from a Boeing 747 to a small six-seater plane), rented a car and explored each area. It was the most wonderful holiday and we still talk of some of the funny, amazing things that happened. One example was when we were staying at the Hyatt Regency in San Francisco (fascinated by what was then an amazing atrium lobby) and a group of Japanese tourists approached Ian (ignoring me and the three children!) and motioned for him to stand next to each person and have his photo taken. They didn't speak English and we didn't understand Japanese so we still have no idea who they thought he was - definitely not a dairy farmer from country Australia!
For the next sixteen years we continued to travel with our children taking road trips to all the Australian states, and holidays to New Zealand, the Pacific Islands, Asia, and back to the USA.
Once our children left home Ian and I continued to travel (usually taking an overseas trip every one-two years and visited Britain, Europe, Asia, North, Central and South America). The USA has always been a favourite destination (we have been there about a dozen times and visited most states but we also love the countries of South America). Fifteen years ago we discovered cruising. We always fly to an overseas port, cruise for anything from ten days to five weeks and then do a land tour from our final destination. We have been on ships with anything from 500 to 3,000 passengers and have enjoyed them all and made lots of friends from all corners of the world. Our favourite cruise so far has been on Oceania Regatta, sailing from Rio de Janeiro up the Amazon River to Manaus and ending in Miami. We loved everything about this cruise - the ports, the ship and the passengers, most of whom were very active, friendly and there to make the most of the adventures offered when sailing on this amazing river. Our next cruise is in April/May this year, sailing from Singapore to Rome followed by time in Munich and Prague. After that it's probably Japan or back to South America.
I have been a member of TheTravelzine for more than ten years and during that time have met a number of Ziners when they visited Australia. We also met Ziner Sheryl in New York a few years ago and she took us on a wonderful walking tour of the city. Although we'd been there many times, it was great to be shown round by a local seeing places not on the usual tourist route.
Linda, Don, Frances and the Moderators do a remarkable job overseeing TheTravelzine group and I only hope it continues to grow from strength to strength in future years.