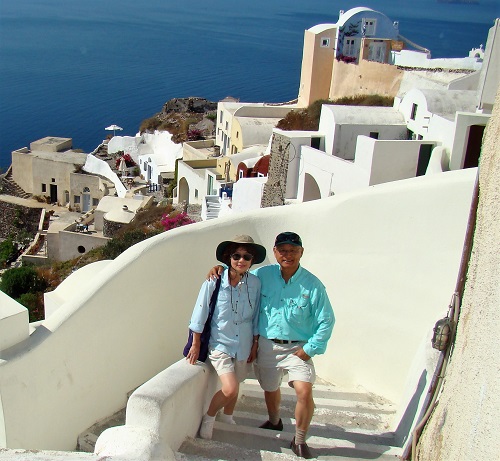 I was born in Taiwan a few years after the end of WWII. Taiwan had been colonized by Japan for 50 years from 1895 to 1945, so I grew up in a mixed culture of some remnant of Japanese, some original Taiwanese, and some Chinese brought over by the KuoMinTang Party from Mainland China across the Taiwan Strait in 1949.
At home I spoke Taiwanese and understood a few Japanese words thrown in to the conversation because that was how my parents' generation spoke. At school I was taught in Chinese and must speak Mandarin Chinese. The house I grew up in is a 2-story Japanese colonial, with tatami mat floors and sliding paper screen doors in the sleeping quarters. My younger brother's family still lives in that house today.
I met my husband, Vincent, while both of us were attending graduate school in Connecticut. We have lived in a suburb of Boston for close to 40 years now. We have gone back to Taiwan to visit family many times, but I don't consider that as a "trip", because I could not plan a trip to Taiwan from a tourists' point of view. It was always visiting family and friends, enjoying the good food and warmth of the company.
Not counting stopping in Japan a few times on my way to or from Taiwan, my international travel started in 1988 to Frankfurt, then to London, followed by 2 trips to Paris. From 1997 on I really studied Rick Steves' guidebooks and went to many European destinations including Italy, Austria, France and Switzerland. I love trip planning as much as actually being there. We also joined Grand Circle Travel and OAT for some of their tours (Greece, Spain/Portugal, Northern Europe, Eastern Europe, to name a few.) Lately, Vincent and I have enjoyed ocean cruises. We often tack on a land portion on our own either before or after a cruise, and we feel that makes the whole trip very relaxing.
Our up-coming trip is to cruise from Vancouver through Alaska to Japan in the fall. We'll then spend 11 days in Japan on our own. We love Japanese food and can read all the street and station signs in Kanji so traveling in Japan is low stress and very enjoyable for us.
It has been 15 years since I joined TheTravelzine forum, around 2003. I have learned a lot through TheTravelzine forum, have met Linda, Don, Frances and a few Ziners in Boston, in Italy and on a cruise ship. It is a nurturing and fun environment. Thanks to TheTravelzine owners and moderators for maintaining this community.