ITALY Fall 1996 (3)
In the morning, we headed west to Lucca. We departed Firenze on the 9:44, arriving in Lucca at 11:59 in the pouring rain. After a 10 minute "wade" from the train station through the old city walls to our hotel, we arrived at the Hotel Universo in the Piazza Del Giglio, an excellent location from which to explore the city. At this point we would like to thank our dear friends, Nicoletta and Stefano, who live in Genoa, for selecting this hotel as well as the ones in Monterosso and Genoa and for making our reservations at all three. Until now, Nico and Stefano were internet friends - we met in person for the first time when we went to Genoa. Bless the internet and email!
The Universo is a splendid old facility which has been well-maintained and retains its charm. It has a large, high-ceilinged lobby with the reception area manned by two mature gentlemen who are constantly busy checking their records and counting the cash. They speak no English, but eventually you can somehow make yourself understood especially if the bellman and the female trouble-shooter are around. There's a lovely lounge and a restaurant, under separate ownership, just off the lobby.
Our good size room was decorated with lovely floral print paper on the walls and the ceiling with matching bed coverings and draperies. A good quality mattress, duvet and pillows, a top-notch bathroom and a perfectly quiet positioning provided the welcome change we needed after our uncomfortable experience in Firenze.
Breakfast was not included, but part of the Lucca experience is joining the locals at a bakery or cafe in the morning. We went next door to the Ristorante Giglio to make a reservation for dinner but discovered that they would be open only for lunch today and would be closed all day tomorrow. When we walked in, it smelled so good. The kitchen was immaculate and a woman dressed in a white uniform was rolling out dough. We didn't want to miss dining at this establishment so we decided to return in an hour or so and have our main meal at lunch time.
We weren't sorry! The service was slow and easy in a cosy and comfortable environment. The homemade pastas to start were perfection - ricotta and spinach gnocchi were lightly coated with melted cheese, and the tagliatelli with funghi was prepared with olive oil and parsley. We both had stewed rabbit with green olives served with wonderful polenta. We both love coniglio and this preparation was as good as it gets - the delicious assortment of fresh breads useful in retrieving every last bit of the wonderful sauce.
We think Lucca is a gem of a destination. Within the magnificent city walls, old Lucca is a charmer with historic buildings and piazzas and streets that are a joy to walk. Automobile access is very limited and bicycles seem to be the most popular means of transport. With world-class shopping and dining, this is a prosperous small city which is still affordable and offers excellent value.
While we were looking at some leather stores on Via S. Paolino we came across Cioccolateria at #6. They make their own chocolate and pastries - we bought a small piece of dark bark with hazelnuts and would highly recommend your visiting Lucca for the chocolate alone, if for nothing else!
Later in the evening we went to Spragia, Via Fillungo 144, for pizza. Our friendly bellman recommended this as a place the locals frequent because it is the best. We enjoyed the brick oven pizza with a medium-thin, tasty crust with just the right proportion of toppings. We had one with ham, artichoke, olives and mushrooms and one with just ham and mushrooms.
In the morning we walked a few minutes to Forno a Vapore - A Medeo Gusto, Via S. Lucia 20, a stunning bakery packed with freshly made breads, rolls, foccaccia of all kinds. The waiting patrons were three-deep at the counters. The aroma and the selection were enough to drive us crazy. What to pick? We settled on a wheat/grain baguette which we shared. We went around the corner for a cappuccino - and were totally satisfied.
We spent the rest of the morning shopping and stopped for a light lunch at Piccolo Mundo, Piazza dei Cocomer 15. It's a self-service place with tables. There's a long set-up of prepared choices of vegetables, fishes and meats. We shared spinach, stuffed artichokes and fresh green beans in a light tomato sauce along with foccaccia. It was a cheap, cheerful and delicious lunch. Back to shopping - the specialty stores have an outstanding selection of up-to-date fashion. There are numerous off-price stores offering popular-price to designer merchandise.
By now, you are either salivating and working up a heck of an appetite or groaning and about to scream if you hear about another meal. In any case, it is incumbent upon you to pay attention to our experience at Trattoria Da Guilio, Via della Conce 45.
If you go to Lucca, go to Da Guilio. The minute you walk in, you know that this is a place frequented by locals. The environment is friendly - the customers, owner and staff all know each other. Nevertheless, you are made to feel welcome and comfortable. And that, in spite of the fact that no English is spoken. Everyone is happy and is there to have a good time.
It's a large place, with two dining rooms. The decor is warm, simple and inviting. As soon as you sit down, you are served a bottle of wine - (we chose the Chianti) - and you pay only for what you drink (very reasonable). The bread is served with olive oil and a pepper mill, and away we go! Tagliatelli with cold fresh tomato blended with olive oil and olives and spaghetti con vongole, plump fresh clams prepared with olive oil and pepperoncini. And that's just for openers.
Right about this time, we started noticing that the patrons around us were being served bowl after bowl of a variety of soups (each of which smelled and looked fabulous!). When we asked about it, we learned that there are four soups (vegetable, bean, lentil and wheat) that are served to a minimum of two people for Lit. 15,000 for two. Next time - SOUP!
We had lots of time between courses to keep a watchful eye on what else we should not miss - two desserts, for sure - profiteroles, cream filled choux pastry balls, covered with rich dark chocolate and thick panna, and a chocolate torte with luscious pastry, top and bottom, filled with a rich chocolate mousse.
But before we got to that, Linda had thin grilled steak covered with fresh tomato concasse (herbs, garlic, olive oil) and a pressed, roasted half chicken for me. We shared a mixed salad. These were simple, fresh, home style preparations - but done by a caring kitchen that leaves you looking forward to next time.
We woke up realizing that there were only five days left to this trip - three days in Cinque Terre and two days in Genoa. But we had lots to look forward to. Our dear friends from Locarno, Switzerland, Fabio and Cornelia would be meeting us in Cinque Terre for two of the three days. (Again, internet-initiated, we met in person this past spring in Locarno; then Fabio and Cornelia came to Toronto in June; and now we will see each other again.) And when we get to Genoa, we will meet Stefano and Nicoletta for the first time. (Let's hear it for the internet!).
We had decided to headquarter out of Monterosso and Stefano found Albergo Degli Amici for us. Our train routing was Lucca/Viareggio, Viareggio/La Spezia, La Spezia/Monterosso. We left Lucca at 11:00 and arrived in Monterosso at 12:52. It is easy to see why Cinque Terre is a favorite of so many people. Comprised of five seaside villages, Monterosso al Mare, Vernazza, Corniglia, Manarola, Riomaggiore are all built on steep cliffs and linked via paths along the cliffs.
Traveling north from La Spezia, the train goes right along the coastline and the urge to jump in and take a swim is overwhelming. At the Monterosso train station, you arrive right across the street from the picturesque beachfront of the new village with its swimmers, sun-bathers and sparkling ocean.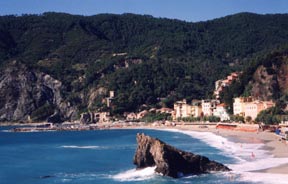 As you descend to the waterfront promenade lined with hotels, shops, cafes and restaurants with beachside seating, you sense that you've arrived at a very special place.
It was a bright, sunny, warm October day and there were plenty of people on the beach. We turned left toward a cliff-side tunnel which leads into the old town and the Hotel Degli Amici. It was a fifteen minute walk, with us gaping at the beauty of this place. As you exit the vehicle/pedestrian tunnel, you encounter a small beach at the head of a cove surrounded by cliffs.
Behind the beach is Piazza Garibaldi where all the streets in the old village converge. The village grows gradually up the cliffs to vineyards on high. We looked back at the white-caps smashing into the rocks all around the cove - a breathtaking sight.
The village is a maze of narrow, cobblestone streets with a myriad of places to eat and drink. We passed through an old stone archway, with gorgeous plantings leading to the entrance to our hotel. The tiny lobby adjoins the bar which leads into the good size dining room, with a spic and span open kitchen at the rear. This is a very homey place. We were greeted by a cheerful young man who, as it turned out, was there practically all the time; and by the wonderful aromas of the lunch time meal, which confirmed that our decision to stay at half-board (rates including breakfast and dinner) had been wise.
Our room was an adequate size with white walls, tile floor, maple furnishings, clean bedding, and a good bathroom with a stall shower. Everything was immaculately clean and it represented excellent three-star value. There was even a partial view of the water from the balcony.
We ran out for a late lunch of Margherita pizza with a side of cooked fresh green beans and a tomato and lettuce salad. All the vegetables tasted like they were fresh from the garden. This Trattoria Da Peo at Via XX Settembre 32, is primarily a fish place (as are most of the restaurants in Cinque Terre) but they make good pizza, as well. The rains came but that didn't stop us from spending the rest of the afternoon exploring all the nooks and crannies of this adorable village.
The staff in the dining room and kitchen were all young, late teens to late twenties. There was a "mature" woman who kept a watchful eye on the proceedings, particularly the kitchen. The dining room was quite full. It appears most guests stay at half-board. In town, there were many excellent-looking restaurants from which to choose and probably most of them serve good food, but it would have been much more expensive had we gone that route and I doubt that we would have had as nice a dining experience as we enjoyed here; a fine selection, homemade preparation and homey service and environment made it leisurely, relaxing and satisfying.


Both of us started with spaghetti vongole. Linda had a huge plate of pesce fritto misto, very fresh, lightly battered and fried shrimp, calamari, assorted small fishes and eel. My three thick filets of denti, a firm white fish, were sauteed in olive oil, herbs, garlic and tomato. Both choices were quite delicious as were our salads of mixed greens with tomatoes and steamed fresh spinach.
The major activity here is to explore the five villages by hiking the paths along the cliffs between the villages. There are local trains which run regularly along the route so that going from village to village by train is easy. Most folks seem to opt for a combination of riding the rails and hiking the footpaths to get from place to place.
There are varying degrees of difficulty hiking between the villages. The most difficult that we found was between Monterosso and Vernazza. We did not take the trail between Vernazza and Corniglia, which is said to be a close second. Corniglia to Manarola was not very difficult and Manarola to Riomaggiore was about the same.
In terms of time, stopping just once in a while, it should take one hour and thirty minutes between Monterosso and Vernazza, one hour from Vernazza to Corniglia, one hour from Corniglia to Manarola and thirty minutes from Manarola to Riomaggiore.
Since Fabio and Cornelia were due to arrive the next day at noon, we planned to take the train with them to Vernazza and hike back to Monterosso after they checked-in at the Degli Amici and had some lunch; training the following day to Riomaggiore and hiking back to either Corniglia or Vernazza, depending on how the day progressed.
A wonderful breakfast of rolls, cheese, homemade sour cherry preserves, fresh fruit, yogurt, ham, juice and coffee got us going. We walked around the waterfront, with the waves smashing up against the rocks, we devoured the sight, sound and smell of it all - ah, the sea!
Those zealous bathers were at it again as we walked along the promenade to the train station. Our friends were right on time. We whipped them over to a bakery we had found and bought some fantastic focaccia. We picked-up some beverages and sat by the beach and got caught up on the last few weeks' news (no email while we're traveling).
We hustled over to the hotel, they got settled into their room and we readied ourselves for the excursion to Vernazza and the hike back. We caught the 14:18 train and arrived in Vernazza six minutes later.
We walked down the main street to the major attraction, the harbor with its beach, rocks for sunning, and a large breakwater - a beauty!. From the castle high above, we had a grand view of the village below and the coastline as far as the eye could see - and it was an eyeful on this sunny, warm day. The climb up to the castle was a good warm-up for the trek to Monterosso.
Leaving Vernazza,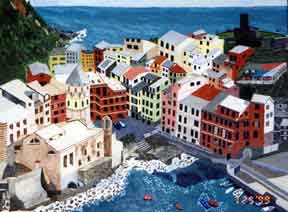 it's a steady climb up through the village to the start of the cliff trail. As you climb away from Vernazza, the views behind you are spectacular. The trail goes up and down, quite steeply in places; the surface is rough and the width varies. It's quite manageable, as long as one doesn't look down!
The first half went easily, although we were quite warm (sweaty, that is) from the sun and the exercise. Suddenly, the sky blackened as huge clouds came over the mountaintop and a heavy, cold downpour began. There we were, totally unprepared; the day had been too perfect to have contemplated needing raingear.
We huddled under some overhang for a while, but decided we had no choice but to move on. The trail had become muddy and slippery and combined with the cold rain on our overheated bodies made for a harrowing experience. We were grateful that Fabio was with us; his military leadership training and scouting experience our only hope. So slip-sliding away, we arrived back in Monterroso soaked and shivering, but joyous that we made it without incident.
Four very hungry people arrived for dinner that evening. Three of us started with spaghetti vongole and Linda ordered pumpkin soup with noodles, which was fabulous. We all had orata, a tender white fish, lightly seasoned, battered and baked - luscious. The tomato and lettuce salad was as fresh as could be and there was a choice of apricot tart or fresh fruit for dessert. The breads were plentiful and good.
Beverages are charged separately, of course, but unfinished bottles of wine are returned to your table the following evening. They do have a unique custom here. There is a decorated linen folder at each place setting. This is to hold your cloth dinner napkin overnight to be used again in the morning. A fresh cloth napkin is provided each evening.
After dinner, Fabio and Cornelia showed us the photos from their summer trip to Canada and the U.S. Their experiences with our rail system certainly made for some sad comparisons with theirs (Swiss).
The train station in Riomaggiore is about in the middle of the town. We walked up high to the church for views of the old-looking village and the small but cute marina. Walking down the main street, one has the feeling that these people are still living in the past. That's the charm of Cinque Terre; just one of the things that makes it special.
When we got to the marina, it had a cosy, lazy feel about it - like a place where one might sit all day, drinking wine or beer, maybe dozing off. The rocky waterfront is beautiful. We climbed the winding stairways through the village back to the level where the train had arrived, to get onto the trail to Manarola. It's an easy walk, with clear views of the sea and cliffs in every direction. The air smelled delicious. It was a bit cloudy and coolish, perfect for walking. We arrived at the train station and walked through a tunnel to the main street. As in Vernazza and Riomaggiore, the main street in Manarola was wide and lined with restaurants, cafes, bars, shops, etc.


We had lunch at Il Porticciolo, Via Renato Birolli 92. All of us had the house spaghetti with mixed seafood cooked with oil, garlic and parsley. The portions of shrimp, clams, calamari and mussels were generous and fresh. The downfall was that it was too oily. We had more wonderful greens and tomatoes; it's going to be very difficult going home to the "plastic" variety. On my way to the dirty bathroom, I passed the filthy kitchen. No cleanliness here; avoid this place!
Next stop was the small marina, hemmed-in by the cliffs. The hike to Corniglia was fairly easy with just one bad section of about a hundred meters of uneven stones and severe drops. Lots of great photo ops, particularly back towards Manarola's marina.
When you get to Corniglia, you have to walk up 373 steps (Cornelia counted them!) to the village which seems to be the best-maintained and restored of the five. This is the only village that is not on the water. There's a neat piazza in the center with steps up to a tower and a church.
Back at Monterroso the hearty souls were swimming. We lingered along the promenade enjoying the setting sun and strolled back to the Degli Amici to do some packing. Three days was a good length stay for doing it the hiking and rail way. It can be done in a day or two by train. It's also a superb place to just totally relax, read, swim and enjoy the sun. Everyone has his favorite home base (there are others, north and south) but of the five, we would return to Monterroso and Hotel Degli Amici.
Upon returning to the hotel each evening, you are greeted by the wonderful aroma of dinner being prepared. By the time you sit down to dinner, you're ravenous. The girls both ordered the ravioli, stuffed with spinach in a light cream sauce, Fabio had spaghetti al pesto and I spaghetti pomodoro. For mains, there was tender, juicy sauteed veal bianco with mashed potatoes for Linda, Cornelia had spada (swordfish) nicely prepared with fresh tomato, olive oil and olives, Fabio ordered the pesce fritto misto and I had a delicious broiled local fish. Dessert was canned pineapple or fresh fruit. The young man at the front desk bought us a local favorite drink which was lemony, yet sweet, flavorful and very potent.
After breakfast, Cornelia and Fabio walked us to the train station. They were staying on until mid-afternoon and we hated to leave them, but we had a date in Genoa with Stefano and Nicoletta.
Our first trip to Genoa was a few years ago. Many tourists skip this wonderful city because they think it is an unsafe port town. It is a major port. It does have some areas that are unsafe in the evening, as do most cities its size. This is a major city. The port has the largest aquarium in Europe, trade and exhibition centers, quays and wharves converted into sea walks, open spaces for festivals and concerts and much more.
The old city with its winding streets and alleys is a treasure of history and beauty; its piazzas, churches, palazzos and architecture and ancient streets with shops selling the best of every kind of food and ingredients imaginable. And then there's the newer city with its truly magnificent buildings. This is a prosperous, sophisticated city with a vibrant cultural life including theatre, opera, ballet and concerts, and arguably the best food in Italy.
The Jolly Hotel Plaza, Via Martin Piaggio 11, is an excellent four-star hotel. The location is central and easy walking to the city sights. The lobby is rather austere but the rooms are warm, spacious and comfortable, beautifully decorated and the bathroom is large with all the amenities. An excellent way to end the trip - thank you Stefano.
We met Stefano and Nicoletta out front at 14:00 as planned. It was our first meeting, but it was like we were old friends. They had suggested a trip west of the city for us to see some new sights. Our first stop, after a pretty ride along the coast, was Noli, a lovely seaside town. The old city is opposite the oceanfront. We stopped in the main piazza at Caffe Gino for cappuccino and gelato, admired the church of St.Peter and strolled the immaculate, narrow stone streets, admiring the well maintained buildings. There is a lively, lovely promenade along the waterfront with a nice beach.
Continuing our drive along the magnificent rocky coastline, we came to Finalborgo, a medieval village with fifteenth century walls. As one enters the village through a huge archway, one is greeted by the spectacular baroque church of San Biagio. The interior, with its huge pillars, high ceilings and large paintings is a spectacle to remember. The stonework outside in the courtyard is outstandingly beautiful.
The main Piazza Garibaldi was alive with people as was the adjoining Piazza Aicardi, where markets are held. At this time we managed to squeeze in a piece of focaccia at Il Casa Reccio, Via Torcelli 22. In the Ligurian style, there are stone arches between buildings so that the ancient buildings can support one another.
Stefano drove up (and up) a mountain to a beautiful spot called Manie (Finale Ligure) and to Trattoria La Grotta. Stefano told us that this was hiking country with excellent trails. What a gorgeous mountain setting for this farmhouse trattoria! They grow their own vegetables and raise their chickens, rabbits and meats. A relaxing and casual setting for a memorable meal.
We started with an eclectic array of appetizers - grilled eggplant, small fried fish, goat cheese, Russian salad, pickled green tomatoes, stuffed zucchini and bruschetta. Linda and I shared taglialini with rabbit sauce. Stefano and Nicoletta shared ravioli stuffed with spinach and ricotta with the same rabbit sauce. We all shared roast veal, sauteed rabbit and fresh spinach. With delicious homemade red wine and assorted home-baked rolls, this meal was the perfect way to end a perfect day.
We enjoyed a glorious buffet breakfast with a real treat, fresh blood orange juice and champagne. We spent the day in the old city highlighted by a visit to the Torielli Brothers. Stefano and Nicoletta had suggested that we visit their historical grocery shop, Torielli's on Via San Bernardino. At one time, Stefano's Dad had a similar shop nearby and the families were good friends. In fact, Stefano called them and they were expecting our visit.
They greeted us with excitement. The shop is ancient. The walls are filled with teas from all over the world, sweets, nuts (they roast their own hazelnuts) spices, etc. The brothers, 67 and 77, very sweet men, plied us with samples of candies and nuts. We are still eating and enjoying the hazelnuts and pistachios we purchased. It was a fun visit. Lunch was out of this world. We had onion and olive focaccia from Panifico Giorgia DiBertoglio on Via San Bernardo.
Stefano and Nicoletta invited us to dinner at their home. Stefano picked us up at 17:30 and it was a twenty minute ride east to their condo. Their building sits high up, with superb vistas of the surrounding mountainside and the feeling of open space. The meal was fabulous - assorted meats, tomato and bocconcini, assorted canapes, stuffed yellow pepper slices, spaghetti al pesto, spinach pie, escarole with oil and vinegar. Stefano showed us the photos from their wonderful trip to Turkey and recounted the highlights of their trip. It was a wonderful evening.
Stefano made arrangements with a cab driver, whose wife works with Stefano, to take us to the airport. Luca was waiting for us when we exited the hotel at 7:30. When he dropped us at the airport he told us that he had to call his wife and report "Mission Accomplished"! As was ours. We had just finished a truly amazing trip, the memories of which we shall cherish, along with the friendships we nurtured along the way. Those friendships are so special to us.


Trieste | Rome | Florence (Firenze)


Search TheTravelzine | TheTravelzine Group | Don's Gallery
Packing Hints | Planning Tips | Cities Links

---
All pages on TheTravelzine.comęCopyright 1996-2020 Don & Linda Freedman