Lisbon and Coast
Cascais | Estoril | Sintra
We were sad leaving the Britania, but hey, we were just going across to the west side of Avenida da Liberdade to Hotel Lisboa Plaza on Travessa do Salitre, with the same wonderful service and attitude, just in a different format. The design here is modern elegance in an atmosphere of informal good taste. The wide, welcoming, marble reception hall leads to a handsome light wood reception desk and a warm greeting from the caring staff.
There had been some subtle changes since 1997 in furniture and furnishings both in reception and the adjoining bar/lounge that seemed to add a few degrees of warmth, charm and sophistication. Besides the smart woodwork, first class marble treatments, beautiful carpets and area rugs, there are other special efforts to enhance the beauty of the decor like well-designed trims on the doors of the rooms and valuable artifacts displayed on tables and walls throughout the hotel.
Attention is paid to the smallest detail - and there's even a suggestion box in one of the elevators, just in case something was missed. The Lisboa Plaza has a style and character that is distinctive and unique and together with the Britania and As Janeles Verdes are a threesome that are tough, if not impossible, to beat.
Our junior suite was a dream. The sitting area with a large sofa, two easy chairs, coffee table, desk, TV, area rug and lots of accessories was pure comfort. Mirrored panel, sliding doors led to a large king bedroom with more exquisite furniture and furnishings. The marble bathroom was a beauty and of course had all our needs from bidet to band-aids.
[Back to Top]
Cornelia and Fabio arrived the previous night and, as usual, brought a bit of rain with them. They met us at our hotel and after refreshments we went to the Avenida metro stop, took the metro to Baixa/Chiado and changed to Cais do Sodre. We bought our tickets and got on the comfy clean train to Cascais.
Cascais is a fashionable resort town set around a sheltered bay. Even with umbrella in hand, a walk along the shoreline of sandy beaches, an old fishing harbor and the marina, with the smell of fresh sea air in the wind was a delight.
Behind the sea is the old town of pleasant pedestrian streets filled with wonderful shops. Cafes and pastry shops abound, as well as a large variety of restaurants. Residents and visitors live in harmony appreciating the beauty and unhurried pace of life.
The friendly folks at Lisboa Plaza had suggested we try Adega do Gonsalves, rua Alfonso Sanches 43, for a seafood lunch. When we entered, we figured if the food was as good as the place was cute we'd be very happy. The design of wood, stone, stucco and nautical artifacts was artfully put together.
The soft, white cheese, dark bread and olives nicely sparked our appetites. A bounty of (servings are generous) grilled, tender, white sea bream and pargo, along with baby clams in tomato/onion sauce was fresh and perfectly prepared, with boiled potatoes and broccoli a natural match. The melon keeps getting sweeter and the coffee tastier. We were extremely happy with the food and the excellent service.
Estoril, most well-known for its casino, is the next door neighbor of Cascais. Despite the continuous drizzle, we walked the seashore promenade from Cascais to the train station in Estoril. It's a long expanse of sandy beach that can accommodate lots of sun-lovers or just plain lovers.
[Back to Top]
Lisbon
One of the three young women we met at lunch the other day had recommmended Forninho Saloio, Trav. das Parretras 39, which specializes in grilled fish and meats. It was a good thing we had stopped by a few days before to make a reservation as the place was filled with locals. The small grilled red fish were fresh and tasty but the grilled grouper was tough, probably had been frozen. Sides and dessert were fair at best. The grilled meats and ribs being served around us looked appetizing. Oh, well, tough grouper is healthier than tender ribs.
Breakfast at Lisboa Plaza is served in the exquisite dining room. The buffet is sumptuous and it was a struggle to keep from overindulging.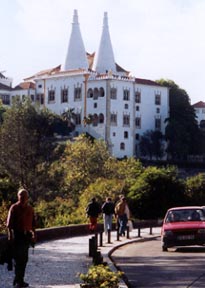 We met Cornelia and Fabio at the Rossio station and we were off to Sintra. The moment you exit the train station and head to the old town, you are enveloped by nature, lush greenery, colorful flowers and rising hills of parkland. Then the architectural beauty of Palacio Nacional de Sintra with its high, white chimneys and then into the maze of pedestrian streets of Sintra Vila.
We had been here in 1997 and were unable to visit Palacio da Pena as it was the venue for an international conference and was closed to the public. So we headed directly to the bus (600 escudos round trip) for the glorious ride up the mountain through thick woods of exotic trees and shrubs amongst which are streams, springs, lakes and a variety of animals living freely. Every turn in the road revealed a glimpse of a stately quinta buried in the green.
[Back to Top]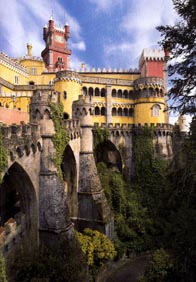 The bus dropped us off just below the castle and as we trudged up the castle seemed to grow out of the rocky hillside like a natural extension. The first sighting blows the mind. The immediate thought is Disneyland - no, it's real. Built in the first half of the 19th century over the ruins of a 15th century convent, it reflects the fantasy and romanticism of the period. The architecture can only be described as a stunning, eclectic mixture, standing tall in soft colors of yellow, rose, blue and gray.
The views of the Sintra Mountains and the Pena Park below are breathtaking. A tour of the interior is very worthwhile because it is so well-preserved and there is a fine collection of the original furnishings. Some of the rooms not to be missed are the Arab room with frescoes on the walls and ceiling, the huge ballroom with fabulous furnishings and stained glass windows and the kitchen.
The Sintra Mountain was once called the Mountain of the Moon, which conjures up supernatural forces. There are natural magnetic properties because of massive deposits of iron ore. You can go into a cave and your watch will stop. You can shut off your car at a particular point and feel the car being pulled uphill. We didn't experience this phenomenon but it is so recorded. What can be seen is the result of an amenable micro-climate, an ecosystem that is extraordinarily rich in its biological variety.
The journey on high was very stimulating and we were all ravenous. We hurried through the cobblestone streets and alleyways to Tacho Real at rua da Ferraria 4, which had also been suggested by Lisboa Palace. We were welcomed by the hostess in the delightful reception area and bar, which was furnished with wonderful old pieces and accessories. The decorating style was carried throughout all the individual dining rooms and with the stucco and tile walls created a relaxing, old world environment. We shared Arroz a Pingolana - the freshest king fish, hake and shrimp combined with rice and flavored with coriander, tomato, onion, garlic and olive oil were cooked to the perfect doneness; the rice was al dente, the fish moist and tender and the shrimp crunchy. We nibbled on black olives marinated in garlic and oil before, during and after. The service was superb and the cost very reasonable.
[Back to Top]
Lisbon
Back in the city, we boarded one of the splendid wood and brass cabins of the Elevator de Santa Justa that rises from rua do Ouro in Baixa to Largo do Carmo above. From that level, we swirled up the narrow, spiral staircase to the outdoor cafe at the top. It's an eye-popping view of the Baixa grid, Rossio, the river and the castle. The elevator was designed by an apprentice of Eiffel and is a show stopper. It's made of iron with an intricate, ornamental design.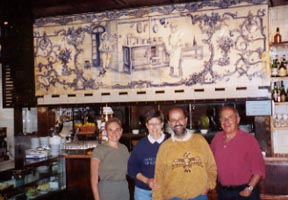 Down at the Praca do Comercio, we had a cold drink at Cafe Martinho da Arcada, which place is famous for its natas (tart-like pastries filled with egg custard). It was not easy to pass on this delight but it was getting near dinner time.
Speaking of which, we boarded tram #28 to return to Farol de Sta. Luzia in Largo Sta. Luzia. Guess we were tired because two stops after the right one we realized our mistake. All was not lost, in fact it became very worthwhile. Tram #28 is very popular since it travels through some of the oldest parts of the city. So, we decided to stay on and take the full tour. It was marvelous, twisting and turning by the castle, through Alfama and then west as far as Prazeres.
Our tram was filled with a constant flow of commuters and tourists. The windows were open and the sounds, sights and smells of early evening life was all around us. It seemed as though everyone was in a happy frame of mind shouting greetings to passers-by or engaged in lively conversation aboard the tram. We were visitors enjoying the historic settings we were traveling through, not being made to feel as though we were intruding at all.
We had not made a reservation and were lucky there was one table left for us. It would have been a wait since we arrived at the peak time (21:00). We started with a mixed salad and a sliced tomato salad even before deciding on dinner. Cornelia loved her seafood and rice at lunch so much that she had a repeat here and enjoyed it just as much. Fabio and Linda were light on appetite and had grilled chicken and shrimp soup respectively, which they thoroughly enjoyed. I was happy nobody was interested in sharing, since my fresh pargo cozido (boiled pargo), seasoned beautifully with pepper and bay leaves and served with boiled potato and fresh green beans was great. Fresh off the vine grapes and melon were shared by all. This place is real good, home cooking with quality ingredients at very fair prices.

Continue traveling along with us or choose a link from below
(1) Porto
(2) Porto
(3) Minho
Viana do Castelo, Ponte de Lima, Ponte de Barca,
Soajo and Arcos de Valdevez
(4) Minho
Vila Praia de Ancora, Moledo, Camarido, Caminha,
Vila Nova de Cerveira, Valenca, Moncao, Melgaco
(5) Douro and Tras-os-Montes
Pinhao, Regua, Sabrosa, Pedras Salgadas and Vidago
(6) Douro and Tras-os-Montes
Pinhao, Mirandela and Braganca
(7) Douro
Pinhao
(8) Douro and Beiras
Lamego, Britiande, Mealhada and Coimbra
(9) Lisbon
(10) Lisbon
(11) Lisbon and Coast
Cascais, Estoril and Sintra
(12) Alentejo
Monsaraz, Redondo, Elvas, Borba and Vila Vicosa
(13) Alentejo and Beiras
Marvao, Castelo de Vide and Belmonte
(14) Porto

Search TheTravelzine | TheTravelzine Group | Don's Gallery
Packing Hints | Planning Tips | Cities Links

---
All pages on TheTravelzine.comęCopyright 1996-2020 Don & Linda Freedman