Britiande | Lamego | Mealhada | Coimbra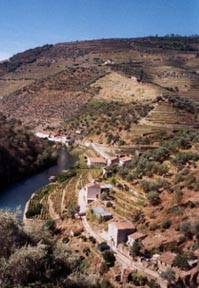 After a leisurely breakfast, we drove west on route #222 to overnight in Lamego en route to Coimbra. The winding road was heavy with the traffic of trucks of all sizes bearing grapes. As a few turned off to a nearby production center more came down from the vineyards to take their places. The slow pace allowed us to enjoy the beauty around us, even if the trip took twice as long as it should have taken. We picked up N2/IP3 to Lamego and arrived at the Hotel Lamego in the mood for a great lunch.
The cheerful folks at the reception enthusiastically greeted us. Marta, the bright, personable sales manager recommended that we drive over to the nearby village of Britiande to Polo Norte (Tel: 054-69-91-25) for a wonderful meal of local specialties. When we parked the car, Linda thought the restaurant looked familiar but it didn't to me, the expert on such matters. After we were back home and I was looking at our 1999 travelogue, when we visited Lamego for the first time, sure enough we had eaten at Polo Norte! We loved it then; we adored it this time! It's the prototypical homelike village restaurant, family-run and filled with locals. As soon as we entered we became part of the family. Our waitress suggested we have the leito assado (roast suckling pig) and the cordeirinho assado (roast lamb), both of which are raised locally. Mealtime ecstasy for us is farm raised meat, naturally tender and delicious, roasted to perfection, served with a clay pot of herb flavored, white rice and a bowl of garlic roasted potatoes. No wonder everyone in the diningroom was eating the same thing and smiling at us as our delight became obvious. We didn't want to leave. We just sat there and savored the moment, enjoying a bica (espresso) and a pingo (espresso with a dash of hot milk).
[Back to Top]
The hotel sits high on a hill overlooking the valley below and hills beyond. The facilities are marvelous. The health club has an indoor pool, fitness room, squash, sauna, whirlpool, massage, Turkish and Scottish baths, a game room and a snack bar. A heated swimming pool and tennis is outside on the terrace.
The design of the hotel is clean, crisp, contemporary done with simplicity and good taste. Our room and bathroom were very generous in size with well-coordinated furnishings and fittings.
Marta introduced us to the adjacent Vista Alegre House, which was built in 1927 and still has its original decoration, furniture and furnishings. The impressive blue tiled reception hall, the library with magnificent fireplace and carved wooden ceiling and the large dining room with its woodworked walls and ceiling are stunning. The guest rooms and suites vary in size but each is a picture of the charm of the olden days. Since the building has no central heat (and is not air conditioned), it is closed during the winter. Guests who stay at the Vista Alegre House have access to all the facilities at the hotel.
Lamego is a sweet town within the demarcated Port area. On our last visit, we found to our delight that the area also produces a quality sparkling wine, Raposeria. The main attraction in town is Nossa Senhora dos Remedios, a small chapel sitting high on a hill accessed by an awesome double staircase of almost seven hundred steps with nine beautifully decorated terraces. This is a destination for pilgrims, many of whom climb the steps on their knees. The Gothic cathedral and Museu de Lamego in the center of town are well worth visiting.
[Back to Top]
Highway IP3 south took us through Viseu to St. Comba Dao where we picked up route #234 to our first overnight in the Coimbra area, the Bussaco Palace Hotel, Mealhada. We were staying in the Coimbra area three nights but it took some juggling to find reservations. In the end, the best we could do was one night each in three different hotels.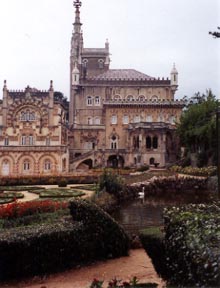 Hidden by thick growth and tall trees within the ancient forest of Bussaco is the Bussaco Palace Hotel. This neo-Manueline creation is surrounded by a wall with nine entrances. The intricate carvings, towers and spires are entrancing and the surrounding gardens are a splendid bridge between the hotel and the forest. The lobby, lounges and dining room are as breathtaking as one would expect in a hunting palace built for a king. Our nicely furnished room and bathroom overlooked a gorgeous part of the garden.
Mealhada is famous throughout all of Portugal for its roast suckling pig. There are many restaurants up, down and around the town offering this delight. Everyone has his own special favorite. On Saturday and Sunday these roads are jammed with families from as far away as Lisbon and Porto hurrying to their reserved tables.
[Back to Top]
We checked-in and then followed our nose down route #234 toward Mealhada and spotted Churrasqueira Rocha with a busy parking lot. The large dining room was packed with people digging into plates piled high with succulent, roasted meat. Between the sights and the aroma we could hardly wait to be seated and get our share. The leitao is served with delicious thin, crisp homemade potato chips and a tossed salad. The service is pleasant and swift. We were happy campers.
It was a lovely day so we enjoyed a nice, long walk through the forest and gardens. It was Linda's birthday and we had decided to splurge in the Bussaco Palace restaurant. The room is incredibly beautiful with magnificent stone and woodwork. A combination of inept, stiff, surly service and food that was mediocre, at best, was really a letdown especially on this special day. On the plus side, breakfast in the dining room was excellent with a quality buffet and superb service.
[Back to Top]
Our main reason for returning to Coimbra for a third time was to visit with our dear, dear friends Isabel and Paulo and Paulo's family. Not that there aren't many good reasons to explore this wonderful city as we discovered on our first visit in 1997.
We checked into the Hotel Tivoli for one night. A very nice fellow unloaded our car, whisked it away and reappeared in time to take us to our room, which like the rest of the hotel was modern and well equipped. Both the bedroom, smartly furnished in light woods and cane with excellent closet and luggage space, and the bathroom, with a few thoughtful extras like a comb, nail file and cotton balls, were very spacious.
The health club offers Turkish bath, massage, gymnasium and a pleasant indoor pool. All the public rooms are comfortably and attractively designed and furnished. Although on the surface this appears to be a modern, business hotel, we found it has a warm European charm and style from the caring staff to the overall environment.
Isabel and Paulo came right along and they whisked us over to Paulo's parents' home. Maria Antonia and Francisco knew that yesterday was Linda's birthday and that today was mine so they prepared a birthday lunch to help us celebrate. Just being together was celebration enough for us. These warm, wonderful friends will always be reason enough for us to think of Portugal as our second home.
The family's long time housekeeper and friend, Fernanda, makes magic in the kitchen and we feasted on small fried fish, cod fish cakes, shrimp toast, potatoes and rice and a fresh mixed salad. Francisco knows and loves wine so, needless to say, the red wine with the meal and the Port afterwards were superb. The dessert course was a gorgeous birthday cake, pineapple mousse and my favorite rice pudding in the whole world.
[Back to Top]
After lunch we all took a walk in a part of the city where they knew we had not previously been. We started in Praca 8 de Maio, home of the town hall and the historical church of Santa Cruz. The square, the cafe adjacent to and part of the church, were buzzing with young and old enjoying the nice weather and live music performers. We were delighted by the busy labyrinth of pedestrians-only stone streets, old buildings and nice shops we were seeing for the first time. This wonderful old shopping area is slowly being renovated - maybe too slowly, because the potential seems enormous. The Praca Comercio too was bustling with activity and the nearby Praca Alta was packed with folks shopping at the flea market.
We drove to the nearby park, Dr. Manuel Braga, on the bank of the Rio Mandego, which runs through the city. The green park is a beautiful spot to relax and appreciate the beauty of the river front. There are cafes to have a snack or beverage and river cruises are available from the docking area.
There is a new bridge (Europa) being built over the river with appropriate road connections. High rise apartment buildings are springing up all around. This city appears to be prospering.
The initial impression is that Coimbra is strictly commercial or, at best, has a splendid university that must be seen. Yes, there is commerce and an incredible university, but there is a plethora of history, culture and beauty that awaits the visitor who is willing to walk the streets, squares and hills.
We had all told Maria Antonia we were quite full from lunch and that she should not prepare too much for dinner. She spent the entire afternoon insisting that we should have the roast lamb that had been prepared. We said no; she smiled and said yes. You don't argue with this lady - particularly when you arrive home to the aroma of not only the lamb but also roasted sparga (a firm white fish). We all laughed, drank some wine and started filling our plates with these delights - and seconds!
The next morning, we thoroughly enjoyed our breakfast in the Tivoli's attractive restaurant Porta Ferrea. This was the first buffet that had scrambled eggs the way we like them - light, fluffy and hot. An outstanding raisin-nut bread and a marvelous selection of cheese were the other highlights.
[Back to Top]
We used the Santa Clara Bridge to cross to the south bank and headed to Quinta das Lagrimas. This Relais and Chateau hotel is another hotel with the Treasures of Portugal designation.
The present owner's family came into possession of the quinta in 1730. The palace was built in 1879 but a big fire destroyed most of the house not long thereafter. Extensive reconstruction was required and the architectural style is thus from the 19th century. There is a very romantic legend about Quinta das Lagrimas that can be found on the hotel web site.
We drove through the stone gate down the long, narrow boulevard to the grand entrance. On either side of us was the nine-hole golf course. There is also a pitch and putt area, a driving range and a golf academy. This was all built since our last stay in 1999. The other major improvements were made to the large pool area and surrounding grounds.
The gardens of Quinta das Lagrimas, a paradise of rare and exotic species, can compare with the richest botanical gardens of Portugal. Even if there weren't the romantic tale of Dom Pedro and Dona Ines, Quinta das Lagrimas would be a honeymoon heaven.
The front circular stone steps and patio lead to an elegant entry hall. The reception area and adjoining lounges are luxuriously comfortable and graced with old world charm. The staff was personable, extremely helpful and committed to making our stay memorable. Our lovely first floor room opened onto the gardens. The blue tiled bathroom was divided, with a separate room for the toilet and bidet.
We had some time before our friends would pick us up for lunch so we took the opportunity to walk through the gardens and be captivated by the plantings and the magnificent trees. I even had time to slip down to the bar and shoot some pool. It's been many years since I hovered over the green and it took a long time to sink all the balls. I did complain that the table had the smallest pockets I had ever seen.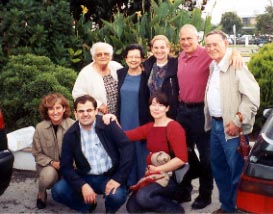 We were so happy that the rest of the family from Coimbra were able to join us for lunch.Aunt Julia, her daughter Paula, husband Joao and their daughter Joanna have always been there for us and it is a joy for us to be with them. It was Sunday, family day in Mealhada. Paula had wisely made reservations at Casa de Sarmento, Restaurante Meta dos Leitoes. We had a memorable time sharing the events in our lives since 1999 while enjoying the tender, tasty, roast pig with the ever-present chips and salad. The owner of the restaurant produces his own sparkling white wine, Sarmentinho, which is common to this area and is delightful with the leitao. After lunch, we said our good-byes to the family, Isabel headed up north for her work the next day and Paulo dropped us back at the hotel. We'll miss them.
[Back to Top]
We made a reservation for a late dinner in the hotel dining room, electing to sit in the enclosed patio section overlooking the garden, less formal than the adjoining dining room. Comfortably seated, we were served a glass of champagne while we perused the menu.
Our starters, salmon in a puff pastry and a fresh vegetable torte in a peach vinaigrette tasted just as beautiful as they looked. Seafood bisque loaded with fish and shellfish was excellent. As mains, we shared stacked prawns, lobster and turbot served with thin slices of beets and red pepper and cabrito assado (roast kid), with roast potatoes and spinach. The Quinta das Lagrimas Tinto was delightful.
The service had been impeccable and unhurried with plenty of time between courses. Having trouble deciding on the dessert, we were offered a tasting selection of the homemade sherbet and ice cream, fresh fruit, white and dark chocolate mousse and as we sat sipping a tawny Port, the waiter presented a dish of almond, burnt sugar crisps touched with powdered sugar. We just love the treasures of Portugal!
The excellent breakfast buffet in the gracious breakfast room was just another lovely reason we will return to Quinta das Lagrimas someday.

Continue traveling along with us or choose a link from below
(1) Porto
(2) Porto
(3) Minho
Viana do Castelo, Ponte de Lima, Ponte de Barca,
Soajo and Arcos de Valdevez
(4) Minho
Vila Praia de Ancora, Moledo, Camarido, Caminha,
Vila Nova de Cerveira, Valenca, Moncao, Melgaco
(5) Douro and Tras-os-Montes
Pinhao, Regua, Sabrosa, Pedras Salgadas and Vidago
(6) Douro and Tras-os-Montes
Pinhao, Mirandela and Braganca
(7) Douro
Pinhao
(8) Douro and Beiras
Lamego, Britiande, Mealhada and Coimbra
(9) Lisbon
(10) Lisbon
(11) Lisbon and Coast
Cascais, Estoril and Sintra
(12) Alentejo
Monsaraz, Redondo, Elvas, Borba and Vila Vicosa
(13) Alentejo and Beiras
Marvao, Castelo de Vide and Belmonte
(14) Porto

Search TheTravelzine | TheTravelzine Group | Don's Gallery
Packing Hints | Planning Tips | Cities Links

---
All pages on TheTravelzine.comęCopyright 1996-2020 Don & Linda Freedman