Forty Days Celebrating Forty Years!
Fall 2002
Berlin
The day was warm and sunny as we boarded the ICE train (reservation required) at 10:00 bound for Berlin. The first class car appeared to be brand new with wide, adjustable leather seats, tables with lots of work space and convenient storage space built-in throughout the beautifully-designed car. It was a very comfortable two-hour trip and we arrived at the Zoologischer Garten station at 12:07.
At last we made it to Berlin, a city that has intrigued us for years! We have traveled much of Germany, enraptured by its beauty and diversity while enjoying the warm hospitality of its people and now we would begin to experience its largest city. Berlin is a city in the midst of redefining itself while coping with its turbulent and extreme past.
Berlin is now a unified city of 3.5 million inhabitants living in 890 square kilometers, geographically nine times the size of Paris. The decision to move the national seat of government from Bonn to Berlin gave stimulus to government and business to move swiftly to create and build a German capital that would be a serious rival to Paris, Rome, London and New York.
We were soon to witness the swift change that has already taken place. Although world's economic problems have hampered progress, the number of projects underway is impressive.
Berlin is big. We knew that in four days we would only be able to get a sampling but if it lived up to our expectations, we'd return. In preparation for our visit, we had read a great deal, became familiar with the city map and got a good feel of how and where we would spend our time.
We decided to locate centrally in the west, handy to the districts of Charlottenburg, Wilmersdorf and Schoneberg. The metro and bus system is superb and it's minutes to the east and the districts of Mitte, Friedrichshain and Kruezberg.
[Back to Top
It was difficult passing the grilled sausages smiling at us at one of the two food kiosks in the train station as we made our way out to Joachimstalestrasse, walking south to the corner of Kurfurstendamm (called Ku'Damm) and the Comfort Hotel Frühling am Zoo, now the Hotel Zoo Berlin. The location, minutes from the train station, metro and bus and on the west's major boulevard, is excellent. The reception is up a flight of stairs; you're on your own with your luggage. Adjacent to the reception area is a bar and windowed breakfast dining room with views of the busy streets below. Breakfast, by the way, maintained the tradition of a bountiful, beautiful buffet.
Our good size twin-bedded room had a sitting area with a sofa, desk and chair and a mini kitchen area, including a sink, stove and minibar-fridge, with a smattering of utensils and dinnerware. The white tiled bathroom with tub/shower combo was also good size. Other than looking a bit tired, it was clean and comfortable. Unfortunately we hit a spell of very hot weather and the combination of no air conditioning and the location on busy streets made sleeping quite difficult until we managed to get a fan. The windows are soundproofed and it is fine when they are closed.
We ventured out on famous Ku'Damm to start our Berlin adventure and to seek a fast lunch before heading west to the Grunewald area of Wilmersdorf, the essence of urban lifestyle. This seductive, wide, handsome boulevard is delightfully green with tall, thick trees lining its length (3.5 km). Sidewalk cafes filled with people-watchers enjoying a beer, the occasional coffee, pastry or ice cream delight. Restaurant tables spilling onto the sidewalks revealed tempting lunchtime delights. Ku'Damm is a feast for the eyes and senses, alive night and day with chic shopping, theaters and hotels.
Opting for a quick lunch fix, Linda (the ice cream junkie) popped into Haagen Dazs for a double scoop cone and I got a herring sandwich at Gosch Sylt at Ku'Damm 212. Located at the corner of Uhlandstrasse, this fast food seafood eatery is always packed inside and out. It's a cute environment that serves fresh, well-prepared seafood at very reasonable prices. We returned one evening for a fish soup (broth served separately with three fish filets and vegetables to be added as desired) and fried fish filets with yummy fried potatoes and onions and a green salad.
Grunewald is a forested, wealthy area with magnificent homes and villas, many of which were taken from their owners during the Nazi era, some having since been returned to the original owner's families. A number of them have been restored but some are decaying while awaiting restoration. We had come to visit the Grunewald Train Station, a deportation center to the death camps. The powerful "Void Figure" monument greeted us. Standing on the platform, we gazed silently at the tracks which were emblazoned with the dates, numbers of Jews and destinations of all who left from this station. (The Nazi's were meticulous record-keepers.) We were to learn how Berliners are confronting the past and are working determinedly to be sure history doesn't repeat itself.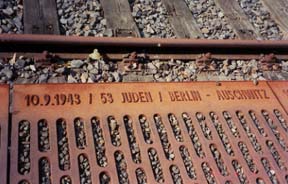 [Back to Top
At street level, beneath the elevated S-Bahn at Savigny Platz, is a narrow passageway lined with neat shops and cafes. Kantstrasse and the other streets that radiate off the square, have always been the meeting place for media types, artists and writers. There are many interesting restaurants and cafes from which to choose. Was it to be Italian, French or Greek? (Certainly not the hooker stationed unceremoniously in her sparkling top, short shorts and high boots!) Greek it was. Throughout this multi-cultural metropolis, we found wonderfully diverse culinary options, those already mentioned plus Turkish, Indian, Arabic, Middle Eastern, Jewish and Eastern European.
Grolmanstrasse, which runs between Savigny Platz and Ku'Damm, is home to quaint boutiques, many of which feature antiques and home furnishings. Terzo Mondo, a typically styled Greek taverna caught our attention because we were in the mood for a vegetarian meal and Greek mezedes (appetizers) and salads fill that bill. The owner, besides being a competent Greek chef, is a noted poet and in keeping with the neighborhood, his taverna is popular with poets and artists. It had been a hot day and a Bitburger Beer with a beautiful thick head was a welcome sight. Our assorted cold appetizer plate of tzaziki, taramosalata, creamy feta cheese, dolmadakia, skordalia, tomato, cucumber, onion and cold lima beans was outrageously delicious. Each and every item was expertly made in the traditional fashion and the vegetables were very fresh. To warm it up a bit we ordered a plate of gigantes (huge lima beans baked in tomato sauce) and vegetarian keftedes (vegetarian "meatballs"). Each was accompanied by lots of salad, which made the horiatiki we had ordered overkill. They were kind enough to wrap up our leftovers for lunch another day (great having the minibar). The portions were huge, the food authentically prepared and the quality and service superb. All that and reasonable prices - thank you, come again!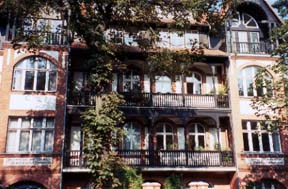 If you dream of living in an elegant, sophisticated, stylish yet casual neighborhood, then the district of Wilmersdorf, south of Ku'Damm, is the place for you. It's a neat area bordered by Ku'Damm to the north, Duesseldorferstrasse on the south, Konstanzerstrasse to the west and Fasanenstrasse on the east. Within this square district, the squares of Fasanen Platz, Ludwigkirch Platz and Olivear Platz, linked by Ludwigkirchstrasse and Pariserstrasse are all beautified by trees, shrubs and flowers and gorgeous apartment buildings and homes. Each square is a welcoming gathering place and the streets are lined with wonderful food and pastry shops, as well as restaurants and cafes discreetly incorporated into the buildings at street level. Fasanenstrasse, with its elegantly designed buildings, boutiques and galleries, is a particularly fascinating street.
[Back to Top
While strolling along Ludwigkirchstrasse, we came across a window of the most awesome looking pastry ever. If you have read our travelogues, you have probably read this proclamation before - well this is the latest and after indulging we can unequivocally state that this was the best pastry we have ever had anywhere. Linda was swooning while consuming a huge wedge of plum torte. I had opted for a proscuitto, cheese and vegetable sandwich on a long, dark roll, which was carefully prepared and piled high. Just a taste of the torte (that's all she would let me have), convinced me that I couldn't live without the apple-almond cake, which I hadn't taken my eyes off from the moment we arrived. Heaven! Tilmann Der Vollkomkonditorei is at Ludwigkirchstrasse 3, with another location at Bergiusstrasse 36.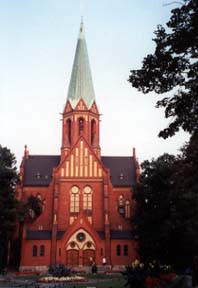 Adjacent to Ludwigkirch Platz is the quaint church of the same name, in front of which is a lovely park with a fountain, bright flowers and lots of greenery. We relaxed on one of the shaded benches savoring our lunch.
Speaking of green, it seems that Berlin disputes Hamburg's claim that it is Germany's greenest city. Berlin also has its share of picturesque rivers and canals but only has 1700 bridges compared to Hamburg's 2400. In both cases Mother Nature's gifts have been carefully preserved to dramatically enhance the quality of life. Protecting the ecology is of paramount importance in Germany and we wish North America would get its act together and emulate the efforts here.
Our friend Pierrette, currently from Dresden, had come to spend a couple of days in Berlin with us and her colleague had recommended the Cafe Restaurant Hamlet, Tel: (030) 882 1361, at the corner of Uhlandstrasse and Ludwigkirchstrasse (can't escape this area!). We tried sitting outside but the smokers drove us indoors to a comfortable spot in the rear. Tonight we enjoyed Erdinger dark beer while Pierrette had Chilean white wine. While munching on great bread and tzaziki spread, we made our dining decisions ranging from spaghetti arrabiata, to skewered grilled shrimp and salmon to baked fish filets. All were quite good and, again, reasonably priced.
[Back to Top
In general, we found that the prices for food and accommodation in Germany represented a far superior value in comparison to Switzerland and, to a lesser degree, France.
Whereas Wilmersdorf was upscale, traditional and sophisticated, as we walked eastward into Schoneberg the ambiance became much more eclectic and modern. Nollendorf Platz is home to the famous Metropole Dance Hall and other entertainment venues. Strolling south on Goltzstrasse and Akazienstrasse, exploring the side streets along the way, gave us a sense of the cultural and lifestyle differences between the districts. No exclusive, famous-name fashion boutiques here, but if you crave innovative fashion with a definitive, trendy flair, Schoneberg is the place you'll want to be.
At Goltz 24 in Winterfeld Platz, we saw folks milling about with hands full of stuffed pitas. This is Habibi falafel and shawarma heaven. Two hands are required for these pita pockets filled with six, large, superb falafels plus vegetables and sauces - very special indeed! The food offerings along the way reflect not only the ethnic composition of the area but the culinary preferences of the locals. One can choose from Indian, Middle Eastern, Latin, Italian, hot dogs, pizza, Tex-Mex and, presumably for visitors like us, Tim's Canadian deli.
Winterfeld Platz was a hub of activity with neighbors chatting, skateboarders and in-line skaters practicing their sport and an array of street vendors. We were told that this area is bustling during the Saturday morning market.
[Back to Top
In between the restaurants and cafes, filled with the young people of the neighborhood, were many interesting shops with antiques and weird shoes plus nightclubs and bars for the evening entertainment. It looked like the area would be lively 24 hours a day.
Bridging west and east at the southeast corner of the Tiergarten is Potsdamer Platz. This square was once Europe's busiest and its rebirth and revitalization has been spurred by the Sony and Daimler Chrysler Centers, whose contrasting architecture is controversial.
Sony City, a tall, long and graceful glass and steel complex with a circular, dramatic, glass dome at its heart is an entertainment center with theme restaurants and shops rounding off the leisure time offerings. A section of an old building has been neatly incorporated into the interior design.
Across the way the Daimler Chrysler complex is devoted to shopping, dining, living and business, a total lifestyle complex. Designed according to the master plan by the Renzo Piano Workshop and built with bricks the colors of Tuscany, it is a feast for the eyes.
There are plans (with much construction underway) to rebuild nearby Leipzeiger Platz by 2005 in its original octagonal form with prime upscale offices, residential dwellings, restaurants and shops. The new Canadian Embassy will be located here.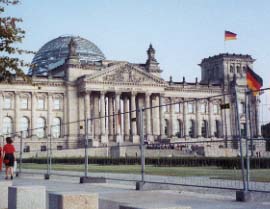 The neighboring Lennedreieck, along the Tiergarten, is being developed with more luxury hotels, apartments and offices along with five government buildings, all in view of the soon to be finished restoration of the Brandenburg Gate and the redesigned Reichstag with its new and innovative glass cupola, an architectural masterpiece. These three projects will give birth to the new, old heart of Berlin.
The rebuilding of the city has provided the opportunity for architects around the world to create impressive and important structures while meeting the challenge of incorporating into their designs what remains of the wonderful, old buildings on the historic sites they will occupy. So far we like what we see, although much remains to be done; we hope to return to follow the progress.
[Back to Top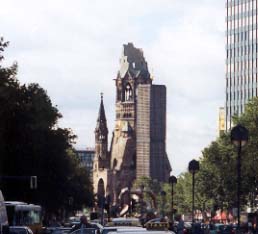 Near our hotel is Breitscheid Platz, the true heart of the west. It's where tourists, locals and teens on skateboards hang out entertained by street performers. It is a center of contrasts dominated by the ruins of the bombed-out Kaiser Wilhelm Gedachtniskirche, the Europe Center shopping mall and towering modern buildings.
In our wanderings through Wilmersdorf we came across another interesting Greek taverna, Ta Panta Ri at Duesseldorferstrasse 75. Pierrette had spent a few years living and working in Athens so she welcomed the opportunity to have Greek food for dinner. The cheerful, loquacious owner showed us to a table and made us feel right at home. This was Berlin but it sure felt as if we were in Greece. We started with a warm appetizer platter which went well with the retsina Linda and I were drinking and Pierrette's Greek white wine. The portion for two we ordered turned out to be enough for four, which resulted in our canceling one of the other dishes we had ordered deciding instead to share the roast lamb. The appetizers of fried eggplant, zucchini keftedes, tiropitakia, spanakopita and fried cheese were complemented by tzaziki, tahini, taramosalata and fresh vegetables. All were well-prepared, even if a bit greasy. Unfortunately the roast lamb was overcooked, chewy and tasteless - reheated would be our guess. The owner and the environment were fun but the kitchen needs more emphasis on quality and freshness.
[Back to Top]

Bremen | Hamburg | Berlin
Potsdam | Dresden, Bautzen and Gorlitz
Nürnberg | Karlsruhe | Zürich | Strasbourg | Bern
Annecy | Avignon | Marseille | Aix-en-Provence | Paris
Search TheTravelzine | TheTravelzine Group | Don's Gallery
Packing Hints | Planning Tips | Cities Links

---
All pages on TheTravelzine.comİCopyright 1996-2020 Don & Linda Freedman