Forty Days Celebrating Forty Years!
Fall 2002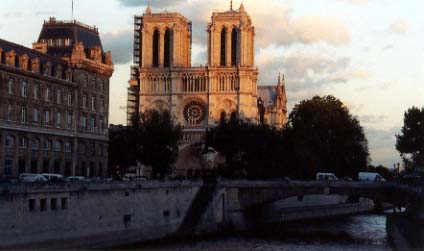 We ran through a heavy downpour to the bus for the TGV station (3.60 EUR each). It's usually a twenty-minute drive but it took a bit longer on this wet day. We still arrived early for our 10:44 train to Paris so we had plenty of time to enjoy coffee and croissants and dry off a bit. We also bought sandwiches and drinks for the train. The new TGV stations are quite modern in design, well-planned for easy movement and comfort.
Paris
We arrived at the Gare Lyon, Paris at 13:41 and jumped on bus #63 just out front to the St.-Sulpice stop. It was a few minutes walk to Hotel Le Clément, where we had reservations. This was our first stay in this clean and charming hotel and it won't be our last (if we can get reservations after telling all of you about it!). Our rear room had windows facing a tiny, inner garden courtyard and easily accommodated twin beds together, end tables, desk and chair with plenty of room left to walk around. The decor was nicely done with floral print fabric on the walls and matching drapes and carpet. Closet space was excellent, there was a safe for our convenience and satellite TV and air conditioning were all appreciated. The nice-size bathroom had a tub and shower with an enclosure, very good lighting and a hairdryer.
The pretty lobby had comfortable seating and an adjoining bar-cafe-breakfast room was lovely. We first read about this hotel in the Margo Classé book Hello France! This is an excellent value hotel in a great location. It was the last days of a long trip and we just felt like relaxing and strolling around the lively, picturesque sixth arrondissement, soaking up the Paris ambiance and enjoying the cuisine.
[Back to Top]
Many years ago, we met two women in a restaurant who recommended a bistro that we thoroughly enjoyed at the time. So the first thing we did on arrival in Paris was to make reservations at Au Bon Saint-Pourcain to see if it was still worth recommending. The same gregarious, friendly owner greeted us, seated us and served us. He still offers a glass of white wine as soon as you are comfortable. The house wine is served by the bottle and you pay for what you drink. If anything has changed, perhaps it's that the cooking has gotten even better. The small place was filled with obvious regulars, except for the table of four American ladies who sat next to us, one of whom had been there before, just like us.
Our starters were heavenly - warm leeks vinaigrette with chopped egg and a bit of salad and a sautéed vegetable plate drizzled with delicious olive oil and fresh lemon juice. Linda had chicken cooked with mushrooms, onions, tarragon and wine and a side of comfy potatoes au gratin. My stewed lamb shank and vegetables on rice was simply superb. Tart Tatin and chocolate cake, both with fresh cream, polished us off - except for the brandy, offered by our host. All this and very fair prices; we will return.
We were looking forward to two Travelzine get-togethers. The first gathering was at L'Antre-Amis and the second at Les Philosophes, which we've written about previously. Both venues were ideal for long, chatty meals of reasonably-priced, good food. Once again it was great to meet Ziners face-to-face and to be with old friends; two marvelous evenings sharing travel experiences and future plans.
Our favorite place for bread, pastries and prepared food is Gérard Mulot, chocolatier, which is just around the corner from Hotel Le Clément (how convenient!). They plan to open a branch at 93 rue de la Glacier in the thirteenth arrondissement at the beginning of 2003. Their chocolate concoctions are terribly habit-forming. It is basically all take-out but there are a few stools that we managed to occupy for breakfasts and lunches.
And so it was! We left Paris well-rested and content with only eleven months to go before our next anniversary. Although the forty years flew-by these forty days didn't. The trip was a marvelous tribute to our wonderful marriage.
[Back to Top]
Bremen | Hamburg | Berlin
Potsdam | Dresden, Bautzen and Gorlitz
Nürnberg | Karlsruhe | Zürich | Strasbourg | Bern
Annecy | Avignon | Marseille | Aix-en-Provence | Paris
Search TheTravelzine | TheTravelzine Group | Don's Gallery
Packing Hints | Planning Tips | Cities Links

---
All pages on TheTravelzine.com©Copyright 1996-2020 Don & Linda Freedman