Forty Days Celebrating Forty Years!
Fall 2002
Hamburg
At 11:10, the train pulled into Hamburg, where we were met by our new Internet friend, Angela Boll, who had graciously offered to spend some time with us over the week-end to show us her beloved city. Angela owns Quiddjes Company, which specializes in working with companies in hosting their business partners and arranging city programs for individuals and small groups. She knows all the secrets of Hamburg, is well-connected and well-prepared to organize tailor-made events specifically suited to special wishes, hobbies and interests.
Angela approved of our choice of the Hotel Wedina, which she described as a hidden treasure. This homey, 3-star establishment is well known for the legions of writers who have enjoyed its hospitality. Rumor has it that some have been known to pay their hotel bills with autographed copies of their books, which are on display in the lobby. The hotel is located on a pretty street of old homes which runs between Lake Alster and Langhe Reine, about a ten to fifteen minute walk from the train station.
Langhe Reine is the main street through St. Georg, the multi-cultural district of the city, a hot spot day and night. The aromas of Portuguese, Italian, Mexican, Spanish, Chinese, Japanese, Turkish, Indian, Greek, and Arabic cooking permeate the atmosphere. Artists and booksellers live between the cafes, restaurants and food shops alongside galleries and old and new fashion boutiques. It's a fun street where you can enjoy good food at reasonable prices.
The hotel is quite basic and unpretentious, with a young, delightful, committed staff. The breakfast space and buffet bar is adjacent to the lobby with additional seating, weather permitting, in the lovely garden behind the hotel. All twenty-four modest size rooms have private baths. Our room, at the rear of the ground floor, opened to the garden. Twin beds together, a table and chair left ample room to walk around. There was an extra large bathroom with a large stall shower. The hotel has a few other properties across the street with various types of accommodation available. Our room was not ready so we left our bags in a storage area near our room (important information for later) and we were off and running.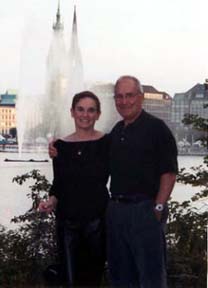 Hamburg is a city of 1.7 million inhabitants, the second largest city in the Federal Republic of Germany. It lies about 100 kilometers from the open sea on the River Elbe. It is a complex city of contrasting parts that makes it intriguing and exciting. In two days we would cover the basics, but we left knowing that we have so much more to learn about life in this city and its people. We would feel this way again at our next stop, Berlin; we have had our appetizers and we're looking forward to the main course.
The hotel is east of the Hauptbahnhof and we started our tour west of the train station along the pedestrian shopping streets. Spitalerstrasse is very wide and every inch was packed with Saturday shoppers, many with their eyes skyward. Perched high on the tall buildings were several senior actors sitting casually on chairs attached to the facades, costumed as the characters they were portraying, such as a woman crocheting - scary. The excitement was enhanced by a large variety of street performers. The wide boulevard was filled with cafe seating and there wasn't a chair to be had. Great shopping, lively entertainment and soon we would discover super food.
Spitalerstrasse runs into Monckebergstrasse, which has a different character in that this wide pedestrian street is lined with beautiful trees. It was obvious to us that "Hamburgers" love a good time, which we were about to discover extends to eating and drinking. As we approached Gerhardt Hauptmann Platz, the junction of the two pedestrian streets, delicious aromas wafted in our direction and miraculously, it was lunchtime! There before us stand after stand offered a variety of tempting delights and, of course, cool beers in glasses and pitchers. I ordered "Jever" dark for us and a beer/lemonade mixture for Angela. The girls went off to get the food and returned with a heap of potato pancakes with sautéed mushrooms and sour cream, which we devoured at a stand-up round table amidst the throngs.
[Back to Top
At the end of Monckebergstrasse is the magnificent Rathaus. This neo-renaissance sandstone beauty was built between 1886 and 1897. Inside are six hundred forty-seven rooms, six more than in Buckingham Palace.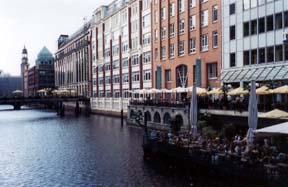 Nearly half of Hamburg is made up of parks, green areas, nature reserves, rivers, lakes and canals. There are more than 2400 bridges, more than Venice, Amsterdam and London combined. The canals near the town hall are alive with outdoor living, lined with cafes, restaurants and shopping malls. Parallel to the main canal from the lake is Neuer Wall, which has become Hamburg's Fifth Avenue. Fine shops and department stores are a tradition along Jungfernsteig which borders Lake Alster, from which ferries depart for lake tours. It's fabulous to have this gorgeous body of water in the middle of the city feeding the network of canals throughout the city south all the way to the river.
The Alster beckoned so we boarded a ferry to cruise its splendor. The day was glorious. Sailboats, rowboats, canoes and pedal boats dotted the sparkling waters. The diversity of the architectural landscape surrounded us: postmodern steel and glass, baroque churches, patrician villas, townhouses, contemporary apartment buildings. The rich lifestyle of the nineteenth century merchants is evident in the neo-classical buildings along the lake.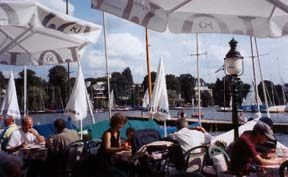 The ferry makes frequent stops as it navigates the lake and its canals so it is possible to get off and on as you please. We jumped ship at Krugkoppelbrucke, just north of Alster Park, to take advantage of the lovely day with a long walk through the park which borders the lake. At the stop, there is a yacht club with a lovely lakeside restaurant terrace and bathrooms!
Nearby, Angela drew our attention to a cute, small red brick bar, which she told us had previously been a public toilet. It seems there had been a program to convert these facilities to bars for economic gain.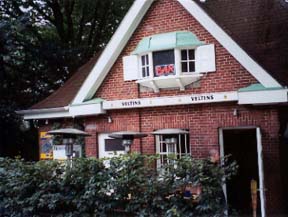 [Back to Top
It was a glorious walk through the pretty park with great people-watching and if that's not your thing, there's the lake at one side and splendid villas on the other.
Before heading home, we visited the imposing inner courtyard of the Rathaus and relaxed at a cafe with a refreshing Campari orange.
After we rested and cleaned up, we headed around the corner to Langhe Reine 40 to the restaurant Sgroi. We were impressed with the striking contemporary design, which is highlighted by the high ceilings, tall windows and stark, off-white walls adorned only by brown and white sketches. The brown leather chairs and banquettes work perfectly.
We started with a glass of Friuli Tocai. Italian, you ask? It seems the wine lists are almost totally Italian because the price of good German wines is quite high, attributed to limited production and the rampant rounding-up of prices in the conversion to the euro. This seemed to be a common complaint throughout our trip.
Since the restaurant had been closed for renovation and this was the reopening night, we asked the waitress what the kitchen would best be prepared to offer. The owner/chef was immediately summoned and after a lengthy discussion, she suggested we start with the homemade ravioli, stuffed with ground ham served with a few scampi in a delicate broth and a risotto with mushrooms, cheese, onions and blueberries. Before these two entrees, we were served an amuse bouche of thin, delicate dough stuffed with leek, olives and a cream/egg mixture, so good we could hardly wait for the main course to arrive. We were not disappointed - quite wonderful.
When we had discussed the main courses, we thought that the decision was quite clear and understood. There were four dishes that were appealing, two fish (Loup de mer, perch) and two meat (pork, goat). It was agreed that she would be able to do a half order of each and we would be charged the equivalent of two full orders (we assumed that there would be a bit of a premium tacked on).
Everything really broke down from this point on. We waited half an hour for the fish course, which was very good, and then we waited half an hour for the meat course. The orders were full size and we were charged accordingly. It's a good thing the portions were small - but the bill was not. We love a leisurely meal, but three and a half hours is a bit much and who would serve two people four main courses?!
[Back to Top
Sunday, September 8, 2002 - our fortieth wedding anniversary! The hotel knew because we had asked them to suggest a restaurant for tonight. When we sat down to breakfast, we were presented with a glasses of champagne, mercifully not accompanied by a chorus. The buffet was supreme with extraordinary breads and rolls, herring and smoked fishes, along with wonderful salads, cheese, fruit and much more.
Angela arrived after breakfast and we were about to leave when Linda remembered that she did not take her sunglasses and headed back to our room. Two people blocking the darkened corridor to our room moved aside to let her through, neglecting to move one of the small suitcases at their feet. My poor wife went flying, slammed into a jutting wall and badly bruised her shoulder, elbow and leg. She was hurting but we were thankful it was her shoulder that hit the wall and not her face, saved by an inch or two. Luckily it didn't slow her down a bit during the entire trip and the bruises disappeared by the time we reached France.
Because our time was so limited we decided to head down to the Elbe River at St. Pauli Landungsbrucken to take a comprehensive bus tour, only to discover that due to "Iron Man" events in progress, too many streets were blocked to permit the tour. All was not lost because boat tours of the port leave from the same area and this was our second choice anyway. We boarded one of the boats of the Rainer Abicht Line, through the comfortable lounges up to the top deck to enjoy the sunny, fresh air and an open view.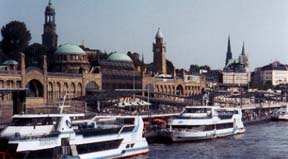 Thirteen thousand vessels from all over the world steam into this, Europe's second largest port, annually. The working port area with the huge container ships and stacks of huge containers is a sight to behold (the girls were not impressed - I guess it's a guy thing), as were the floating dry docks, where we could see a submarine in for repair. The huge buildings and warehouses fronting the city center area are being renovated into residential, entertainment and office complexes. It's an enormous area and a massive undertaking but should be a dynamic waterfront living and working place. The Cap San Diego, a former freighter, now museum ship, has dropped anchor permanently at the Uberseebrucke, as has the windjammer Rickmer Rickmers at the Hafentor.
We walked north through the spectacular greenbelt in the city center. From Wallanlager to Planten un Blomen to the old botanical gardens. This is much more than green. The entire stretch is carefully designed for sensual pleasure. The gorgeous plantings surround ponds, waterfalls, play and rest areas. We crossed over to visit the historic old Hamburg town houses on Peterstrasse and Neanderstrasse, a cute and quaint area. At 35-39 Peterstrasse is the Johannes Brahms Museum.
[Back to Top
Back to green and on to Planten un Blomen, a meticulously laid-out park with a large Japanese-style garden and greenhouses open to the public. We stopped for a gelati break (to cool off) at one of the numerous stands.
This afternoon was the final performance of Carmen Flamenco at the Hamburg Opera House. The well-connected Angela managed to procure three tickets. The Opera House, Germany's first, is more than three hundred years old.
The walk was both relaxing and stimulating, which was a nice prelude to a breathtaking performance, by Rafael Aguilar's Ballet Teatro Espanol, of one of the world's best-loved operas. The familiar music and storyline, combined with dazzling, erotic flamenco, brought tears of joy and audience adoration. The production was fabulous, a must-see if your itinerary is such that you are able catch a performance in the course of your travels.
Cox was the restaurant that the hotel recommended for our anniversary celebration. The only credit card accepted is American Express but don't let that stop you! Better make a note of the phone number (40) 24 94 22, because you will need a reservation. Cox is right at home in the lively St. Georg District. The atmosphere of contemporary warmth and charm was perfect for a romantic celebration. After we were comfortably settled, we were wished a happy anniversary along with a glass of fine-quality champagne. We toasted, sipped slowly, enjoying the aromas and happy buzz around us. As we perused the brief, thoughtful menu that focuses on market fresh and local cuisine, the owner/chef presented his best wishes with a starter of a skewer of tandoori maize-fed chicken with spicy cabbage and watermelon. We savored each bite, appreciating the artistic presentation and the tantalizing flavors.
The menu consisted of seven appetizers, two soups, two fish dishes and five meat offerings, the description of each so intriguing it was difficult to decide. Marinated slices of codfish with a yogurt and chive sauce and cucumber radish salad was as superb as a pumpkin mousse with cumin crackers, tomato salsa and goat cheese. Slow and easy was the way we enjoyed these treats along with warm, crusty, dense bread.
We decided on meat for our main courses, both of which were truly outstanding: pickled and smoked filet of lamb with a parsley crust served on a bed of various beets in horseradish broth and baked leg of fallow deer (2 large fillets), wrapped in paper-thin dough with mushroom crepes and a salad of white beets and apples.
The timing between courses was perfect as was the efficient and charming service. We finished our delightful evening with warm bread pudding filled with cuddled apples, almonds and stewed plums - total comfort, sweet dreams. Prices were reasonable for a dining experience of this quality and we will look forward to our next visit to Hamburg and to Cox.
[Back to Top]

Bremen | Hamburg | Berlin
Potsdam | Dresden, Bautzen and Gorlitz
Nürnberg | Karlsruhe | Zürich | Strasbourg | Bern
Annecy | Avignon | Marseille | Aix-en-Provence | Paris
Search TheTravelzine | TheTravelzine Group | Don's Gallery
Packing Hints | Planning Tips | Cities Links

---
All pages on TheTravelzine.comİCopyright 1996-2020 Don & Linda Freedman