Search TheTravelzine

TheTravelzine Group

Access Your Mail

Don's Gallery

Packing Hints

Planning Tips

Cities Links

Links
LINKS TO OUR TRAVELOGUES
Argentina, Buenos Aires - Jan-Mar 2010
Argentina, Buenos Aires - Jan-Mar 2009
Argentina, Buenos Aires - Jan-Mar 2008
Austria - Fall 2005
Belgium, Brussels - Fall 2000
Canada - Summer 2002
Canada - Summer 2001
Canada - Summer 2000
Czech Republic - Spring 2000
France - Fall 2002
France, Paris - Fall 2000
France, Paris - Spring 1999
France, Lyon - Spring 1999
Germany, Berlin - Fall 2009
Germany - Fall 2002
Germany - Spring 2000
Germany - Fall 1999
Greece - Fall 2012
Greece - Fall 1999
Greece - Fall 1997
Hungary - Spring 2000
Israel - Fall 1999
Italy - Winter 2007
Italy - Winter 2006
Italy - Winter 2005
Italy - Winter 2004
Italy - Winter 2003
Italy - Winter 2001
Italy - Fall 1998
Italy - Fall 1996
Netherlands - Spring 2000
Portugal, Azores - 2019
Portugal, Azores - 2018
Portugal, Sao Miguel & Lisbon - 2017
Portugal, Azores - 2017
Portugal, Azores - 2016
Portugal, Azores - 2015
Portugal, Azores - 2014
Portugal, Azores - 2013
Portugal, Azores - 2012
Portugal, Azores - 2011
Portugal, Lisbon - 2011
Portugal - Fall 2006
Portugal - Fall 2004
Portugal - Fall 2003
Portugal - Fall 2001
Portugal - Spring 1999
Portugal - Spring 1997
Slovakia - Spring 2000
Slovenia - Spring 1999
Slovenia - Fall 1996
Spain, Barcelona - Winter 2006
Switzerland - Fall 2002
Switzerland - Spring 2000
Switzerland - Spring 1999
Switzerland - Fall 1998
Switzerland - Fall 1997
Switzerland - Spring 1996
U.S. Florida, Key West - Fall 2006
U.S. Florida - Spring 2001
U.S. Maine - Summer 2002
U.S. Massachusetts - Summer 2003
U.S. Massachusetts - Summer 2002
U.S. Massachusetts - Summer 2001
U.S. New York State - Fall 2005
U.S. New York State - Summer 2004
U.S. New York State - Summer 2003
U.S. New York State - Summer 2001
U.S. Washington,DC - Spring 2000

Torino
As we left Valle d'Aosta and drove into neighboring Piemonte, we were looking forward to the four days we would spend in Torino on our first-ever visit to that city. We stopped in some interesting towns along the way, mostly for a quick peak for future reference. Ivrea is a large town with a fine, old center, which would require a good, long visit. Strambino is old in appearance and ambiance and we arrived there hungry to find everything locked-up tight for the midday rest period. Well, most everything, that is, but we caught two big breaks: Gastronomia Alimentari Pegorari and Tamborini Pasticceria, Caffeteria. The former is a gourmet food shop where we selected fried zucchini and egg, sauteed tuna and zucchini, marinated seafood and marinated fillet of mackerel. We sat down on the steps of the church in the deserted main piazza and had a marvelous feast. The latter, right across from the church was our third new favorite gelato find. This was arguably the very best. This gelato is worth the trip to Strambino. Equally compelling are the pastries and the nice, friendly people who serve you these treats. Caluso and Chivasso are two more cute towns we'll visit next time.
Of great concern to most travelers when driving, is not being able to understand road signs and the possibility of poor road conditions. From the moment we left Milan, we found the roads both large and small to be extremely well-marked and in excellent repair. It was to remain so for the rest of the trip even through the twisting, turning wine country of Piemonte. It would be very difficult to get lost.
We arrived at the three star Best Western Hotel Boston, Via Massena 70 at 15:30. The location is in a very nice residential area within reasonable walking distance of the train station and the city center. Non-walkers might find it necessary to use bus or taxi to access the city center.
(Redesigned, renovated and currently named the Art Hotel Boston, the hotel has obviously changed a great deal since we visited.)
The public and guest rooms are of decent quality. Our room was nice size with a king bed and our bathroom was well-equipped. The front desk staff was extremely capable and helpful but the one weak link was the extremely poor service at breakfast. The buffet was inadequately maintained and always seemed to be behind in refilling even the most basic of items, such as bread.
We were overwhelmed by the scale and beauty of the city as we drove through from the highway to the hotel, and were eager to explore all that we had seen. We strolled around the neighborhood with its imposing apartment buildings and upscale shops before we were to meet Simona (our newest internet friend we had met in Chiusi for the first time). She arrived promptly at 19:30 with her ever-present big smile and hearty welcome.
[Back to Top]
Greetings and introductions over, the five of us piled into her car and were off to Ristorante Rosa d'Oro, Viale Medici del Vascello 2, Druento, just outside the city proper. We were greeted at this big old house by our host, Mauro, a charismatic charmer, who is first and foremost an avid American football and baseball fan. On the serious side, he serves marvelous cuisine in a comfortable environment. To start, we were served proscuitto, breads and champagne, while Simona and Mauro discussed the menu of the evening. We could tell we were in good hands. Soon to follow was an assortment of seafood with a delectable olive oil to be added to taste, carpaccio of beef with truffles and shaved Parmigiano-Reggiano (extraordinary), vitello tonnato (cold, thinly sliced roasted veal with tuna, anchovy and caper sauce) and grilled peppers with bagna cauda (a Piemonte creation - anchovy and garlic sauce). The antipasti were accompanied by a light, delicious white wine, Roero Arneis 1997.
Between courses Mauro kept us entertained with his in-depth football and baseball knowledge. The spaghetti with shrimps, clams, mussels and octopus in tomato sauce was as perfect as this classic can get. We now relaxed with our first offering of a Piemonte red, a delightful Langhe Nebbiolo from Barberesco, medium body and rich in flavor. The main course was a tender filet with balsamic, arugula and Parmigiano-Reggiano was heavenly. We tried hard to pass on dessert, but Mauro insisted that we share panna cotta (cooked cream) and berries and fresh peach smothered in chocolate and almond bits. Like Richie says, Whoa Boy!
We started off the next morning at a street market a few blocks west of the hotel. It's a nice middle-class neighborhood and the house wares, apparel and shoes were of much higher quality than one would usually find at this type of market. We saw plenty of farm-fresh produce with a heavy emphasis on new crops of funghi and walnuts. After the girls got their fill of bargain shopping, we headed into the city proper.
"Torino is an industrial, technological city, don't waste your time" - This is the approximate version of the most frequent comments I had heard or read about this city. When I began the research for this trip and dug a little bit deeper, it became clear that there was a great deal more than industry. Sure there are the industrial and residential suburbs, but the historic city center is rich in culture, art and powerful baroque architecture.
[Back to Top]
We walked to the train station and Piazza Carlo Felice which is the south-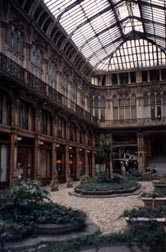 central entry to the center. As we walked north to the end of the piazza, we were awestruck by Torino's most famous street, Via Roma. The porticoes on either side are lined with elegant shops (these arcades line the streets for some 18km) and the street is divided in two by the spectacular Piazza San Carlo; the effect of the perfect proportions is stunning. It's been described as "the drawing room of Turin" and it's easy to see why. The centerpiece of the piazza is the equestrian monument, the Bronze Horse. There are several famous cafes in the piazza (Torino is well-known for its coffee - more later) and the vegetarian buffet we spotted in Caffe San Carlo caught our attention. It doesn't get better than sitting in one of the great piazza of the world, on a beautiful day, eating from a dish overflowing with grilled, marinated and fresh vegetables. Looking back at the far end of the piazza from where we had come, we were captivated by two churches, San Carlo and Santa Cristina, with similar facades, one on each side of the square.
The second part of Via Roma leads into Piazza Castello, the heart of the city. It is lined with porticoes on all four sides. The Palazzo Madama (now a museum) sits in the center of the piazza and the Palazzo Reale is at the rear. The cathedral with the famous Holy Shroud of Turin is nearby.
The Museo Egizio (Egyptian Museum), Via Accademia delle Scienze 6, is just off the Piazza Castello. This was the first major Egyptian museum to be founded anywhere and is the second most important in the world after the one in Cairo. It presents a great overview of Egyptian history, art and daily life and is a major attraction in the city.
We ambled west off of Piazza Castello along via Garibaldi, which is the popular-price pedestrian shopping street. Now, more about coffee. All coffee is first-rate here, but what's really famous is Bicerin, a mixture of coffee and chocolate, with whipped cream. Turning north from Via Garibaldi, we made our way to Al Bicerin, Piazza della Consolata 5, the originator of this famous concoction. Opened in 1763, it's a tiny place with just a few tables inside and a patio with ample seating within this picturesque old piazza. The Bicerin is served in a glass with a mound of the thick, whipped cream at the top. What a way to go! The ladies running the establishment were delightful and very helpful when we asked for some bus information.
[Back to Top]
A few blocks before we reached our hotel, we came upon Taverna della Rose, Via Massena 24. Delicious smells were emanating from the open door; inside we found an appealing taverna and Giacomo, the owner, reserved our table. After a fast turnaround at the hotel, we were back at the restaurant. There are two dining rooms, one as you walk in which is open and bright and one to the left, where the lighting is more subdued and intimate, where we were seated.
Our waiter was professional, in a casual way, and patiently worked with us to make our selections. After a long day of walking, the house red fired up the appetites and the generous portions of pasta were welcome. Tagliolini con funghi porcini (at least one of us orders this every meal, usually me) and rigatoni alla Norma (Sicilia), with tomato sauce, eggplant and cheese were both perfect. Grilled porcini mushrooms with garlic, wine and parsley were quite good. Fish is a specialty here. We had tasty, sweet sea bass, done two ways: baked in the oven in the normal way and baked in salt which is chipped away table side. The only difference we could discern was that one was saltier than the other. The spada (swordfish) was grilled and smothered in tomato sauce, anchovies and garlic. All were served with a baked potato. The sea bass was very good and the swordfish, just good. An apricot, pine and raisin strudel was outstanding as were the profiterolles.
Driving east from Torino through the lovely towns of Chieri, Castelnuovo Don Bosco and on to our final destination Casale Monferrato, we got our first taste of this hill country, covered with vineyards (laden, ripe and ready for picking), farms and woods. Atop every hilltop is a manor house, castle or church waiting to be discovered. Each turn and twist in the road exposes another fascinating vista.
Casale Monferrato is the capital of the district and is a real charmer. We arrived about 14:00 and most of the town was still closed for lunch.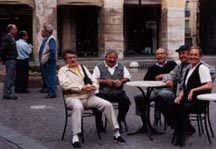 We were soon to find out the townspeople welcome visitors and were eager to chat. Linda and I had the opportunity to talk with a group of retired men, a few of whom spoke some English and practiced it as they related the experiences of their visits to North America. They recommended the Viking bar, across the way, for coffee, which was just right. The friendly folks there also welcomed the chance to chat. We took our time driving back, wandering the roads and enjoying the sights, with lots of stops for photo ops.
[Back to Top]

to Piemonte or choose a city below
(1) Rome
(2) Chiusi
(3) Firenze
(4) Camogli
(5) Genova
(6) Bellagio
(7) Valle d'Aosta
(8) Torino
(9) Piemonte
(10) Pavia & Stresa

Search TheTravelzine | TheTravelzine Group | Don's Gallery
Packing Hints | Planning Tips | Cities Links

---
All pages on TheTravelzine.comęCopyright 1996-2020 Don & Linda Freedman