Bellaggio
We left Genova just after noon and arrived in Varenna three hours later, having changed trains in Milan. It's a ten minute walk downhill to the dock area where we boarded the ferry to Bellagio.
And so, from sea to lake, we began our second honeymoon. From the moment we left Varenna on the east bank of Lake Como and focused on the intense natural beauty around us, we understood the appeal of this area. It's a twenty minute ride across the deep blue waters surrounded by colorful mountains and fresh, clear air to Bellagio, which is at the tip of the peninsula that divides the two branches of Lake Como. With the beauty of Varenna behind you and the lure of the other towns and villas in the distance, the excitement builds.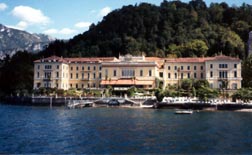 Bellagio is a small town. It was a short walk from the dock along the lake front, past hotels, restaurants, shops and the other dock (for the ferries to other lake side towns), to our really special honeymoon treat, the Grand Villa Serbelloni, located at the tip of the promontory.
"We want our guests to feel the history that surrounds this property and to experience the charm of a noble home which used to open its doors to welcome its friends", a quote from Gianfranco Bucher, the current master of the hotel, whose family has been at the helm for three generations. Mr. Bucher's hope has been realized. We walked up the driveway to the lobby entrance of this glorious old villa fronting the lake with its beautifully landscaped pool and lounging area. Soon to be built is an indoor pool and solarium with a grill area with direct access from the main building. This is a family-run affair, in fact the Bucher family's residence is on the first floor, just below our assigned room. The staff is gracious, attentive and eager to please.
Our corner lake view room had a king size bed and a lovely antique desk and chairs. A tall, wide window gave onto the breathtaking vista of the lake, mountains and pool terrace. Another similar size window at the side afforded welcome cross ventilation. No need to use the air conditioning with all that fragrant, fresh air. The bathroom was sectioned into two windowed rooms; shower, tub and sink in one which led into another with toilet and bidet.
[Back to Top]
We were so enthralled with this place we asked the manager, Mr. Giuseppe Spinelli, if he would give us a tour (which request he often receives and is eager and pleased to accommodate). The highlight is the original villa in the center with a magnificent main stairway over which hangs a priceless Murano glass chandelier. At the top is a large salon on either side of which is a formidable suite, with shared access to the salon. The furnishings and architectural design of these areas are fit for a museum of fine art. The public rooms have frescoes featuring cherubs and their harps, more Murano chandeliers and marble fittings.
At the rear of the hotel is a private park and gardens which climb up the hillside to create a haven of peace and tranquillity amidst the greenery. Tucked within this area are apartment residences and a health and beauty center including a gymnasium, squash court, sauna, Turkish baths and fully equipped areas for massage and beauty treatments. The apartments sleep 2-4 people and are perfect for independent living with the services of the hotel available. A restaurant in this complex offers a calorie-controlled menu and vegetarian dishes.
We tore ourselves away from the villa to explore the picture-perfect, tiny town. About eight narrow cobblestone streets climb upward to the main and also narrow street at the top. These streets are packed with plenty of good quality shopping and eating places. It was late afternoon as we were studying the menu outside Ristorante Bilacus on Via Serbelloni, when we noticed activity inside. We opened the door and found the owner busy preparing for the evening meal. He greeted us as did the delectable aromas from his kitchen. The only reservation left was for 19:00; we had wanted something later, but took it and returned to the villa for rest, relaxation and clean-up.
We enlisted the aid of the owner (who with his wife and daughter provide excellent service) in making our selections and after properly getting an idea of our appetite and preferences, proceeded to serve us a wonderful meal. Penne in a spicy tomato and eggplant sauce and ravioli stuffed with veal in a light cream and porcini mushroom sauce were our starters. As mains an extremely tender filet mignon, medium rare, with a light cream and pepper sauce and veal pizzaiola, excellent quality veal with tomato, black olives, and capers were quite satisfying and delicious and served alongside a platter of grilled eggplant, zucchini, tomato and red peppers. So satisfying, in fact, that we decided to skip dessert entirely and opted instead for an after-dinner stroll about town.
[Back to Top]
Breakfast is served in the main, enormous dining room. The hand-painted ceilings are stunning as were the three huge crystal chandeliers. The buffet was opulent and replenished constantly. The uniformed, attentive, smiling staff kept the tables clean and efficiently responded to every request. We were delighted to be served outstanding cappuccino which, to date, had been a breakfast disappointment.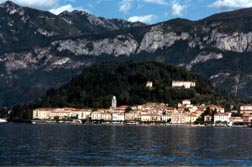 It was a clear, crisp early Fall day as we boarded the steamer for the two hour trip to Como. The magnificent villas and colorful towns kept us enraptured both going and coming. Villa Serbelloni's rival, the famous Villa d'Este in Cenobbio appeared a worthy challenger from our vantage point on the lake.
Como is a good size and interesting city. It was market day and we headed inland to Viale C. Battisti, the main street of the market. We arrived near closing time, but managed to shop it all and enjoy the experience of rubbing shoulders with the locals and chatting with the vendors. What is amazing is the sophistication of the hydraulically-fitted trucks designed to accommodate each category of merchandise being sold. These vendors move from city to town on a rotating basis.
The old city from Viale C. Battisti to the lake front is a joy of architecture and shopping, and if you have the need for a snack, find one of Tina Baretta's four shops. The pizzas, delicious focaccia dough topped with excellent cheese and a variety of toppings (ham and artichoke for Linda and funghi, olives and peppers for me) are sold by weight and are fabulous. At the original location we met Tina and her daughter, so incredibly warm and sweet we delighted in the success of their venture. They introduced us to their famous specialty, Pane Del Pescatore. It's a cookie, available in two sizes (mignon and grande) loaded with nuts and fruits and not too sweet - simply delicious! The selection of breads, focaccia and pastries seriously challenges your will power. Just follow your nose and you will find them.
[Back to Top]
Back from Como, we opted to try the dining room in our hotel. At breakfast, the buffet and dress give the room a casual ambiance but in the evening it's a bit formal as you are greeted by a violin, bass and piano trio playing lovely dinner music. We were graciously greeted and seated and the spirited attitude of the staff took the edge off the initial formal feeling. Let the show begin!
A pumpkin, leek and pasta soup and a lobster bisque served from silver tureens were perfect starters. And pappardelle con porcini and ravioli filled with pike in a pesto sauce brought smiles of pleasure. However, the rare roasted duck breast was a bit chewy and the lamb chop preparation inhibited, rather than enhanced, the natural flavor of the lamb. The polenta and prune was heavenly as were the assortment of accompanying vegetables. Tiramisu, tarts, chocolate mousse, flans, cheeses and fresh fruit were artfully arranged on the dessert buffet and appreciatively sampled and enjoyed. Despite the less than perfect mains, it was a splendid and memorable evening.
What is a honeymoon without a period of total relaxation? Although basking in the sun at the water's edge is my idea of heaven it's not Linda's favorite so I had to line-up a special treat for her to top off this honeymoon splurge. To Linda's delight, I booked a facial and massage for her at the beauty center and we spent a couple of hours in an unaccustomed vegging mode which suited our Bellagio mood to a tee.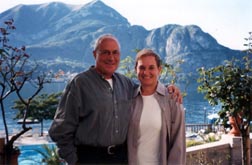 Later we climbed up over the hill and came down on the opposite side of the promontory. Lovely homes line the narrow lanes and eventually lead to the lake front and a cute piazza and a cove with a tiny beach. We sat on a bench and enjoyed the charm of this idyllic spot while ducks paddled along near the shore.
[Back to Top]
On our way back, we came across the Hotel Belvedere, Via Valassina 31. The location looked very attractive to us, sitting up high with great views of the eastern lake and mountains. We decided to return for dinner that evening and stopped in to make a reservation. Our plan was to arrive early enough to allow time to have a good look around before it got too dark.
Arriving at the Belvedere we found the lobby/bar area filled with guests enjoying beverages and conversation. We introduced ourselves to a woman at the reception desk explaining that we had dinner reservations but would appreciate being able to look at some rooms and tour the property in anticipation of a future stay. As it turned out, the woman to whom we were speaking was Tiziana Martinelli whose family has owned the property for over a century. She and her husband Mauro Manoni now manage the business with the able assistance of Tiziana's mother. Her enthusiasm and pride in fulfilling our request demonstrated a love of her work as well as her genuine interest in meeting guests' expectations.
The variety of rooms she was able to show us shared common features; they were good size rooms with ensuite bathrooms with very nice furnishings and balconies overlooking the lake from on high. The rooms on the ground floor, which is still high up, have large, grass terraces. There is a new tower addition with rooms from the upper floors serving up particularly splendid vistas.
The dining room and open-air terrace restaurant above the park, gardens, pool and lake offers a spectacular panorama. The entire facility was spotlessly clean. Honeymoon or not, this excellent value three star winner will be our destination on our next visit to Bellagio.
We were shown to our table where a name card designated our reservation, which was fortunate since the dining room was filled. Tiziana and Mauro were busily engaged in hosting their guests while Mom made sure the staff was serving and clearing properly.
The menu was a very straightforward offering of basic, local cuisine. Mauro appeared at our table and his warm, sweet manor won our confidence. Mauro, may we leave the ordering to you please? Delicious, spicy penne arrabbiata for me and sedanini (penne) with pecorino cheese and spinach for Linda were the superb starters. The mixed salad was a welcome next course followed by mains of filetto di bue alla griglia aromatizzato all' aceto balsamico (a grilled steak in balsamic sauce) and lavarello (a filleted local fish grilled with olive oil and herbs). We truly loved the quality and simplicity of these preparations. For dessert, we enjoyed a classic creme caramel and fresh fruit tart with vanilla ice cream.
In most instances, I have not made reference to the wines we've had as we normally select the local house varieties. However, the local red wine we had tonight, Valtellina Superiore, was especially good.
We said good night to our hosts and 'rolled' downhill to the tip of the promontory, while mulling over the reasons why Bellagio deserves the special place it holds in so many travelers' hearts.
[Back to Top]

to Valle d'Aosta or choose a city below
(1) Rome
(2) Chiusi
(3) Firenze
(4) Camogli
(5) Genova
(6) Bellagio
(7) Valle d'Aosta
(8) Torino
(9) Piemonte
(10) Pavia & Stresa

Search TheTravelzine | TheTravelzine Group | Don's Gallery
Packing Hints | Planning Tips | Cities Links

---
All pages on TheTravelzine.comęCopyright 1996-2020 Don & Linda Freedman