Search TheTravelzine

TheTravelzine Group

Access Your Mail

Don's Gallery

Packing Hints

Planning Tips

Cities Links

Links
LINKS TO OUR TRAVELOGUES
Argentina, Buenos Aires - Jan-Mar 2010
Argentina, Buenos Aires - Jan-Mar 2009
Argentina, Buenos Aires - Jan-Mar 2008
Austria - Fall 2005
Belgium, Brussels - Fall 2000
Canada - Summer 2002
Canada - Summer 2001
Canada - Summer 2000
Czech Republic - Spring 2000
France - Fall 2002
France, Paris - Fall 2000
France, Paris - Spring 1999
France, Lyon - Spring 1999
Germany, Berlin - Fall 2009
Germany - Fall 2002
Germany - Spring 2000
Germany - Fall 1999
Greece - Fall 2012
Greece - Fall 1999
Greece - Fall 1997
Hungary - Spring 2000
Israel - Fall 1999
Italy - Winter 2007
Italy - Winter 2006
Italy - Winter 2005
Italy - Winter 2004
Italy - Winter 2003
Italy - Winter 2001
Italy - Fall 1998
Italy - Fall 1996
Netherlands - Spring 2000
Portugal, Azores - 2019
Portugal, Azores - 2018
Portugal, Sao Miguel & Lisbon - 2017
Portugal, Azores - 2017
Portugal, Azores - 2016
Portugal, Azores - 2015
Portugal, Azores - 2014
Portugal, Azores - 2013
Portugal, Azores - 2012
Portugal, Azores - 2011
Portugal, Lisbon - 2011
Portugal - Fall 2006
Portugal - Fall 2004
Portugal - Fall 2003
Portugal - Fall 2001
Portugal - Spring 1999
Portugal - Spring 1997
Slovakia - Spring 2000
Slovenia - Spring 1999
Slovenia - Fall 1996
Spain, Barcelona - Winter 2006
Switzerland - Fall 2002
Switzerland - Spring 2000
Switzerland - Spring 1999
Switzerland - Fall 1998
Switzerland - Fall 1997
Switzerland - Spring 1996
U.S. Florida, Key West - Fall 2006
U.S. Florida - Spring 2001
U.S. Maine - Summer 2002
U.S. Massachusetts - Summer 2003
U.S. Massachusetts - Summer 2002
U.S. Massachusetts - Summer 2001
U.S. New York State - Fall 2005
U.S. New York State - Summer 2004
U.S. New York State - Summer 2003
U.S. New York State - Summer 2001
U.S. Washington,DC - Spring 2000

Genova
Genova is one of our favorite Italian cities which we have written about previously. It is the home of our dear friends, Stefano and Nicoletta and we were so happy to be able to spend time with them as they were expecting their first child in a few weeks and were also in the process of moving to a new apartment.
The four star Hotel Bristol Palace is a fifteen minute walk from the P.P. train station at Via XX Settembre, 35. This converted mansion is a beauty. The small, Euro-style lobby is deceptive because when you exit the elevator on your way to your room, you are confronted by a magnificent spiral stairwell which starts one floor above the street level lobby. Our high-ceilinged room was generous in size and decorated in excellent taste with some handsome antique furnishings. The large marble-floored bathroom had a whirlpool tub, semi-enclosed for showering.
Stefano and Nico came right along and after feeling Shaila Alexandra's strong kicks and movements, we headed for the nearby maze of the old city which they know as well as the backs of their hands. The tiny, narrow streets twist and turn and each step reveals new delights of small shops and tantalizing food aromas. Linda and I have navigated these streets before, but we were quickly confused as our friends led us down a tiny alley which housed the oldest chocolate maker in Genova. Two laughing ladies were behind the counter in this quaint, old shop. Just a few items were displayed but trays of freshly made bite-size dark chocolate filled with fruits and nuts were stacked in bins. Another specialty is all natural flavor fresh fruit jellies. Each purchase is carefully wrapped and tied with a ribbon. If you can find it - treat yourself to something special at Fabbrica di Cioccolato Romeo Viganotti, Vico Castagna 14 (Cortile) da Via Petrarca.
We visited the Palazzo Spinola di Pellicceria which houses some wonderful art. Particularly interesting are the Rubens and Vandycks which were actually painted on the premises. Climbing the stairs, one encounters beautiful salons at every level with magnificent painted ceilings. Art treasures are displayed everywhere. At the very top, one may exit to an outdoor terrace for excellent, panoramic views of the city.
Then we were off to Antica Osteria della Foce, Via Ruspoli 72-74r, where Stefano had reserved a table. This is the small, family-run trattoria serving genuine Genovese home cooking one dreams about finding. Farinata is ground chick peas mixed with water, olive oil and salt and baked flat in a big, round pan - a perfect starter. Genova is the home of pesto and we have come at the time of the fresh basil harvest. Is it any wonder that the fresh pappardelle with pesto is glorious? Not to say the tagliatelli with funghi, cream and herbs was not its equal. Ripieni, vegetables stuffed with a mixture of ricotta, eggs, Parmigiano-Reggiano, bread soaked in milk, herbs and olive oil and lettuce wrapped around a meat mixture with fresh, sweet peas on the side were nothing short of fabulous. One of my favorite dishes is coniglio casserole, chunks of rabbit braised with vegetables, and this rendition was as good as it gets. The awesome desserts were made in-house as well: torte ai frutti di bosco - layers of white cake, assorted berries and panna and sacripantina - layers of sponge cake, mascarpone and chocolate. The place is small; don't forget to reserve (55-33-155). It was a long and leisurely dinner and, best of all, shared with good friends.
[Back to Top]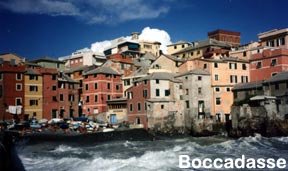 Stefano and Nico took us to see their beautiful new apartment east of the center. We walked along the seaside promenade with throngs of people enjoying the day. Stunning apartment buildings dotted the avenue. We came to the seaside church where our friends were married and we walked down the steps to the sea and there, nestled into the rocky shoreline was a tiny, old fishing village, Boccadasse, with its small harbor lined with fishing boats pulled up onto its rocky beach. The contrast of the old with the new was extraordinary. Due to its unique location, there have been major restorations and the homes in the area are very much in demand. The village was filled with sun and sight seekers and everyone was making love to gelato from Amadeo, which has been producing its rich, flavorful product right here since 1927. This is our second gelato discovery of the trip!
We drove down the coast to Nervi which is the first of Golfo Paradiso's (Nervi to Portofino) beautiful villages. One is immediately struck by the lush greenery and gardens. The small harbor is surrounded by ancient, colorful houses and filled with moored boats protected by a jetty. Fishing nets are spread in the sun - another corner of time. We walked along the Anita Garibaldi Promenade, high along the cliffs over the sea while the waves crashed against the rocks below. Our walk was cut short as dark clouds drifted in over the cliffs above us. Fortunately, we made it back to the car before the downpour. Driving through the pretty town and its gorgeous residential and hotel areas, we felt that this was the kind of special place for a return visit someday.
Back to Genova for a seafood dinner at Da Vittorio, Via Sottoripa 59r, at the harbor front, a neighborhood kind of place at the foot of the old city. An assortment of hot and cold seafood whetted our appetites. Large, delicious portions of spaghetti with lobster in a fresh tomato, cheese and hot pepper sauce, spaghetti with mussels and clams in a fresh tomato sauce and spaghetti with clams in olive oil, garlic and white wine finished us off very nicely.
It's always difficult to say good-bye when you don't know when you'll meet again, but we took joy in knowing there would be a new family member to greet us next time.
[Back to Top]

to Bellagio or choose a city below
(1) Rome
(2) Chiusi
(3) Firenze
(4) Camogli
(5) Genova
(6) Bellagio
(7) Valle d'Aosta
(8) Torino
(9) Piemonte
(10) Pavia & Stresa

Search TheTravelzine | TheTravelzine Group | Don's Gallery
Packing Hints | Planning Tips | Cities Links

---
All pages on TheTravelzine.comęCopyright 1996-2020 Don & Linda Freedman