ITALY
WINTER 2004
Firenze
Firenze and Roma are two of our favorite cities for just wandering about finding new treasures, enjoying local life and dreaming about the perfect location for a long stay. We were particularly looking forward to our visit to Firenze because our long time Swiss friends, Cornelia and Fabio, would be joining us for the week-end. An added bonus was that we would be staying at the same hotel as a Ziner from Oklahoma and would be having dinner with her the first evening.
From Como we had to change trains in Milan for Firenze. The trains were clean and comfortable and we arrived in Florence relaxed enough not to be disappointed by the driving rain. Usually we walk the 20 minutes to the Hotel Giglio, but today we jumped into a waiting taxi outside the train station and arrived dry and 9 euro lighter.
We stayed at the Giglio for the first time last year and were so delighted it was automatic for us this year. It was like coming home, getting off the elevator at the second floor, passing thru the doorway, and being greeted by the internet point and the affable Maria, who was on hand to greet us. She had been on vacation last year but the owner, Marco, had told us all about her. Marco was right, Maria is a gem. Just as the elegant building in which the hotel is located, the public and guest rooms have been designed and built with quality and character. The spacious reception area, bar, lounge and adjoining breakfast room encourage a social environment for meeting friends or other guests or relaxing with a beverage while enjoying a newspaper, magazine or guide book.
Our high, wide and handsome room had adjoining twin beds plus a single twin. The decorating was in harmony with the dark wooden floors and classic Florentine furniture. Besides radiator heating there is a thermostatically controlled heating and air-conditioning unit that came in handy for added heat. The tile bathroom with stall shower, bidet and heated towel racks was a comfortable size. As last year we found the entire property to be spotlessly clean and shining. The staff is totally committed to taking care of your every need with a bright and cheery attitude. This is an exceptional quality and value 3 star property.
Fortunately by early evening the rain had stopped and together with Jane we were off to Alla Vechia Bettola, Viale Vasco Pratolini, 055-22-41-58. This cute trattoria is located on the south side of the Arno just after the Ponte A. Vespucci. The communal white marble-top tables with wooden bases and stools combined with the half tiled walls, lifestyle photos, town scene paintings and fun-loving staff add up to a lively experience. We arrived at 19:30 and by 20:00 folks were waiting to get in. Obviously, the environment, good food and good prices make this a popular spot. We started with pappardelle al sugo di cinghiale and for mains had coniglio two ways, arrosto morto con cipolline and fritto. There was a large bottle of house wine on the table and you pay for what you drink. After apple cake for dessert, we lingered with Jane for as long as we could, but hungry patrons were waiting.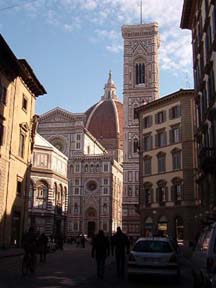 We awoke to clear sunny weather and after a healthy breakfast of fresh fruit salad, fresh rolls, croissants and delicious cappuccino we were off and wandering down Via Cavour to the Duomo. Nice weather had brought out both tourists and locals. The wide shopping street, via dei Calzaiuoli, and side streets leading to Piazza Della Republica are always fun to navigate while window shopping. Even the 50% off sale prices were not enough to convince us to abandon our plan of no shopping and to instead eat and sleep well. This did not stop us from dropping by our favorite jewelry store, Jean Saadé Fine Jewelry, via de' Cerchi 6/r to say hello to the charming Jean. His beautiful merchandise is a worthy investment (or so Linda informs me). Jean always seems to have exactly what Linda can't live without, this time adorable square yellow gold earrings that suited her to a T. She looks cute in everything, my bride!
[Back to Top]
Via dei Tavolini is home to two spots for lunch, Il Forno for baked goods, sandwiches, salads, excellent coffee, etc. and across the way 'Perche no' gelateria. Il Forno came through with fresh tasty focaccia panini and espresso, but 'Perche no' was a bit of a letdown. It just wasn't as good as we remembered; perhaps it was the comparison with Al Bottegone dei gelati in Como. In any event the flavors were weak and too sweet for us this time.
We met Cornelia and Fabio at their hotel on via Della Scala and decided to head south to Ponte A. Vespucci to the Oltrarno (other side of the Arno). We always enjoy a leisurely walk through the Santo Spirito quarter, strolling up, down and around the narrow streets, and peeking into the ateliers with artisans working at their ancient crafts.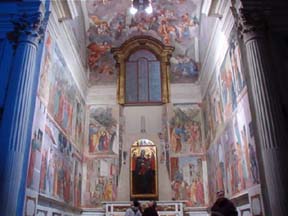 A first for all of us was a visit to Santa Maria Del Carmine and the Cappella Brancacci in the Piazza del Carmine. The church and convent were founded after the middle of the 1200's by a group of Carmelite friars who came to the city from Pisa. The church was closed to visitors this day, but fortunately Cappella Brancacci was open. The frescoes of Masolino, Masaccio, and Filippino Lippi are the jewels of early Renaissance Florentine painting. Masolino and Masaccio started in 1424 and worked on the frescoes until 1427-28, representing stories from the Old Testament and of Saint Peter. The remaining scenes were painted after 1480 by Lippi. The frescoes are in a small area. To avoid crowding, respect the dignity of a place of worship and guarantee the best conservation of the frescoes, a maximum of thirty visitors at a time are admitted to the Chapel for thirty minutes.
[Back to Top]
Back across Ponte S. Trinita and north on via de Tornabuoni past all the designer boutiques, we turned on via Degli Strozzi to Piazza Della Republica and took refuge in the grand old Cafe Paszkowski. Over hot chocolate (with panna) and espresso, we enjoyed a relaxing time for quality conversation and great people-watching.
Back to the Oltrarno and dinner at one of our favorite restaurants, Osteria del Cinghiale Bianco, quintessentially Florentine from the stone, stucco and wood interior to the appetizing menu. It's an institution for locals as well as regular visitors, who get hooked by the warm and friendly service and the consistency of quality preparation. This is what happens when an owner like Massimo is always there to greet his clients and work with the staff. At the risk of being boring we chose the same menu as last year. It had been so wonderful we'd been looking forward to an encore. We will probably do the same thing next year! Assorted crostini (funghi, garlic, herbed peppers, liver) and bruschetta generously topped with chopped tomato, garlic and basil. The pappardelle al cinghiale does not get any better than this version. Linda dreams about the tagliata con rucola and parmigiano and once again her dreams came true. I never met a rabbit I didn't love and the coniglio arrosto con patate here is to love dearly. Biscotti and sugar cookies were a fine finish and the house red was still good. Next year I may live dangerously and have cinghiale as a main course.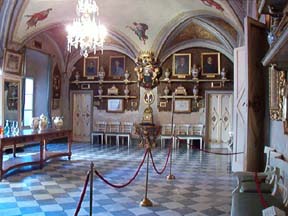 The next morning, Cornelia and Fabio led us to via della Scala 16, where they introduced us to a very unique Firenze institution, Officina Profumo - Farmaceutica di Santa Maria Novella. The stunning marble entryway leads to the "Antica Farmacia" where we were greeted by enticing aromas. The showcases, wall displays, shining wood and marble shelves are a journey into the past. Their products are made of herbs traditionally known for their health properties, cultivated using natural techniques (no pesticides here), and manufactured using scrupulously controlled processes. The meticulous presentation of syrups, creams, infusions, and capsules is very appealing and the professional staff patiently explains the nature and use of each product. The honey and fruit compotes offered are of biological origin with "compotes containing a minimum of 70% fruit without saccharose". The little cakes and dry fruit mixtures were also completely organic.
[Back to Top]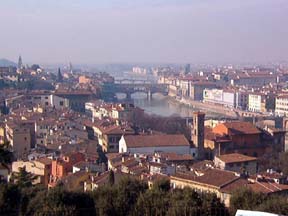 Today we would again head to the Oltrarno to the area southeast of Ponte Vecchio where none of us had explored previously. We started along via de Bardi and wandered up the narrow residential streets of lovely homes and greenery with splendid views of the Arno and city. This is an area where Florentines have always lived quietly and comfortably. Via di Niccolo led into Piazza G. Poggi and the archway through the old city walls and the winding streets up to Piazzale Michelangelo. In the middle of the piazzale are bronze copies of David and the four statues on the tombs in the Medici Chapels. The views of the wall and the entire city expanded as we climbed and the panorama was fully exposed when we reached the plaza only to be expanded when we continued upward to the Basilica of San Miniato al Monte.
[Back to Top]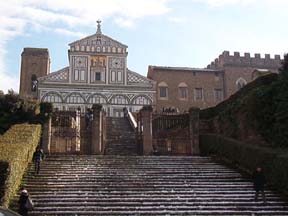 It had snowed a few days prior which had frozen over and was now turning to slush and as we climbed higher the slush and ice made the footing difficult. There is a picturesque VIP cemetery on either side of the staircase leading to the Basilica which we admired as we slowly navigated our way upward. The facade is a fine example of Florentine Romanesque style in green and white marble. Inside there is wonderful artwork such as the Chapel of the Crucifixion by Michelozzo and the Chapel of the Cardinal of Portugal both decorated by Luca Della Robbia and frescoes by Spinello Aretino.
We had come up along the streets and decided to go down on the short staircases and paths through a green area. Fabio was in the mood for pizza so we crossed the Ponte Alle Grazie to the Santa Croce district and proceeded to Il Pizzaiuolo, Via De Macci 113/r. The pizza here is Napoli style; we had tried it last year and had found it less than perfect, but not bad. It's a good thing we gave it another chance because Fabio declared it the best pizza he ever had - in fact, it was quite wonderful!
This is a popular, colorful neighborhood with a market, many eating places and streets filled with folks shopping, socializing and just plain going about their daily business undisturbed by the tourists coming to eat and observe.
The Basilica of Santa Croce in Piazza Santa Croce is always one our stops while we are in the district, either to admire the striking facade or to go inside to admire the works of art, gothic architecture, stained glass windows and all else that makes this a very fascinating place regardless of one's religion. It has always been a gathering place and host to theologians, artists, writers, religious figures and politicians.
[Back to Top]
It was a perfect day for aimlessly strolling with good friends before opting to relax at a comfortable corner table at Gilli, since 1733, another great cafe in Piazza della Republica.
Many years ago we had a memorable dining experience at Ristorante Buca Lapi, Via del Trebbio 1 - Palazzo Antinori, Tel. 055-213768. We had been looking forward to sharing another such dinner with our dear friends. Buca means cave and the long staircase down brings meaning to the name. Actually it is located in the ancient cellars of Palazzo Antinori and is the oldest restaurant in Firenze. A sparkling open kitchen at the foot of the staircase immediately gets the appetite in high gear. The arched ceiling and walls are completely covered with posters of all types and themes from around the world. We were led to our table by our affable waiter.
We remembered that the portions were very substantial and that it would be wise to share. Linda and I did just that, starting with fettuccine all'anatra (duck sauce) that was heavenly. Beef is really the specialty here, which we did not have on our previous visit. This evening we shared the bistecca for one. We were awestruck by the huge steak that our waiter placed on a nearby serving table and as he cut it in half and placed it in front of us the wonderful aroma of the charcoal grilling and the sight of perfectly rare center and crisp exterior was a sensual experience. A fresh salad of radicchio and arugula (lightly dressed with the finest quality balsamic and olive oil), and spinaci aglio, olio were perfect partners. A recommended Brunello di Montalcino, 1998 was a brilliant choice.
Since we "shared" there was no guilt sharing crème caramel and what turned out to be another reason to return, "chocolate heaven". It looks like a cake - but there is no flour, no sugar, no butter, and no eggs - just chocolate - just to die for. Time to relax before really finishing with biscotti and Vin Santo. At Buca Lapi, the service matched the cucina in quality and care.
[Back to Top]

Como | Florence | Rome | Naples
Reggio Emilia | Venice | Verona | Magenta
Search TheTravelzine | TheTravelzine Group | Don's Gallery
Packing Hints | Planning Tips | Cities Links

---
All pages on TheTravelzine.com©Copyright 1996-2020 Don & Linda Freedman