ITALY
WINTER 2004
Roma
Two meters from the Hotel Giglio we took bus #25 to the train station. The Eurostar left on time at 11:29 arriving in Roma Termini Stazione Centrale at 14:20. The first class seats on this train had a comfortable design and together with the complimentary beverage and snack service made the trip quite enjoyable. We purchased two bus/metro/trolley tickets from a machine in the bus area and caught number 360 bus to the end of the line at Piazza Delle Muse, where we bought 10 more bus tickets at the nearby tobacco stand.
In Rome we feel at home. We live in the gorgeous residential area of Parioli in the Hotel Delle Muse, surrounded by parks, gardens and lovely homes. It's a joy to walk to the city center through the neighborhoods enjoying a slice of every day life or use public transit depending on time, weather or weariness.
We have been staying at the Hotel Delle Muse for many years and, as usual, it was wonderful to find Giorgio, Claudio and Valentina in the lobby to greet us. All the staff here is truly committed to making every guest feel right at home and very welcome. Three generations of the Lazar family have made this charming old villa a repeat destination for appreciative guests. In the warmer weather we have enjoyed relaxing and dining in the pretty garden in the rear. This time we had very nice weather but not quite warm enough for outdoor lounging so we took full advantage of the two internet points in the lobby whenever the mood struck.
The snacks on the train were not enough to sustain our ever growing appetites. We dropped our luggage in the room and hurried downstairs for a late lunch. The dining rooms and bar reflect the spirit and culture of the hotel. It's just plain homey - no pretensions, just sit back, relax and enjoy. Here is where we have breakfast, the occasional lunch or dinner and feel comfortable catching up on our notes, reading, snacking, and enjoying a cappuccino. There is always somebody around to take care of you.
The menu is basic and very reasonably priced. The house always offers a Prosecco to start. We do have our favorites and my number one is linguine aglio/olio e peperoncino and a crunchy mixed salad. Today Linda chose a bresaola salad with arugula and parmigiano. Both hit the spot.
We had a very nice size room with twin beds together, a desk and two chairs, an upholstered luggage bench, large closet, satellite TV, very good heating, with a tiled stall shower in the windowed bathroom. French doors open from the bedroom to a large terrace overlooking the garden. As usual, everything was spotlessly clean.
Because we did not have dinners scheduled in the city as in the past we thought we would like to plan our days to arrive back at the hotel in the late afternoon to early evening, relax a bit, and walk to restaurants in Parioli. With this in mind we set off with a list we had compiled, mostly of Giorgio's suggestions, to check them out for consideration. It's always a pleasure to patrol Parioli and now we had the added bonus of having destinations and menus to read. We found at least four candidates that looked very interesting. Tonight we opted to have a light meal at the hotel of chicken scaloppini, one Marsala and one with white wine, olive oil, garlic, rosemary roasted potatoes and a few selections from the (included) salad buffet.
[Back to Top]
It's truly an exercise in self control at the breakfast buffet. Linda never misses the baked apples or pears and then limits herself to yogurt, bread and cheese. I usually choose from cereal, breads, eggs, yogurt and cheese, but occasionally test the fruit, vegetables, meats and baked goods as well.
Hotel Delle Muse sits next door to the site of Villa Ada, a magnificent park and garden with easy walking paths. It's a nice way to work off breakfast, but today we would accomplish that and a bit more by strolling into the city center. It's a 10 minute walk down via Tommaso Salvini to the busy Piazza Ungheria where you can get public transportation to any area of the city or choose your walking route. Our first destination was Pizza Forum, Via San Giovanni in Laterano, across the way from the Colosseo, which is due south of Piazza Ungheria. We basically followed the same route taken by bus #360 from the hotel. We started south on Viale Liegi to Piazza Buenos Aires turning west on Via Po, so far an area of attractive apartment buildings and smart shopping. Via Salaria is a narrow shopping street as well as a one way traffic artery south. School kids were on a break filling the pizza and panini shops and taking over the sidewalks. The good news is they weren't smoking while they were eating. The area east of Piazza Fiume is a wonderful neighborhood with neat shops and eating places. We would be returning here one day to visit the nearby Museo D'Arte Contemporanea Roma.
At via XX Settembre we turned right to the corner of via Delle Quattro Fontane where my photographer captured the sculptures at each of the four corners. Quattro Fontane leads to the splendid wide shopping street, via Nazionale. The street and shops were quite busy as a testament to the, 50%, 70%, and 90% off sales advertised in every window. We looked, we calculated, pizza for us! We wound our way south past S. Pietro in Vincoli (St. Peter in chains), where St. Peter was sheltered when sentenced to death. We had visited this artistic beauty last year and had to go in once again to see Michelangelo's "Moses" - breathtaking. Down past the gardens of Domus Aurea to Piazza del Colosseo and via di S. Giovanni and our pizza fix. There is no pizza as good as the original Napoli Margherita and the folks here at Pizza Forum know how to do it. They are from Napoli, the ingredients come from Napoli and the baking is done in the authentic wood burning ovens.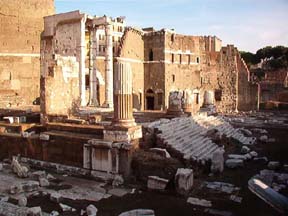 Our final destination today would be a restaurant near the Vatican, which Giorgio had recommended for dinner. We started off along via dei Fori Imperiali and were once again mesmerized by the Forums of Caesar, Trajan, Augustus and Nerva. Today the sun shone brilliantly on the columns, pillars, staircases, walls and piles of stone and the excavations were alive. Here in the center of Rome is the place for your imagination to go into overdrive.
[Back to Top]
The grand old building at the corner of via Corso and Largo Chigi, across from Piazza Colonna, has been transformed into Galleria di Piazza Colonna, which is architecturally impressive. Via Corso and all the side streets are the heart of shopping in the city and the sale signs were working their magic, from the designer boutiques to the popular-priced shops. We detoured to have our annual peek at Fontana di Trevi, which really gets the heart pumping. Eventually our wandering brought us to the Ponte Cavour where we crossed Fiume Tevere, passed thru the large green Piazza Cavour and proceeded along the busy via Crescenzio to Piazza di Risorgimento, the last stop for trolley #19 which we would take back to Piazza Ungheria after dinner. We were closing in on our final destination.
The corner of via Ottaviano/Barletta and via Candia/Viale Giulio Cesare is the Ottaviano Metro stop and the center of this busy and diverse ethnic neighborhood of Prati. At the intersection is a mini flea market which spills along the adjacent streets.
We were intrigued by the area and, since we had a little time before our 19:30 reservation, decided to investigate the very crowded via Candia. People were arriving home from work and were busily doing their local shopping. The many food shops and bakeries were doing a brisk business. Take-out pizza, panini and grilled chickens seemed to be favorite choices. The fashion and home stores were also doing nicely - yup, more Sale signs.
[Back to Top]
Via Otranto runs off of via Candia just west of the Metro stop and at #9-11 is Perilli in Prati. Massimo Perilli greets all his patrons with his warm infectious smile and demeanor. As he led us to our table we were dazzled by the striking innovative design of the interior, best described as modern chic with a warmth and cheerfulness to match our host. There is a main central dining room surrounded by five smaller areas including one that resembles a greenhouse. The walls are bright colors of blue, yellow, gray and green. The tables and chairs are wrought iron and the chair cushions are in soft colors that work with the walls. The glass table tops are dressed in fine quality beige cloths with matching napkins. Hand blown Murano glass fixtures hang from the ceiling and combine with built-in indirect wall lighting to highlight the walls. The result is a perfect blend of lighting for effect and ambiance. We were so impressed with the environment we forgot about looking at the menu. Instead we asked Massimo to make the decisions for us. He suggested starting with an array of antipasti then pasta, and then decide what to do next. It was a plan.
The Perilli family originated in a suburb of Amatrice, the birthplace of many renowned chefs and famous recipes. Amatrice's main claim to fame is the famous Amatriciana sauce. Massimo explained that the authentic sauce is made of guanciale (grain fed pig cheeks), pecorino cheese, and tomato. He uses the original recipe and ensures that the salami, guanciale, pecorino cheese and other regional products, as well as many of the vegetables served, come from his home town, where they are organically grown.
We would now put the master to the test. The salumi Amatriciani and sheep cheese were awesome, as were all the appetizers; delicate zucchini blossoms filled with mozzarella and anchovies, carciofi alla romana e alla giudia (artichoke steamed and fried), fried cod (fabulous), olives stuffed with meat, prunes wrapped in bacon and grilled (absolute heaven), fried mozzarella, and bruschetta four divine ways. The suggested cabernet Sauvignon Angoris from Friuli was delightful. Test surpassed. The two pastas were extraordinary; spelt spaghetti Latini with zucchini blossoms and the signature spaghetti all' Amatriciana. We could not handle a main course (more reason to return) and skipped to dolci, sharing a round of rich chocolate on a bed of sliced almonds with chocolate shavings and cream sauce (sensational). All this and very reasonable prices make Perilli in Prati a marvelous choice. Visitors to the Vatican would be well-advised to consider the very reasonably-priced lunch buffet at Perilli in Prati, which is popular with locals as well.
[Back to Top]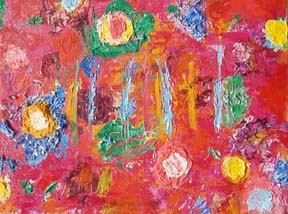 We slept late and after a modest breakfast (ha!) we walked the same route as the previous day to the Museum of Contemporary Art (MACRO) via Reggio Emilia 54, just east of Piazza Fiumi. The museum design is fittingly contemporary. There were four exhibits, each in its own space. Nicola De Maria is part of the transavanguardia art movement and his abstracts in pure, brilliant colors were extraordinary. Pascale Marthine Tayou uses film to project family life and cultural African traditions onto urban refuse such as computers, monitors, and electrical equipment. Nanni Balestrini, a poet, writer, and sculptor, used blocks and columns with messages as the design elements. A film by Elisabetta Benassi, a cinematographer, showed remarkable talent with compelling and dramatic close-ups of real life objects, such as an automobile junkyard, dead men on bikes, automotive parts, etc.
After all that culture it was time for some gelato. We headed cross town to Piazza Colonna past the Camera dei Deputati in the Palazzo Montecitorio to Giolitti. As usual it was extremely busy and still so delicious. We sat outside and noticed that the large building across the way that was being renovated had a sign indicating there was an exhibit at the Camera dei Deputati - La Memoria Della Shoah (Memories of the Holocaust). There was a ticket booth on the ground floor of the building under renovation. We hurried over because we saw that this was the last day of the exhibition. The tickets were issued to us at no charge along with an appointment – lucky for us in just ten minutes! Each group of visitors was escorted past a uniformed greeter, then along a red carpet runner up steps, through security, and then up a majestic stairway to the exhibit. The exhibit consisted of letters, documents, drawings, and photos of Italian Holocaust victims and other memorabilia of the Nazi regime, very moving as always.
We asked our escort for the washroom. He checked with his superior, then led us to a large, beautifully appointed, washroom complex on two levels. While I was washing my hands and waiting for Linda to appear from her upstairs retreat, I noticed our escort kept opening the main door and peeking in, keeping an eye on us. We showed him; there was a shoe shine machine we took advantage of between peeks. ;-)
[Back to Top]
Tonight we would try our first Parioli restaurant, Al Ceppo, via Panama 2/4, which is right off of Piazza Ungheria, a 10 minute walk from Hotel Delle Muse. Al Ceppo is popular with the locals and rightly so. Straight ahead as you enter is a cozy, comfy bar and lounge, and to the right a chef tends an open grill. Beyond the lounge are the elegant yet casual dining rooms, cozy and comfortable, great for the senses and mood. The period furnishings, decor and beautiful paintings create a pleasing environment. The owner and staff exude friendly professionalism.
The menu represents cuisine from the Region of Marche plus some typical Roman dishes. We sipped an offered Prosecco while nibbling on crusty, dense poppy seed and sesame rolls and warm buns filled with sautéed onions, which were amazing. Our personable and extremely helpful waiter suggested we have a small order of schiacciatina di bianchetti grigliata all'arancia e timo (ground fish, sliced and grilled, served on a bed of curly endive with orange sections), stupendous. A delicious Dolcetto d'Alba, Parusso 2001, kept us occupied until our primi arrived. Bombocotti al tonno pinna gialla con capperi, olive e battuto aromatico was short tube pasta with pieces of fresh tuna, cherry tomatoes, and olives in an olive and olive oil sauce. Linda declared it "a pasta symphony". I was in the mood for soup and the zuppa di porrio patate con gamberi marinati al peperoncino (pureed potato with shrimp and a touch of heat) took wonderful care of my craving.
We had arrived at 20:00 and it did not take long for the dining rooms to fill up. Parioli is a very upscale neighborhood and the patrons around us certainly reflected it. As the owner moved around the tables it was obvious she was greeting old friends yet she made it a point to welcome us and make sure that we were enjoying ourselves.
Linda's beautifully grilled baby lamb chops with roast potatoes made me jealous, but I survived very nicely with a thick, herb encrusted filet of sea bass accompanied by tomato slices layered with melted parmigiano. After a day of considerable walking an unrushed, leisurely meal was very welcome. Eventually all good things must come to an end, but not before some sweets. Apple strudel with vanilla ice cream and chestnut ice cream with thick hot chocolate sauce were superb. A gentle grappa provided the finishing touch. Our exploration of dining options in Parioli was off to a perfect start.
[Back to Top]
The area just south of Termini from Piazza S. Maggiore to Piazza Vittoria Emanuele II and beyond is a diverse ethnic neighborhood with a variety of shopping and eating options. The Church of S. Maria Maggiore is magnificent and the piazza was filled with digital cameras snapping away from all angles. Vittorio Emanuele Square has a green garden center and is surrounded by tall residences and neighborhood businesses. It's a wonderful gathering place for the community.
The San Lorenzo district, located north of and adjacent to the Termini Stazione Centrale, is home to the Citta Universitaria and a neighborhood that has become increasingly popular with young working people. The small piazzas and narrow streets are filled with old homes and apartments that are slowly being renovated and updated. The area has become a Mecca for all types of restaurants, cafes and bars. At #55/65 is the sprawling Arancia Blu, tel.06-4454105. This cucina vegetariana con enoteca (vegetarian restaurant and wine bar) consists of several dining rooms separated by brick archways. The walls are lined with wine bottles displayed in a variety of wooden cases. Tonight we had a very nice red from Trentino. Each item on the menu was tempting so we decided to share a bunch; lasagna with radicchio and taleggio, ravioli filled with ricotta, vegetable croquette with spicy tomato and coriander sauce, and fritto misto. All were very good. Cassata and chocolate cake for dolci.
Today our friend (Ziner) Flavio would be picking us up mid-afternoon to visit the ancient city of Calcata about 50-60 km north of Rome. We opted to hang out in our neighborhood with a stroll through Villa Ada park, and tagliolini limone for lunch at our hotel. This dish is coming very close to replacing alio/olio as my Delle Muse favorite. In fact now, as I recall the fresh lemon taste of the delicate sauce, it is tied for first place.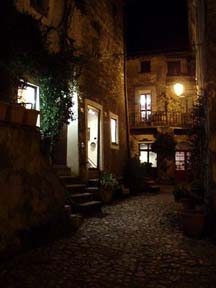 Flavio arrived at 15:15, we stopped to pick up his friend Catalin and headed north. The traffic in the city was terrible but once we hit the highway the going was easy. It was dark when we arrived in the square outside the city walls and it was a sight to behold. The high stone walls and grand entrance were aglow in the beams of spotlights. This tiny village is a maze of multi-level alleys and stairways. The ancient homes and streets are in good repair and every step is a feast for the eyes. The smell of freshly baked cookies permeated the air as we passed a bakery that was closed to the public but was active inside. As we stood on a balcony the fragrance of the fresh air from the forest, fields and river below was delightful. Even though it was dark we could visualize the glorious landscape around this mountain perch.
[Back to Top]
At via Tripoli #6 Flavio directed us up a flight of stone stairs to the tea house La Sala, tel. 0761-588086. The owner, Gemma, showed us into her tiny shop of wood, stone and brick with cozy seating and a terrace with wonderful valley views, a lovely setting for enjoying tea. There are 250 blends from which to choose. We chose jasmine phoenix dragon, which hit the spot, along with a fabulous assortment of cookies. This was a nice warm up for dinner.
Back in Piazza Roma where Flavio parked is the Ristorante I Tre Monti, tel. 0761-587998. Flavio had been here before and had made a reservation for us. There are two small simple rooms with limited seating. We were in the front room in front of a large fireplace. The antipasti was on the table waiting: prosciutto, salamis, pecorino cheese, grilled eggplant and olives. Bruschetta with funghi and a bowl of fava beans soon followed. Now we got to make choices of a pasta and main course of the day. We both had fettuccini with porcini mushrooms and grilled lamb on a stick with roast potatoes and mixed salad. The chocolate cake with panna had a soft chocolate filling. It was good home cooking in a homey atmosphere at a very reasonable price. Calcata is special and we must return one day, in the daylight.
[Back to Top]
This Sunday was a Car Free day in Rome, which occurs during the winter months until March when the pollution level is high. Buses, taxis, and specially ticketed vehicles are excepted. It was a relatively warm sunny day and we were joined by many happy people enjoying the weather and the empty streets. We walked along via Salaria to XX Settembre which becomes via del Quirinale. Our goal was to visit the churches of San Carlo alle Quattro Fontane, by Francesco Borromini and Sant' Andrea al Quirinale, a masterpiece by Bernini. Alas, we were much too early as they would not open until 16:00. Next time.
A visit to the Jewish Ghetto is always in order. This is the quarter between Monte dei Ceni and the Theatre of Marcellus which was founded by Pope Paul IV Carafa in 1555 and abolished at the end of the church state in 1870. Approximately 3 hectares was surrounded by a wall with 3 gates that opened in the morning and closed at dusk. In the 17th century there were about 9,000 inhabitants. This area, more than any other, has kept the culture and flavor of the old city and this is evident in the food shops and restaurants that feature Jewish and Roman cooking. The kosher pizza shop was mobbed and low on choices as was the kosher bakery Boccione. Folks were out and hungry and there are not a lot of eating choices on Sundays. We settled in for very good salads at Ristorante Il Portico. All of these places are located on via del Portico di Ottavi.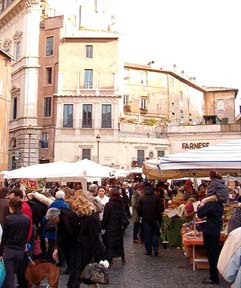 Whenever we walk into Campo de Fiori it is like walking into an open air self-contained world with an abundance of charm and character. The statue of Giordano Bruno in the center oversees the surrounding shops, restaurants, cafes, and open market. Regardless of the season or time of day there is an upbeat atmosphere; it's a meeting place for the locals and a must-see for tourists.
Piazza Navona just north of Fiori shares much of the same characteristics but its large size seems to limit its ability to captivate in the same way. That doesn't keep it from being one of the busiest and most visited squares in the city. We found hordes of families with their children dressed in beautiful costumes, throwing confetti in all directions. It was a real party atmosphere and Linda was fast to capture the moment, our first taste of Carnevale!
[Back to Top]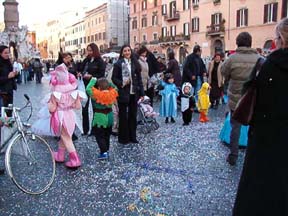 Time for another Parioli ristorante. Ambasciata d'Abruzzo at via Pietro Tacchini 26, is about a 20 minute walk from the Hotel Delle Muse. We had done a fair bit of walking and this was an ideal place to relax at dinner. The stone and wood décor, enhanced by displays of wine bottles, creates a casual atmosphere. The owners heartily greet every guest and visit every table to make sure everyone is happy. The waiters are full of life yet very professional.
[Back to Top]
Antipasti is the famous specialty here and rightly so. Our affable waiter told us the origin of each of the salamis on the tray he presented, then cut slices of the ones we cared to sample. Each was outstanding as was the fresh ricotta cheese, marinated zucchini and funghi, grilled eggplant and peppers, bruschetta topped with slices of red and green tomato, fried rice balls, fried veal and spinach balls, buffalo mozzarella, a baked mixture of potato, mozzarella and marinated onions. Do not be alarmed, we only tried a small portion of each. The house Montepulciano d' Abruzzo was a medium body, fruity delight.
Remember, relax and enjoy! The people-watching was excellent. We were struck by the number of young diners all well dressed in up-to-the-minute casual wear.
There was such an extensive choice of pastas, it was difficult to choose, so we asked to have a tasting plate of three: spinach and ricotta ravioli, spicy spaghetti with clams, and paccheri (large tube pasta) with calamari in a red caviar and tomato cream sauce. This was a winning triple-header.
The menu is quite extensive and it took us a while to chose the secondi. Time was our friend. We kept it simple with grilled scampi and tagliata with funghi - simply wonderful. Dolci was not in the cards. We finished the marathon with a delicious limoncello di Capri. Parioli scores again.
On our last trip downtown we saw a large crowd waiting in line to buy pizza and focaccia at Fantasia del Pane at via Goito 9. The showcase was filled with fresh-out-of-the-oven offerings that looked and smelled too good to pass up. We continued on our way devouring chunks of Margherita pizza and mortadella-filled focaccia. We still had appetite open-to-buy and headed over to old friend ER Buchetto, via del Viminale 2f for a 2 euro porchetta romana panini and a glass of homemade wine. As usual one sandwich was not enough so we shared a second.
Illi is our preferred coffee when we have a choice so we headed over to Cafe Spinelli at Piazza del Viminale 18 and had an Illi treat.
The streets and alleys of the Parione quarter are a Renaissance delight. Piazza del Fico, via di Parione, via del Governo Vecchio, via Monte Giordano, via della Pace and via dei Coronari (with its famous antique shops) make up much of the quarter. The architecture is colorfully charming and we enjoy discovering lovely hidden courtyards. There is an abundance of eating and drinking establishments and in the evening the area is jumping.
[Back to Top]
We had two more excellent eating experiences in Parioli we want to share with you. Ristorante La Scala, viale Parioli 79d, tel. 06-8084463, is a long-time neighborhood favorite and, as we discovered, rightly so. It's just a 10 minute stroll from Hotel Delle Muse, not even far enough to burn calories. The owner greeted us with great warmth and caring. The environment is smart casual, very comfortable. It was easy to detect that the waiters were seasoned pros. They and the owner knew all the guests. We may have been visitors but we felt right at home.
Linda loves avocado and especially shrimps so a salad with both had her name on it. The soup guy had barley and leek this time. Both starters were outstanding. The menu is quite diverse but there is a bit of an emphasis on fish and seafood, perfect for our mood. Linda opted for filets of merluzzetti, a sweet delicate white fish, lightly breaded, and roasted. I had a mixed grill of shrimp, calamari and a white fish. Both were served with roasted potatoes. Everything was extremely fresh and done to perfection. The crusty dense bread was a treat as was the lovely white wine, Campogrande-Orvieto-Antinori. Speaking of treats, how about assorted fresh berries with ice cream? The house offered their version of chiacchiere, thin fried dough powdered with sugar, accompanied by Vin Santo. How many wonderful treats can one handle in one evening? The cost of this quality experience was very reasonable, an excellent value and another reason why we love Parioli.
A few steps from La Scala at #93 is La Maremma. This informal trattoria has a few grilled items and appetizers on the menu but it is basically a pizza place and excellent pizza at that. Pizza is available two ways, thin crust or Napoli style. No contest, two Napolitana for us, one mozzarella, alio, olio, peperoncino, the other mozzarella, tomato, peperoncino, and salami picante. Both were made with top notch ingredients and the dough had the proper flavor and texture. A Peroni Gran Riserva birra matched up well. Napoli cake made with ricotta and dried fruits was served warm. Linda commented that she would never have known her espresso was decaf but she slept well that night, so it definitely was as ordered.
So to sum it all up, there's a superb selection of places to eat in Parioli, right in our own backyard. It's always difficult to leave Rome but we hope to return next year to continue investigating the options.
[Back to Top]

Como | Florence | Rome | Naples
Reggio Emilia | Venice | Verona | Magenta
Search TheTravelzine | TheTravelzine Group | Don's Gallery
Packing Hints | Planning Tips | Cities Links

---
All pages on TheTravelzine.com©Copyright 1996-2020 Don & Linda Freedman