ITALY
WINTER 2004
Magenta
Our 11:42 train from Verona arrived on time in Milano at 13:50. We caught the 14:25 and arrived 20 minutes later in Magenta. It rained all the way. When we arrived in Magenta rain was falling on two inches of slush from the previous day's snowfall.
Since we were flying out of Malpensa airport early the next morning, we wanted to overnight nearby. Magenta is just 25 km from the airport and some intensive net-sleuthing yielded the desired result. Linda found the Villa Chiara Bed & Breakfast, via G. Donizetti 16.
The B&B is in the home of the Tognon family. Their son, Emiliano, e.tognon@libero.it, picked us up at the station and we dashed across the street to a neat bar/cafe for a toasted sandwich and coffee and had the opportunity to get to know our host. He took us on a brief tour of the town, which is famous in Italy as the place the French and Sardinians defeated the Austrians (the Battle of Magenta) during the Franco-Piedmontese War, which led to the independence of Italy.
The attractive Tognon home is on a lovely green street. Emiliano's dad was on hand to greet us and they showed us to our comfortable bedroom and ensuite bathroom. Both were extremely well kept and clean. The house is sited on an ancient Lombard farm. It has been fully restored and has a large garden and private parking. There are three bedrooms, all with ensuite bathrooms.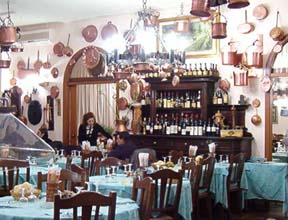 Finding Magenta turned out to be a big win because there were Ziners (travel discussion group members) living close enough to enable us to arrange a get-together for the evening. Marco made all the arrangements, starting with an aperitivo at his father's home, followed by dinner at Trattoria del Priore, via Roma 13, Morimondo, Tel. 02/945207. The evening was a wonderful opportunity to attach faces and personalities to those with whom we had been exchanging emails for so many years.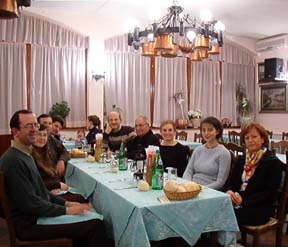 The Tognons prepared our requested breakfast of juice, cheese, bread and coffee which was awaiting us in the cozy breakfast room at the appointed time. They were disappointed we wanted neither eggs nor meat.
We had made arrangements for Emiliano to drive us to the airport (15 €) and right after breakfast we were on our way.
Villa Chiara was perfectly suited to our needs. The Tognons are nice people. Emiliano was very caring and helpful (at Marco's invitation he joined us for a glass of wine before dinner), the accommodations were very comfortable and the location, in addition to its closeness to the airport, offered us the bonus of renewing old friendships and making new ones.
Winter in Italy is a winner. See you in 2005!
[Back to Top]
Como | Florence | Rome | Naples
Reggio Emilia | Venice | Verona | Magenta
Search TheTravelzine | TheTravelzine Group | Don's Gallery
Packing Hints | Planning Tips | Cities Links

---
All pages on TheTravelzine.comęCopyright 1996-2020 Don & Linda Freedman