Search TheTravelzine

TheTravelzine Group

Access Your Mail

Don's Gallery

Packing Hints

Planning Tips

Cities Links

Links
LINKS TO OUR TRAVELOGUES
Argentina, Buenos Aires - Jan-Mar 2010
Argentina, Buenos Aires - Jan-Mar 2009
Argentina, Buenos Aires - Jan-Mar 2008
Austria - Fall 2005
Belgium, Brussels - Fall 2000
Canada - Summer 2002
Canada - Summer 2001
Canada - Summer 2000
Czech Republic - Spring 2000
France - Fall 2002
France, Paris - Fall 2000
France, Paris - Spring 1999
France, Lyon - Spring 1999
Germany, Berlin - Fall 2009
Germany - Fall 2002
Germany - Spring 2000
Germany - Fall 1999
Greece - Fall 2012
Greece - Fall 1999
Greece - Fall 1997
Hungary - Spring 2000
Israel - Fall 1999
Italy - Winter 2007
Italy - Winter 2006
Italy - Winter 2005
Italy - Winter 2004
Italy - Winter 2003
Italy - Winter 2001
Italy - Fall 1998
Italy - Fall 1996
Netherlands - Spring 2000
Portugal, Azores - 2019
Portugal, Azores - 2018
Portugal, Sao Miguel & Lisbon - 2017
Portugal, Azores - 2017
Portugal, Azores - 2016
Portugal, Azores - 2015
Portugal, Azores - 2014
Portugal, Azores - 2013
Portugal, Azores - 2012
Portugal, Azores - 2011
Portugal, Lisbon - 2011
Portugal - Fall 2006
Portugal - Fall 2004
Portugal - Fall 2003
Portugal - Fall 2001
Portugal - Spring 1999
Portugal - Spring 1997
Slovakia - Spring 2000
Slovenia - Spring 1999
Slovenia - Fall 1996
Spain, Barcelona - Winter 2006
Switzerland - Fall 2002
Switzerland - Spring 2000
Switzerland - Spring 1999
Switzerland - Fall 1998
Switzerland - Fall 1997
Switzerland - Spring 1996
U.S. Florida, Key West - Fall 2006
U.S. Florida - Spring 2001
U.S. Maine - Summer 2002
U.S. Massachusetts - Summer 2003
U.S. Massachusetts - Summer 2002
U.S. Massachusetts - Summer 2001
U.S. New York State - Fall 2005
U.S. New York State - Summer 2004
U.S. New York State - Summer 2003
U.S. New York State - Summer 2001
U.S. Washington,DC - Spring 2000

ITALY
WINTER 2004
Napoli
We first visited Napoli two years ago as a day trip from Roma. Napoli so intrigued us, we were now returning for a three day visit. Our train arrived early afternoon on a rather warm, sunny day. Stopping by the tourist office in Stazione Centrale we met the same man, Aldo, who had been so kind to us last visit. He had given us advice for our short tour and walked us to the proper bus in the chaotic Piazza Garibaldi to be sure we would be safely on our way. A good man does not change. He had lots of ideas for three days and provided us with good maps and information and then took us outside to be sure we would get the correct "white taxi" to our hotel.
When in Lisbon, Portugal, we always stay at one of the Heritage Hotels, members of Historic Hotels of Europe The Italian affiliate is Abitare la Storia, founded in l995 as a non-profit association of independent accommodation facilities in historical dwellings for tourists, both in towns and countryside settings, covering the whole of the Italian territory.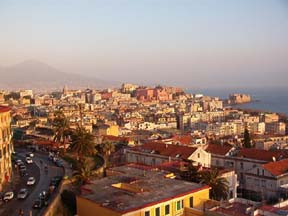 The Abitare la Storia affiliate in Napoli is Grand Hotel Parker's. This property, with its colorful and distinguished 130 year history, is certainly qualified to be associated with this prestigious organization. Originally the hotel was named Tramontano, followed by Bellavista both reflecting the glorious positioning on the old fashionable street, Corso Vittorio Emanuele, on high, overlooking the Bay of Naples. The present name of the hotel originated from the man who bought it in 1899, George Parker. Legend has it he bought it from his bed in the hotel when he was called and informed it was going into bankruptcy.
On arriving, we entered a world of classic elegance, designed and furnished with refined taste. The main hall and lounges were a treasure chest of magnificent period furniture complimented by exquisite marble sculptures, chandeliers and lamps, decorative antique pieces and paintings. The overall design elements and this level of refinement were consistent in all public and guest rooms, creating a feeling of calm and relaxation, particularly welcome after a day of patrolling the streets of this tumultuous and exciting city.
The guest rooms and suites occupy five floors. The two-level suites are on floors 4 and 5. George's Restaurant and the Bidder's Bar occupy the 6th floor. There is a non-stop elevator from the lobby to this panoramic perch on high. This restaurant and bar are an oasis of comfort and relaxation. We were looking forward to morning and breakfast at George's. A wide balcony runs the entire length with exquisite views of the bay, the city and Mt. Vesuvius in the distance. We had met three American sailors in the tourist office and now we could see the aircraft carrier Enterprise anchored far offshore.
Each of the floors is furnished in a different style; Louis XVI, Directory, Empire and Charles V. The furniture and furnishings in our room were spectacular. The king bed was welcome but most impressive was the fine quality sheets and pillow cases. A large screen television was a treat. The marble bathroom was divided, with double sinks separated from the other facilities. It was not only roomy, but well stocked with extra thick terry towels, bathrobes and slippers and top of line cleansing and grooming supplies.
The hotel recently opened a spa managed by Marc Messegue who is an expert in herbs and balanced nutrition. A gym, massages, hydro-massages, steam bath, sun shower, special body and facial treatments with herbs are available.
The management and staff of this hotel maintain the culture of respect and commitment to guests that George Parker instilled from the time he bought it. He wanted every guest to love the hotel as much as he did.
[Back to Top]
It was dusk as we crossed the street from the hotel and took the winding stairs and pathways down the hillside to via Crispi into Piazza Amedeo where there is a metro station, funicular (to Vomero) and bus connections. The hill of Vomero rises dramatically above the metro station, part of which we had descended. From Amedeo we took the elegant shopping street, via dei Mille to the smart shopping of via Filangieri and via Chiaia. Bridging the two hills on either side of via Chiaia is Ponte di Chiaia which was erected in 1636 and restored in 1834. Its triumphal arch is a stunner and combined with the unique architecture and curves of the street it's quite an appealing sight. All along this route are stunning palazzos and churches which require a longer look. This brought us to Piazza Trieste e Trento dominated by the Church of San Ferdinando and a modern fountain (from the 50's) in the center. The well known San Carlo theatre overlooks the square as well as the Galleria Umberto I with its imposing steel and glass arcade. On the corner of via Chiaia is the famous Caffe Gambrinus which has historically been the meeting place of politicians, writers and artists.
So far no pickpockets or thieves, just happy Neapolitans, shopping, kissing, walking arm in arm and returning our nods and smiles as we passed each other on these busy streets.
Around a corner off of via Toledo was our dinner destination, Ciro a Santa Brigida, via Santa Brigida, 71/73/74. Ciro began life as a pizzeria and shortly after moving from the original location to this one a ristorante was added. The ristorante and pizzeria is an institution in the city serving traditional Neapolitan cuisine. We were led upstairs where there are several dining rooms. The paisley wallpaper, arched ceiling and wooden chairs with rush backs and seats create a casual ambience. It was obvious that the white-coated staff were veterans of the establishment. Our waiter was a seasoned pro with smarts and personality. We could have made a meal of the walnut rolls and dense bread. (Atkins who?) The menu was awesome to read (long descriptions) and it was impossible to make a choice without feeling we were missing something. The best our waiter could offer was that "everything is good".
Linguine alla fra diavolo was our primi choice (two types of clams, mussels, and shrimps with a heavenly sauce of tomato, olive oil, garlic, peperoncino and parsley). Our waiter did suggest that we wait until finishing our first course to order the secondi. We were not at all deterred from moving ahead full blast: braciola alla Napoletana (magro di maiale, Parmigiano Reggiano, uva sultanina, pinoli, aglio, prezzemolo, ragu Napoletana) and scaloppine alla pizzaiola (magro di vitello, pomodori pelati, aglio, origano). Some veggies were in order so we shared spinaci all agro and patate al forno. Everything was delightfully delicious, right out of grandma's cucina. Our man assured us that every item on the dessert trolley we had been eyeing all evening was made in house. Talk about decisions! These were all Neapolitan treasures that we were not liable to ever again find in one place. Solution, please serve us a small slice of each - and so it was. These were the best renditions of these traditional favorites we have ever had. Baba (white cake, vanilla cream, sour cherries), Zuppa inglese (cake, cream, cherry, rum, whipped cream), Chocolate pie (just that), Ricotta cheese cake with dried fruit, Casata pie (ricotta, fruit, chocolate chips). We demolished everything so to celebrate our achievement our waiter brought us a "cidro", an Italian fruit liqueur with the flavors of lemon, lime, tangerine and orange. The prices here are very reasonable for this level of dining.
There was the proper "white taxi" waiting as we left Ciro but we didn't know we were in for the death defying ride of our lives. The most direct route to our hotel was up thru the Spanish Quarter, a borough formed by 6 streets running parallel to via Toledo and crossed at right angles by steep roads climbing the hill to Corso V. Emanuele. These streets are very narrow and lined with very tall apartment buildings. It is very difficult for vehicles to pass each other without very careful maneuvering. Our man twisted and turned at high speed up and around corners with absolutely no concern that a car could be coming the other way. There were a few jammings of the brakes when this did happen which did not phase him in the least. In fact, he laughed. We wish he had told us we were his last fares of the night and he was anxious to get home before we got started and not when we reached the hotel. The good news is that we managed to retain all the wonderful food we had eaten.
[Back to Top]
The sun was shining over the bay of Napoli and from George's restaurant it was a sparkling sight. What a place to start the day! And what a breakfast! After the freshly squeezed blood orange juice and fresh fruit salad, we couldn't wait to proceed. Ricotta or buffalo mozzarella? We had both with gorgeous rolls and breads. Almost as famous in Napoli as pizza is the amazing sfogliatelle. Fan-shaped overlapping layers of crunchy, crisp pastry are filled with smooth ricotta cheese blended with a bit of dried fruit. Three sizes were displayed; we loved them all! Prosciutto, bresaola, salami? A bit of each! Tomorrow, the fluffy scrambled egg, crisp bacon and a taste of the chocolate cake and fruit tarts.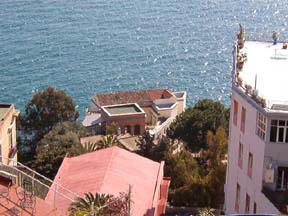 Capo di Posillipo is the headland that separates the Bay of Napoli from the Bay of Posillipo. It's right next to the city center but yet another world. From the Hill of Posillipo we were able to see the Isola d'Ischia in one direction to the Castel del Ovo (egg castle) and La Nunziatellass (oldest military school in Italy) in the other. It was clear enough to see Capri in the distance. Magnificent villas and gardens grace the hillside down to the waterfront. The owners have private access to the beaches and bathing areas. On the furthest land spit is the Villa Rosebery, the Napoli residence of the Italian Republic President. There are many natural vantage points to capture the beauty and brilliance of the scene while enjoying the sun and the sea. A captivating sight in Centro Posillipo is Piazza San Luigi, which was dug out of a tufo (stone) cliff.
It was not easy to withdraw from daydreaming about spending months in one of these outrageous villas on the sea, dining on the terrace and falling asleep to the sound of the waves lapping the shore. Back to reality and a visit to the nearby Parco Virgiliano. This nature reserve has been restored and with sport and family facilities. Its terraces overlook the Bay of Posillipo with gorgeous views of Miseno, Procida and Ischia. Not to far away is Coroglio a former industrial area that is being developed for housing and tourism. It's a stunning location and if developed properly should be a marvelous place to live and visit. Across the way is the island of Nisida which was built on an extinct volcanic crater. Legend has it that the island originally belonged to Brutus and it was here that he joined the conspiracy against Caesar. Later it became a penal colony and more recently has hosted military installations.
[Back to Top]
Mergellina sits on the west end of the Bay of Naples between the city center and the Posillipo district. There are great views from the hills around and a colorful marina filled with pretty nice boats. In the mornings it is possible to buy fresh fish from the fisherman who dock their boats in the nearby small Posillipo Port. Besides being a transportation hub for metro and bus there is a funicular (to Posillipo hill) and a hydrofoil terminal to Procida, Ischia and Capri.
Via Caracciolo runs east from Mergellina parallel to the bay. Not far along is the Piazza Della Republica with its "monument to the four days of Naples" depicting the Neapolitan rebellion against fascism and the Germans. Between Piazza Della Republica and Piazza Vittoria to the east is Villa Communale Park, built to keep the bay waters from reaching further inland. Piazza Della Vittoria opens to the sea where the Colonna Spezzata stands in memory of those lost at sea.
The Port of Naples, while being a huge and busy commercial enterprise, is quite attractive. The beautifully designed Stazione Marittima is where the ocean liners berth and where ferries and hydrofoils leave for distant shores. Across the way at the foot of Piazza Municipo is Castelnovo which was built in 1279 as the residence for Carlo I d' Angio. Today it houses the Institute of Naval Sciences. It is a magnificent dominating structure with its five remaining towers. Extremely striking is the marble Arco di Trionfo di Alfonso I of Aragona which was created by Tuscan artists.
Piazza Municipo is the pulse of the city. In the center is a monument to Vittorio Emanuele, designed by Emanuele Franceschi. Surrounding the square is the Palazzo del Municipo (town hall), the Church of San Giacomo degli Spagnoli, the Mercadante theatre, and together with the Castelnovo creates a very distinctive Piazza.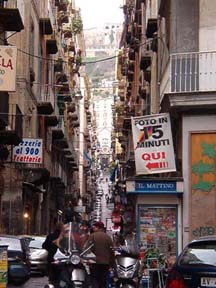 After the gargantuan breakfast we managed only one other meal for the day but what a meal! It was a late lunch that lasted for several hours. La Taverna del Buongustaio is on via Basilio Puoti 8, tel's, 081-551-2626, 0368-567522, 0333-4913-769, which is located just off of Piazza Carita in the tangle of narrow, crowded streets at the base of the Spanish quarter. There are about 30 seats in a lunch room setting. We were merrily greeted by one of the three young owners, who found a spot for us among the local workmen, and business people. There is a tiny kitchen in the rear where the other two partners (one short, one tall - more later) were cooking away. This was pure Neapolitan, from the location to the environment and menu - not written - just what was made fresh for the day. Everything that was rattled off sounded wonderful so we took almost everything.
[Back to Top]
We started modestly with baby octopus steamed with herbs and croutons, fried mozzarella en carozza, and bruschetta with deliciously seasoned ripe tomato. The boss recommended the house red which had a medium body and fruity flavor which was very enjoyable. The taverna, like the area, was chaotic, but under control. The seats kept changing as the working people hurriedly ate and dashed off and new ones arrived. The boss assured us we did not have to rush and to take our time and enjoy. I'm sure he took into consideration that we were eating enough for 4-6 patrons. After a nice rest he brought us Zuppa di lenticchie, (lentils, broccoli, fagioli, scarola plus a touch of heat). A short respite and then two pastas; pasta potate e lardo with parmigiano (a cardiac killer), and mezzanielli (small mezzani) in a hot tomato sauce with parmigiano.
Enter a banjo player who just popped in to entertain, which was a nice musical interlude from the action in the room. His timing was perfect as our plate of frito misto arrived just as he was leaving and we could give it our full attention. The tiny fish, shrimp, octopus and eel were incredibly fresh and tasty. Now a mandolin player arrived to serenade us all. This was too much fun to leave so we forced ourselves to stay a bit longer over a ricotta, corn and fruit pie with coffee. These young guys are doing mama's recipes and working as a team to their customers' delight. Back to the short and tall story. There is poem in their brochure that loosely translated goes like this, "One cook is short but can do good things, other is tall and kind. The place is small you will have precious food. You will eat well and not pay much". It's true.
Today we saw many more of the faces of Napoli, again without having our pockets picked or bodies harmed. The people are hospitable, kind and seem to have a carefree spirit. They tell us there are thieves who will rob from them as well as from tourists, but is this not true worldwide? We still have a day left and are already planning to be back next winter.
[Back to Top]
After another marvelous breakfast at George's, we made reservations for dinner tonite. We must put on a lot of mileage today to prepare for this treat.
Our plan for today was to make our way over to via Toledo north to the old city and have pizza at Di Matteo on via Tribunali 94d. After that we would take the metro and bus to Vomero.
We worked our way down the hillside to Riviera di Chiaia which runs along the north side of Villa Comunale park, and proceeded east past the many bars, pubs, cafes, and restaurants that are a favorite evening destination for the young. Along the way we encountered the glamorous Villa Pignatelli, a reminder of how the aristocratic families once lived. It is now home to the Principe Diego Aragona Pignatelli Cortes museum, housing many collections of XIX century furniture and porcelain.
Via Toledo (also known as via Roma) runs north from Piazza Trieste e Trento to Piazza Dante and is one of the best known and busiest streets in the city. The street was named after viceroy don Pedro di Toledo who came to Naples in 1532 to solve the town planning problems. This is a wonderful shopping street for traditional old shops to fashion boutiques and bakeries. Palazzos, theatre, churches, and most of the countries banks are all presented in a mixture of architectural styles. At Piazza Dante we passes thru Port'Alba into Centro Storico and proceeded to via Tribunali to discover if the well known Di Matteo is as good as its reputation. We entered past the ground floor take out counter and pizza making area to the stairway to the upstairs dining rooms. The multi-level rooms were all filled and by time we reached the top floor we realized we did not have enough time to sit, wait and eat. We did the prudent and wise thing and proceeded back to the take out counter and for one euro each received generous-size, folded, cheese and tomato beauties. This was without a doubt the best pizza ever! The dough, the cheese, the sauce, each and together a texture and flavor sensation. At any price, it would have been the best ever - but for one euro, it was totally incredible!
[Back to Top]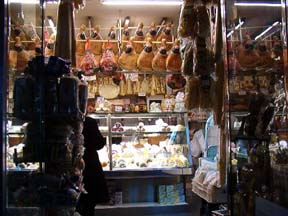 We took the metro to Piazza Amedeo where we got the #28 bus up to Vomero. The hill of Vomero climbs high over the city and is one of the finest residential areas of Napoli, home to middle to upper income Neapolitans. The name Vomero originates from the word "vomere" which was a form of a plough once used in the fields. No fields to plow now. Beautiful tree-lined residential and elegant shopping streets, lovely squares, fine restaurants, cafes and bars have replaced the plough. The center of the district is around Piazza Vanvitelli, and vias Scariatti, Cimarosa, Solimena and Bernini. We could live here just to have the excellent gelato at Gelateria Soave, via Scarlatti 130. Via Luca Giordano is another nice tree-lined shopping street that opens out to the piazzetta of the ancient village of Antignano where there is a picturesque old market place, worth an early morning visit next time. At the eastern end of Vomero is the Castel Sant'Elmo standing tall on the hill of San Martino overlooking the entire city. If a villa overlooking the bay of Posillipo is out of the question than an apartment here in Vomero would be a good second choice. Bus #28 deposited us near the hotel and we had time to rest and refresh for what turned out to be a marvelous evening.
[Back to Top]
George's character changes in the evening. In the morning the sun is shining in and it is a bright, light, classy breakfast environment. In the evening the mood is more sultry and romantic. The bright sun is replaced by the lights of the city below and the subdued lighting of the dining room. From the moment we arrived the attention and service was impeccable, best described as friendly formal with a dash of warmth. The house offered an appetizer of whipped ricotta and basil served in a graceful tall cup and matching saucer. The house baked roll assortment was a very nice complement. The wine steward recommended a medium dry and fruity white wine, Campanaro dei Feudi di San Gregorio, which was excellent. Our two antipasti were truly marvelous; ricottina di bufala infornata, pomodori secchi e grissino all' aglio (incredible quality ricotta, fluffy and rich in body and flavor) and sfogliatella riccia con scarola e porcini su passatina dei fagioli cannellini (we learned that the crispy dough can be filled with something other than ricotta and fruits). The pasta primis would not be outdone by the antipasti; schiaffoni gragnanesi alla Genovese was flat tube pasta topped with a mixture of meat, onions and carrots, and pizzelle e foglie was thin round pasta in the shape of a pizza sautéed in olive oil with zucchini, onion and escarole decorated with a fanned zucchini flower. Both were delectable. There was perfect timing between courses to allow us to appreciate our surroundings and enjoy the moment. I had not had rabbit for a while so the lombo di coniglio brasato alla verza su crema di ceci got my attention and won my heart. Linda was looking for something light and easy and found perfection with tulipano di spigola all'erbette aromatiche, piccole verdure e maionese di pesce, sea bass and vegetables.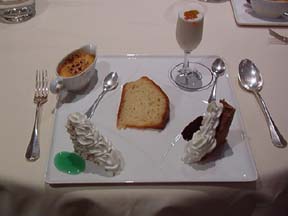 We chose dolci of five regional specialties that were so creatively presented it was hard to stop admiring and start eating. The most unusual and outstanding was mozzarella ice cream, followed closely by nougat and chocolate ice mousse (with real whipped cream), crème brule and rum baba. Each was spectacular as was the entire meal and the best part was that we could go to bed knowing we would be back in the morning. Not only in the morning but in the years to come. Grand Hotel Parker's is an exceptional hotel and Napoli is a complex and special place, like an onion from which we've peeled only the outer layers.
After breakfast, when we arrived at the train station we learned that a group of protestors was blocking the tracks and that the trains were not able to leave the station. Buses were rapidly made available and we arrived at Roma Termini station just a few minutes later than if we had taken the train. Let's hear it for Trenitalia!
[Back to Top]

Como | Florence | Rome | Naples
Reggio Emilia | Venice | Verona | Magenta
Search TheTravelzine | TheTravelzine Group | Don's Gallery
Packing Hints | Planning Tips | Cities Links

---
All pages on TheTravelzine.com©Copyright 1996-2020 Don & Linda Freedman