ITALY
WINTER 2007

ROMA
The splendor of Rome won our hearts from the time of our first visit in the late 1970s. We have returned many times and never lost our love of the city. Today we were like two eager first timers emerging from Termini into the bright sunshine wondering what was in store. We did not have any specific plans other than the Annibale Carracci exhibition (on until May 6, 2007) at the Chiostro del Bramante, visiting the Musei Capitolini and a "get-together" with our good friends from Florida, Graziella and Gino. We would take it one day at time, living like natives, exploring like tourists.
We bought transport tickets (bus, metro, trams), 1€ each, good for 75 minutes from the time you validate them in the machine on the bus or tram or at the entrance to the metro. Bus #360 came right along and in 20 minutes we arrived in the beautiful residential district of Parioli at the Hotel Delle Muse, Via Tommaso Salvini, 18, our home away from home in Rome.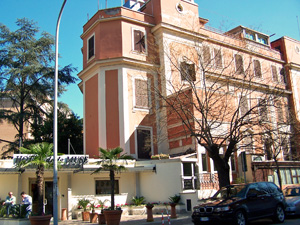 We were pleasantly surprised to find that the entry had been beautifully renovated. What had been the parking area is now a tropical garden with a lit stone pathway and water fountain leading to the entrance. The Lazar family owns and operates the hotel with Giorgio Lazar the managing director. The same staff has been here for as long as we can remember. As usual, Claudio and Valentina were at the front desk and Giorgio was standing nearby ready to welcome his guests. There was a lot of activity in the lobby and Giorgio told us that the proliferation of discount airlines and low fares has encouraged folks to travel more. Rome and Hotel Delle Muse have benefited.
After depositing valuables in a safety deposit box, we headed up to our usual room #21 on the first floor. There is complimentary internet access in every room and in the lobby, where there are three computer stations and a printer. Giorgio definitely understands that travelers rely on the internet and appreciate easy access. Linda immediately placed her laptop on the desk and was checking our mail while I unpacked our bags and organized the closet.
The twin bedded room opens to a large balcony which overlooks the garden that is used in warmer weather as an extension of the bar and restaurant as well as a place of leisure. Remote control heating and air conditioning and satellite TV offer personal comfort as does the large size windowed bathroom with stall shower complete with heated towel rack and bidet.
The star rating system is heavily flawed. The Hotel Delle Muse proudly claims to be a 3 star property. In many aspects it is, but the care and respect the Lazar family extends to its guests is a very big plus. This is exemplified in the restaurant, the domain of fun loving (maitre d', manager, waiter) Paolo who collaborates with chef Luigi and the staff to provide excellent service and quality food at extremely reasonable prices.
After getting organized we headed down for lunch and found all three dining rooms buzzing. We always have the same lunch the first day, spaghetti aglio, olio, peperoncino and mixed salad. A house offered prosecco accompanies every meal. There is no charge for bread, rolls and bread sticks and no cover charge.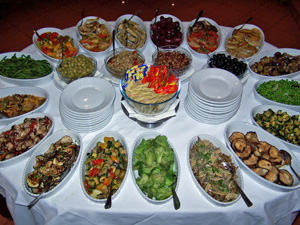 A large selection of primi are 7€, most secondi are 8€ with two at 10€. Appetizers, pizzas, vegetables, desserts, and beverages are all similarly well-priced as is the amazing vegetarian buffet with ever-changing offerings of steamed, grilled, baked and marinated vegetables. If you have a good appetite, as we usually do, you can build your own 4-course meal (primo, secondo, contorno and dolce) for 18€.
Oh yes, the breakfast buffet. Everyone we spoke to agreed that breakfast at the Hotel delle Muse is by far the best they've had in a 3 or 4-star hotel. Served buffet-style, it includes hot and cold meats, eggs and cheeses, a large array of pastries, croissants, cake, tortes and puddings, numerous cereals from which to choose, fresh fruit, baked apples and pears, juices and yogurt, baskets of breads, self-service coffee and tea, even espresso or cappuccino, if you prefer. If you have any special requests for any meal they will do their best to accommodate you.
Food aside, we love the friendly family environment which is contagious. It isn't long before the guests are sharing experiences and tips on how to get the most out of their visit to Rome.
[Back to Top]
Parioli is a gorgeous residential neighborhood amidst the green parks of Villa Ada, Villa Borghese and Parco Villa Glori. We took our usual first day stroll through the streets of stately homes and apartment buildings finding our way to Viale Parioli, the main shopping avenue. There were the usual street vendors offering fashion items from apparel to jewelry and Linda was happy to find a pair of reading glasses to add to her growing collection. There are three supermarkets within a short distance so we began our search for pumpkin seeds, one of our favorite snacks. No luck – we had to settle for pistachios. All was not lost, several days later we found pumpkin seeds in a small fruit and vegetable store around the corner from the bus stop at Piazza Delle Muse.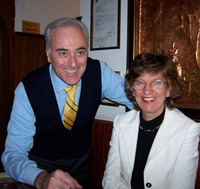 We stopped at our favorite restaurant in Parioli, La Scala, Viale Parioli, 79d, Tel. 068083978, to say hello to Fabio and his lovely wife Tiziana and to make a reservation for the following evening. The locals flock here for lunch and dinner so reservations are a must. Fabio was excited about the expansion of his kitchen and invited us in to take a look.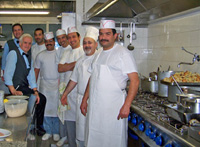 The kitchen staff was happy to pose in their sparkling clean well-organized environment while Fabio, particularly proud of his fresh fish and meats, showed-off his treasures in the well-stocked refrigerator. We knew it would be difficult to decide what to order tomorrow.
The Carabinieri are an integral part of Italy. They are in every village, town, and city performing a multitude of tasks in the defense of the country. I am a big fan, maybe it's because they are a legend or maybe I just love their uniforms. At their headquarters, a huge complex just down the street from the hotel, there is always a shiny Carabinieri vehicle with two armed guards in the square in front of the main entrance guarding the approach. As we passed I gave them my usual thumbs-up greeting as I also do when passing them on the 360 bus. Sometimes I get real lucky when there is a special event and a squad of them are out front in their dress uniforms and swords. This is the real reason we stay at the Delle Muse.
Speaking of which, it is quite usual for members of the force to stay at the hotel when they are attending activities at headquarters. Tonight at dinner two were sitting at the table next to us and we had the opportunity to have a nice chat, the contents of which I am not at liberty to divulge. ;-)
We did take time to enjoy a new menu item, grilled veal T-bone steak. The thick cut was very tender and medium rare, as ordered. Sides of luscious roast potatoes and mixed salad made it perfection.
The 360 bus takes about 20 minutes to Termini. Today we would head in that direction on foot, south to Piazza Ungheria taking Viale Liegi to the Via Salaria which becomes Via Piave ending at Via XX Settembre. We stopped for a while at street markets and shops along the way and arrived at Ristorante da Vincenzo, Via Castefidardo, 4-6, at the corner of Via XX Settembre, tel. 06484596, in time for lunch. We were here last year for the first time and it is now on our "return to" list. The family is always on hand to greet their guests and make them feel at home. Son Paolo showed us to a table and after we got comfortable came over with a plate of crusty, soft chewy onion rolls and a few suggestions to consider. We settled on two daily specials; zuppa di lenti con pasta (a hearty broth thick with lentils and small pieces of pasta) and long thin pasta with grouper and tomato sauce. Both were fabulous and satisfying, a great lunch. We'll be back for dinner soon.
We headed over past termini to Via Cavour in the direction of the Colosseo, our destination was the neighborhood called Monti once known as "Suburra, the residential area below the city". We could see why, as we descended steps from Via Cavour. We have been all around Monti but never in it because it is actually a few meters below street level and out of sight. It is tucked in a pocket formed by Via Nazionale and Via Dei Fiori Imperiali. Its dubious claim to fame is that it used to be a red light district. Today its narrow streets, which could use a clean-up, lined with vintage and restored buildings, are home to a lively and exciting residential and business neighborhood. A multitude of restaurants, wine bars and cafes spill out into the streets; boutiques offer an array of original and unique fashion for the body and home, and mouth watering food shops cater to every taste. The main shopping streets are Via Serpenti (home to a group of Indian restaurants), Via del Boschetto, Via Panisperna and Via Leonina. Be careful when walking, there are no sidewalks and the drivers take no prisoners.
We climbed out of Monti and took our annual stroll from the Colosseo along Via dei Fiori Imperiali, bordering the Foro Romano, to the stunning Vittoriano. This, the heart and soul of ancient Roma, never ceases to enrapture us. Via Nazionale led us back to Termini and bus #360 back home.
[Back to Top]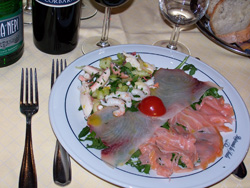 Ristorante La Scala, Viale Parioli, 79d, Tel.068084463, this information is worth repeating because if you're in Parioli you must find your way here. Fabio, Tiziana and the entire staff (all of whom have been there forever) are a big happy family that makes dining pure pleasure. Fabio works the room insuring all are well served. From our observations, the clientele are all regulars. We were seated at the same table as all our previous visits and the same sweet waiter was waiting for us. The basic menu lists a splendid variety of traditional Roman preparations, supplemented by market fresh daily offerings.
To start I chose pappardelle al cinghiale while Linda opted for Fabio's recommendation of misto di mare. The wild boar ragu was rich in flavor and texture. Linda loved the beautifully presented array of smoked salmon, smoked tuna, octopus and crunchy shrimp. We chose two fish dishes as our secondi. Sautéed filets of ombizino, a tender white fish, with capers and mashed potatoes pleased my bride and thick slices of sesame-coated tuna grilled rare on a bed of radicchio sprinkled with balsamic, served with heavenly roasted potatoes was the love of my life. We enjoyed a full-bodied fruity red wine from Lago di Corbara, Orvieto.
For dessert Linda opted for macedonia di frutta freschi, a standard La Scala favorite and Fabio insisted I have a Sicilian delight, "buchellato", slices of cake with a cookie dough texture filled with figs and bits of pistachio and walnut topped with a dab of whipped cream, another treasure from the cucina of La Scala. Just when we thought it was over, our host presented us with a dish of "frappe carnevale", crispy fried dough sprinkled with powdered sugar, and glasses of "vino liquoroso" from Poggibonsi, Tuscany. Did I tell you dining here is pure pleasure!
We took the 360 bus from Piazza Delle Muse to Piazza Fiume and proceeded along Via Nizza to Via Reggio Emilia, 54. Once an industrial complex, it has been beautifully rebuilt as the home of MACRO, Museo d'Arte Comteporanea Roma. The first phase of the makeover features 6 exhibition halls, art studio, conference hall, media library, library, bookstore and cafe. Construction is still underway to create new space for permanent exhibits. A huge architectural sculpture of wood, glass and steel by Portuguese artist Pedro Cabrita Reis is the centerpiece of the atrium. We watched a stirring video which got us in the mood to appreciate the art forms and mediums on display throughout the complex. A work in progress, MACRO is the heart of Rome's contemporary art community.
Our next stop was Villa Torlonia, Via Nomentana, 70, but first a bite to eat. Via Alessandria which runs off Via Reggio Emilia looked interesting so away we went. We were soon rewarded with the smell of fresh baked bread. At #218 is Forno Lucarelli, the real thing, breads, rolls, focaccia, pastries to die for. The choices were endless but a long loaf of perfectly-baked dough generously filled with spinach and ricotta immediately caught our eye and our hearts. No English spoken here, but the cheerful owner followed our pointing fingers and cut off the portions we indicated and put them in the forno to warm. The texture and flavor of the dough was only exceeded by the freshness of the filling. A couple of bites later, we realized that we made a big mistake by not ordering larger portions.
Via Nomentana is a wide boulevard lined with stately buildings. Approaching Villa Torlonia, recently reopened after restoration, we had no idea what awaited us behind the walls. The glorious park contains two museums, Casino Nobile and Casina delle Civette (House of the Owls).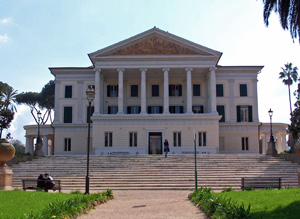 Casino Nobile was purchased by the banker Giovanni Torlonia in the early 1800s. In 1919, extensive Jewish catacombs were discovered under the property. From 1925 to 1943, the Torlonia family rented the house to Benito Mussolini for one lira per year. During this time an air raid shelter was built in one of the Jewish catacombs. It was occupied by the Anglo-American Forces as their headquarters from 1944 to 1947. The City of Rome expropriated the property in 1977 and it has been open to the public since 1978.
The Museo della Villa, the living quarters on the first floor, are spectacular. Intricate marble and mosaics, frescoed walls and ceilings, marble pillars, crystal chandeliers, period furnishings and sculptures decorate the sumptuous ballroom, dining room and matching bedrooms with balconies at each side at the rear of the building. The second floor houses the Museo della Scuola Romana, displaying paintings, sculptures and drawings in perfectly lit galleries enhanced by natural light pouring in through the large windows. There are amazing views of the grounds from both floors.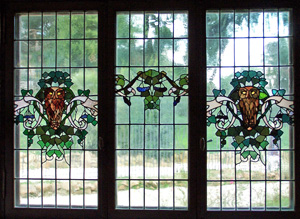 Casina delle Civette is a short walk through the park. It is truly unique and entertaining. This "House of Owls" was planned in 1839 as a Swiss Cabin. In the early 20th century, it was transformed into an eclectic cottage, the residence of Prince Torlonia. Owls are the decorative theme of the brilliant multicolored windows throughout the property. This building was opened to the public in 1997 and has been enriched with other pieces of stained glass, drawings, sketches and cartoons.
Put Villa Torlonia on your "must visit" list.
[Back to Top]
Back at Hotel Delle Muse, we settled into the dining room, shared travel stories with a mother and daughter from Singapore, and had a delicious meal of fettuccini Bolognese, gnocchi pomodoro, lemon gelato and samplings of 3 kinds of tortes (chocolate, apple and Torta della Nonna, grandmother's cream cake).
Palazzo Braschi, Piazza San Pantaleo, 10 (entrance on Via San Pantaleo), houses the Museo di Roma. The oval hall at the main entrance of this 18th century palace leads to a dramatic staircase with 18 red granite columns with ancient sculptures and fine stuccoes inspired by Achilles' myth. The restored interior is a stunning venue for the civic museum of Rome. There is a marvelous presentation of the history of the city - the economic, political, cultural, artistic and social life. What comes through is that the ultra conservative nobles controlled everything and impeded the development of a middle class. The special exhibition was a collection of busts and paintings of famous Cardinals.
The upper floor houses collections from well known families; Barberini, Rospigliosi, Torlonia and Brancaccio, each with a room(s) filled with paintings, sculptures, furnishings and photos.
Palazzo Braschi is located just south of Piazza Navona. We passed through finding the usual tourist hoards and the ongoing restoration projects. Our destination was Ristorante Maccheroni, Piazza Delle Coppella, 14, just north of Navona. The casual dining rooms visible through the front windows looked very inviting. A glance inside the open kitchen revealed loins of beef being sliced, which is probably the specialty since numerous diners appeared to be enjoying their steaks. While tempted, we opted for an appetizer of bresaola rughetta and parmigiano which was excellent. Linda ordered maccheroni all arrabiata which pasta was served hard and barely tepid. Our spirited waiter appeared shocked but recovered in time to take an order for a replacement, fettuccine Bolognese, which was fine except that it arrived when I was nearly finished with my fettuccine ai carciofi, which was very good. Prices were reasonable.
[Back to Top]
It was short walk to Piazza del Campidoglio and the Musei Capitolini which is housed in the Palazzo dei Conservatori and Palazzo Nuovo which face each other across the Piazza. The third building at the rear is the Palazzo Senatorio. The two museum buildings are linked by an underground passageway which contains the Epigraphic Gallery, which leads to the ancient Tabularium whose arches overlook the Forum.
The Musei Capitolini date back to 1471 when Pope Sixtus IV donated a group of bronze statues to the people of Rome. These statues constituted the original core collection. The collection grew with finds from excavations around Rome, items moved from the Vatican and collections bought for the museum.
The Conservator's Apartment is a series of rooms of the ancient civil court. The "Great Hall" has a cycle of frescoes depicting the origins of Rome. The "Hall of the Captains" has sculptures of famous Generals and frescoes portraying military valor and civil virtue. A coffered ceiling shows scenes from the poem "The Liberated Jerusalem". "The Hall of Triumphs" named for the fresco celebrating the victory of the Roman consul Lucius Paulus over Perseus, the King of Macedonia. The ancient Capitoline bronzes are on display here along with the famous "Spinaro" (boy removing thorn from his foot).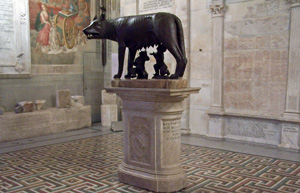 The "Hall of the She Wolf" displays the bronze masterpiece, "Capitoline She-Wolf", from the 5th century B.C., given by Pope Sixtus IV to the Roman people, which became the symbol of Rome.
Legend has it that Rome was founded by the mythical twins Romulus and Remus who were nursed by a she-wolf. The two boys were added to the original bronze to complete the legend.
The "Hall of Geese" features two bonze Roman geese that were a gift from Pope Benedict XIV. It is said that geese gave the alarm that saved Rome from the invasion of the Gauls in the 4th century B.C. The "Hall of the Eagles" has two sculptured eagles atop cipolin marble columns, a copy of "Diana Ephesian", a marble sculpture with extremities in bronze, decorated with flowers, bees and symbols of fertility and an extensive ceramic display.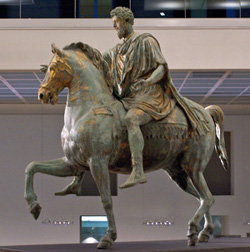 [Back to Top]
A recently-built huge glass room contains the original "Il Monumento Equestre di Marco Aurelio" (the equestrian statue of Marcus Aurelius) which once stood in the center of Capitoline Square. The original statue of Marcus Aurelius, without his horse, is displayed nearby. Copies of both statues have replaced the originals in the square outside.
There is a section devoted to Campidoglio's ancient history, from its first inhabitation until the construction of the sacred building, displaying the results of recent excavations.
The second floor houses the Capitoline Picture Gallery which contains many important works arranged in chronological order from late medieval times to the 18th century. The collection includes works by Caravaggio, Guido Reni, and Pietro da Cortona. A massive canvas by Guercino, "Burial of Saint Petronilla", dominates the hall of the same name.
The Palazzo Nuovo has marvelous collections of ancient sculpture commissioned by the noble families of the past. There are busts of Roman emperors and philosophers, a statue of Capitoline Gaul and Capitoline Venus and lots more. In addition there is an exquisite collection of porcelain figurines and tapestries.
It is definitely worth your time to visit this amazing museum that puts everything around it into perspective.
Taking Via Nazionale to Via XX Settembre, we made our way for dinner at da Vincenzo, Via Castelfidardo, 4-6, Tel. 06 484596. As usual, Paolo and family were on hand to welcome us. There is a tempting antipasto buffet as you enter and sometimes overlooked is a nearby table where daily specials are displayed. Paolo pointed out a heaping platter of polpetti(cod fish balls), a traditional Friday Roman dish, which proved to be an excellent reason to return every Friday. Along with these gems we started with cod carpaccio with arugula and tomatoes with outstanding buffalo mozzarella. A dry, crisp, fruity white, Molamatta, 2005 was nice company for these treats as well as the grilled whole Dover sole and home cut fries we shared as our secondo. An unbeatable combination, Musei Capitolini and Ristorante da Vincenzo!
Another day we met Graziella and Gino, friends we first met via TheTravelzine travel discussion group, for lunch at Trattoria Settimio, Via Pellegrino, 117. We've previously had very good meals at this establishment and felt good about recommending it to our friends. Alas, it was an embarrassing disappointment this day. We regained our credibility with gelati at Giolitti, still our favorite in Rome. We further salvaged our eating day back at the hotel with bowls of hearty fettuccini con funghi e ragu and divine tagliolini limone.
Trastevere translates into "beyond the Tiber", the other side of the river. It is the Quarter across from the old city, easily reached by walking across Isola Tiberina or the bridges on either side. Trastevere is like a village within the city, with its own history and culture. The ancient dwellings are being restored and a younger generation is replacing the older inhabitants through inheritance or purchase. We prefer visiting during the day when the streets are relatively quiet because at night it's a magnet for young tourists looking for places to eat and have fun.
[Back to Top]
We started our tour at Piazza Sonnino which houses the medieval Torre degli Anguillara, better known as the "House of Dante", a cultural institution that promotes studies about the poet. The main shopping thoroughfare, Viale di Trastevere starts here, but we opted to turn right on Via della Lungaretta toward Piazza Santa Maria in Trastevere. This is the popular social area with many restaurants, bars and shops, a zoo at night but this morning, tranquil.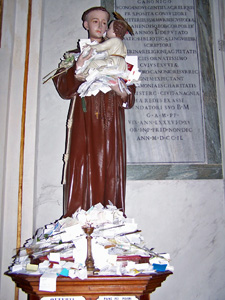 The Chiese Santa Maria in Trastevere, founded in the 4th century by Pope Julius I, was the first church in the city dedicated to the veneration of the Virgin. The magnificent apse mosaics depict the Coronation of the Virgin and Stories of the Virgin. The Altemps Chapel to the left of the apse has a rare 6th century painting of "Our Lady of Mercy". Nearby, at the statue of St. Anthony, the faithful leave letters asking for miracles.
Just around the corner in the Piazza San Calisto is the Bar San Calisto, a traditional neighborhood bar where the locals line up for gelato purported to be homemade and delicious. This was verified by Linda, gelato maven supreme, who is up for it even before mealtime.
The streets of Trastevere are filled with wonderful eating opportunities and now that it was lunch time and sunny and warm, tables were spilling out onto the sidewalks and streets and the sights and smells were pretty darn inviting.
Since chef Luigi at Hotel Delle Muse had promised to fill our special request for stuffed carciofi this evening, we decided to have a small lunch. Old Forno la Renella, Via del Politeama,27 was the perfect answer. The large pans of pizzas had the right look, homemade dough with quality toppings. We chose several kinds, had the portions cut in smaller pieces for easy sharing, and moved over to the eating counter to enjoy.
Nearby we stumbled into the tiny Piazza de Renzi where we saw a slew of people waiting to eat at Trattoria da Augusto. A look at the posted menu told us why: traditional Roman dishes at very low prices. It was packed inside and out with folks of all ages. We made a note to return.
Via della Scala becomes Via della Lungara, home to the John Cabot University. The university's mission statement reads: "John Cabot University is committed to helping dedicated and deserving students meet their educational goals through a focused and merit-based scholarship program. The University feels that students of limited means and/or extraordinary academic achievement should have the opportunity to avail themselves of the high quality education that JCU offers.
In turn, all scholarship recipients are asked to sign a 'Statement of Commitment to Education'. The agreement acknowledges a moral responsibility, to be acted on at some time in the future, when personal finances make it possible, to provide financial assistance to other students in need. This policy was developed by Richmond University in London and adopted by John Cabot University in keeping with the unified goal of educating men and women for leadership and service in an interdependent world."
On the same street at number 230 is Villa Farnesina, The seat of the Academy of Science. The grounds are splendid, the frescoes and friezes that decorate the 5 main rooms are magnificent. The works were done in the 16th century by the likes of Peruzzi, Raphael, Piombo, and Sodoma. Find your way here!
[Back to Top]
We worked our way back to the other side of Viale Trastevere to the site of the ancient barracks of the police and fireman and a few of the remaining ancient homes. At #14 Vicolo dell'Atleta is a 13th century building with a loggia and arches on stone corbels that has inscription in Hebrew on the central column. It is thought to be the only surviving ancient synagogue in Trastevere. There was a good size Roman Jewish population in the middle ages.
At the corner of Via di Santa Cecilia and Piazza dei Mercanti is the Church of Santa Cecilia, which was built over a Roman house. Piazza dei Mercanti is surrounded by ancient buildings home to two famous pizzerie where the waiters wear period costumes.
Adjacent to Trastevere is the district of Testaccio historically famous for the mountainous pile of the amphorae of Rome, which broken fragments were called "Testae", thus the name. It has overcome this humble beginning and is undergoing rejuvenation. Restaurants, clubs and discos have sprung up and the masses arrive in the evening looking for entertainment, somewhat rowdy at times from what we've heard.
The large square in the center, Piazza Testaccio, is home to a large daily market where the locals can find all their needs and where tourists love to roam.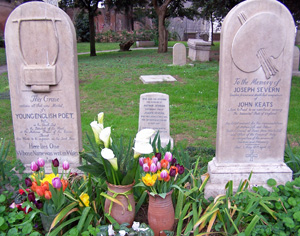 The real find in Testaccio is at Via Caio Cestio, 6, "Il Cimitero Acattolico di Roma", "The Protestant Cemetery in Rome" (closed Sundays). It is known also as "The Cemetery of Poets and Artists", since Keats and Shelley are interned here. According to the regulations of the cemetery, it is for "non-Catholic citizens"; however a member of the Church of Rome may be buried in a grave belonging to a non-Catholic member of the family. This cemetery is the last resting place of nearly 4,000 souls, mainly of English and German birth. There are also a number of Americans, Scandinavians, Russians, Greeks and other nationals.
The cemetery is quite beautiful, in the shadow of the Cestius Pyramid which was a part of the Aurelian town walls. The cemetery is administered by a group of foreign embassies. The financing comes only from donations. We spent quite a while walking through intrigued, not only by the famous, but the diversity of the souls resting here. This is a cemetery well worth your time.
[Back to Top]
Luigi, the chef at the Hotel delle Muse, outdid himself tonight. The stuffed carciofi were outstanding! Of course that was just for starters. We further feasted on selections from the vegetarian buffet followed by baked, breaded sole filets with roasted potatoes.
The Annibale Carracci exhibition was at the Chiostro del Bramante at the north end of Via della Pace, just west of Piazza Navona. On the way there, we passed through the stunning rococo Piazza S. Ingnazio and were drawn into the impressive Chiesa di Sant'Ignazio di Loyola. Originally it was the Church of S. Annunziata built for the Collegio Romano. Eventually a larger church became necessary to serve the growing student body. Work started in 1626, it opened for public worship in 1650 and was finally consecrated in 1722. There was concern that the design for the height of the cupola would block the sunlight from the Dominican's Library. The decision was made to commission Andrea Pozzo, a Jesuit well known for his talent in perspective painting, to paint the dome in trompe l'oeil and the effect is stunning – a brilliant solution indeed.
Annibale Carracci (1560-1609) came from a Bolognese family of painters, brother Agostino and cousin Lodovico who worked together in their early careers. Annibale was the best and was invited to Rome by Cardinal Farnese to decorate the Farnese Gallery in the Cardinal's family palace. The Farnese Ceiling was considered in the same class as Michelangelo's Sistine Ceiling. His work had a great influence on his contemporaries and he is considered to be one of the premier Italian artists of all time. We found his distinctive yet realistic facial expressions, graceful body forms and dramatic use of light most impressive. We were lucky to have been in the city while this impressive collection was on display.
We were wandering around looking for the perfect spot for a light lunch and spotted Miscellananea, International Students Pub, Via delle Paste, 110A, a tiny street approximately between the Pantheon and Piazza S. Ignazio. The environment is totally what you would expect a students' pub to be, from the design to the staff, casual and fun. This is the place for terrific value salads and panini. Linda had a torta rustica with insalata mozzarella e pomodoro and I ordered fagioli, tono e uove sodo. Everything was top quality, well presented – good food for 6€ per person. The house offered a "fragolino", a luscious frizzy strawberry wine for which they are famous. The owner is a big happy bear of a man who makes it his business to get to know his customers.
It was a sunny Sunday so we decided to take Giorgio's suggestion to visit Villa Pamphili, a gorgeous park west of Trastevere. We took the #360 to Termini, where we would transfer to bus #75, which would take us to the park. We waited 1/2 hour for the bus to show up while the waiting crowd grew larger and larger. Villa Pamphili was not to be – maybe next time.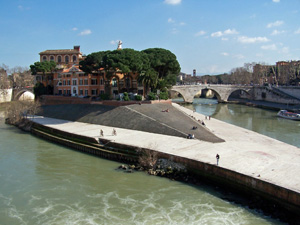 A walk around the park turned into a walk to Trastevere for lunch at Trattoria da Augusto, Piazza de'Renzi, 15. It was late into the lunch hour and the place was packed. We put our name on the list and awaited the call which came about 20 minutes later. We shared a table and conversation with a delightful couple who like most everyone else were regulars who come to enjoy the wonderful Roman home cooking at very fair prices.
[Back to Top]
We ordered lasagna to start but the waitress returned to tell us it was "finito" and suggested rigatoni with tomato and basil, which was served with Parmigiano, a delightful beginning. Linda ordered agnello and for me, coniglio, both cacciatori style. The agnello had gone the way of the lasagna so we both had coniglio. The succulent meaty portions were stewed with olive oil, balsamic, a touch of heat and rosemary - we loved it. Thanks to the delicious chewy, crusty bread we left nothing on the plate.
One of our favorite neighborhoods is Prati, just north of the Vatican, which is always humming with local activity in the shops, eateries and street markets, its proximity to the Vatican ensuring a steady stream of tourists. We were here in search of a gift for a special friend, and to have lunch at the very special Ristorante Perilli in Prati.
We took the #19 trolley from Piazza Ungheria to the end of the line, Piazza d. Risorgimento. It was late morning so we decided to stop at Alice's, Via delle Grazie, 7-9 to have a sampling of their rustic style pizza by weight (al taglio), a neat appetizer before a late lunch - energy for the shopping. There was a big crowd sitting on straw cushions on the outside steps munching away. Inside folks young and old were crowded in front of the long counter making their selections. The pans kept emerging from the kitchen and we were happy to be able to choose a few just out of the oven. The crust was thick, as we prefer, and the toppings top quality; we returned for seconds.
Ristorante Perilli in Prati, Via Otranto, 9-11, has become one of our Roma favorites. The affable owner Massimo is a major reason, but the fact that his cucina prepares superb quality Roman cooking clinches the deal. Even though it was late in the lunch hour by the time we arrived, the place was buzzing; that's because Massimo does a lunchtime buffet that is exceptional in selection and price. After a warm welcome, he found us a table and while we contemplated our choices he brought us a crisp, freshly baked disk of his famous focaccia laced with olive oil and rosemary, which he knows we love. Massimo suggested the buffet, but when I saw stinco on the menu my mind was made up. Linda decided not to be a buffet glutton alone and opted for the veal meatballs with artichoke. Both were a delicious treat as we have come to expect at Perilli in Prati.
Another glorious day to roam Roma. Down past my Carabinieri pals to Piazza Ungheria and west through Villa Borghese eventually brought us to the Spanish Steps - a picturesque, relaxing route. As usual the Piazza di Spagna and the steps were packed with tourists as were all the boutique-filled side streets. Frankly, this is not my favorite part of the city, just too tourist driven, but it was part of our roundabout walk to visit the Museo dell'Ara Pacis on the Lungotevere di Augusta, along the river just about opposite the area of the Spanish Steps.
We walked north on Via dei Corso through more hordes of tourists to the stunning Piazza del Popolo where we turned south on Via Ripetta to our destination. The Museo dell'Ara Pacis was the first architectural work to have been built in the historic center of Rome since the fall of fascism to the present day. The Roman Senate voted for its construction in 13 B.C. in honor of Augustus' return from the provinces of Spain and Gaul, where the Emperor had consolidated both his own power and that of Rome.
[Back to Top]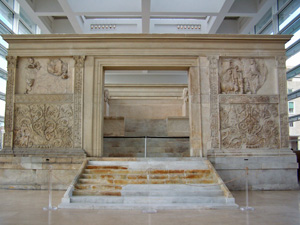 The Altar was built on the Via Flaminia, but it soon was buried by flooding and lime deposits. It was reconstructed inside the pavilion on Via di Ripetta which had become damaged with the passage of time. This new museum complex has been designed to withstand the elements by creating a stable environment which includes an anti-earthquake system.
Its stark white and glass exterior is hard to miss and is captivating in its simplicity. The setting on the river is very tranquil and encourages visitors to linger on the steps and balcony leading to the entrance. Once inside we were struck by the brilliant design of the Altar and lighting (both natural and artificial).
In an adjacent room, facing the Tiber is a brilliant mosaic wall by Mimmo M. Paladino. The spacious exhibition area below displays replicas of excavations of the Ara Pacis from 1903, models of this new monument, historical information both in written and replica form.
A friend suggested that if we were looking for a change of cuisine, there is an authentic German beer hall called Martini at Via Tunisi, 12 (just north of the Vatican). The clincher was that he told us the Swiss Guards from the Vatican eat there. They have been in business since 1976.
The jovial owner, Franco, was rolling up the front door when we arrived. He led us down the steep stairs into indeed, a mini German Beer Hall, complete with light wood paneling, large comfy booths, decorated with beer bottles, posters and artifacts. We were joined by Franco's wife Giovanna and made to feel comfortable in the very cozy environment. We feasted on pork steak, assorted sausages, bratwurst, 2 kinds of sauerkraut, roast potatoes, convection baked fried potatoes, which we washed down with delicious Weiss bier. Many other German beers are available; lights, darks, reds, cocktail types, light (fruity) or dark (aromatic, spicy). Franco insisted we sample the strawberry and papaya beers which were "interesting". We finished with a liqueur digestive served in a test tube, welcome after the quantities of food and beer we consumed.
We couldn't leave Rome without a visit to the best tavola calda we have yet to find in the city. The #360 from Piazza Delle Muse took us directly to Piazza S. Giovanni from which it is a 10 minute walk on Via Taranto to #64, Papero Giallo. The array of meats, pasta, vegetables, chicken, fish, seafood, all fresh cooked quality products is pure heaven. Experience had taught us that the fish offerings are outstanding so it was easy pickings, a whole baked orata with roasted potatoes for me and baked salmon topped with sliced potato and tomato for Linda - awesome. As usual the tables were filled, thanks to the great food and unbeatable value.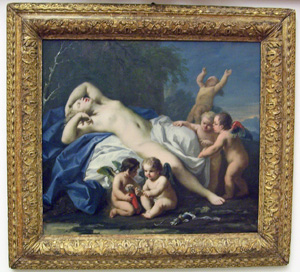 When we went to the Musei Capitolini we noticed that The Complesso del Vittoriano, Piazza Ara Coeli, was hosting an exhibit of works of art from the Terruzzi Collection, so after lunch we found our way there (the exhibition ends May 20, 2007). The Terruzzi Collection was accumulated over the course of 50 years. A representative selection is on display in three groupings; painting, furniture and porcelain. The paintings span 7 centuries, the 14th to 20th, ranging from the golden backgrounds of the 14th century to contemporary works. Venetian paintings play a prominent role along with other Italian schools. The furniture and porcelain are exquisite and really captured our attention.
Entrance to the Terruzzi exhibit includes a visit to the permanent military exhibition, a trip through Italian military history which includes sculpture, paintings weapons and artifacts - quite fascinating. Particularly impressive was a the huge sculpture commemorating the "Battle of Castefidardo" by Vito Pardo and the carriage that carried the body of the "Unknown Soldier", to his resting place here in Vittoriano.
Back at Hotel Delle Muse we had a final dinner of fettuccini with shrimp and arugula and Scallopine Valdostana. A few scoops of ice cream topped off another great dinner and our sweet memories of winter 2007 in Italy.
[Back to Top]
MARINA DI CASTAGNETO CARDUCCI | PISA | FIRENZE | AREZZO

CORTONA | PERUGIA | FOLIGNO | TERNI

ORVIETO | ROMA
Search TheTravelzine | TheTravelzine Group | Don's Gallery
Packing Hints | Planning Tips | Cities Links

---
All pages on TheTravelzine.com©Copyright 1996-2020 Don & Linda Freedman