ITALY
WINTER 2007

FOLIGNO
The train ride from Perugia to Foligno offers terrific views of Assisi, Spello and the Umbrian landscape.
We were fortunate to have met Gianluca who operates "Umbria Driver", a service that offers a car and driver service, with programs and itineraries that showcase the highlights of Umbria. Besides special excursions for wine, olive oil and nature, they will custom-design programs.
Gianluca was able to take a break from his busy schedule to pick us up at the train station and take us on a short tour to sample some olive oil and wine while enjoying the Umbrian countryside. Our first stop was at the Cooperativa DiTrevi, S.S. Flaminia Km. 141,7, Bovara di Trevi. DiTrevi Co-operative Society was founded in 1962 with the goal of uniting the local growers to produce oil of exclusively superior quality. Judging by the oils we tasted, they have succeeded in their mission.
Driving through the rolling hills covered with olive groves is a glorious sight and from the Montefalco viewpoint, the beauty of the landscape is spectacular. Next, we were off to Bevagna and a stop at Fattoria Milziade Antano, a small wine producer of exceptional quality. We particularly enjoyed the Sagrantino de Montefalco we tasted.
Gianluca told us he had a special place he wanted us to see in the town center. When he pulled up to L'Orto Degli Angeli, we knew immediately what he had in mind. We had stayed here on our last visit to Bevagna and our host, Francesco Antonini Mongalli, had told us he was moving the restaurant across the way into a well preserved part of the Mevania Roman Theatre, from the first century.
The Redibis Restaurant is indeed spectacular, with its contemporary design in an ancient, cavernous stone and brick venue. An open modern kitchen sparkles in the rear and turns out traditional Umbrian cooking. An inviting bar offers a cozy place to relax before or after your meal. Redibis is the latest testament to Francesco's stylish approach to hospitality.
[Back to Top]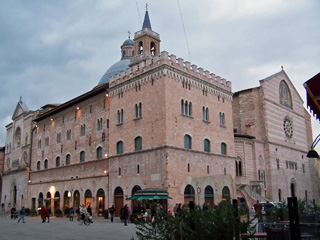 Finally Foligno, which spreads out on level ground around the main square, Piazza della Republica. It is a transportation and commercial hub, far more modern in appearance than its Umbrian neighbors.
Gianluca dropped us off at Hotel Italia, at Piazza Matteotti, 12, which is adjacent to Piazza della Republica. It's a low key, comfy kind of place. The family and staff made us feel right at home. The building was an ancient residence of a noble family with a variety of room styles. Some are traditional in design featuring wood beamed, brick or frescoed ceilings while others are quite modern with sitting rooms.
Our twin-bedded room was modestly furnished, with satellite TV. The bathroom had a large stall shower. It was fine, basic comfort and very clean.
Dinner was at Ristorante IL Cavaliere, Via XX Settembre, 39, tel.0742 350 608. The owner and staff were pleasant as was the environment. The small individual rooms were done in brick and wood paneling, decorated with the usual wine bottle displays. Speaking of wine, the recommended Montefalco, Arnaldo Carai, 2004, a blend of 85% sagrantino and 15% merlot was quite wonderful, full bodied and fruity with a nice finish.
The pasta of Umbria is strangozzi, which is made with egg whites and flour. We decided to have it 3 ways (half orders), spicy tomato, porcini mushrooms and carciofi and half order of ravioli filled with ricotta and spinach with carciofi. Pasta heaven!
Meat dominates the menu so it was agnello scottadito grille (grilled lamb chops) for Linda and filetto grille for me. Both were superb. The bill for this quality and quantity was very reasonable. Be sure and call for reservations.
[Back to Top]
Foligno is really a very small town. The main attraction is the Palazzo Trinci in Piazza della Republica. It was the seat of the Trinci lords who governed from 1305 to 1439. Today it is the city museum housing a picture gallery and two archeological sections. The most prominent feature of the museum is its complex cycle of frescoes painted from 1386 to 1415. The frescoes in the chapel were done in 1424. The adjacent Duomo is a mixture of architectural styles. The smaller facade remains true to its Romanesque form while the interior is Neoclassical. The Duomo houses two busts by Bernini, an oil painting on wood by Alunno and a silver statue of San Feliciano.
It was a sunny Sunday and every family in town was patrolling the hub, Piazza della Republica and its spokes; Via Cavour, Via XX Settembre, Via Mazzini and Via Giuseppe Garibaldi. We joined the walk-a-thon until we discovered an ultra modern lavandaria, which sent us hustling to the hotel to pick-up our stuff while the machines were available. It's still a great way to meet the locals!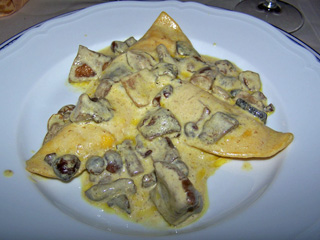 The hotel restaurant, Via del Forno, is considered to be one of the best in the city. Like the hotel, old world comfy with vaulted brick ceilings, high archways and period furnishings. We perused the menu while enjoying the homemade, twisted bread sticks and cheese balls, with a Montefalco Rosso - Fongoli, a blend of sangiovese, sagrantino and merlot.
We started with a soup of mixed beans and grains (chickpeas, lentils, farro, and beans); the ingredients are cooked separately, combined before serving and drizzled with spicy olive oil to taste. Excellent.
We shared homemade strangozzi with artichokes, chestnuts and fish plus ravioli stuffed with ricotta and mushrooms with mushroom sauce and a secondo of succulent roast pork with funghi left us too full for dessert. A delightful dinner.
[Back to Top]

MARINA DI CASTAGNETO CARDUCCI | PISA | FIRENZE | AREZZO

CORTONA | PERUGIA | FOLIGNO | TERNI

ORVIETO | ROMA
Search TheTravelzine | TheTravelzine Group | Don's Gallery
Packing Hints | Planning Tips | Cities Links

---
All pages on TheTravelzine.comęCopyright 1996-2020 Don & Linda Freedman