PORTUGAL
Fall 2004
Vila do Conde | Guimaraes | Amarante | Porto | Aveiro
Coimbra | Sintra | Cascais | Ericeira | Lisboa
Lisboa
As is the case today, I often dress in my oldest, washed out, torn jeans and matching shirt when I am writing. These are my comfort clothes. My body and mind are relaxed and I can even enjoy the task before me. Lisboa has the same effect on me as my old beat up jeans. They have a lot in common. People pay big bucks for designer jeans that look like mine - old, but new. Lisboa's ancient past is in the air but it has also given birth to a new and vibrant society.
The history and diversity of the city manifests itself in the striking buildings, busy squares, proud neighborhoods and most of all in the goodness and kindness of its people. Its seven hills create a unique geography that has shaped a dynamic pattern of living and a rare opportunity for a resident or visitor to find untold treasures.
We were happy to be back in Lisboa. The bus from Ericeira arrived at the bus terminal at Campo Grande north of the city center. It is possible to take a bus or the metro into the city. We opted for the bus (#36) which took us to the Avenida stop on Avenida da Liberdade, the middle of the city.
We feel the same way about the Heritage Hotels, as we do about Lisboa - pure comfort and relaxation. The Heritage properties, like the city, all have a proud history and offer a diverse experience.
It is always difficult to decide which of the four hotels to chose. We made it easy; we would stay in three of the four: The Britania, Lisboa Plaza and As Janelas Verdas. We had stayed at Solar Do Castelo last trip. It is going to be even more complicated in the future as there is going to be an addition to the family on a corner north of Rossio on the east side of Avenida da Liberdade. We always include the Britania in our stay. An added incentive this time was that hotel guests would be invited to the 60th anniversary cocktail party, which was a delightful casual affair held in the bar/lounge. It is a few minutes walk from the Avenida stop to the Hotel Britania, on quiet rua Rodrigues Sampaio, 17 which runs parallel to Liberdade on the east side.
The ever smiling Marco opened the arched glass and wrought iron doors to greet us. The 30 room hotel was born in 1944 as an art deco beauty. The ambiance is of an intimate town house where one feels comfortably at home. The marble floors and pillars, graceful reception desk and smartly-styled upholstered chairs are quite welcoming. In the center of the reception area is an open steel sculpture of the world with a model Portuguese sailing ship which depicts the proud Portuguese exploration history. At the rear is a very attractive modern-style glass and steel elevator. Nearby are showcases of old dinnerware and glassware and a fantastic curiosity, the original barber shop. Adjacent to the reception is the Imperio Bar and the library/lounge, a perfectly delightful environment for enjoying a port with your newspaper or for socializing before heading out for dinner. A hearty breakfast is offered each morning in this cozy area, including two egg preparations, hot and cold meats, fresh fruits, cereal, rolls, cheese, vegetables, fabulous fruit cake and traditional natas. The service is superb.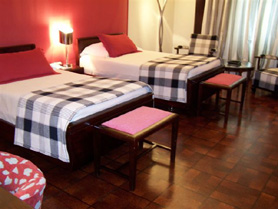 We were surprised and delighted when we opened the door to our room. It was the same room number as last time but it was a different room. Gone was the carpeting; in its place the original magnificent cork floors had been brilliantly restored. The traditional bedroom had been updated to a fresh modern design. A smart crimson fabric is draped gently behind the bed on a soft cream wall. Decorative matching pillows sit atop a bold white and black plaid bedspread. The chairs are upholstered in a matching fabric. The striped drapes are in the same coloration. Graceful brushed chrome lighting fixtures and black and white photos framed in silver gray were very complementary. We were pleased that the marble and chrome bathroom with terrific lighting and a generous supply of quality terry towels remained the same. All the other good stuff was in place; digitally controlled air-conditioning, safe, satellite TV, hairdryer, bathrobes, slippers and modem jack. A computer and complimentary Internet access is available at the front desk for use in the bar area. Our room was quite large, as are all the others, with an extra bed, comfortable sitting area and lots of closet space. Here tradition and modernity blend to make us feel at home. The owners and staff would have it no other way.
There are many restaurants in the area both east and west of Liberdade that offer wonderful inexpensive lunches. We have a favorite that we think is impossible to beat, Tendinha do Salitre, Rua do Salitre, 141, which is open only for lunch. Unless you are in line when they open you will wait, but it's worth it. The customers are business people in the area; we have never encountered tourists. Although a year had passed since our last visit, the one fellow who waits on all the tables recognized us while we were waiting to be seated. We were happy to see that the same two ladies were in the open kitchen in the rear. The shared tables seat about 40. We were late so we got a table for 4 all to ourselves.
The generous bowl of green bean and cabbage soup, at an incredible 1 euro, was perfect. As mains, very large thick slices of cherne (halibut) served with boiled potato and mixed salad. The fish was the freshest and best tasting to date, just 6 euro, followed by a large wedge of Molotov (whipped egg whites with yolk sauce) – 1 euro. I had a small glass of Super Bock - .70 euro and coffee for Linda - .50 euro. We love this neighborhood!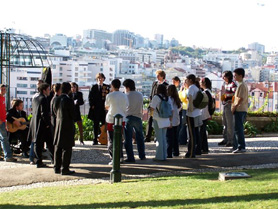 Lisboa has seven hills with funiculars and elevators for easy access to four. We have been on three of them; Gloria - connects Avenida da Liberdade and Bairro Alto, Bica - from the riverside to Camoes (climbs one of the steepest hills), Santa Justa - a vertical elevator from Baixa to Carmo (45 meters high with great city views). Today we tackled the fourth, Lavra, the oldest running from just east of Liberdade to Campo Martires da Patria. The Jardim do Torel is nearby. Entering the garden, there is a fountain which was filled with students singing and dancing while nearby another group was acting out skits, all part of student initiation, and quite entertaining. Benches were filled with senior gentlemen reading, playing cards and chatting. There are marvelous views of the spectacular Lisboa rooftops all the way south to the river. It's possible to walk down through the gardens but we opted to continue exploring the area on high. Passing some grand villas, we came to an impressive large white building that turned out to be the Faculty of Medical Science of Lisboa. In the square in front is a statue of Dr. Sousa Martin, a memorial to this beloved doctor. Just beyond is a lovely park with a pond sporting well fed ducks, swans and roosters parading the banks.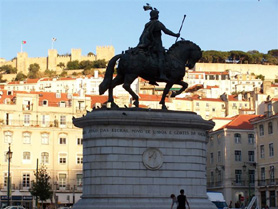 We made our way down on foot to Rua Fontes de S. Antao, which is lined with restaurants catering mostly to tourists. The two major squares, Praca da Figueira and Praca D Pedro IV sit side by side always crowded, always abuzz with activity. Between the Baixa district and Av.da Liberdade, they are transportation and social centers. Here one can fully appreciate how the multi-cultural diversification of the city developed over the centuries. We have often looked down at these two squares taking photos from high on the Alfama hill at St. George Castle. Today we looked up and were enthralled with the sight of the Castle bathed in sunlight. Linda whipped out the Kodak and captured the brilliance.
Our hosts at Britania tipped us off to a new restaurant that had opened nearby. Luca Restaurante is located on Rua St. Marta, 35, Tel. 21 3150212. We met Luca, the very charming and engaging entrepreneur with many years of experience, filled with energy and enthusiasm for his restaurant, as well he should be. A short time ago, he made the decision to open here in Lisboa instead of in his native Italy. We are not the only ones to fall in love with the city. The opening was only 3 weeks ago so we went with limited expectations. The design is crisp, clean and contemporary with an all white interior and brown wood trim. The subdued lighting creates an inviting atmosphere. There's a small balcony with limited seating. Large portrait photos of typical Portuguese people grace the walls and provide a neat cultural tie-in. Luca greets all his guests personally. The staff is well-trained and generates the same dedication and spirit as Luca. The menu offers many excellent choices and we were having trouble making decisions. We finally made one, we asked Luca to choose for us. The house offered a clever, mouthwatering teaser, a shot glass filled with vichyssoise and hazelnut mousse and a basket of house made foccacia.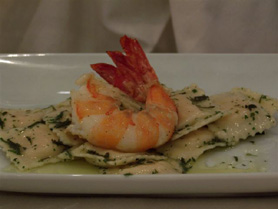 Luca suggested a Marques de Borba red from Alentejo that was fruity with a touch of oak (aged in oak barrels), very nice. For starters, shrimp ravioli for Linda and risotto ai funghi porcini with Parmigiano Reggiano for me. The tender ravioli were filled with shrimp and lightly bathed in olive oil, parsley and a touch of salt. Linda declared the dish to be awesome and the exquisite shrimp garnish the best yet. My risotto was cooked perfectly al dente, bursting with flavor. Are you sure we're not in Italy?
Our waitress, cheerful and eager to please, was adept at unobtrusive service. Luca worked the room, kitchen and bar attentive to every detail inspiring staff and customers.
We have had veal cheeks, but tonight it was to be cheeks of black pork, the very tender and tasty variety raised in Alentejo, cooked with red wine and served on a bed of green lentils - simply heavenly.
Still capable of handling dessert, we shared chocolate cake filled with dark chocolate served with caramel gelado and a very unusual tiramisu - served in a large glass with basic tiramisu at the bottom, topped with gelatin, vanilla ice cream and whole hazelnuts. Winners!
The prices for this quality of dining were very reasonable. Luca is great guy and his great restaurant a welcome addition to the Lisboa dining scene. I suspect, reservations will be mandatory as word spreads about this gem.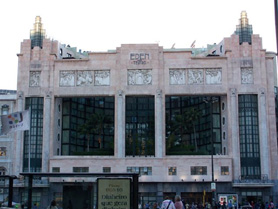 Avenida da Liberdade is terrific for window shopping. It was obvious to us that the best buy for our Canadian dollar was shoes, but we had to save room for the gifts we planned to buy. A Smart Car showroom caught our eye and we fell in love with a couple of models not yet available in Canada.
We decided to go to the Chiado district to look for the gifts. The Elevador da Gloria funicular from Av.da Liberdade took us to the Sao Pedro de Alcantara belvedere. From this vantage point there are impressive views of the grid of streets of the downtown Baixa district, the St. George Castle and the houses of Alfama. Rua s. Pedro Alcantara south becomes Rua da Misericordia which flows into Largo do Camoes. To the west of these streets is the Bairro Alto, to the east Chiado. Largo do Camoes is where these two districts meet. Rua Garrett, the main shopping street in Chiado, starts here. There is no shortage of designer fashions for body or home and business was brisk. There's a multi-level, enclosed shopping center with a Metro station within. The busiest spot in Chiado is the famous Cafe Brasileira; founded in 1920 it became a favorite meeting place for intellectuals. Vista Alegre has a sensational shop here and it was neat to see the pieces we saw being created and manufactured at the factory in Aveiro beautifully displayed for the buying public. And buying they were, the shop was filled with serious shoppers many of whom were tourists from around the world. Nearby is the well-known bookstore, Bertrand, where we enjoyed browsing the nooks and crannies.
It was back to our favorite lunch spot Tendinha do Salitre, Rua do Salitre, 141 for a late lunch. Shortly after we were seated our man brought us each a bowl of hot soup, without being asked. Is he a fast learner or what? Today I had a grilled dourada and Linda again had the cherne, both were served with potato and mixed salad, and fresh sweet melon finished us off nicely - the same low prices, the same delicious, large portions of ultra fresh ingredients.
It had been several years since we visited Hotel As Janelas Verdes, rua das Janelas Verdes, 47.Janelas Verdes is a very pretty street of attractive historical buildings including the Ancient Art Museum next door to the hotel, itself a refined 18th century mansion. As Janeles Verdes was the home of the writer Eca de Queiroz. It is said to have inspired him when he created another great house, "O Ramalhete", in the book "Os Maias". The atmosphere is one of peace and comfort in which a writer would thrive. Art, books, paintings and memorabilia, an integral part of the design, are a tribute to the novelist, create a very special oasis of romance and tranquility for guests.
Since our last visit, the traditional charm and grace of the furnishings had been enhanced with the introduction of new fabrics and colors. The inviting ground floor lounge and adjoining "Maia" room are furnished for supreme comfort, whether for enjoying breakfast or relaxing throughout the day. In fine weather, breakfast can be taken in the gorgeous patio garden, a cool spot for enjoying a beverage and conversation any time.
The top floor library is an exquisite room with an honor bar and adjacent tiny kitchen with complimentary coffee and tea and honor snack foods. The large deck outside the library hovers over the Tagus River and the waterfront.
As you can see, As Janelas Verdes is a congenial place to meet friends and fellow guests and perhaps discuss the progress of your next novel.
The bedrooms are gracious in size, decor and furnishings providing the best of traditional Portuguese comfort and hospitality. The same attention has been given to the bathrooms, like this one done in gorgeous brown marble and blue tile. Lovely painted ceramic pieces grace the countertops. The rooms all have air conditioning, satellite TV, a safe, modem jack, hairdryer and bathrobes. The bathroom amenities are plentiful.
Eggs, meats, fruits, cereals, cheeses, breads, rolls, pastries all make breakfast a grand treat, top quality and well-presented. The happy staff provides excellent service, a great way to start the day. A high level of care and consideration is in abundance here at As Janelas Verdes. It's nice to be pampered with such warmth.
Getting around Lisboa is easy thanks to the very efficient public transportation system of buses, metro, funiculars, elevators and trams. As we walked toward Bairro Alto a bright yellow tram dedicated to an advertised product once again reminded us of how much fun this popular and practical mode of transportation can be. They have a long 100 plus year history. They are cute and colorful; originally they were red and then yellow and today the advertisers creatively design these mobile billboards. They move quietly through the narrow streets, up, down, twisting, turning around the hills and across the downtown streets and through neighborhoods. If you're not into walking, trams are a great way to see the core of the city. Hop on, hop off, walk around, or just stay on and enjoy the sights, sounds and smells. A few years back we took the famous #28 tram from beginning to end and back again; it was a revelation of people and places.
The streets and buildings of Bairro Alto have undergone some needed renovation in the past several years; after all this quarter was built 500 years ago. The grid pattern of the streets and traditional Portuguese architecture are unchanged, just cleaned and prettied up. Time has not stood still, sophisticated fashion shops and restaurants now share the bustling day and night life. The narrow streets have always attracted people of the arts and culture to its cafes, bars and fado haunts. Most of all, this is a neighborhood where people live, where the laundry lines are always full and the fresh smell permeates the atmosphere. Colorful plants grace the balconies and neighbors swap greetings through their windows. We enjoy the feel of daily life here in the Bairro Alto. The character changes in the evening into the early morning as folks arrive to eat, drink and be merry.
Hotel Lisboa Plaza, Tv. Salitre/Av.Liberdade, is perfectly located a few steps off Liberdade on a quiet street in front of the Jardim Botanico. It was opened in the early 1950's with a strong character of casual elegance which continues to this day.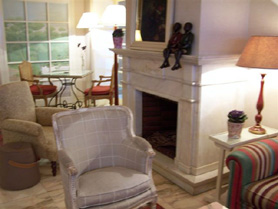 The paned glass window front is not only distinctive but allows the light to stream into the entrance hall and shine onto the marble floors and pillars. Like all Heritage Hotels there is a constant evolution not revolution. Since our last stay, we noticed new fabrics on the chairs and sofas in the lobby, library and Paddock Bar, delightful areas for relaxing or meeting friends.
The attention to detail in the tile work in the elevators, on the marble staircase, the paneling on the room doors matching that in the corridors, the tables, chairs and accessories in the corridors are the kinds of details that make this 94 room, 12 suite hotel feel like you are staying in a private home. When we checked in, we were told that if we would be going to the airport when we left (which we were) they would give us complimentary tickets for the autobus #91 that leaves every 20 minutes from the Avenida stop just across Liberdade. Since our last visit a business center has been set up with Internet access, a printer and scanner.
We were going to really appreciate our roomy suite the next day, our last before leaving, because the rains came. Just as well, it was time to get organized to leave. The living room, bedroom (both with satellite TV) and marble bathroom had all the comforts of a luxurious home; we were wanting for nothing. It was warm enough to enjoy the air-conditioning. We enjoyed the decanter of port and bowl of raisins on the coffee table. We relished lounging around in the thick terry bathrobes. If we had 10 times the luggage, we might have filled the two built-in closets.
This was a special night. We were having dinner with Joao and Louisa, members of TheTravelzine discussion group that we would be meeting "in person" for the first time. They joined us in our living room for a pre-dinner port which gave us an opportunity to get acquainted.
We were off to the Carnide district northeast of the city to O Galito (small chicken) at rua da Fonte 16-a, Tel. 217 166 475, a restaurant specializing in Alentejo cuisine. It's small, bright and cheerful with lots of tile, wood and wine bottles. A small bar displays desserts, fruits and wines which is quite inviting. Mom is in the kitchen behind the bar and her son handles the tables. Joao and Louisa come here regularly and it became obvious why it is a favorite of theirs. An Alentejo feast was launched with a platter of black pork, ham, marinated rabbit, tripe stuffed with a sausage mixture and marinated green beans. A full-bodied red from Alentejo's Vinho do Redonde was a divine partner. This was followed by scrambled eggs two ways; one with tomato, garlic and olive oil, the other with green asparagus. Finally we were each presented a bowl of soup with vegetables and a large bowl of assorted boiled meats for the four of us to share. The meats can be put into the soup or eaten separately. I said "finally" too soon. Four typical sweets were served, each basically with the same contents of cream, eggs, sugar and cinnamon and one had an almond mixture. The food is authentic and well prepared. The place is charming. The service is homespun. The prices are reasonable. The place is small (perfect for getting to know new friends), so be sure to make a reservation.
This was our last full day so we took advantage of our supremely comfortable beds by sleeping late, but not too late to miss the wonderful buffet breakfast we knew awaited us. The restaurant Buffet do Plaza not only offers a wide ranging selection for breakfast but also specializes in a Mediterranean-style buffet for lunch and dinner. We sat by the windows that open to an enclosed garden area. Even though we were relatively late the large buffet presentation was filled to capacity and still inviting. Again, attention to detail; each item was well presented, the entire area was neat and clean, the coffee was fresh and hot, the hard boiled eggs were still warm, scrambled eggs were kept hot, etc., and the staff was attentive. Back to the room to begin to get organized and hope the rain would stop in time to go for lunch to a new restaurant that had been recommended by friends.
The rain did let up and it was short walk to Marisqueira de Santa Maria at Trav. Enviado de Inglaterra and Rua Santa Maria. The sparkling bright, open dining room with traditional tiles on the walls with a bar along one of the walls, was very inviting. We started with a sensational marinated octopus. Linda had a tomato salad with real ripe, sweet fruit and delightful grilled shrimp. My grilled dourada and vegetables were superb. The service was excellent and the prices quite reasonable. We look forward to returning for lunch or dinner next time.
We had another special treat on this our last evening. We met Rui, another member of TheTravelzine discussion group. He came to our hotel on his motorcycle and at his suggestion, we walked up through Chiado to Largo do Carmo near the Bica funicular. We were delighted to take the walk after spending the day mostly indoors and eating. Casa Liege is located right at the funicular stop. We had a very traditional dish of chunks of fried pork, french fries and rice and washed it down with Super Bock Stout, a dark smooth wonderful beer. The Molotov for dessert was very good. The prices were very reasonable.
We woke up to a gorgeous day and after breakfast caught the bus to the airport, 20-minutes from the Avenida stop.
The check-in at SATA was very well-organized and we moved through rapidly. The flight was filled in economy and a family seated near us was having difficulty finding comfort for their small children on their laps. There were two seats available in business class so the staff asked if we'd be willing to move so that the family could spread out. HELLO! The business class on SATA is an excellent value. We had tried to book it when we reserved but all the seats were taken at that time. The seats are well-designed for comfort and plenty of room between seats. The staff and food and beverage service are outstanding. What a wonderful way to end our fantastic trip!
We had a marvelous stay in Portugal and as we flew across the Atlantic, we were already planning our return in 2006.
Vila do Conde | Guimaraes | Amarante | Porto | Aveiro
Coimbra | Sintra | Cascais | Ericeira | Lisboa
Search TheTravelzine | TheTravelzine Group | Don's Gallery
Packing Hints | Planning Tips | Cities Links

---
All pages on TheTravelzine.comęCopyright 1996-2020 Don & Linda Freedman