PORTUGAL
Fall 2004
Vila do Conde | Guimaraes | Amarante | Porto | Aveiro
Coimbra | Sintra | Cascais | Ericeira | Lisboa
Porto
The little red train ran on a narrow gauge line that twisted through mountains, valleys, vineyards, forests and villages along the Rio Tamega until Livracao. The regular train we changed to was very clean and we enjoyed the comfort of our 1st class seating. We arrived in Porto at the historic Sao Bento railway station in the heart of the city. The main hall is adorned with 20,000 decorative tiles by the artist Jorge Colaco. As part of the city wide restoration that has been ongoing for many years, the tiles have been repaired and cleaned to their original luster. The difference, since our last viewing years ago, was amazing.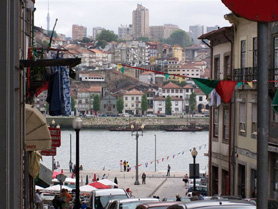 We have been to and written about Oporto many times. This, the second largest city in Portugal, has a seductive intrigue that keeps us coming back. Each visit holds new discoveries as well as joyful reliving of past experiences. We love to wander up, down, around and across the hillside upon which the city resides. We love to crawl into every alleyway and side street to find architectural and gastronomic treasures. We love the Douro River, beside which the city is situated, where everyone eventually meets to enjoy the riverside life and spirit.
It was a ten-minute walk from Sao Bento to the Grande Hotel do Porto, marvelously located on the main shopping street, Rua Santa Catarina, 197. Grande is the operative word: a grande facade of a grande old building on a grande shopping boulevard. The large reception area and the adjoining lounge with tall marble pillars and crystal chandeliers add credence to the word. The wide corridors give a welcome feeling of space and light. The staff was welcoming, professional and attentive to our needs.
Our suite was comfortably furnished. There was an extra single bed in the large sitting room. The twin bedded sleeping room had room to roam as did the adjoining bathroom. All the comforts were of very good quality. There was self controlled A/C and an espresso coffee maker as well as satellite TV. The grande dining room with an elaborately designed ceiling, crystal chandeliers and high/wide windows was a divine setting for enjoying the breakfast buffet. The entire property was spotlessly clean. The quality of the accommodation and location combine to make this an outstanding 3 star value.
Since I wanted to be careful about what I ate for a few days we decided frango no espeto (grilled chicken) would be a good choice for lunch. A few blocks away at Rua do Bonjardim, 219/223 is Pedro Dos Frangos, certainly the right name for this treat! The rush started as we entered the front door and the sight and smell of the chickens rotating on spits over the coal hit our senses. The long narrow room was crowed with patrons sitting and standing at a long counter. We were beckoned by a fellow at the rear to go upstairs where there are dining rooms on two floors. Both were jammed as it was Sunday, family dining out day. It did not take long to be seated and fortunately at a table next to the front windows where we could escape the smokers. It was obvious that this place is an institution and that the waiters had been here forever. They had the fun loving personalities that make this kind of dining an enjoyable experience. Our guy had lived in Canada for several years so communication was easy. He was not too shocked when we asked for boiled potatoes instead of fries with our chicken. We started with chicken soup which was wonderful! Real chicken broth (with the fat to prove it!), pieces of chicken and orzo comprised a homemade delight. The meaty frango was succulent, juicy and flavorful, as good as it gets. It was served with lettuce, tomato and onion salad as well as the tasty potatoes. And, the price was right, a real bargain!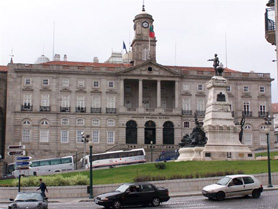 The diversity of architecture, baroque, medieval, and neo-classical, and the exquisite tile work combine to give the city its special flavor. We headed down Rua Bonjardim, around Sao Bento onto Rua das Flores, a street of mainly wholesale/retail textile shops. Near the end of the street, heading toward the river, the Fachada da Igreja da Misericordia is a significant example of 17th C baroque architecture. We passed the Mercado Ferreira Borges, then the stunning neo-classical Palacio da Bolsa (stock exchange palace). Continuing to Rua da Alfandega, we passed the medieval Casa do Infante, where according to legend, Henry the Navigator was born. We finally arrived at our destination, and eventually most everyone's, the Praca da Ribeira, of medieval origins and neo-classical alterations. So, in a relatively short stroll all this diversification.
It was another (hard to take) bright, sunny, warm day and the picturesque ancient square and the adjoining riverfront was a hub of activity. The youngsters were swimming, the teens and adults were drinking and eating, the tour boats were loading and unloading and we searched unsuccessfully for an Ola Magnum Classic (dark chocolate covered ice cream) to which we are quite addicted.
On returning to Rua Santa Catarina we walked past our hotel to the enclosed mall "Via Catarina". We had often walked this wonderful shopping promenade of boutiques, cafes (including the famous "Majestic"), food shops etc. but had never made our way into this wonderful shopping mall. There are 3 levels of shops and a top level food court offering local foods as well as the ever present "McD". We stumbled across a laundry in the lower level and hurried back to the hotel to gather a few things that needed attention and got back just before they closed. They assured us it would be ready the next day just after noon.
We headed over to Rua do Bonjardim once again for dinner to a restaurant we had enjoyed immensely in the past only to find it closed today. The owner of a small jewelry store next door suggested we go across the street for a great meal. And so it was we found Antunes at #525/529a. Tel. 22 205 24 06 or 22 200 65 77. We were greeted by the owner's brother, Domingos who, having lived in Canada for years, spoke English very well. His sister Maria does not speak English but it was easy to communicate with this sweet lady. A long bar is attractively decorated with produce both piled on top, behind and hanging from above. There are a few tables in the bar area and the kitchen is open behind a rack of wine bottles. The half tiled walls with framed photos and ceramics above create a soft homey feeling in the adjacent main dining room. We were particularly struck by the sparkling cleanliness throughout. Domingos told us that they not only have a strict everyday cleaning routine but they close down for one month approximately between Aug.15 and Sept.15 when they repaint, disinfect and scrub every inch of the place.
We were the first patrons at 19:30 but it filled up rapidly. The house presented a platter of grilled sausages and breaded fried meatballs and mushrooms that we had to pass on. Normally I would have devoured such a treat. Linda had one of her favorites, fried fish filets and sliced fried potatoes while I had a tender beef steak and boiled potato, still keeping it simple. The house tinto, Adega cooperative de Santa Marte de Penaguiao, was medium dry and fruity. The melon to finish was sweet and juicy. Everything was of fine quality, well-prepared. The prices were very reasonable - excellent value.
Today we wanted to try the new Metro system in the direction of Matosinhos, the industrial port and fishing village north of the city. The Bolhao metro station is just north of the hotel. The station is a shining beauty of tile, stone and cement in contemporary design. We bought day passes as we were also considering traveling by light rail or bus north along the coast. The ticket verification is electronic as you touch against a screen as you pass by. The arrival time of the next train is indicated on each platform. The trains are quiet and comfortable with spacious seats and standing room. The route was both underground and above ground. There were clear announcements indicating the next station. Each of the stations was as attractive as Bolhao. Everything is new, fresh and clean. Let's hope that they will be able to maintain this high standard of maintenance.
We did a turnaround and came back to the station before Bolhao, Trindade, and proceeded over to the shopping center to pick up our laundry and deposit it in the hotel. Time for another frango lunch at an old favorite, Churrasqueira Moura, Rua do Allmada 219-233. This street is several blocks west of the hotel on the other side of Bonjardim, just up the street from Praca de Filipa de Lencastre. Fortunately there was a table available. This is a favorite lunch place for the local business people. The soup is quite good here and at .85 euro for a good size bowl, it's a must. We ordered one of each, caldo verde and vegetable, a deal! The frango is done on the grill as opposed to rotating over a bed of coals. We passed on potato and had just a salad. The crusty, dense bread is a winner. The lunch, delicious and inexpensive.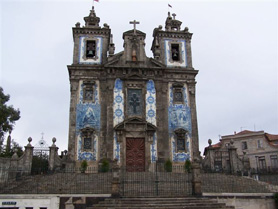 This was to be our day of public conveyance. We had not taken the funicular that runs between Praca da Batalha and the riverfront at the base of the great iron bridge, Ponte de Luis. The drop is very steep. The unmanned car is engineered to remain horizontal during descent so it doesn't feel like a roller coaster ride.
We had wanted to take the light rail train along the coast to Matosinhos but it was not running this day. Instead we took the bus #1. The drive along the river edge to the sea is a mixture of colorful ancient homes on the land side and the boats on the river side. Before long, the water that you see is the ocean and the white capped waves are hitting the rocks and sandy beaches. The terraces and promenades along the beach provide wonderful sport, eating and relaxing opportunities. The gracious homes and apartment buildings across the way, with splendid views, are a dream place for prestigious living.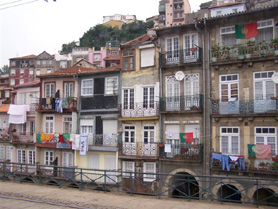 The bus was very crowded and made frequent stops. A senior person was never without a seat. I got a bit concerned when a lady obviously older than I offered me her seat. Not to worry, she was getting off at the next stop and I was the oldest nearby passenger. The last stop on the bus line was in the same spot as the last stop of the metro. The ride back gave us an opportunity to concentrate on what we had missed before. Our original intention was to get off and walk around a bit along the way but we had a date for dinner and ran out of time.
We had not seen our dear friend Ligia for several years and it was wonderful to be having dinner with her. Ligia has been working for Sogrape since the company acquired Sandeman, her former employer. Sogrape is one of Portugal's largest wine producers and its most famous brand is Mateus. Ligia told us that the unique shape of the Mateus bottle was inspired by World War II canteens. The brand was launched just after the war. It is sold in 125 countries and territories. The bottle has become a symbol of Portugal. Sixty million bottles are sold annually. As of this writing their website, is under construction - keep trying.
Ligia suggested a new ristorante and wine bar, Degusto, Rua de Sousa Aroso 540-544 in Matosinhos. Matosinhos was a big fish processing center but the industry has slowed down considerably and there are many old buildings sitting vacant which are rapidly being converted to other uses. Degusto is in one of those buildings. The owners had a very successful wine store for sometime and the ristorante is an extension of that business. The design is quite dramatic. One enters a long, white corridor with interesting wine displays along the walls ending in a mile high dining room with a balcony for additional seating. Dark woods are accented by marvelous lighting that creates an inviting environment. The long bar is home to platters of attractive appetizers to enjoy with a glass of wine from the fine selection that is available.
Ligia wanted us to know that Sogrape is more than Mateus so she suggested a Reserva 2002 Douro white to enjoy with the appetizers. The wine was full bodied with a slightly smoky flavor, quite delicious. Sitting on our stools at the high tables fronting the bar we began to get caught up on the missed years.
We started with interesting salads served in huge white bowls. One was salada de espinafres com bresaola, queijo parmigiano, nozes e vinagre balsamico and the other, salades mista de verduras, tomate cereja, atum e queijo mozzarela. Both were divine in freshness, flavor and presentation. Ligia was not done proving Sogrape's diversity. An elegant red from Dao, Quinta dos Carvalhals, Touriga Nacional, the leading varietal of Portugal was heavenly, well balanced, smooth and fruity.
We had shrimp two ways for our main course. Linda's were grilled and served with mashed potatoes and leeks and mine with linguine and olive oil, very nice indeed. We shared la millefoglie alla crema (layers of flaky dough filled with fruit and whipped cream), fresh fruit and chantilly, lemon sherbet and lemon tart. A very nice ending. Not quite, I almost forgot the tart and sweet Royal Tokay dessert wine. Okay Ligia you've proved your point.
We had not crossed the river to Vila Nova de Gaia, home of the Port Lodges so Ligia insisted on making a late night visit to show us how the riverfront on that side has been developed. It was an eye opener. A whole new social dimension has been created. A brand new riverside promenade is home to cafes, restaurants and shops in sparkling new modern glass buildings. There are walkways between buildings and a large parking area with the most magnificent view of Porto imaginable! This area is definitely worthy of further exploration. We always find new reasons to return to Oporto.

Vila do Conde | Guimaraes | Amarante | Porto | Aveiro
Coimbra | Sintra | Cascais | Ericeira | Lisboa
Search TheTravelzine | TheTravelzine Group | Don's Gallery
Packing Hints | Planning Tips | Cities Links

---
All pages on TheTravelzine.comęCopyright 1996-2020 Don & Linda Freedman