PORTUGAL
Fall 2004
Vila do Conde | Guimaraes | Amarante | Porto | Aveiro
Coimbra | Sintra | Cascais | Ericeira | Lisboa
Amarante
It was a very unpleasant evening for me. Amarante is about 30km from Guimaraes and rather than risk a confined bus trip as planned we opted to take a taxi. Fortunately the ride was uneventful.
We had made a brief stop in Amarante several years ago and were enraptured by its beauty and serenity. The Marao and Aboboreira mountains smile down on the town and the Tamega River flows through its core. The river banks are lined with weeping willows, alder trees, parks, pools and beaches. It's fresh and clean and beckons you to stroll along the banks or indulge in water sports. The mountains offer clean sweet air and panoramic views as the river rests your being, a sensual delight.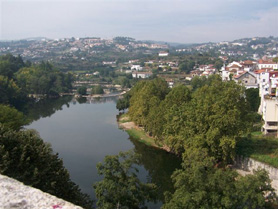 Casa da Calcada sits above the river bank opposite the dominant Sao Goncalo's Church. The Bridge of St.Goncalo runs from the entrance of Casa da Calcada to Praca da Republica and the church, linking the two parts of the town.
The golden arches framing the entrance to Casa da Calcada are a gateway to paradise, paradise being the golden yellow former noble home that is now Casa da Calcada, a Relais & Chateau property that greeted us at the top of the long circular driveway. If I had to be ill, this was the place to be!
The reception was gracious and warm. We were to learn that the staff were all from the area and were guided by management not only in the proper hospitality standards but to treat guests in the manner and customs of the community. So what we found, particularly with my problem, was a group of young men and women who brought the kindness and consideration of their culture and country to their work. The next morning (Saturday), when I needed a doctor, they worked quickly to find one. When he arrived one of the staff came with him to translate and then insisted on taking Linda to the pharmacy and market to get what the doctor had prescribed. During our stay the entire staff constantly inquired as to my well being and when it came time to leave the assistant manager would not let us take a taxi but personally drove us to the train station and made sure that our train passes were properly validated by the attendant. The doctor was right on and I was in good shape by time we left.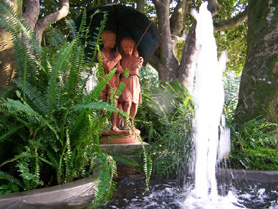 The Casa offers 30 rooms including a presidential suite and 3 executive suites. This stunning boutique property, which is situated in a magnificent private park with gardens, a swimming pool and vineyards, is elegantly furnished for comfort incorporating both traditional and contemporary design. The upholstered furniture is big and bold and adorned with handsome, rich fabrics and colors. The wooden pieces are of fine quality and finish. The exquisite art, accessories, lamps and ceramics are of various periods and wonderfully well chosen.
Our suite was truly a place to recover. The large sitting room (second bedroom) was separated from the huge king bedroom by a short corridor. A walk-in closet had more than enough space for the contents of our carry-on luggage. The absolute best was the double sink, glass enclosed toilet/bidet in the oversized bath and shower bathroom. There was a large supply of designer toiletries, excellent quality towels and bathrobes. It was comforting in the evening to crawl between comfy soft sheets.
There are several lounges, one with card tables and a pool table. Years ago, I had been a pretty good pool player so I broke a rack and discovered I had lost my touch. Unfortunately there are no miracle drugs to restore my skill.
On the desk in our bedroom was a box of divine pastries from the very well known Confeitaria da Ponte across the way, Rua 31 de Janeiro, a marvelous snack for Linda who had lost her mealtime companion. By early evening, feeling a bit better, we headed down Avenida General Silveira to Restaurante Don Catarino, about 100m from the Casa. The high stone walls and wood beams gave the feeling of a banquet hall in an old castle. The young staff was very nice and tried to be helpful. The limited menu was further degraded because it seems there was a wedding the next day and many items were being held for the event. The house breaded and fried meat balls were quite good as was a cream of vegetable soup. Linda had a very good steak and sliced fried potatoes. I had carapau, a small bony fish, and small smashed potatoes which had been roasted and indeed smashed open (not mashed) and bathed in olive oil and chopped garlic. A group of 16 teenagers were seated next to us and the noise and smoke were overwhelming - let me out of here!
So much for feeling better - the next morning the good doctor came and cured me. We had lunch in the hotel dining room which was a delightful experience. The room is gorgeous, the staff sweet and the offerings tempting. Linda was in the mood for a shrimp salad which was not on the menu but they accommodated her with a gorgeous presentation of crisp fresh salad topped with large crunchy shrimp. I feasted on doctor-ordered plain white rice and a boiled apple - hey, I was happy just to feel like eating!
The Amadeo de Souza-Cardoso Museum is in the Dominican convent of St. Goncalo de Amarante, which was built between the 16th and 18th centuries. Its founder, Dr. Albano Sardoeira intended to collect objects and artifacts connected to local history and to honor artists and writers born in Amarante. The original idea was to have a strong emphasis on archaeology. Today it is mainly modern and contemporary Portuguese art, painting and sculpture. The featured artists are Antonio Carneiro whose work shows signs of symbolism and expressionism and Amadeo de Souza-Cardoso with his vision of modernity. There are many other Portuguese artists on display with a variety of works.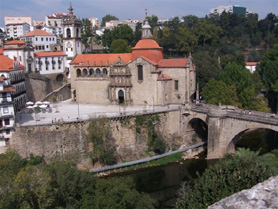 The monastery of Sao Goncalo was built in 1540. The baroque interior dates from the 18th century and the chapel contains the tomb of the town's patron saint, who died in 1259), whose image is worn out due to the "hugs" of many believers.
On the river side of Rua 31 de Janeiro the houses, cafes and restaurants overhang the river and offer a picturesque drinking or dining experience. We opted for the nearby Tasquina da Ponte just opposite the bridge. It's a few steps down into a cute little place with an old wooden bar, wood trim and family style wooden tables and benches, which were indeed occupied by families. The owner is a one man gang with a constant smile and sweet personality. Linda had grilled dourada with boiled potatoes, rice and a bowl of greens, which she declared to be quite good. My boiled rice and potatoes were simply wonderful. The prices were extremely reasonable.
I turned the corner overnight and was ready to sample the excellent breakfast buffet which was beautifully presented in the middle of the dining room. The selection of fresh fruit, breads, meats and cheese was particularly outstanding.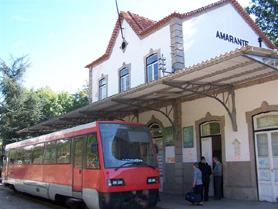 The staff at the front desk all came out to say goodbye and wish us well. It would have been nice to stay a few more days and make up for the unscheduled down time but we were off to the train station and on to Porto.
The train was a single red car which took us through breathtaking scenery to Livracao where we arrived at 11:48, having left Amarante at 11:22. The 12:05 from Livracao arrived in Porto at l3:10. When we presented our rail passes to the conductor on this phase of our journey he treated us like royalty trying to make sure we were comfortable and happy. Every time he passed through our car he stopped to inquire as to our comfort. We thought it was just this fellow but we received the same kind attention each time we presented the passes.

Vila do Conde | Guimaraes | Amarante | Porto | Aveiro
Coimbra | Sintra | Cascais | Ericeira | Lisboa
Search TheTravelzine | TheTravelzine Group | Don's Gallery
Packing Hints | Planning Tips | Cities Links

---
All pages on TheTravelzine.comęCopyright 1996-2020 Don & Linda Freedman