ITALY
WINTER 2005
Roma
The train from Spoleto to Roma takes about 1hr and 15min. We hopped on the waiting #360 bus to Piazza delle Muse and 25 minutes later we entered the front door of Hotel delle Muse, to find the ever-present, ever-happy Giorgio taking care of business. He was extra pleased today because the installation of the new air conditioning system is going nicely.
Hotel delle Muse is located in the Parioli district on via Tommaso Salvini, 18. Parioli is an upscale residential neighborhood surrounded by magnificent parklands and the estates of Villa Borghese, Villa Ada and Villa Glori. It's a glorious neighborhood to enjoy a different Roma. Roma with hilly, turning streets lined with gorgeous residences and gardens. In addition to strolling the area you can walk, hike or run through the park and gardens of the adjacent Villa Ada. All this exercise works up a rather nice appetite and Parioli boasts many wonderful restaurants to satisfy your needs. Staying here comfortably balances the time spent hustling about downtown. Even though public transportation is very easy to and from the hotel, we usually stroll at least one way to city center destinations. Whenever we walk, we discover things we never noticed before.
At Hotel delle Muse, the charm of the old villa remains. Three generations of the family Lazar and their veteran staff are devoted to your comfort and well-being. Giorgio is there to help with your every need and to offer timely tips of what to do and see, adding something special to your stay you might otherwise overlook.
The Internet point in the lobby now has three computers for guests' use and there is Internet access in every guest room. The casual, friendly dining rooms and bar exude the friendly spirit of the establishment. In good weather meals can be taken in the lovely rear garden under the green trellis.
On each of our visits we've stayed in a different room, and this time was no exception. As usual, our room was spotlessly clean with shining tile floors throughout. The king-bedded (twins together) room was quite a nice size with a desk, several chairs and a large closet. The bathroom was generously sized with a stall shower and bidet.
The breakfast buffet offers a huge variety from which to choose, with extra treats like baked apples and pears. We have always enjoyed having lunch or dinner at the hotel, our schedule permitting. Today was such a day. We had both meals with a long stroll through "our" neighborhood in between. For lunch, we chose spaghetti, aglio, olio, pepperoncini and at dinner spaghetti Bolognese and tagliolini al limone (a smooth, creamy lemon sauce). A light, fruity Chianti was perfect. We were in pasta heaven. The extremely reasonable prices include the antipasto buffet, bread and service.
Is it any wonder we call Hotel delle Muse home when we come to Rome? It is great value.
[Back to Top]
This would be a special week-end as our friends Cornelia and Fabio would be joining us for the week-end to celebrate Fabio's birthday. Their flight from Switzerland arrived on schedule and we headed over to via Parioli to Ristoranti Caminetto for lunch. This is a favorite of many patrons of the neighborhood and while we found the food to be quite good we were turned off by the pushiness and insincerity of the staff.
After lunch, we walked downtown along via Salaria to via XX Settembre turning right to Largo s. Susanna and the church of Santa Maria della Vittoria. The interior is magnificently decorated in marble, sculptures and art. Most amazing is the Ecstasy of St.Theresa, carved by Gian Lorenzo Bernini, situated in the Cornaro Chapel to the left of the Transept. It is very dramatic and in the 18th century was criticized for being too sensual.
Via XX Settembre becomes via del Quirinale at via delle Quattro Fontane and at one of the four corners is the church of San Carlo alle Quattro Fontane by Francesco Borromini who created an absolute masterpiece in the very small dimensions of the church. The interior architectural elements are strange and intriguing. It's oval in shape with wide pillars forming the sides. The decorative elements have continuous alternation of concave and convex lines achieved with the use of stucco. It's in plain white, unadorned.
A bit further along via del Quirinale across from Palazzo Quirinale is the church of Sant'Andrea al Quirinale by Bernini (1658). It is said that this is the building to which the artist felt closest. It is called the "pearl" of Baroque because of the precious materials used in its construction. The marble walls, gold and stucco decoration are brilliantly illuminated by the light filtered in through the windows high above. The sculptures and art adorning the walls are fabulous.
One of our favorite restaurants in Parioli is La Scala, Viale Parioli 79d, Telephone 0680-84463. In fact, we ate there twice this trip, once with our friends and once after they returned home. The owners personally welcome each and every guest. We had not been there for a year but they welcomed us as though we had been there yesterday. The veteran staff knows their regular guests so well they anticipate what their customers want. We have not reached that stage quite yet and our guy gave us time to look at the menu. While we studied and decided, he brought a house appetizer of fried olives stuffed with bread and a plate of delicious, crispy flat bread. A clean crisp and fruity white from Villa Antinori Toscana, 2003 was superb.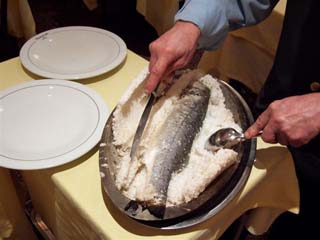 While the menu has lots of traditional offerings the specialty here is fish. After delicious soups, one lentil and one fresh green vegetable, we had grigliato misto di mare con patate and filletto di tonna grigliata su radicchio e balsamica. The assorted grilled fish was crisp outside and moist inside - perfect! The marriage of the rare tuna filet on a bed of shredded radicchio drizzled with balsamic was made in heaven. After fresh fruit and vanilla gelato for dessert, the house offered biscotti and Vin Santo. This casual neighborhood ristorante offer excellent food, service and comfort at very reasonable prices.
[Back to Top]
We returned to La Scala our last night because we had to have the whole fish baked in salt that our friends shared when we were together. But before we got to that we shared seafood salad and tortellini. The seafood salad consisted of generous slices of fresh tuna and salmon, shrimp, and octopus mixed with celery and arugula marinated in olive oil and lemon. The tortellini were filled with prosciutto and topped with a creamy sauce with funghi and peas.
The whole fish, coated in a thick layer of salt, was delivered to the table where the deft waiter broke away the covering and filleted the delicate beauty. All we had to do was add olive oil and lemon to taste, simple and superbly satisfying. See you next year!
After a hearty breakfast we decided to get the #19 tram at Piazza Ungheria to the Colosseum. It was a pleasant day and there were significant crowds around - many more tourists than the same time the last two years. No doubt about it, our travelogues are working! We walked south along via di S. Gregorio alongside the Foro Romano until via del Circo Massimo to the Roseto Comunale (Municipal Rose Garden of Rome). It's not very large (about 10,000 sq. meters) but many experts consider it to be one of the most beautiful in the world because of its surroundings, the Palatine Hill on one side and on the horizon the observatory on Monte Mario overlooks the Eternal City. Rome's Jewish Community Cemetery was at this site from 1645 until 1943. The city's new ordinances transferred the entire cemetery to the Verano cemetery and this area was designated to become a public green. At the same time, Via del Circo Massimo and Via di Valle Murcia (which now divides the rose garden into two areas) were created. During the Second WW it was used as a wartime vegetable garden. In 1950, the city asked the Jewish Community for permission to build the new Municipal Rose Garden on the spot where their cemetery had been. The President of the Jewish Community consented but asked that a stele be placed at the entrance to the garden as a reminder to all who enter that this had been sacred ground. Instead two stelae with the Tables of Moses were made for this purpose. One has been placed at entrance of each of the two sectors. In the upper garden, which houses the rose collection, the walks were designed in the shape of a menorah, the traditional Jewish candelabra.
It was a short walk to the Ghetto area where we hoped to have lunch at one of our preferred places, Sora Margherita. They were filled up with a l hour wait so we decided to try the well-known Giggetto, via del Portico d'Ottavia. The signature carciofi alla Giuda was oily and chewy with no flavor. The pastas were short on substance and like the artichoke suffering from a heavy oil hand in the kitchen. The service was dreadful and the place seemed second rate. The toilettes were filthy. Giggetto is a tourist trap.
While wandering through the city we managed to salvage the attack on our well being in the short and long term. From Piazza Venezia we worked our way up via Del Corso turning left at the Camera dei Deputati and straight ahead until we reached Giolitti and soothed our stomachs with smooth gelato con panna montata.
It was busy day on Corso and all the narrow shopping streets branching off of it. We had decided to get a SIM card before we left Italy so that we would have our own cell phone number locked up for future travel. The Vodafone store on Corso was very busy but it did not take too long to get it done, especially with the help of our Italian-speaking friends from Ticino.
Last year Giorgio had recommended Ristorante Perilli in Prati, Via otranto 9-11, and we had such a memorable dining experience we were eager to return. This is a very popular spot so we had made reservations by email from home. Being busy does not stop Massimo Perilli from being in the front lobby to greet his guests with a big smile and warm welcome. Nor does it keep him from graciously escorting you to the front door when it is time to leave and thanking you for coming.
We were pleased to see that nothing had changed, the modern chic innovative design, had survived the test of time. The brightly colored walls, hand blown Murano glass fixtures, indirect lighting, wrought iron furnishings still struck us as a perfect blending of light and design for a refreshing dining environment.
Last time we had feasted on incredible assorted antipasti and spaghetti all'amatriciana so this time Massimo suggested we concentrate on secondi and dessert. A splendid idea, but, we had to have something light and healthy with the fabulous home baked hot focaccia. A platter of assorted grilled and marinated vegetables was the perfect choice. The house red was dry and fruity.
Massimo recommended two meat choices, Carre di agnellino in salsa vinaigrette e cipollotto fresco for Linda and Maialino da latte al forno con patate for me. The generous portions of rack of baby lamb and suckling pig were roasted medium rare and beautifully presented. The vinaigrette sauce and baby onions enhanced the flavor of the tender lamb while the roasted potato proved to be a taste match for the succulent pork.
Not to be missed for dessert is the hot chocolate soufflé with custard and shaved almonds, which I devoured quite handily while the weight watcher (well, at this point, that's not a bad idea - just kidding, Lin!) had lemon gelato.
The menu is diversified featuring typical Roman dishes as well as a nice variety of pizzas. There is also a lunch time buffet. The prices are very, very reasonable for the quality of food, preparation, presentation, ambiance and service. The location is walking distance from the Vatican and easily accessible by public transportation.
[Back to Top]
Since our friends would be leaving Rome in the early evening, we celebrated Fabio's birthday at lunch at Al Ceppo, via Panama 2/4, in Parioli, just off Piazza Ungheria. We were joined by Fabio's old pal who now resides in Rome. The dining rooms are elegant in design; a comfortable mood is set by the large open grill and cozy bar at the front.
Linda and I were on the same wave length and shared two traditional favorites carciofi alla romana to start and a main of tagliata di manzo all' olio al rosmarino. The steamed artichoke hearts were nicely done and the top quality meat perfectly grilled. We all enjoyed a wonderful red wine, Foradori, 2002, which was rich in color and flavor. A small chocolate cake filled with hot chocolate and apple cake with cinnamon ice cream polished us off very nicely. hApPy BirTHday Fabio! (Editor's note: that's not a typo! Don says it will make Fabio smile!)
We finished off the day with a walk downtown. It began to rain and my already damaged folding umbrella broke down completely (don't they all!).
We happened to be passing a luggage and leather good's shop, Angeli, on via de'Baullari, 137-139, just off of Campo di Fiori where there was a very nice selection of umbrellas. After opening, closing and inspecting many models we actually bought one. The owner of the shop gets extra points for his patience.
Just up the street at #5/7 is a marvelous bread and pastry shop, Il Fornaio, where we found it impossible not to have sfogliatelle - very special, as was everything else in the shop.
Today we had a date with our friend and super guide, Carlo Begliuti, to show us the wonders of Tivoli. Tivoli is located on the Aniene River to the east of Rome in the hills of Monti Tiburtini. Carlo took the old road, the Tiburtina way. He pointed out stops along the way that were used for changing horses and the travertine limestone quarries that supplied the stones for building the Colosseum. There was a separate road for the ox-driven chariots that carried the stones for eight consecutive years.
Tivoli's two major attractions are the ruins of Hadrian's Villa (known as Villa Adriana) and the glorious gardens of Villa d'Este. Villa Adriana is located outside of the town, while Villa d'Este is in town.
We started at Villa Adriana. Spread over 240 acres, the two thousand year old ruins are still very imposing and even with a map would be very difficult to navigate and comprehend. Thank goodness we had Carlo with us.
Hadrian's Villa is one of the most complex and significant examples of the building genius of the Romans and an incredible example of an imperial palace. There is enough remaining to be amazed by the size, scope, shapes, perspectives and symmetry of the architectural creations built into the hills and natural curves of the land. It was conceived as a fortress and built to express the owner's wealth and power. Its complexity, enormous size of buildings and structures, and the remains of the decorations certainly satisfied that goal. The remains of frescoes and mosaics that are visible are quite beautiful.
[Back to Top]
Security was a top priority in the villa. A series of passageways and check points within the villa had to be navigated before anyone gained access to the public part of the villa. Besides the part for public officials (administrative) there were the noble imperial quarters for the emperor and his entourage, quarters for high ranking officials and finally quarters for soldiers and servants.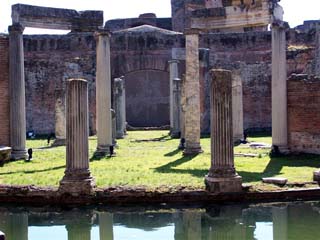 In addition to the living quarters there are huge gymnasium and bathing complexes for both men and women, an enormous hippodrome for training horses and taking exercise, an island of contemplation and isolation, a very large swimming pool in the middle of green acres and the list goes on.
A simulated inlet of the river Nile is surrounded by Grecian sculptures (copies of copies). There are lakes, fountains, gardens, libraries and temples.
Villa Adriana never actually had a scientific excavation; treasure hunters must have had a field day here. In recent times there have been only small explorations and cleanings. Nothing is known about the finds; there is no information about the last phases of its life and subsequent decay.
It's a staggering but worthwhile area to cover. We spent 1/2 day and could have easily spent the entire day exploring.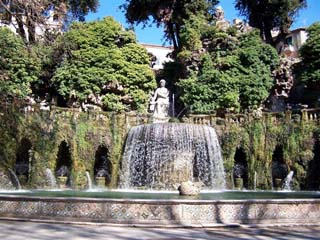 The Renaissance Villa d'Este was built over a Benedictine convent in 1550's for the Cardinal Ippolito d'Este, the son of Lucretia Borgia. Ippolito tried to become pope five times and was rejected each time.
He finally became Governor of Tivoli and the pope suggested he use the old monastery to build his villa. His entire fortune was spent converting the property.
The palace was intended for entertaining and lavish frescoes fill the reception halls. The main attraction is the water dominated Italian gardens (green only). Water from the river flows into the basement of the villa where an innovative hydraulic technique powers it into the fountains and pools.
[Back to Top]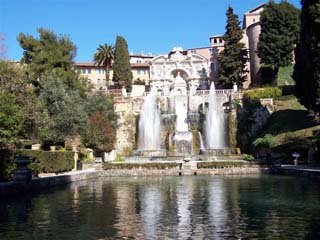 The fountains are works of art from the sculpture to the way in which the water jets, sprays and topples. It's a dazzling sight to behold.
These two venues are definitely worth seeing, not necessarily on your first visit to Rome but on a subsequent visit when you want to branch out.
Here are links to web sites that you will find helpful in your planning for Lazio and Rome.
Giorgio suggested we try Trimani il Wine Bar, Via Cernaia, 37b. It is next door to Trimani Vinai, via Goito, 20.
It all started in 1821 when Francesco Trimani was selling wine first on via di Panico then to via di Porta Salaria (now via Piave) and then in 1876 Francesco's descendants moved it to its present location.
Trimani il Wine Bar is a one of a kind wine shop. The selection is huge, the displays inviting and the prices quite reasonable. There's an unusual bulk wine dispenser made of Carrara marble set into the wall. The "fountain" is decorated with bunches of grapes carved into its upright facing, which also contains a water inlet that is connected to the Felice aqueduct that provides continuously fresh flowing water to keep the wines cool.
The Trimani Wine Bar opened in l991. It's cool, contemporary look reflects a bit of Roman tradition. Carla Trimani was on hand to welcome guests this evening. She's a delight, full of life, with a big smile and a love of wine and the goodies that go with it. There's an inviting long marble top bar for those so inclined. We chose to sit at one of the smart wooden tables. It's an excellent place for enjoying good wine and food in a casual, fun atmosphere and that we did.
Our first sips of a Paolo Scavino Dolchetto d'Alba, 2003, convinced us we had made a wise choice. We nibbled on fine quality olives, hazelnuts and crunchy biscuit rings while studying the appetizing menu.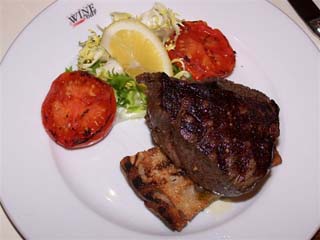 We chose Zuppa di orzo e porri and insalata di finocchi marinati con mimolette to start. Both were outstanding. The orzo blended well with the leeks and small pieces of meat and carrots to create a hearty soup. The unusual salad of fennel and cheese was seasoned with a spicy, peppery marinade, so good. The portions were very large. The bread was crusty and chewy. Great beginning!
No rush here, sip the wine, relive the day, critique the trip, look forward to the next course, coniglio in porchetta con cicoria ripassata and filetto di manzo alla piastra. Tender rounds of rabbit were filled with pork sausage and chicory which I loved as did Linda her fabulous thick beef filet.
Ah, Dolci! A pyramid of coffee Bavarian cream with a side of whipped cream and cookies sprinkled with cocoa, powdered sugar and topped with coffee beans gave Linda her fix. Mine came from 2 rounds of thick creamy chocolate mousse with integrated chocolate bits.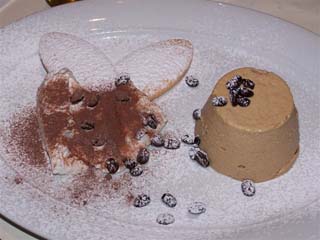 As everything else, the dolci were superb quality, preparation and presentation, to say nothing of the generous size of the servings!
Let's not forget the Barolo Chinato and Antinori Muffato della Sale dessert wines that were awesome with the Bavarian cream and mousse.
The prices were extremely reasonable for this quality of food, ambiance, service and of course the wine. And, of special note, there is No Cover Charge here! This is a keeper!
What a great last day: two magnificent sights and one incredible dinner.
After a great night's sleep, we bade farewell to our friends at Hotel delle Muse and were off to Toronto already looking forward to the annual Santé - Bloor/Yorkville Wine Festival, including the Fetzer Appetizer Challenge, and Ciao Italia - Cal-Italia, a special evening at Café Nervosa, during Sip, Savour and & Dine. Events such as Santé (May 11-15, 2006) remind us that our very own city, Toronto, is a special place to call home.
Rivarotta di Pasiano
Vicenza | Padova
Parma | Lucca | Firenze
Lucignano | Spello
Bevagna | Spoleto | Roma
Search TheTravelzine | TheTravelzine Group | Don's Gallery
Packing Hints | Planning Tips | Cities Links

---
All pages on TheTravelzine.com©Copyright 1996-2020 Don & Linda Freedman