ITALY
WINTER 2005
Lucca
We left Parma at 09:56 and arrived in Lucca at 13:43 after a change in Prato. We love Lucca and its surroundings and always try to fit it into our itinerary. It was easy this year because our friend Andrea had invited us to visit him. He has been in the process of renovating a spectacular 19th century hunting lodge 5 km south of Lucca that we were hoping would be ready in time for our stay. It was not to be, but we did spend a marvelous time visiting the property, the countryside and of course we found time to enjoy the extraordinary cuisine of Lucca.
This land at the base of the renowned Monti Pisani is rich with the fresh smell and sights of nature. The micro-climate keeps it green all year and makes it ideal for the olive groves and vineyards to prosper. It is a place that the rich merchants of Lucca built their villas between the 15th and l9th centuries as summer residences.
The exquisite Nottolini (architect) Aqueduct was a complex design in that the water flowing down from the mountain rivers had to be directed through a series of canals. The way it was accomplished represents a masterpiece of hydraulic engineering which was beautifully integrated into the existing landscape. The spot, named "Parole d'oro" is where the waters from the rivers San Quirico and della Valle are captured and directed. It is a lush green area surrounded by forest. Andrea told us that it is a favorite spot for relaxing and cooling off on hot summer days.
The "Pieve" is the name of churches that sprung up in the countryside around Lucca during the Middle Ages. The name comes from the Latin, plebs, which is a term referring to people from the lower class of society. These churches were the center of religious and civic life of the people living outside of town. Today they are used by the local parish to celebrate everyday and special ceremonies.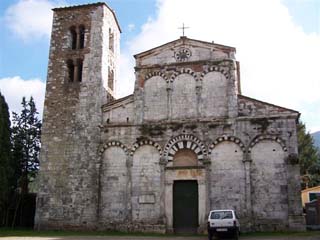 The small village of Santa Maria dei Giudice at the foot of Monti Pisani takes its name from an important family of the 11th century. The Pieve of Santa Maria dei Giudice was built in the 12th century to host pilgrims visiting Pisa. The style is a fusion of Romanesque Lucchese and Romanesque Pisano, a perfect compromise. If you want to visit see Francesca, the keeper of the key, in the house numbered 499 to the right of the church. Andrea knows all.
[Back to Top]
We drove high on Monti Pisani to the spot called "Passo Dante". It is said to be the spot from which Lucca and Pisa could not see (nor spy on) each other, but in fact you can. (This fallacy came about from chapter 32 of Dante's "Divine Comedy".) The views in all directions are gorgeous and the smell of the air invigorating.
Andrea's hotel, Albergo Villa Marta, is amazing. The villa sits in the middle of an expansive and glorious Renaissance Lucchese garden into which a gorgeous swimming pool and lounging area have been designed and created.
Hats off to Andrea for the magnificent renovation he orchestrated. The reception hall with its softly painted walls and high wood ceiling sets the tranquil tone that echoes throughout the hallways and rooms. The design brilliantly incorporates many of the original elements such as patterned tile and stone floors and frescoed, stone and wood ceilings. Each of the spacious double rooms and junior suites is individually and elegantly designed and furnished using soft pastel colors in a variety of ways. There's central air conditioning and all rooms have telephones, desks, satellite TVs, mini-bars and hairdryers. The bathrooms are large and lovely with excellent quality fixtures. There are two ground floor rooms for the physically challenged.
All the rooms have large windows to take advantage of the splendid views of the hillsides and woods. On one hillside is the impressive Convent of San Cerbone, which is still in use. During the day the rooms are flooded with light and when the sun goes down and the moon comes out, the well-planned lighting will take over.
There is a charming breakfast room with a fireplace for cold weather mornings. In fine weather breakfast can be taken in the garden. An adjacent lounge can also be used as a meeting room and a lovely gazebo at the rear is ideal for snacks and drinks. The property also includes a small neo-classical chapel, ideal for a romantic wedding.
Albergo Villa Marta is a beautiful, comfortable estate surrounded by the best of nature, close to Lucca, Pisa, Firenze and a good part of Tuscany - what is there not to love?
[Back to Top]
Speaking of love - we loved our dinners at two of Lucca's fine restaurants. Antica Locanda dell'Angelo, via Pescheria 21, is a family affair. Mom and Dad Cipolla (from Sicilia) rule the cucina while son and daughter run the dining room. The environment is comfortably elegant. The lounge area as you enter encourages an aperitif. Two steps lead to the first floor dining room. On the lower level are a dining room and a wine cellar in rooms 800 years old. In warm weather, meals are served in the courtyard.
The high white walls adorned with pictures and wine displays are topped by a wood-beamed ceiling. The tables are beautifully set with a large shaded light over the center of each table. Vito Cipolla suggested a local red wine, Fattoria Colle Sala 2003, light and fruity, as a good choice to go with all courses. We decided to follow Vito's suggestions and we were amply rewarded.
We shared two appetizers; cubes of raw tuna stacked in the round with avocado and topped with crispy onion rings rested in smudge of balsamic, and insalata di mare consisted of warm shrimp, calamari, baby squid, octopus and mussels nicely arranged on a bed of arugula. In a word, sensational!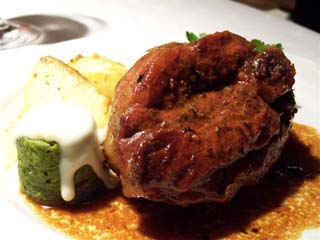 I decided to have a healthy and heavenly minestra di farro (spelt soup) and Linda had ravioli di anatra su salsa di Lucca, home made pasta with a delicious duck filling and pumpkin sauce.
Linda was having agnello al forno al timo fresco which takes 30 minutes and it was a welcome, long interlude to prepare ourselves to do justice to the main courses. Mine was roasted suckling pig. Both the lamb and pork chops were served with roast potatoes and fresh spinach. Both were outrageously delicious.
For dessert we shared a piece of home made ricotta cheese pie with slivers of almonds, dusted with powdered sugar on a cookie crust. The house offered moscato d'asti dessert wine to cap-off our three hours of glorious feasting. This was an extraordinary meal with attentive service at a reasonable cost.
[Back to Top]
Our other fabulous meal was at Locanda di Bacco, Via S. Giorgio 36, Tel: 0583-493-136. The owner, Mario, greeted us as we entered the attractive bar and dining area. He seated us in the adjoining main dining room with paneled wood walls and the ubiquitous wine displays. The pretty marble-topped tables are set with wicker place mats and comfortable wood-framed chairs with rush seating enhance the casually, sophisticated ambiance.
Mario suggested Montecarlo Rosso, Wandania 2003, a very good choice, and guided us in making our selections for dinner.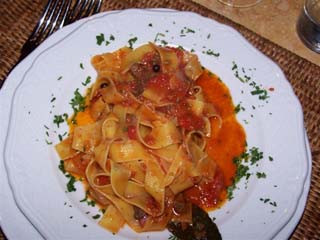 I did not have enough farro soup last night ;-), but, tonight's version was with fagioli - to die! Linda's pappardelle alla lepre was in her words, "exquisite" as was her filetto alla griglia (grilled filet steak) and my coniglio alla cacciatore (rabbit, hunter's style).
For dessert, we shared a wedge of ricotta cake that was the best yet!
Locanda di Bacco is truly outstanding value – pleasant environment, excellent service, superb food, and great prices – don't miss it!
Is it any wonder we love Lucca? We will surely find a way to fit Lucca and Albergo Villa Marta into next year's itinerary. Meet you there in February?

Rivarotta di Pasiano
Vicenza | Padova
Parma | Lucca | Firenze
Lucignano | Spello
Bevagna | Spoleto | Roma
Search TheTravelzine | TheTravelzine Group | Don's Gallery
Packing Hints | Planning Tips | Cities Links

---
All pages on TheTravelzine.comęCopyright 1996-2020 Don & Linda Freedman