ITALY
WINTER 2005
Spello
Spello would be our first stop in Umbria, from there we would move on to Bevagna and Spoleto.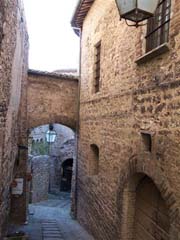 Located in the geographical center of the Italian peninsula Umbria is a compact region rich in natural beauty. Comprised of 53% mountains, 41% hills and 6% plains and valleys, you find most of its towns perched on the side of mountains or atop its hills. There are no big cities here. Perugia with 150,000 is the largest town.
The old town of Spello, with a population of about 8,000, rests on a vast crag on the extreme southern slope of Mount Subasio. Viewed from the distance it's a sight to behold, the pink, white and gray stone of the ancient town walls and gates, towers, arches, and homes spilling gracefully down the mountainside. The beauty of Spello's architecture and the stone work of the narrow, steep streets, tiny hidden squares, covered passageways, terraces, stairways and archways will forever be lodged in my memory.
We had planned to take a taxi from the train station to our hotel, Palazzo Bocci, via Cavour 17. So much for plans! The tiny station was closed and no taxis were in sight. Fortunately we had our cell phone and called Palazzo Bocci to have them send a taxi. Ah, there are no taxis in Spello; they come from nearby Foligno! Thankfully our host, Fabrizio Buono, was at the station in a matter of minutes to retrieve us. His swift response was indicative of the kind and gracious hospitality we encountered not only at Palazzo Bocci but throughout our entire stay in Umbria.
Palazzo Bocci is right in the center of town. The original building dates back to the 12th century. It was restored during the 18th and 19th centuries. It is a splendid house. As we entered through the tall wooden doors our eyes were drawn to a very pretty atrium at the end of the reception corridor which Linda could not wait to photograph. Nor could she be stopped from moving to the adjacent frescoed and comfortably-furnished reading room-bar with fireplace.
There are cheerful sitting rooms behind reception where the breakfast buffet is served and where an Internet point is available and an adjacent picturesque garden where breakfast or beverage can be taken in warm weather.
The full impact of the classic character of this wonderful villa hit us when we walked into the main salon on the first floor with its lovely frescoed ceilings and walls within gorgeous architectural designs of half columns and arches. Our attractively-furnished suite, just off the salon, was comprised of a generous-sized bedroom, a large living room with a fireplace and a bathroom with a whirlpool tub-shower combo, equipped with quality bathrobes and towels and a good supply of grooming goodies. We would be very happy here with lots of old world comfort and service.
Across from the hotel is one of Spello's most important churches, Santa Maria Maggiore. It is said to have been built on the ruins of a temple dedicated to Juno and Vesta. The original Romanesque plan was replaced by the present Baroque facade, altars and stucco work inside. To the left is the imposing Romanesque bell tower decorated with two Roman columns at the bottom.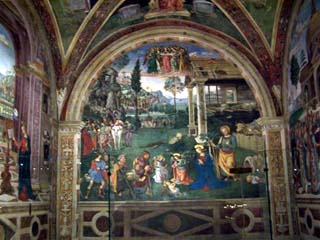 The portal displays Romanesque friezes saved from the first building. There are interesting carvings on the wooden doors. Behind the altar, on the left side of the church is the Baglioni Chapel (also known as the Beautiful Chapel), completely covered with frescoes painted by Pinturicchio (real name, Bernardino Di Betto) in 1501 during the period of the priorship of Troilo Baglioni. The canopy of the high altar was the work of Rocco da Vicenza. The elegant balanced construction rests on four columns connected by pointed arches and crowned with a caisson dome. Many more works of art and sculpture make Santa Maria Maggiore an important part of any visit to Spello.
[Back to Top]
Across the street from the Palazzo Bocci, and under the same ownership, is Ristoranti Il Molino. Molino means "mill" and indeed the ristorante is in a 13th century building that had been a mill. The arched brick ceilings running down the stucco walls create a dramatic environment. A large wood-burning grill against the rear wall serves as an attractive focal point. We were warmly greeted by the hostess and staff who proved to be extremely professional and caring.
The menu was relatively short, but each item read like a gourmet delight. We gave up and asked our waiter and the hostess to choose for us, a very wise decision. We were to share two antipasti, three pastas and one secondo. The preparation and presentation of each course was outstanding.
Calamari sfuggenti ripiene di mousse di patate e gamberi con bisquit di crostacei appassionati was an assortment of very fresh shrimp, calamari, squid and artichoke in a sauce prepared with the head of the shrimp. The freshness and flavor made a perfect marriage. The very best antipasto to date was next, cestino brise con pate di fegatini e gelatina di vin santo su crema di ceci. A magical liver pate was served in a homemade biscuit cup with an incredible chickpea sauce and a gelatin of vin santo.
Montefalco Arnaldo-Caprai-2002 was a very nice medium-body red we enjoyed drinking throughout the dinner.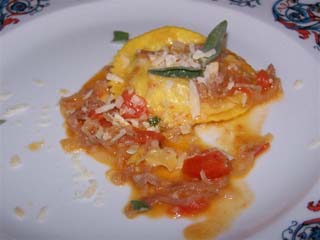 The pastas were marvelously creative. Tagliarini con prosciutto in polvere di pane, pecorino e pistacchi was long thin homemade noodles blended with ham and white wine, topped with fennel seeds, pistachios and sheep cheese. Next, tagliatelle strascinate ai legumi di castelluccio, narrow ribbons of pasta tossed with a sauce of chickpeas, lentils, beans, celery, carrot, and onion boiled together and pureed with olive oil. And lastly cappellacci ripieni di verza bianca in salsa di guanciale e scalogno, large ravioli filled with cabbage in a sauce of dry pork, tomato, white wine and grated cheese.
There was sufficient time between courses to savor the flavor of each one while looking forward to the next. Our secondo was coscia di coniglio farcita di radicchio e zucca gialla con risina di Spello. Roasted rabbit was stuffed with radicchio, squash and beans of Spello. As if I needed another way to love rabbit! We finished with lemon sorbet served in half of a frozen lemon.
Spello was already shaping up to be a return destination.
[Back to Top]
What a wonderful buffet breakfast! All the basics were well-represented but what was very special were the wedges of local cheeses, highlighted by two pecorini and the selection of local salamis and hams waiting to be sliced. The moist, dense apple cake and fresh fruit were delish.
Today was a very lucky day! We went to the tourist office, a few steps from the hotel where we met Luana, who has lived in Spello her entire life. She offered to take us on a tour of the town and surrounding area. We could not have had a better person to show us around. She is not only sweet and personable but also very smart and knowledgeable about her town and region. In addition, she knows everyone on a first name basis.
We turned left out of the tourist office to a large terrace that overlooked the countryside for miles. We could see the rows of olive trees and vineyards all the way to Foligno and beyond. There are wonderful views in all directions from the terraces, streets and homes along the perimeter of town.
Since olive oil and wine are the two most important agricultural products of the area, Luana suggested a visit to Frantoio di Spello, societa cooperative agricola, Voc. Banche 1/B, oleificiodispello.com, just outside of the town walls. Only olives from Spello are processed here to ensure the uniqueness of the oil; thus the production is very limited. This is an artisanal operation, not industrial. The olives are weighed as they arrive so that each farmer receives his proportionate share of the production. The season's crop had long since been processed and they were hard at work cleaning the machinery and vats. The process, in simple terms, consists of crushing, separating skins, storing oil in steel vats for a month and then moving progressively to other vats for bottling. This would be the beginning of our olive oil learning experience.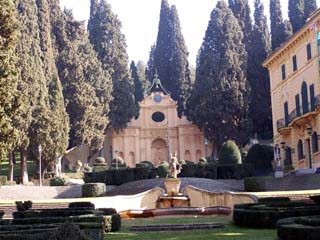 On our way to the winery we stopped at the remains of the Roman Amphitheatre (1st century). It was believed to have held 15,000 spectators. A few meters down the road is the 12th century Romanesque Chiese S. Claudio built near other Roman structures. Just past the church is the impressive Villa Fidelia. It was built at the end of 16th century on Roman foundations of the Tempio di Venere, the Theatre and the Thermal Baths. The present Villa dates to the 18th century. Of particular interest is the Italian-style garden, open-air theatre and chapel of S. Fedele.
[Back to Top]
The Sportoletti winery is located on via Lombardia 1. After a tour of the modern facility, we enjoyed a wine and olive oil tasting along with some freshly made bruschetta. The olive oil was quite nice.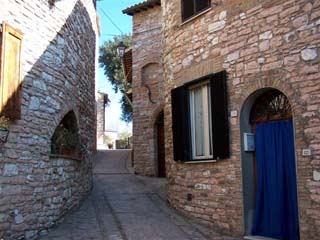 If it wasn't for Luana we would not have known about Colle Pino (Pine Hill), 4 km from Spello. This village sits on high with panoramic views of the valleys below and the surrounding snow-capped mountains. The air was delicious as Luana directed us thru the immaculate, narrow, winding stone streets. The homes were gorgeous and perfectly maintained. Still in place is the original fountain that was used for washing clothes. Further up the hill is La Spella, fondly called "Spello Beach", because in summer folks from Spello go up there to sunbathe.
[Back to Top]
We took a lunch break back in Spello at Trattoria Albergo Il Cacciatore, via Guilla 42, Telephone 0742-651141. The hotel has 21 rooms but we were here to eat not sleep. The white walls and wood trim and the panoramic terrace make this a comfortable dining place for all seasons. It was a happy lunch time scene with diners ranging from business people to families. After the rather large breakfast, we were determined not to overdo it at lunch, but it wasn't easy. The food and aromas around us were extremely enticing. To start we settled on an assortment of bruschette, liver pate, tomato basil, funghi pate and olive oil. The bread was chewy, crusty and full of flavor. Each topping was outstanding. The owner insisted we try his homemade fagioli, as his guest. I loved it.
This family-run trattoria is very proud of its hand made pasta, as well they should be. The tagliatelle alla regina was amazing. The noodles were tossed with funghi, peas and olive oil and sprinkled with tiny strips of ham and Parmigiano. Excellent biscotti finished us nicely, after a salad of assorted greens and radicchio for health and homemade red wine straight from the barrel for the heart – all at a reasonable cost.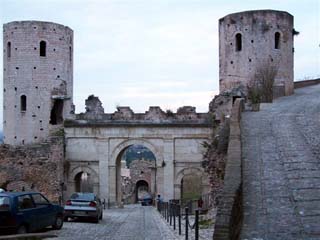 The streets of Spello are captivating. Each turn and sideways glance is another architectural delight, another smile on our faces. Via Torri di Properzio, off of Via Cavour, leads to Porta Venere and the Porperzio Towers.
The imposing structure consists of two majestic dodecagonal towers on a square base, one on either side of a triple barrel-vaulted gate (the gate in the middle being larger than the ones on the sides).
[Back to Top]
The pretty tree-lined Piazza della Republica is the heart of the town. On the corner of via Garibaldi is the Old Town Hall built in 1270. It was enlarged and transformed during the 16th century. It is now used for various municipal services, a museum and an art gallery.
The 17th century Palazzo Urbani on via Garibaldi serves as the Town Council headquarters. High above the entrance from via della Catena is a long gallery, with a roof, pillars and supporting beams all of wood. It's quite an architectural deviance in this all stone town.
Nearby on via Garibaldi 13 is a wonderful craft shop, La Bottega Degli Intrecci, where old weaving techniques are employed in the creation of unique household items and clothing. The resulting textures, colors and shapes are very interesting.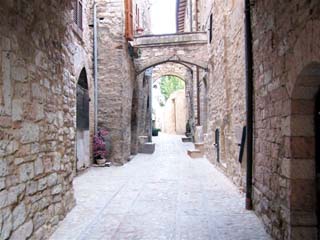 Off via Giulia are via Arco di Augusto, via Fonte del Mastro, via S. Ercolano and via Borga della Fortezza, a network of narrow streets and alleys with marvelous stone archways that gracefully support the handsome stone buildings on either side. Potted plants line the ways adding charm and beauty.
The nearby Municipal Theatre Subasio has been restored and reopened thanks to the Town Council. It's a jewel of 18th century architecture. Horseshoe-shaped, it seats sixty-nine on the ground floor and has three balconies.
[Back to Top]
The cute 14th century Oratory of S. Biagio, with some interesting 15th and 16th century frescoes, is on via Giulia.
Luana was kind enough to take us to see her parent's apartment so that we would be able to appreciate the lifestyle of the town. We could have moved right in! The views from the windows and patio were heavenly - verdant valleys, hills and mountains as far as the eye could see. The smell of the freshly-picked, wild herbs on the kitchen counter top was enticing. Luckily her parents were not at home or we probably would have made an offer to buy the place on the spot!
Portonaccio is the 14th century tower-gate through which you enter Spello. A few yards inside is the Piazza Kennedy in front of which is the impressive Porta Consolare, to the right of which is a high tower with an olive tree on the top and a beautiful mediaeval fountain at the base. Most important is the popular Caffe Porta Consolare, across from the gate that has fabulous gelato and outstanding coffee.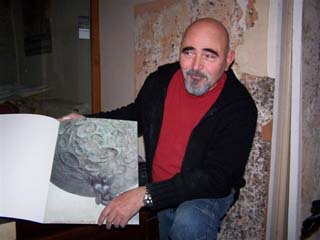 After our refreshment Luana took us over to the studio/gallery of artist Elvio Marchionni, via Consolare 78, http://www.marchionni.it (website presently under construction) Work tables, materials, finished pieces, works in progress, implements, brushes etc. are scattered about in rooms of stone-vaulted ceilings on top of Roman ruins.
It's the perfect workshop for Elvio Marchionni, an artist of considerable talent and sparkling personality.
We found his works of religious art, medieval figurative art and modern abstraction to be incredible. Elvio prepares the background of his paintings by following a strict ritual which gives various and surprising results. He layers plaster, rags, colors and other assorted elements to create a stratified surface of different materials which sketch out the imaginary coordinates of the painting to follow. The results are paintings rich in color, texture and detail, a joy to behold.
[Back to Top]
Enoteca Properzio, Piazza G. Matteotti 8/10, is diagonally across the street from Palazzo Bocci. This superior Enoteca is the domain of Roberto Angelini when he is not off around the world teaching all there is to know about wine.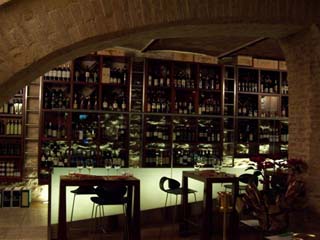 This ancient medieval building of stone and vaulted ceilings is the ideal home for displaying, and selling, local, national and imported wines. Twenty-two hundred labels grace the shelves along with other typical Umbrian products like olive oil, honey, marmalades, sauces, mushrooms, truffles, cheeses and sausages. In addition to the main tasting room and bar, there is a rear patio and adjoining tasting room. The modern design and ancient origins create a delightfully relaxed atmosphere for enjoying your wine with wonderful choices from the tasting (degustazione) menu.
We started our adventure with Berlucchi Cellarius 200, Brut Spumonti. This was followed by a bowl of lentils cooked in chicken broth, with olive oil added to taste, accompanied by a 1998 L'Etrusco. This white, with flavors of vanilla, apricot and peach, from a farm between Spello and Assisi, is available only here. Tili Assisi Rosso Sangioviese, a typical local red with a taste of cherry and chocolate, went nicely with local sausage and broccoli. Montefalco Rosso, 1999 from Antonelli was served with a luscious bowl of Spello soup. Bruschetta of black truffle pate, white truffle pate and sun dried tomato were married with a rosso from Alois/Rebulanum, Campagna. We finished with an aged Pecorino cheese that was marvelous. All the wines and foods were delicious, the prices quite reasonable and the service very helpful and professional.
As we crossed the road to our villa, we agreed that Spello is on our must-return list. Tomorrow morning, we're off to Bevagna!

Rivarotta di Pasiano
Vicenza | Padova
Parma | Lucca | Firenze
Lucignano | Spello
Bevagna | Spoleto | Roma
Search TheTravelzine | TheTravelzine Group | Don's Gallery
Packing Hints | Planning Tips | Cities Links

---
All pages on TheTravelzine.comęCopyright 1996-2020 Don & Linda Freedman