ITALY
WINTER 2005
Bevagna
The ancient walled town of Bevagna is located in the Valle Umbria just south west of Spello and Foligno. This is an unspoiled gem, a medieval town and former Roman settlement. Life centers along Corso Giacomo Matteotti and Corso Amendola, which meet in the heart of town at Piazza Silvestro.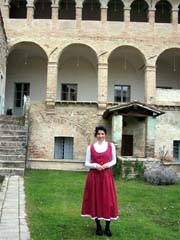 Within the walls are impressive remains of the Roman theatre and Roman temple of the 1st century A.D. L'Orto degli Angeli is an integral part of this architectural heritage.
This marvelous house is comprised of two historic dwellings separated by a gorgeous garden. On one side is the Palazzo Alberti (14th-17th century) that was built on the ruins of the Roman Theatre and on the other is an impressive mansion (1710) which belonged to the Andreozzi family until 1788 and then to the Angeli Nieri Mongalli family.
As we entered the lovely reception hall we were warmly welcomed by Tiziana and Francesco Antonini Angeli Nieri Mongalli as well as a charming, costumed, young woman who with true Umbrian hospitality lead us to our accommodations up a wide stone stairway to the first floor.
From the landing we could see a spacious salon with an original frescoed ceiling depicting the history of the family. Sofas and chairs were arranged for relaxation in front of a large stone fireplace. A tiny family chapel was off to the side and to the rear, a neat comfortably furnished library with a selection of reading material for guests. Once settled, we returned here for cappuccini and used the complimentary internet point.
Our first floor bedroom with king bed and period furnishings was crowned with a high frescoed ceiling. The generous bathroom with whirlpool tub-shower combo was supplied with an array of quality amenities. My problem, however, is that Linda still hasn't learned the art of showering sans curtain without splashing water everywhere.
[Back to Top]
The mansion has six bedrooms and three suites. Palazzo Alberti has an additional five guest rooms, superiors and suites. We crossed the garden to the beautiful portico of the Palazzo and entered a huge parlor with a grand fireplace and wood/stone ceiling. High tea at 17:00 is served in the pretty adjacent lounge. The accommodations in the Palazzo are beautifully designed to take full advantage of the ancient architectural style.
Just off the reception is the breakfast room. Adjacent is the ristorante, which is built on the remains of the Roman temple. Due to open on May 21st, 2005, a new ristorante is being built across the way within a section of the Roman Amphitheatre. Carved out of the ancient stone it will be a smashing cave-like structure blending the old and new. The breakfast room, which will relocate to the present ristorante, will become a conference room.
The present ristorante is quite wonderful in appearance and cuisine. The pillars and stone of the temple, the stone and wood ceiling, the pale yellow walls and soft teal painted chairs create a comfortable, homey environment.
The house offered a tease of pureed potato and cabbage soup served in a tiny shapely cup. It was fluffy in texture and rich in flavor. It was also an accurate indicator of the exquisite meal we were about to be served.
Linda loves liver, particularly when it is made into pate. Il crostino di pan brioche con il pate di fegatini was an easy choice for her starter. I am a soup fan so la zuppa di cicerchie con maltagliati di farina di farro was my selection. The pate was rich in flavor and texture. The thick, tasty mixture of small chickpeas, farro (spelt) and small pasta made every spoonful a delight.
The Dolchetto Alba 2002, Prunotto, with medium body, fruity flavor and smooth finish was a fine selection.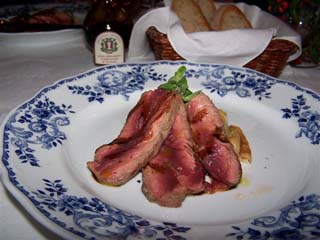 We both chose tagliata, slices of filet steak grilled medium rare. For the lady, la tagliata di manzo all'aceto balsamico tradionale di Modena con lo strudel di radicchio, the traditional preparation served with an innovative radicchio treatment. My tagliata con la mousse al rafano e barbabietole rosse was the same beef served with creamy red and white horseradish - dreamy.
Fabulous chocolate wafers brought the evening to a happy conclusion. The service was excellent and the prices quite reasonable. We are looking forward to dining in the new restaurant next time.
[Back to Top]
La Casa di Cello is a reconstructed house of a rich merchant that has been built into the Roman theatre foundation. A small shop for local artisans is on the ground floor. These artisans provided the reproductions of the furnishings and artifacts of the house. The bedroom and kitchen displays are authentic, from furniture to food products to utensils and even a loom. Also on the ground floor is a working reproduction of an ancient paper mill and workshop. Francesco Proietti produces exquisite papers, using old methods. A walk down via dell'Anfiteatro is truly worthwhile.
Across from L'orto degli Angeli at Corso G. Matteotti 19, is L'Officina Ceramica. Here is where Luciano De Camillis creates and sells his lovely ceramics. His medieval designs on ancient and modern shapes are quite lovely. This is a great place to buy souvenirs and gifts.
Just up the street at number 42, is Pasticceria e Panetteria Policchia Luciano, perhaps the finest pastry and bread shop we found this trip. The selection of items was quite different from anything we've seen before. Everything is made of all natural ingredients, without preservatives. Another reason to return!
At number 66 of the same street is Caffe del Corso where the best coffee in town in served. Vincenzo Spinola still has the old "pull down" levers to pack the coffee and he warms the cups so that the rich blend is served piping hot. He and his wife were happy to greet two new faces, particularly when Linda expressed interest in how the levers worked.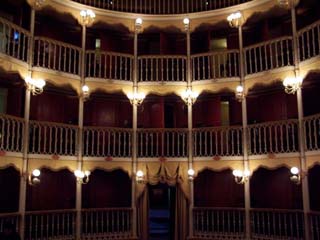 Piazza Silvestro is dominated by the church of San Silvestro, the church of San Michele Aracangelo and the Palazzo dei Consoli. In the Palazzo is the Teatro Torti (Torti was a writer) with its graceful balconies, railings and lovely frescoed ceiling. It is a precious theatre that might be described as a petite La Scala. There are rooms for refreshments and meetings and a rehearsal hall.
The remains of the ancient Roman baths are a sight to behold. The fact that the original ceramic pools have survived and we are able to see the ancient mosaic floors is amazing. So many special things in this little town - it's wonderful!
[Back to Top]
Just outside of town is the Adanti Winery. The winery is a former convent which belonged to a congregation of Philippine Monks. It was built on ruins from the Roman and late Renaissance periods. A wonderful brick cave that is used for storing large oval wood barrels is a reminder of that time in history.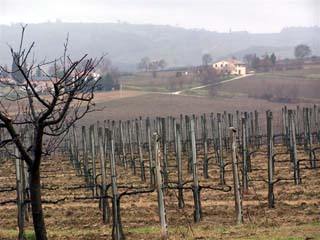 The surrounding farm (50 hectares, 30 of which are vineyards and 20 olive groves) supplies all the grapes (Sagrantino and Grechetto are the dominant varieties plus Barbera, Cabernet, Chardonnay, Merlot and Sangiovese). After touring the modern facility we enjoyed tasting a few excellent samples in the lovely tasting room. The Arquata Montefalco Sagrantino Rosso was deliciously full-bodied yet dry, while the Arquata Montefalco Rosso, a blend of Sangiovese, Sagrantino and Merlot was as flavorful but much lighter bodied. The owner and staff welcomed our visit and were happy to share their endeavors with us.
The Societa Agricola Trevi, Il Frantoio, located just outside of Trevi, is the largest and most modern olive oil producer in the region around Trevi. It is a gorgeous facility from the showroom to the production line, which is geared to handle a very large production of oil. A platform runs alongside the glassed-in, fully mechanized, production line where visitors are invited to observe the process. The machines were all shiny having been cleaned after the season ended. Olives are hand-picked during the last quarter of the year and processed immediately. We are learning. The automated process from weighing of the olives to crushing to storing in vats and bottling and everything in-between is basically the same as in the artisanal cooperative we visited in Spello. One big difference is that here the oil passes through fiber board filters that capture the impurities. Down below is a long line of vats each documented with a profile of the contents. The oils are sold worldwide and the scrapbook in the showroom has letters from famous people expressing their pleasure with the product.
[Back to Top]
Osteria del Podesta, is at Corso Matteotti, #67. We walked into the stone and brick cave with wooden floors and eye-catching wine displays and knew immediately we'd be having a special evening. The amiable owner, recognizing we were visitors, proceeded to make us feel right at home. He suggested we start with an assorted antipasto and go from there.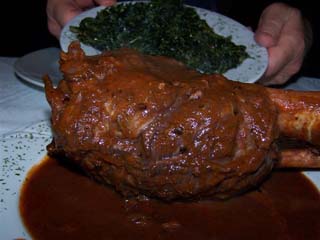 My "from there" was already decided since on the way in I had spotted a fabulous looking stinco being served.
A glorious platter of local delights was presented with assorted bruschetti, marinated eggplant, a salad of beans, peas, sun dried tomatoes, olives, lentils and barley, flaky pastry filled with spinach and ricotta, soft dough stuffed with creamy ricotta and cucumber, funghi in a pastry cup and of course ham and cheese.
My stinco di maiale aromatizzato was fantastic. The meaty pork shank had been roasted in ginger sauce to the point that the outside was slightly crisp and the meat fork tender. It was accompanied by delicious cicoria all'aglio e peperoncino. Linda opted for tortelloni di ricotta con ragu di quaglie e arance. The plump parcels filled with creamy ricotta were presented in an orange quail sauce, topped with a delicious piece of roasted quail.
And for dessert, how could we say no to a flaky pastry filled with vanilla ice cream and fresh pineapple, drizzled with chocolate? Osteria del Podesta is a casual, fun place with great food at reasonable prices. Don't miss it!
Fantastic Bevagna! On to Spoleto.

Rivarotta di Pasiano
Vicenza | Padova
Parma | Lucca | Firenze
Lucignano | Spello
Bevagna | Spoleto | Roma
Search TheTravelzine | TheTravelzine Group | Don's Gallery
Packing Hints | Planning Tips | Cities Links

---
All pages on TheTravelzine.comęCopyright 1996-2020 Don & Linda Freedman