ITALY
WINTER 2005
Lucignano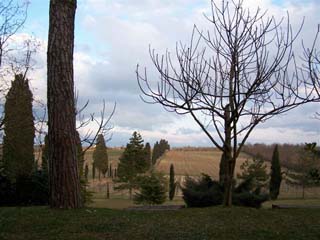 Too much time had gone by since our visit to La Casalta. This magical villa is officially in Lucignano, but it sits in the middle of Tuscany between the beautiful villages of Lucignano and Sinalunga within easy reach of all the memorable cities, towns and villages of Tuscany and Umbria.
Situated in a private park of 40,000 square meters, it is a Tuscan dream. The early morning vision of the sun rising over the rolling fields of olive trees is exceeded only by the effects of the late afternoon sun setting on the horizon - breathtaking! The cypresses, oaks and English wood of ancient holms invite wandering. In the center of all this is a 15x7 m. swimming pool and lounge area.
The Tommasini family renovated the property some years ago to create three marvelous completely self-contained apartments. Their goal was to offer superior accommodations and warm personalized and friendly service. Two of the apartments can accommodate up to 4 persons and one up to 6.
[Back to Top]
We settled into the fabulous "Girasole" apartment where we had stayed last time. We stood on the patio mesmerized by the peaceful beauty around us. The attractive woodwork and beams, stone, stucco, red Tuscan tiles and comfortable furnishings were as we left them. Welcome home!
The first floor living room with dining area and complete kitchen has a rear staircase for access to the two large bedrooms with en suite bathrooms above. The bedrooms are nicely separated for total privacy. Our only decision was which bedroom to choose. Creatures of habit, we chose the room from which we'd be able to watch the sunrise.
This is a fantastic place to settle in for many days, weeks or months to enjoy the essence of Tuscan life while exploring the countryside. We came primarily to renew our friendship with Francesca. This remarkable woman is a dynamo, full of life, energy and strength (she loves to chop wood). Her guests appreciate her warmth, kindness and helpfulness.
We had taken the train from Firenze to Arezzo and from there took a local train, La Ferroviaria Italiana, to Sinalunga where Francesca was waiting for us.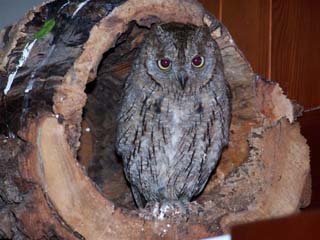 After settling in, we joined Francesca and her daughters Valentina and Katerina for lunch. Oh yes, let us not forget Virgilio, the small owl that Francesca found and provided a home for in the family kitchen.
Valentina is an extraordinary cook. She prepared twisted pasta with a sauce of tomato, red pepper, hot pepper, stewed meat and a touch of melted cheese, rapini and boiled potato. Homemade heaven! This was accompanied by delicious local red wine.
Katerina had some shopping to do at the supermarket so we joined her and shopped for the groceries we'd need. We enjoyed having our own kitchen for a change, cooking simple, healthy, meals and giving our bodies a much-needed break.
Francesca had errands to do in Siena and Lucignano over the course of the few days so we tagged along. It was great just living easy and enjoying the company of Francesca and her daughters. But it would have been even better if we had wheels of our own – so much is within easy reach of this beautiful place.
When it was time to leave, Francesca drove us to the nearby, old, walled town of Foiano to catch the bus to Arezzo for our train to Spello.

Rivarotta di Pasiano
Vicenza | Padova
Parma | Lucca | Firenze
Lucignano | Spello
Bevagna | Spoleto | Roma
Search TheTravelzine | TheTravelzine Group | Don's Gallery
Packing Hints | Planning Tips | Cities Links

---
All pages on TheTravelzine.comęCopyright 1996-2020 Don & Linda Freedman